The Protein Tyrosine Phosphatase H1 PTPH1 Supports Proliferation of Keratinocytes and is a Target of the Human Papillomavirus Type 8 E6 Oncogene
1
Institute of Virology, University of Cologne, Faculty of Medicine and University Hospital of Cologne, Fürst-Pückler-Strasse 56, 50935 Cologne, Germany
2
ViiV Healthcare, Prinzregentenplatz 9, 81675 Munich, Germany
3
Macherey-Nagel GmbH&Co. KG, Neumann Neander Str. 6-8, 52313 Düren, Germany
4
Institute for Clinical Transfusion Medicine and Immunogenetics Ulm, Helmholtzstr. 10, 89081 Ulm, Germany
5
Federal Institute for Drugs and Medical Devices BfArM, Kurt-Georg Kiesinger Allee 3, 53175 Bonn, Germany
*
Author to whom correspondence should be addressed.
Received: 23 January 2019 / Revised: 7 March 2019 / Accepted: 9 March 2019 / Published: 14 March 2019
Abstract
Human papillomaviruses (HPV) replicate their DNA in the suprabasal layer of the infected mucosa or skin. In order to create a suitable environment for vegetative viral DNA replication HPV delay differentiation and sustain keratinocyte proliferation that can lead to hyperplasia. The mechanism underlying cell growth stimulation is not well characterized. Here, we show that the E6 oncoprotein of the βHPV type 8 (HPV8), which infects the cutaneous skin and is associated with skin cancer in Epidermodysplasia verruciformis patients and immunosuppressed organ transplant recipients, binds to the protein tyrosine phosphatase H1 (PTPH1), which resulted in increased protein expression and phosphatase activity of PTPH1. Suppression of PTPH1 in immortalized keratinocytes reduced cell proliferation as well as the level of epidermal growth factor receptor (EGFR). Furthermore, we report that HPV8E6 expressing keratinocytes have increased level of active, GTP-bound Ras. This effect was independent of PTPH1. Therefore, HPV8E6-mediated targeting of PTPH1 might result in higher level of EGFR and enhanced keratinocyte proliferation. The HPV8E6-mediated stimulation of Ras may be an additional step to induce cell growth. Our results provide novel insights into the mechanism how βHPVE6 proteins support proliferation of infected keratinocytes, thus creating an environment with increased risk of development of skin cancer particularly upon UV-induced DNA mutations.
View Full-Text
►

▼

Figures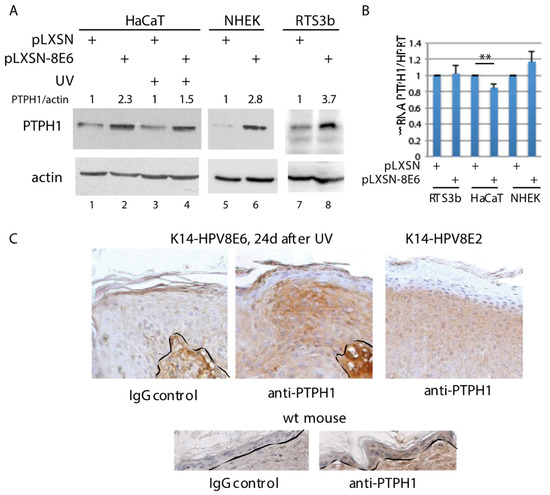 Figure 1
This is an open access article distributed under the
Creative Commons Attribution License
which permits unrestricted use, distribution, and reproduction in any medium, provided the original work is properly cited (CC BY 4.0).

Share & Cite This Article
MDPI and ACS Style
Taute, S.; Böhnke, P.; Sprissler, J.; Buchholz, S.; Hufbauer, M.; Akgül, B.; Steger, G. The Protein Tyrosine Phosphatase H1 PTPH1 Supports Proliferation of Keratinocytes and is a Target of the Human Papillomavirus Type 8 E6 Oncogene. Cells 2019, 8, 244.
Note that from the first issue of 2016, MDPI journals use article numbers instead of page numbers. See further details here.
Related Articles
Comments
[Return to top]