Open Access This article is
freely available
re-usable
Review
Cellular Proteostasis During Influenza A Virus Infection—Friend or Foe?
Institute of Biomedicine (iBiMED) and Department of Medical Sciences, University of Aveiro, 3810-193 Aveiro, Portugal
*
Author to whom correspondence should be addressed.
Received: 16 February 2019 / Accepted: 5 March 2019 / Published: 9 March 2019
Abstract
:
In order to efficiently replicate, viruses require precise interactions with host components and often hijack the host cellular machinery for their own benefit. Several mechanisms involved in protein synthesis and processing are strongly affected and manipulated by viral infections. A better understanding of the interplay between viruses and their host-cell machinery will likely contribute to the development of novel antiviral strategies. Here, we discuss the current knowledge on the interactions between influenza A virus (IAV), the causative agent for most of the annual respiratory epidemics in humans, and the host cellular proteostasis machinery during infection. We focus on the manipulative capacity of this virus to usurp the cellular protein processing mechanisms and further review the protein quality control mechanisms in the cytosol and in the endoplasmic reticulum that are affected by this virus.
Keywords:
influenza A virus (IAV); virus–host interaction; proteostasis; protein quality control; protein aggregation; unfolded protein response
1. Introduction
In mammalian cells, protein homeostasis or proteostasis maintenance is assured through an integrated network that ensures efficient biogenesis, folding and assembling of proteins, as well as the degradation of abnormal conformers. Cells are frequently exposed to external stimuli that can disrupt proteostasis leading to the accumulation of misfolded proteins and, under unmitigated chronic stress conditions, to the formation of potentially pathogenic cytotoxic aggregates [
1
,
2
]. To counteract the detrimental effect of aberrant protein accumulation, cells have evolved elaborated protein quality control mechanisms that can adapt to the severity of protein damage, repair disturbances in the proteome and re-establish basal homeostasis [
3
,
4
]. Distinct surveillance mechanisms that maintain or re-establish proteostasis have been characterized in the cytoplasm, in the endoplasmic reticulum (ER), and in the mitochondria, including protein refolding mechanisms, degradation pathways, and sequestration. The maintenance of cellular proteome homeostasis is crucial to preserve cellular viability and is essential, among other reasons, to ensure healthy aging and to minimize homeostasis distress caused by extrinsic factors [
5
,
6
,
7
].
As opportunistic infectious agents, viruses employ several strategies to hijack and control cellular activities, including protein production and processing, in order to efficiently replicate. Multiple viruses specifically alter organelle morphology and dynamics as part of their replication cycle [
8
,
9
], as well as lead to the accumulation of misfolded aggregation-prone proteins, which can be toxic to the cell [
10
,
11
,
12
]. Viruses induce the formation of specialized nuclear or cytoplasmic microenvironments, involving an extensive rearrangement of the cellular cytoskeleton and membrane compartments. These virus-induced compartments, generally termed virus factories, are important not only to recruit and concentrate viral and host components and facilitate the molecular interactions required for essential steps of the viral life cycle, but also to control the cellular antiviral defense [
13
,
14
,
15
]. On the other hand, it is often considered that these inclusion bodies may be part of the host antiviral response to infection [
11
,
16
].
In this review, we summarize and discuss the induced disruption of the cellular machinery, with focus on proteostasis imbalance, throughout the course of influenza A virus (IAV) life-cycle and explore its significance for infection efficiency. Although information on the interplay between influenza B virus (IBV) and host-cell proteostasis is scarce, we have established a parallel, where appropriate, between the two viruses.
2. Influenza Virus Genome and Host Translational Machinery
3. Protein Quality Control Mechanisms and Their Interplay with Influenza A Virus
3.1. Cytosolic Responses: Protein Refolding, Degradation and Sequestration
Eukaryotic cells have evolved several cytosolic protein quality control mechanisms that ensure high fidelity on protein synthesis and processing.
Overall, during the course of viral infection, IAV seems to take advantage of several cellular chaperones in different crucial steps of the life cycle, including nuclear import, viral genome replication, nuclear export, and further virion lytic release from the host cell to spread infection.
3.2. The Endoplasmic Reticulum and the Unfolded Protein Response
4. Concluding Remarks
Upon IAV infection, several processes within the cytosolic and the ER protein quality control mechanisms, namely protein folding, degradation and sequestration, have shown to contribute either as part of an effective replication cycle or as part of an effective cellular antiviral response to the virus. IAV seems to take advantage of the protein quality control components to replicate and spread infection, although some of the observed effects may also be part of the establishment of cellular reactions to counteract the virus. Some reports show contradictory findings and further studies are needed in order to obtain more clarity and insight into the control of cellular proteostasis mechanisms by both the virus and the host cell.
Funding
This work was supported by the Portuguese Foundation for Science and Technology (FCT): PTDC/BIA-CEL/31378/2017 (POCI-01-0145-FEDER-031378), POCI-01-0145-FEDER-016630, SFRH/BPD/77619/2011, SFRH/BPD/77528/2011, SFRH/BD/137851/2018, UID/BIM/04501/2013, POCI-01-0145-FEDER-007628 under the scope of the Operational Program "Competitiveness and internationalization", in its FEDER/FNR component. It was also funded by the Comissão da Região Centro CCDRC and FEDER through the integrated project pAGE-CENTRO-01-0145-FEDER-000003. This work was also supported by national funds (OE), through FCT, I.P., in the scope of the framework contract foreseen in the numbers 4, 5, and 6 of the article 23, of the Decree-Law 57/2016, of August 29, changed by Law 57/2017, of July 19.
Conflicts of Interest
The authors declare no conflict of interest.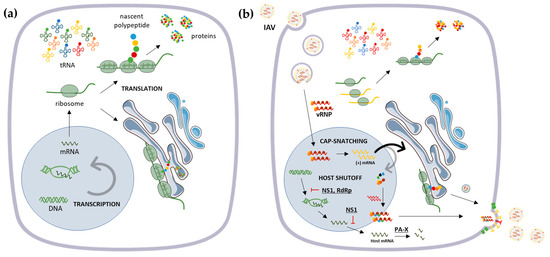 Figure 1. Schematic representation of the transcription and translation machinery in (a) uninfected and (b) influenza A virus (IAV)-infected cells. (a) After being transcribed and processed in the nucleus, mRNA is exported to the cytoplasm where ribosomes initiate their translation. Afterwards, it can either remain free at the cytosol or attach to endoplasmic reticulum (ER) membranes. (b) Upon infection, IAV hijacks different stages of mRNA biogenesis and ultimately reduces host protein translation. The virus can also manipulate tRNA pools within the cell to enable the efficient translation of viral proteins. Viral proteins are represented underlined.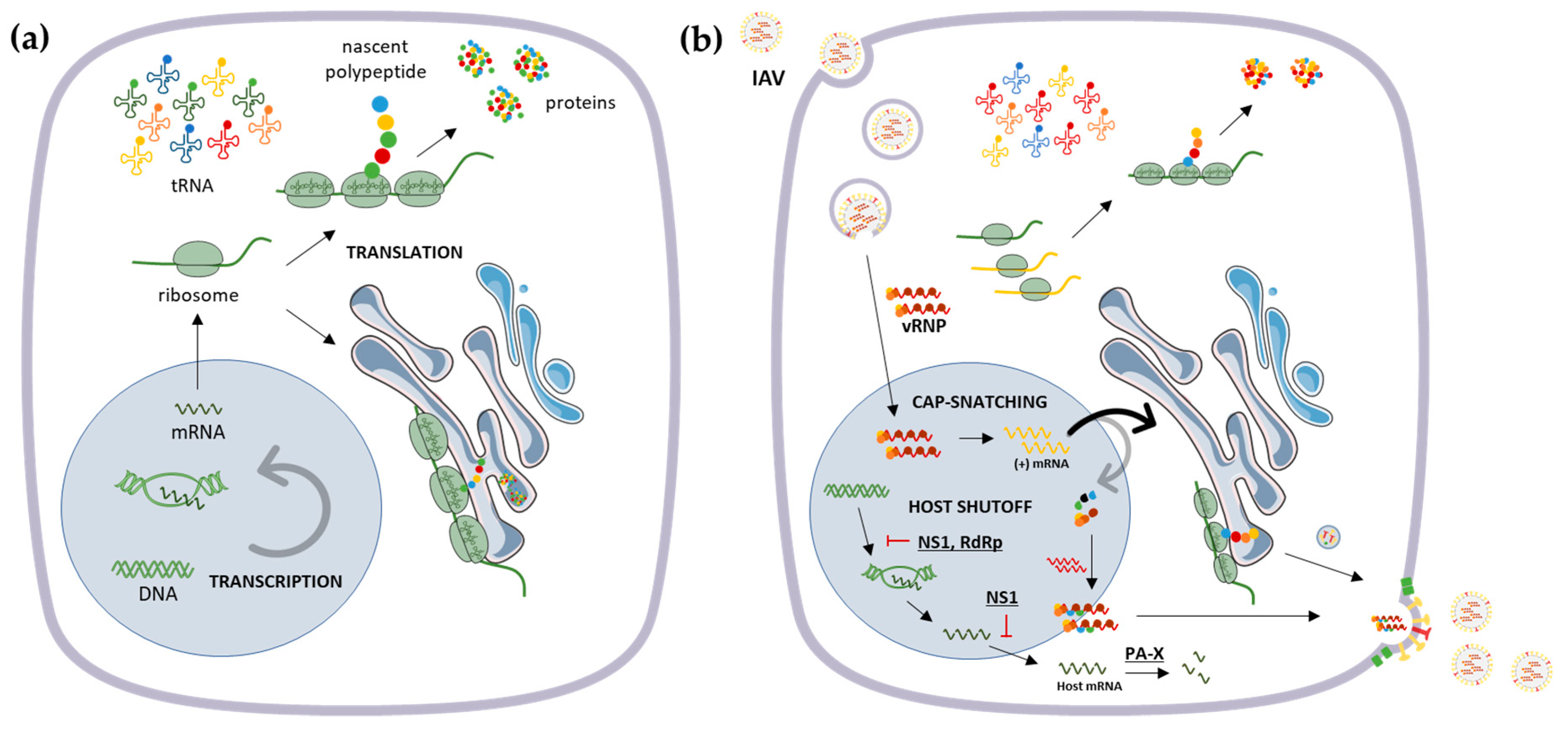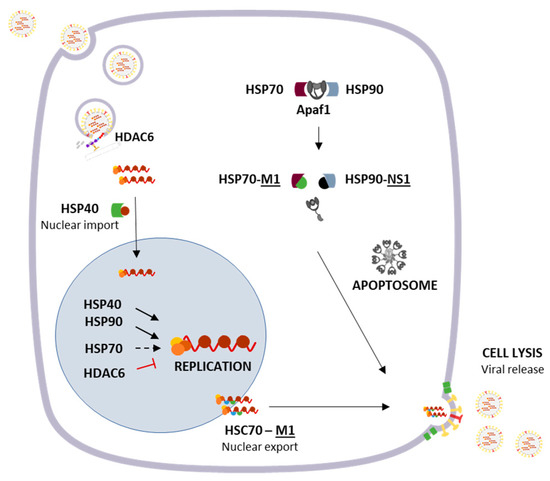 Figure 2. Schematic representation of the interplay between cellular protein chaperones and IAV proteins throughout viral life cycle. Upon attachment with the cellular surface proteins, the virus is internalized by endocytosis and hijacks the cellular aggresome processing machinery (HDAC6) for capsid uncoating and genome release into the cytoplasm. Afterwards, the viral genome (vRNP) is imported to the nucleus together with Hsp40/DnaJB1, where it undergoes transcription and replication. Several host chaperones are involved in mediating viral replication, either by favoring or constraining viral polymerase activity. To spread infection, the virus can additionally induce host cell lysis by inducing apoptosis, a process in which host chaperones are also involved. Dotted lines refer to mechanisms associated to controversial results, as explained in the text. Viral proteins are represented underlined.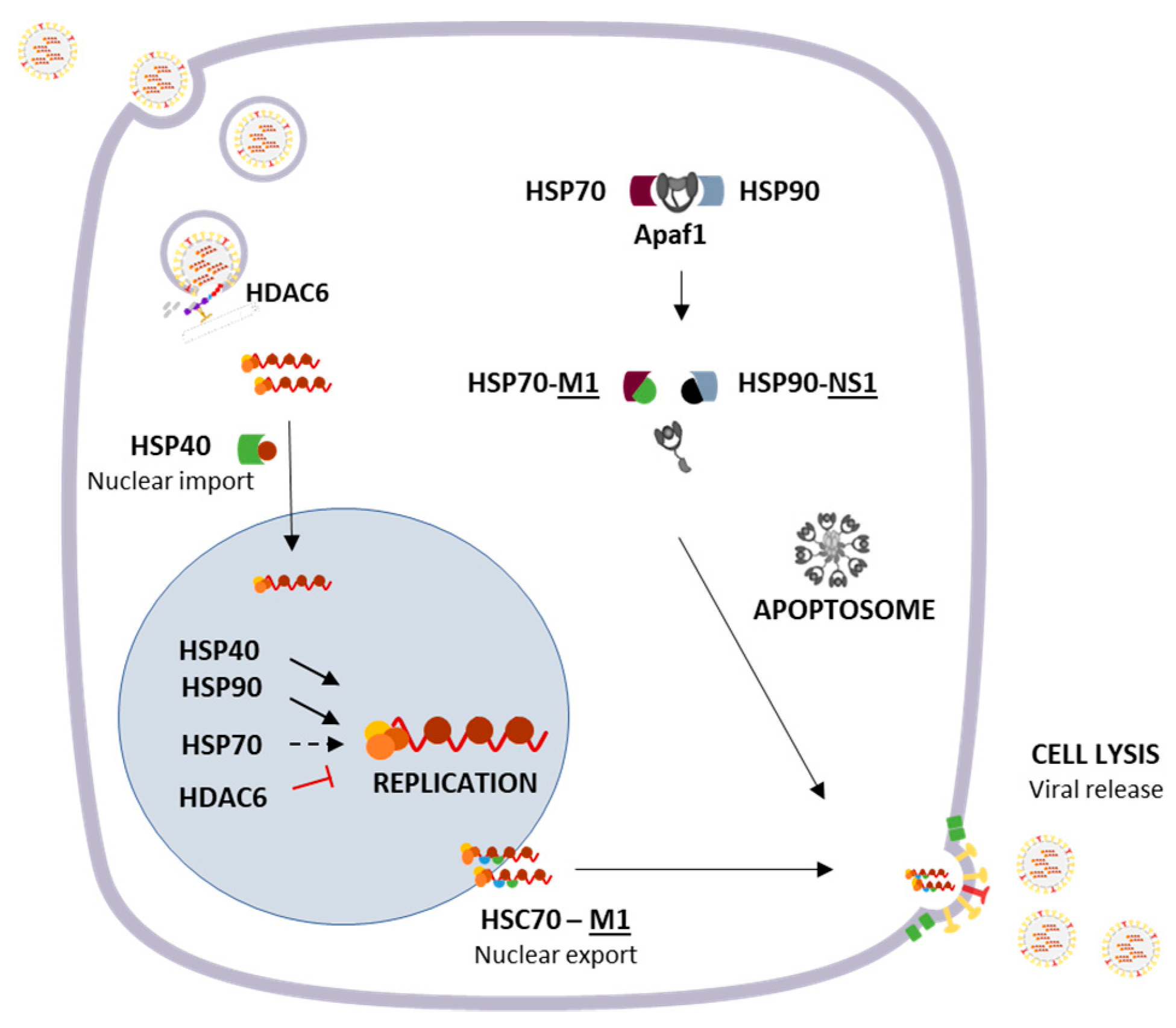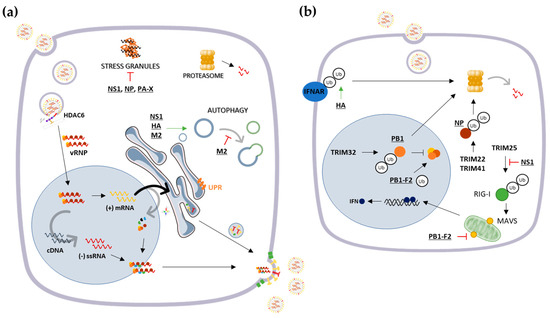 Figure 3. Schematic representation of cellular proteostasis mechanisms and its interplay with IAV proteins during infection. During its life cycle, the virus can interfere with several cellular proteostasis-related mechanisms, namely by (a) inhibiting stress granule formation or taking advantage of autophagosome formation, as well as by (b) manipulating ubiquitin-proteasome system (UPS)-related proteins to efficiently replicate. Viral proteins are represented underlined.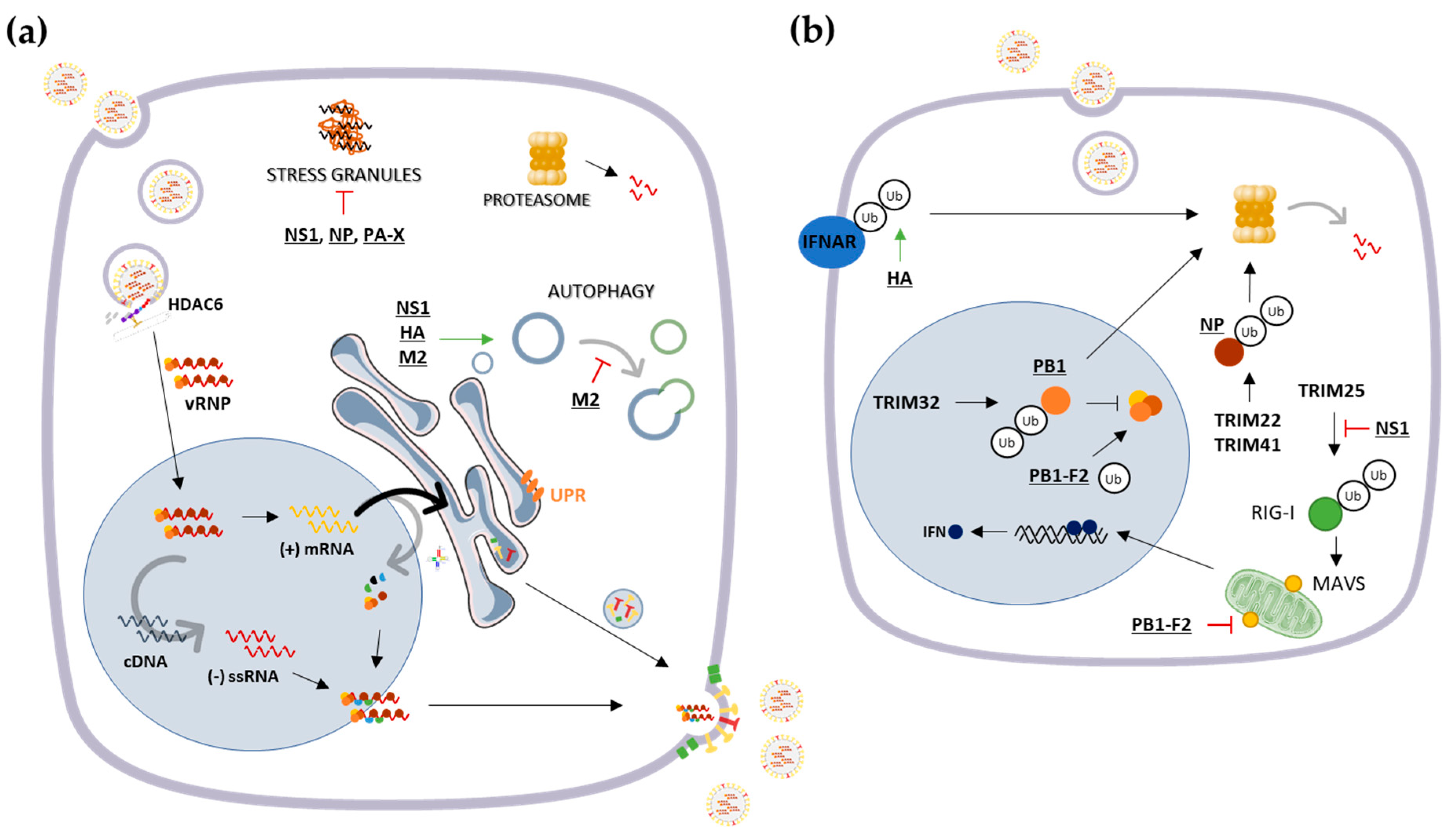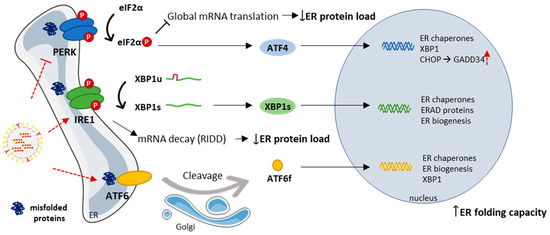 Figure 4. Schematic representation of the three main branches of unfolded protein response (UPR) in the ER (PERK, IRE1, and ATF6). In normal conditions, the activation of UPR helps to diminish ER stress by reducing ER protein load and increasing ER folding capacity. To evade the antiviral effects of PKR, the viral NS1 has been shown to inhibit protein kinase R (PKR) activity, which in turn will affect the PERK-induced response. Previous reports, although contradictory, also demonstrate that upon infection the virus can to some extent influence the mediated signaling of the three UPR branches. Red dotted arrows represent still controversial actions of IAV on UPR targets. Viral proteins are represented underlined.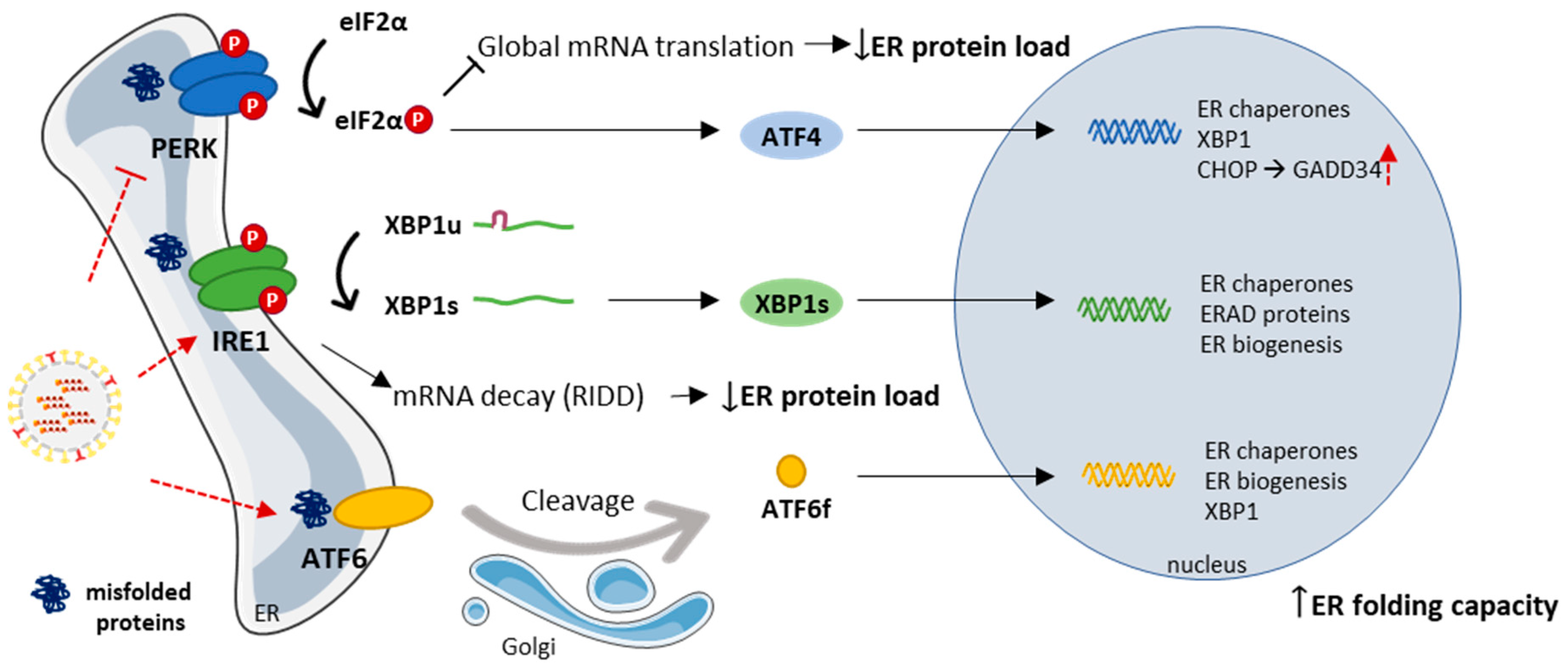 © 2019 by the authors. Licensee MDPI, Basel, Switzerland. This article is an open access article distributed under the terms and conditions of the Creative Commons Attribution (CC BY) license (http://creativecommons.org/licenses/by/4.0/).