Open Access This article is
freely available
re-usable
Review
Targeting Telomeres and Telomerase: Studies in Aging and Disease Utilizing CRISPR/Cas9 Technology
1
Department of Biology, University of Alabama at Birmingham, 1300 University Boulevard, Birmingham, AL 35294, USA
2
Comprehensive Center for Healthy Aging, University of Alabama Birmingham, 1530 3rd Avenue South, Birmingham, AL 35294, USA
3
Comprehensive Cancer Center, University of Alabama Birmingham, 1802 6th Avenue South, Birmingham, AL 35294, USA
4
Nutrition Obesity Research Center, University of Alabama Birmingham, 1675 University Boulevard, Birmingham, AL 35294, USA
5
Comprehensive Diabetes Center, University of Alabama Birmingham, 1825 University Boulevard, Birmingham, AL 35294, USA
*
Author to whom correspondence should be addressed.
Received: 25 January 2019 / Accepted: 20 February 2019 / Published: 21 February 2019
Abstract
:
Telomeres and telomerase provide a unique and important avenue of study in improving both life expectancy and quality of life due to their close association with aging and disease. While major advances in our understanding of these two biological mediators have characterized the last two decades, previous studies have been limited by the inability to affect change in real time within living cells. The last three years, however, have witnessed a huge step forward to overcome this limitation. The advent of the clustered regularly interspaced short palindromic repeats/CRISPR-associated (CRISPR/Cas) system has led to a wide array of targeted genetic studies that are already being employed to modify telomeres and telomerase, as well as the genes that affect them. In this review, we analyze studies utilizing the technology to target and modify telomeres, telomerase, and their closely associated genes. We also discuss how these studies can provide insight into the biology and mechanisms that underlie aging, cancer, and other diseases.
Keywords:
telomeres; telomerase; CRISPR; CRISPR/Cas9; Cas9; dCas9; cancer; aging
1. Introduction
1.1. Telomeres and Telomerase
1.2. The CRISPR-Cas System
While major strides in the understanding of the function and dysfunction of telomeres and telomerase have been apparent, a crucial hurdle in this study has been the inability to affect and observe changes within living systems. However, recently a solution to this issue has emerged. The clustered regularly interspaced short palindromic repeats-CRISPR-associated (CRISPR-Cas) system was first described as an adaptive bacterial immune system in the early 2000's and it functions to attack foreign bacterial and viral DNA in prokaryotes [
22
]. This discovery, named for its genomic clustered regularly interspaced short palindromic repeats (CRISPR) and CRISPR-associated (Cas) protein, drew interest from an evolutionary standpoint at the time. It was not until eight years later that an application for this system would be discovered and would draw wider acclaim. Between 2013 and 2014, the laboratories of Drs. Feng Zhang and George Church described methods of editing DNA in vitro utilizing the CRISPR-Cas system [
23
,
24
]. It was not long after that many other investigators began to adopt and modify the system.
This system is comprised of two major parts, which can be roughly broken down into a guiding and an affecting portion. Responsible for specificity, the guiding portion consists of a single stranded RNA molecule, which is called single guide RNA (sgRNA) [
25
]. This RNA component targets a genomic region by complementing a specific DNA sequence and is associated with the affecting portion by way of a fused portion of scaffold RNA. This affecting component is comprised of one of several Cas proteins, the most common being Cas9. In its native state, this protein has double-stranded endonuclease activity [
24
,
26
]. After producing a cut in the DNA, donor DNA with a desired sequence can be added to the target site [
27
]. Combining this endonuclease activity with the aforementioned RNA guide allows for highly specific, tightly regulated editing of genetic information in vitro and in vivo.
The CRISPR-Cas system is not, however, limited to inducing double-stranded breaks. The Cas protein can be modified to retain its targeting ability while losing its endonuclease activity [
25
]. This catalytically inactive Cas (dCas) can be used as is, or further modified with a number of different functional groups. Molecules (visualized in
Figure 2
) can be attached to dCas. These molecules can then be brought into proximity or attached to specified regions of the genome.
3. Telomeres—Editing
As discussed earlier, disruptions and damage to telomeres can lead to a wide array of cellular dysfunction. The CRISPR-Cas system's ability to cut and insert genes allows for the real-time, in vivo study of telomere damage. Using this system to induce double strand breaks (DSBs) in telomeres resulted in the activation of a telomeric repair system that was regulated by the Rad51 gene [
35
]. This study differs from previous conflicting and ambiguous results, which are likely due to a lack of precision in non-CRISPR induction of DSBs. Previous findings were clouded by the initiation of senescence and apoptotic pathways in DSB-induced cells, and this study provides an example of how the Cas system can be utilized to remove the noise from results.
Taking these ideas a step further, Kim et al. were able to completely remove telomeres in bone marrow neuroblasts and measure the effects on cellular function and senescence [
36
]. Telomere removal led to a cascade of cellular changes, chiefly a loss of mitochondrial function and an aggregation of Parkinson's disease (PD) associated proteins. This change lowered cellular viability and it has the potential to model both aging and PD in cells. Because this method only removes telomeres, it allows for the study of how this specific process contributes to cellular aging [
13
,
14
,
36
]. This process is important in establishing causality and removing ambiguity that could be associated with other cellular aging models.
CRISPR-Cas can also be employed to create more minor changes to telomeres. While the changes can be as small as a single nucleotide, they can have a major impact on a cell's biology. After inducing a mutation to a subtelomeric CTCF binding site, known as TERRA, the cells exhibited a loss of sister telomeres and reduced capacity for replication [
37
]. These issues were exacerbated by the induction of replication stress and it led to a higher rate of apoptosis. This study implicates CTCF and TERRA sites as being vital for successful telomere replication and maintenance and elucidates their importance for the overall maintenance and stability of chromosomes.
While current research involving CRISPR-Cas ablation of telomeres has been limited, the ability to use the technology in any cell type allows for the study of a variety of different diseases. By utilizing these methods in different tissues, the effect of aging can be measured across a broad array of conditions. Further study has the potential to answer both biological and mechanistic questions regarding telomere loss and the disease states that it causes.
4. Telomerase—Imaging
While imaging the genomic region containing
TERT
with dCas is possible, it is not the nucleotide sequence itself that is primarily associated with biological function. Because of this, targeting and modifying the protein telomerase appears to be the most effective way to image and study its dynamics. By introducing a fluorescent marker at the
TERT
locus, Schmidt, Zaug, and Cech were able to distinguish three stages of telomerase movement [
38
]. The stages can be characterized as a rapid diffusion stage, a frequent, transient telomere-associating stage, and a rarer, long-term association stage that results in a majority of telomere elongation. In addition, telomerase appears to bind with the ssDNA overhangs and add multiple hexamer repeats in tandem [
39
]. Taking these results together provides a novel model for telomere formation; wherein, telomeres are elongated in short controlled periods following longer periods of transient association. Labeling and the subsequent imaging of telomerase using the CRISPR-Cas system allows for an unprecedented ability to study the spatiotemporal dynamics of telomerase movements and recruitment. Understanding these dynamics is vital in the study of diseases, such as cancer, which utilize the protein to facilitate rapid, aggressive division.
6. Genes that Affect Telomeres and Telomerase
7. Epigenetics—Editing
A critically important, yet understudied, avenue of telomerase biology is epigenetics. As epigenetic modifications can affect expression to a large degree, genes that modulate this expression are important targets for study. While there are no CRISPR-based studies involving the direct methylation or demethylation of the
hTERT
gene, there is some interest in the genes that enact these epigenetic changes. Cells that were deprived of the DNA methyltransferase 2 (DNMT2), which catalyzes the addition of methyl groups to tRNA, suffered both a decrease in telomere lengths and telomerase activity [
54
,
55
]. Interestingly, the loss of DNMT2 resulted in the compensatory upregulation of other DNA methyltransferases, including Dnmt1, Dnmt3a, and Dnmt3b. These methyltransferases primarily methylate DNA, which led to global DNA hypermethylation. In turn, this hypermethylation induced cellular senescence apoptotic pathways. These results suggest that DNMT2 could serve as an important target for cancer and other telomere-associated disease.
Conversely, Cas-mediated knockout of the ten eleven translocation (Tet) proteins, which facilitate DNA demethylation, resulted in an elongation of telomeres [
56
]. Although the loss of a demethylator would suggest a higher level of methylation and results that are in line with those of the DNMT2 study, the lack of compensatory global methylation likely prevented telomere shortening and cell senescence [
55
,
56
]. This result directly implicates Tet in the maintenance of normal telomere lengths and underscores its importance as a target for cancer and aging therapies. Understanding how changes in methylation state are induced at the
TERT
locus is vital, as they may provide insight as to why the expression levels differ in disease states with no obvious mutation.
8. Conclusions
Aging is a pervasive and complicated process that results from the body's limited capacity to regenerate itself. Cancer is an almost as pervasive and equally complicated disease that hijacks these regenerative capabilities to proliferate unchecked. Due to their complex nature, parsing out the mechanisms of each appears to be a daunting task. However, the inception of CRISPR-Cas technology has provided a powerful tool that can be used to fashion rapid and specific genomic changes in living organisms. This system, as overviewed in
Figure 3
, has already made major contributions to the understanding of telomeres and telomerase in the context of aging and disease and it will undoubtedly continue to do so as the technology develops.
Author Contributions
A.C.B. and T.O.T. conceived of this review article and participated in all drafts of the manuscript. A.C.B. wrote the first draft of the manuscript with guidance from T.O.T. Final editing and approval of the final draft were performed by T.O.T. All authors read and approved the final draft.
Funding
This work was supported in part by grants from the National Cancer Institute (R01 CA178441 and R01 CA204346).
Acknowledgments
We would like to acknowledge the members of the Tollefsbol lab for their advice and support.
Conflicts of Interest
The authors declare no conflicts of interest.
Figure 1.
Telomerase reverse transcriptase (
TERT)
expression of colon adenocarcinoma (
a
), and head and neck squamous carcinoma (
b
), and primary breast cancer (
c
) within the publicly available National Cancer Institute Genomic Data Commons. In (
c
),
TERT
expression data is expanded based on stage of breast cancer sampled. While there is no significant difference among cancer stages, each stage of cancer displays significantly higher expression than normal tissue. Data were accessed through the University of Alabama at Birmingham UALCAN cancer transcriptome database (
http://ualcan.path.uab.edu
) [
20
]. These box and whisper plots encompass all transcriptome data recorded, with the upper and lower bars giving the total range of data recorded. The bolded middle line represents the mean of the data, and the second and third quartiles are contained within the box. Significance in relation to normal tissue is denoted by asterisks, with * representing a
p
< 0.05 and *** representing a
p
< 0.001. These types of cancer (
a
–
c
) were chosen for their relatively high sample sizes, but these trends carry across many other cancer types.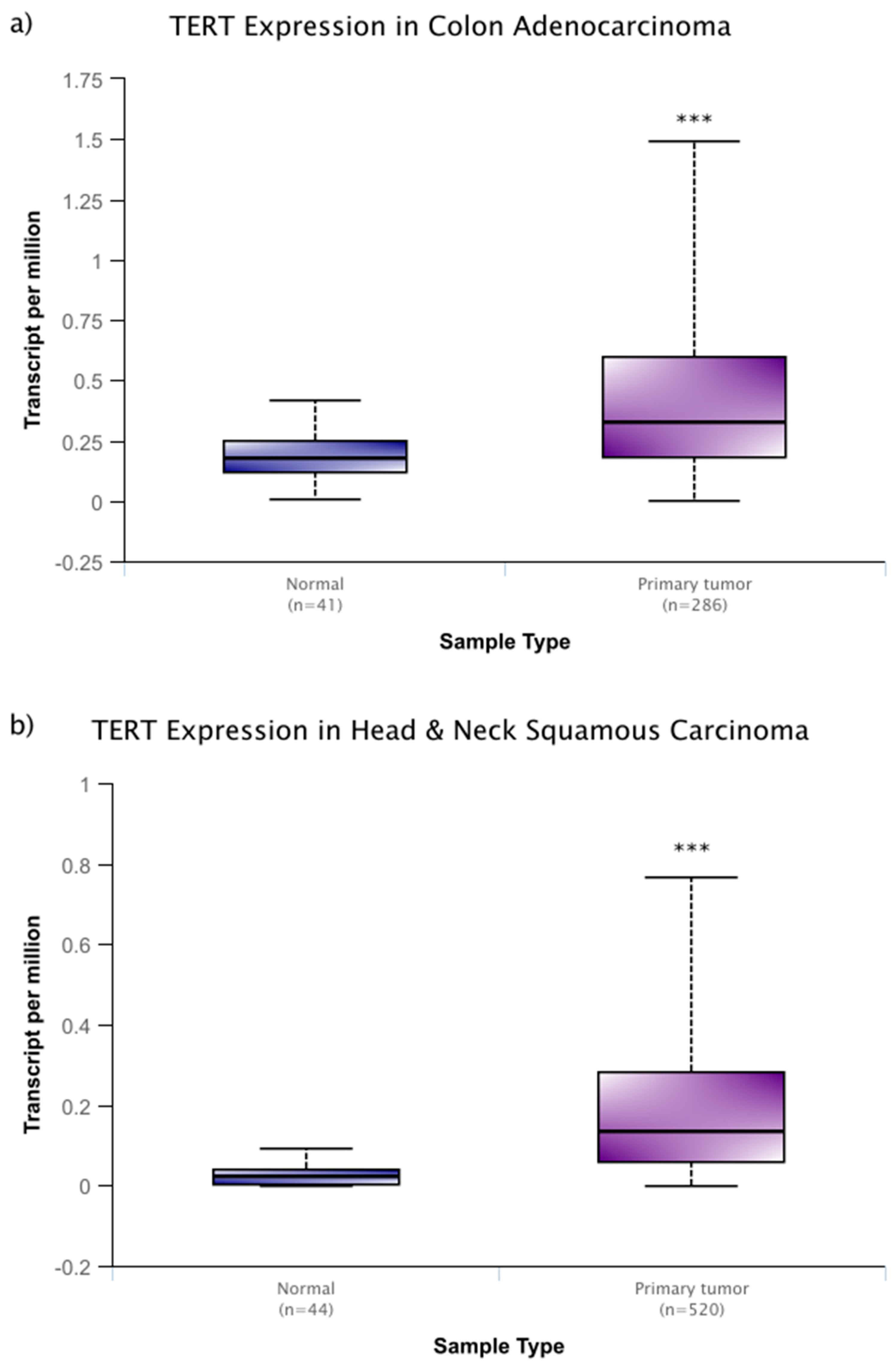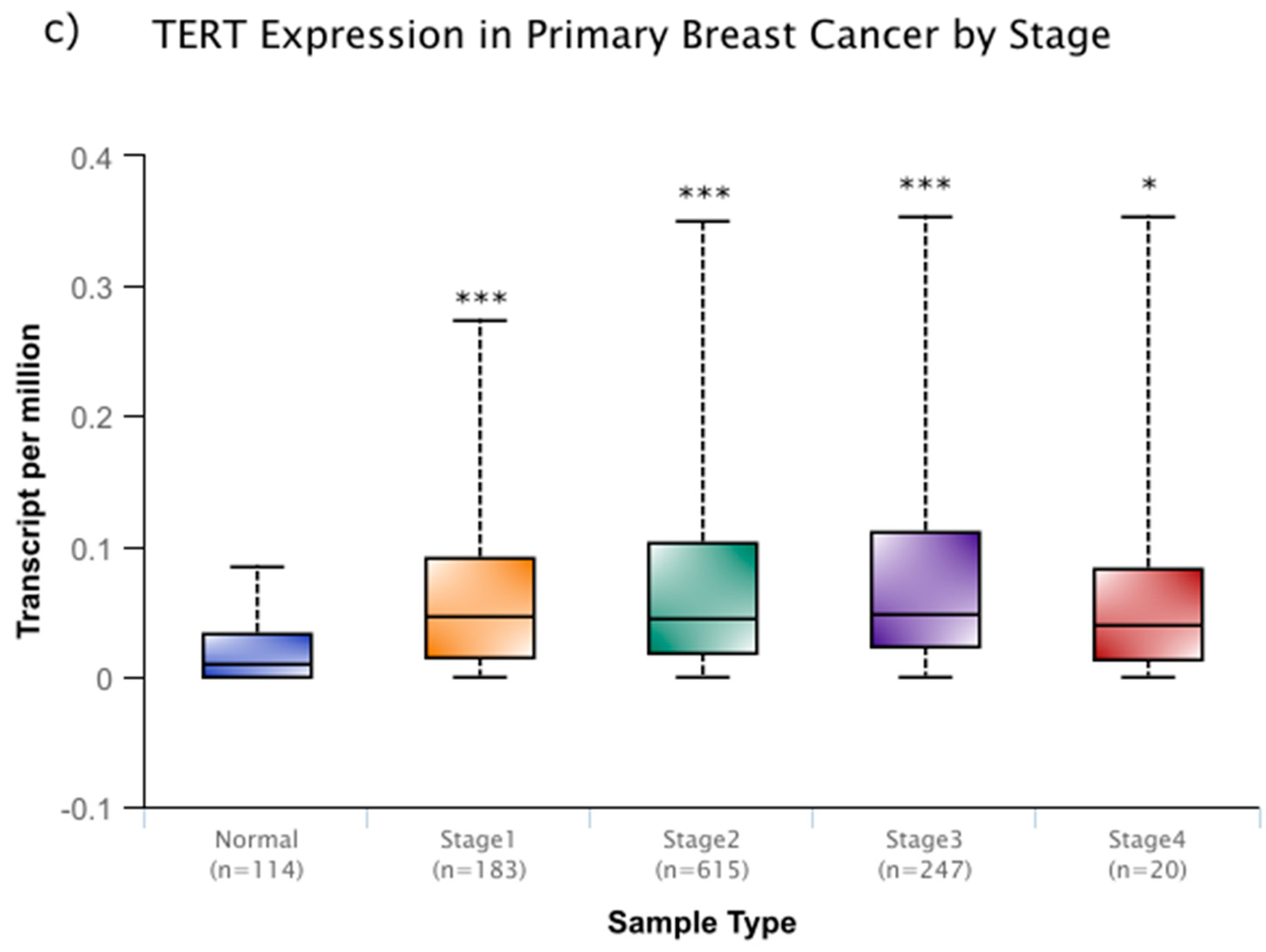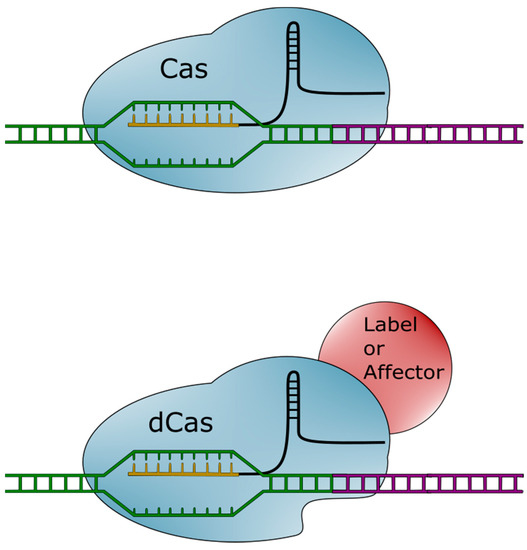 Figure 2. Diagram of clustered regularly interspaced short palindromic repeats-associated (Cas) system variants. The Cas (upper) system targets a specific genomic region (green) with its single guide RNA (sgRNA) (gold and black). The Cas protein will then make a cut in the adjacent DNA region (purple). The catalytically inactive Cas (dCas) (lower) system targets a genomic region with an identical system. However, the dCas protein lacks endonuclease activity. Various molecules (red) can be fused to the dCas protein. These include labels and affectors. Labels bring a fluorescent signal in close proximity to target DNA, while affectors can modify characteristics, such as the epigenetic state of DNA.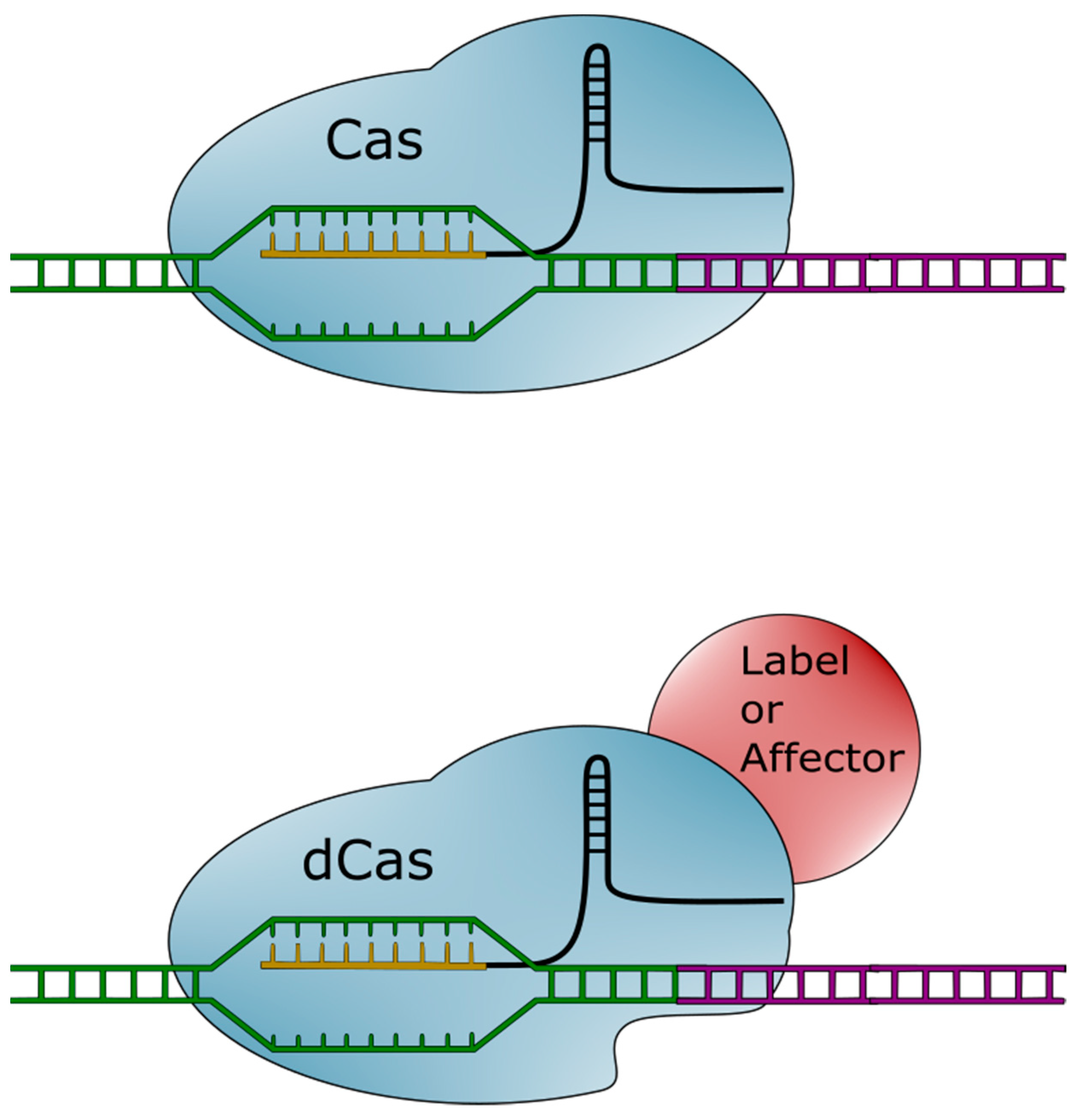 Figure 3. Overview of the uses for clustered regularly interspaced short palindromic repeats (CRISPR) in regards to telomeres and telomerase. Studies measuring an increase in telomere length (A) achieve this by activating telomere repair systems or increasing gene expression of proteins that build directly onto telomeres. As a whole, these studies observe normal to enhanced replicative capacity. Conversely, CRISPR-mediated ablation of telomeres occurs through direct removal and damage (B). These studies witness an upregulation of repair mechanisms as well as decreases in both cellular health and viability. Studies involved in imaging telomeres largely utilize fluorescently labeled dCas (C) and observe minimal cytotoxicity and high efficiency. These properties allow for real-time, in vivo study of telomere movements and interactions. Enhancing telomerase activity through interactions with other proteins and epigenetic changes (D) leads to increases in telomere length that can result in chromosomal instability. These changes can increase replicative capacity and led to cell phenotypes similar to cancer cell lines. The ablation of the telomerase gene occurs through direct action of the Cas protein or by activating genes that inhibit its transcription (E). Overall, these changes lead to a decrease in replicative capacity and/or an upregulation in alternate telomere lengthening mechanisms. Imaging telomerase involves directly introducing a fluorescent tag onto the TERT protein (F). This allows for the study of telomerase activity as well as the dynamics of telomere formation.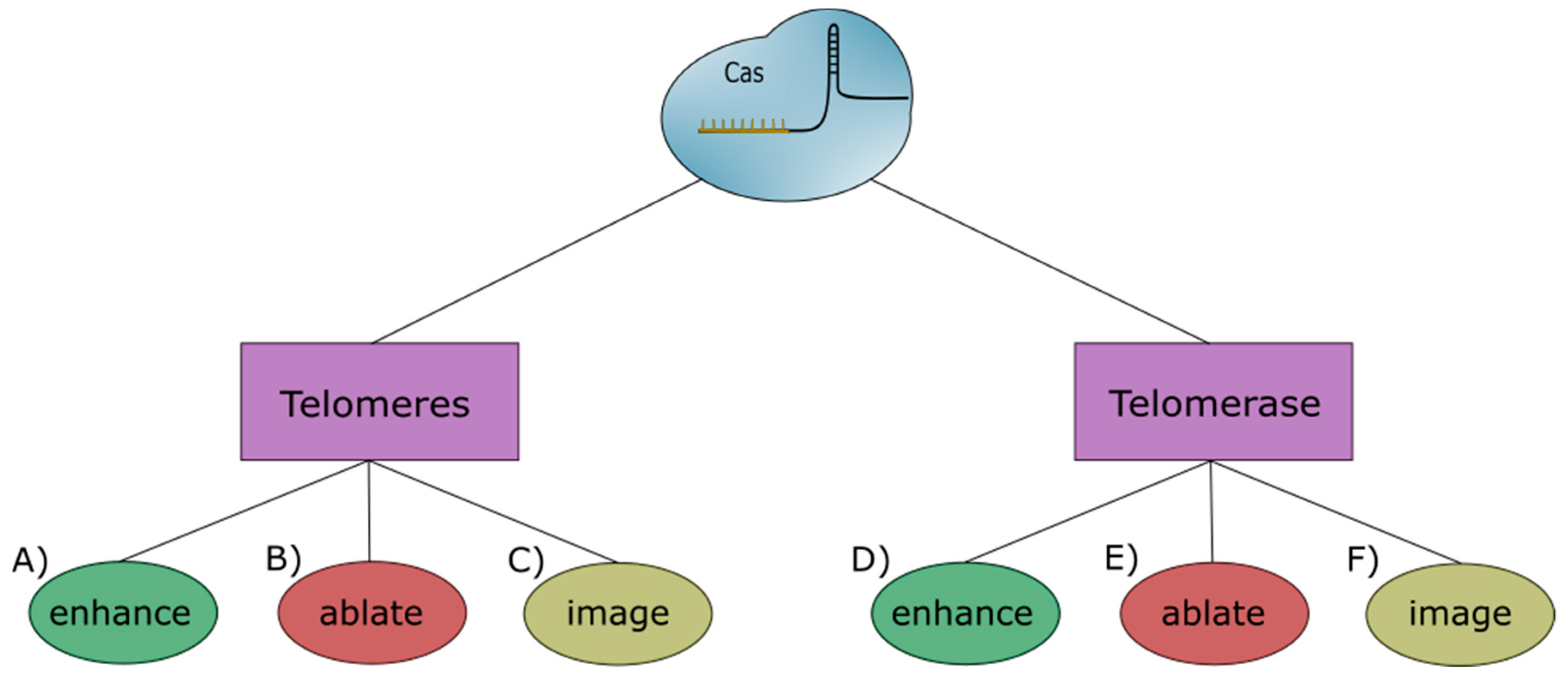 © 2019 by the authors. Licensee MDPI, Basel, Switzerland. This article is an open access article distributed under the terms and conditions of the Creative Commons Attribution (CC BY) license (http://creativecommons.org/licenses/by/4.0/).