Open Access This article is
freely available
re-usable
Perspective
The Incomplete Puzzle of the BCL2 Proteins
Interfaculty Institute of Biochemistry, Eberhard-Karls-Universität Tübingen, 72076 Tübingen, Germany
*
Author to whom correspondence should be addressed.
Received: 3 September 2019 / Accepted: 26 September 2019 / Published: 29 September 2019
Abstract
:
The proteins of the BCL2 family are key players in multiple cellular processes, chief amongst them being the regulation of mitochondrial integrity and apoptotic cell death. These proteins establish an intricate interaction network that expands both the cytosol and the surface of organelles to dictate the cell fate. The complexity and unpredictability of the BCL2 interactome resides in the large number of family members and of interaction surfaces, as well as on their different behaviours in solution and in the membrane. Although our current structural knowledge of the BCL2 proteins has been proven therapeutically relevant, the precise structure of membrane-bound complexes and the regulatory effect that membrane lipids exert over these proteins remain key questions in the field. Here, we discuss the complexity of BCL2 interactome, the new insights, and the black matter in the field.
Keywords:
BCL2 proteins; MOMP; protein membrane interactions; apoptosis; cancer therapy
Perspective in BCL2 Universe
Acknowledgments
We thank John S. Danial for carefully reading our manuscript and for his comments and Uris Ros for her help in figure design.
Funding
This work in our lab is supported by the European Research Council (APOSITE ERC-Co 817758) and by the Deutsche Forschungsgemeinschaft (GA1641/2-2).
Conflicts of Interest
The authors declare no conflict of interest.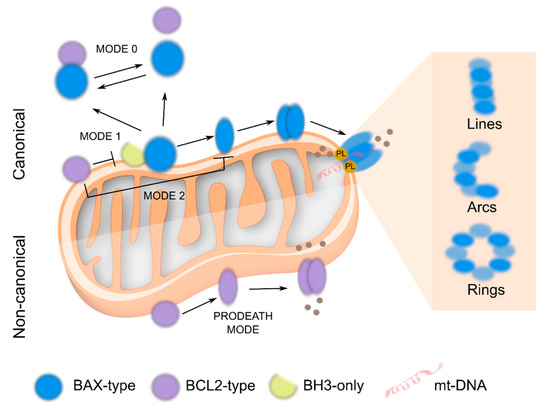 Figure 1.
The BCL2 puzzle.
Canonical BAX/BAK activation
. Activation of BAX-type proteins at the mitochondrial outer membrane (MOM) by the BH3 only proteins induces their oligomerization, formation of supramolecular structures (lines, arcs and rings) and pore formation with the consequent release of apoptogenic factors. The apoptotic repressors, block this process by either interacting with BH3 only proteins (MODE1) or with BAX-type proteins in the membrane (MODE 2) or translocating them to the cytosol (MODE 0).
Non canonical cell death or PRODEATH MODE of BCL2-type proteins.
Under cellular stress, BCL2-type proteins can switch their antiapoptotic phenotype, directly eliciting rather than inhibiting membrane permeabilization. PL: phospholipids; grey balls: apoptogenic factors.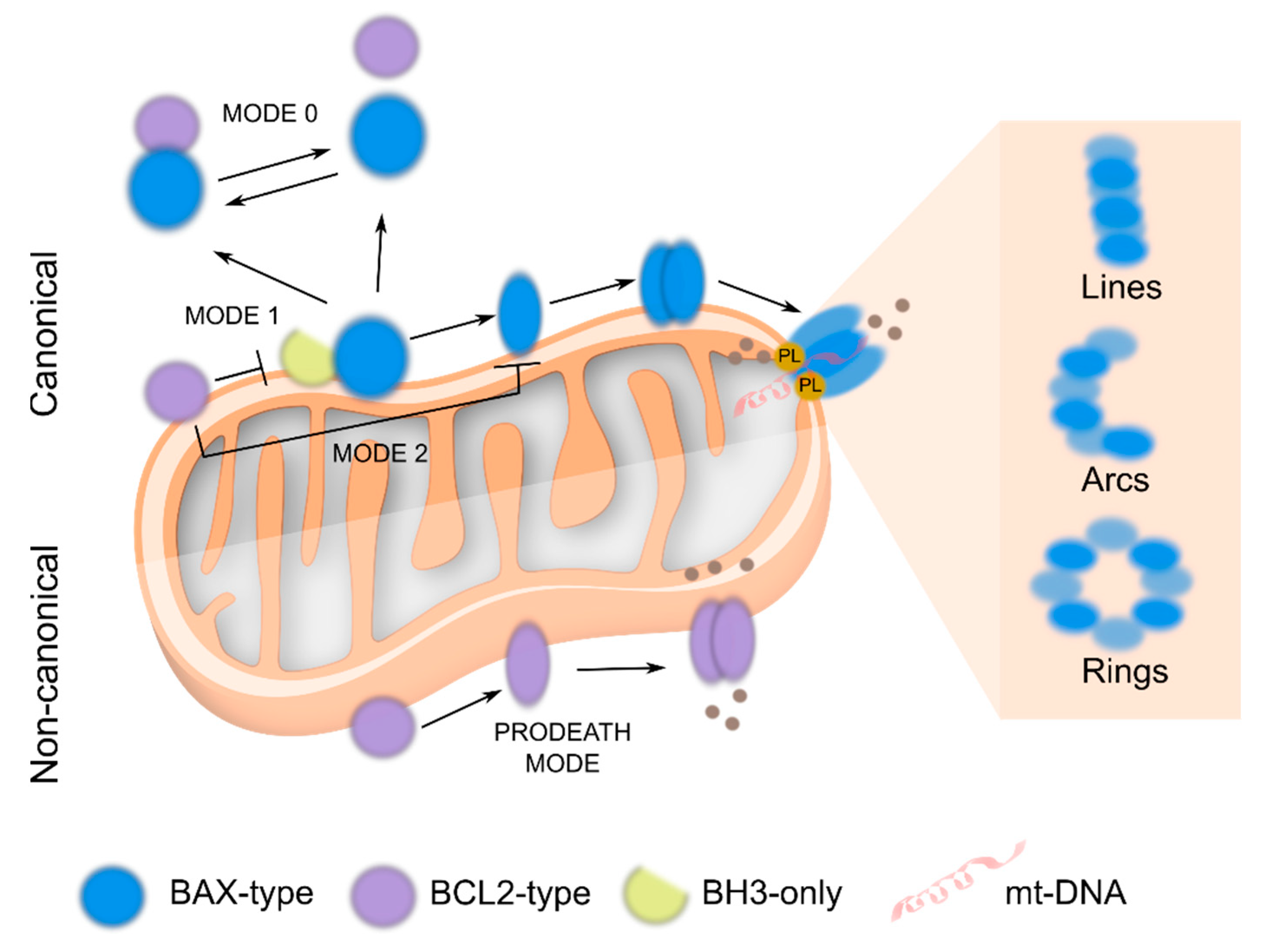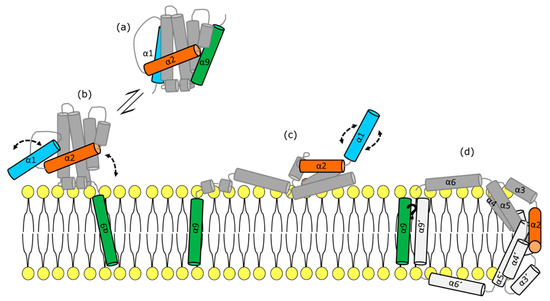 Figure 2.
BAX/BAK structural organization during their activation process. (
a
) Protein disposition in solution. BAX is represented with nine cylinders corresponding to its nine α-helixes and based on [
41
]. (
b
) BAX/BAK early activation steps: including TM dislodgement and N terminal exposure (depicted in green and cyan respectively). (
c
) BAX/BAK reorganization in two different parts (dimerization and piercing domains) and BH3 domain exposure (depicted in orange). (
d
) Oligomerization and pore formation, structural representation of membrane embedded BAX/BAK in the context of toroidal pore (clamp model, based on [
70
]). One monomer is showed in grey (α1–9) and the other is depicted in dark grey (α1′–9′). The relative orientation of the helices 9 remains unresolved.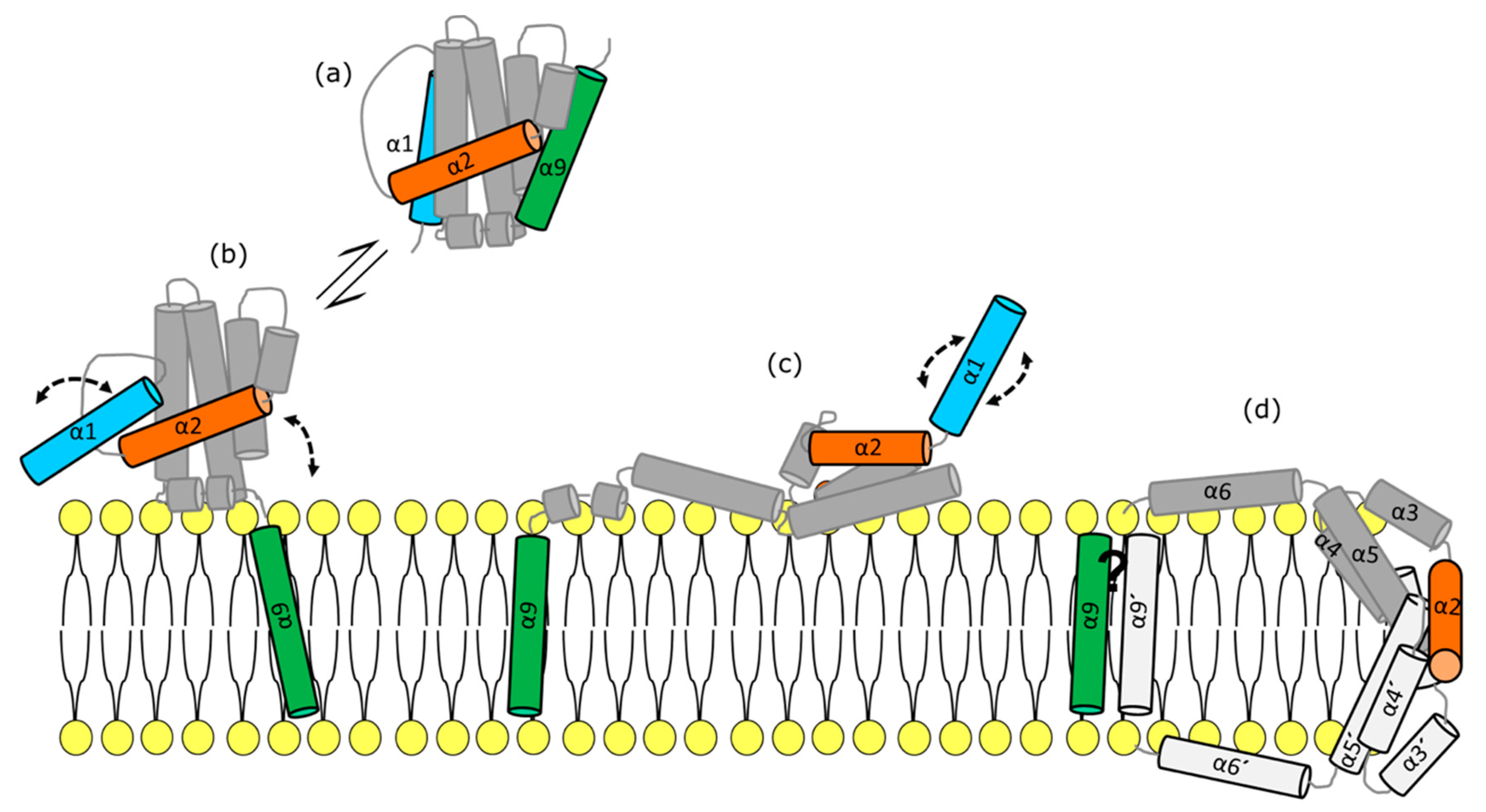 © 2019 by the authors. Licensee MDPI, Basel, Switzerland. This article is an open access article distributed under the terms and conditions of the Creative Commons Attribution (CC BY) license (http://creativecommons.org/licenses/by/4.0/).