Differential Mechanisms of Cell Death Induced by HDAC Inhibitor SAHA and MDM2 Inhibitor RG7388 in MCF-7 Cells
1
Rumbaugh-Goodwin Institute for Cancer Research, Nova Southeastern University, Ft. Lauderdale, FL 33314, USA
2
VRR Institute of Biomedical Sciences, Kattupakkam, Chennai 600056, India
3
College of Pharmacy, Health Professions Division, Nova Southeastern University, Ft. Lauderdale, FL 33314, USA
*
Author to whom correspondence should be addressed.
Received: 30 November 2018 / Accepted: 13 December 2018 / Published: 22 December 2018
Abstract
Gene expression is often altered by epigenetic modifications that can significantly influence the growth ability and progression of cancers. SAHA (Suberoylanilide hydroxamic acid, also known as Vorinostat), a well-known Histone deacetylase (HDAC) inhibitor, can stop cancer growth and metastatic processes through epigenetic alterations. On the other hand, Letrozole is an aromatase inhibitor that can elicit strong anti-cancer effects on breast cancer through direct and indirect mechanisms. A newly developed inhibitor, RG7388 specific for an oncogene-derived protein called MDM2, is in clinical trials for the treatment of various cancers. In this paper, we performed assays to measure the effects of cell cycle arrest resulting from individual drug treatments or combination treatments with SAHA + letrozole and SAHA + RG7388, using the MCF-7 breast cancer cells. When SAHA was used individually, or in combination treatments with RG7388, a significant increase in the cytotoxic effect was obtained. Induction of cell cycle arrest by SAHA in cancer cells was evidenced by elevated p21 protein levels. In addition, SAHA treatment in MCF-7 cells showed significant up-regulation in phospho-RIP3 and MLKL levels. Our results confirmed that cell death caused by SAHA treatment was primarily through the induction of necroptosis. On the other hand, the RG7388 treatment was able to induce apoptosis by elevating BAX levels. It appears that, during combination treatments, with SAHA and RG7388, two parallel pathways might be induced simultaneously, that could lead to increased cancer cell death. SAHA appears to induce cell necroptosis in a p21-dependent manner, and RG7388 seems to induce apoptosis in a p21-independent manner, outlining differential mechanisms of cell death induction. However, further studies are needed to fully understand the intracellular mechanisms that are triggered by these two anti-cancer agents.
View Full-Text
►

▼

Figures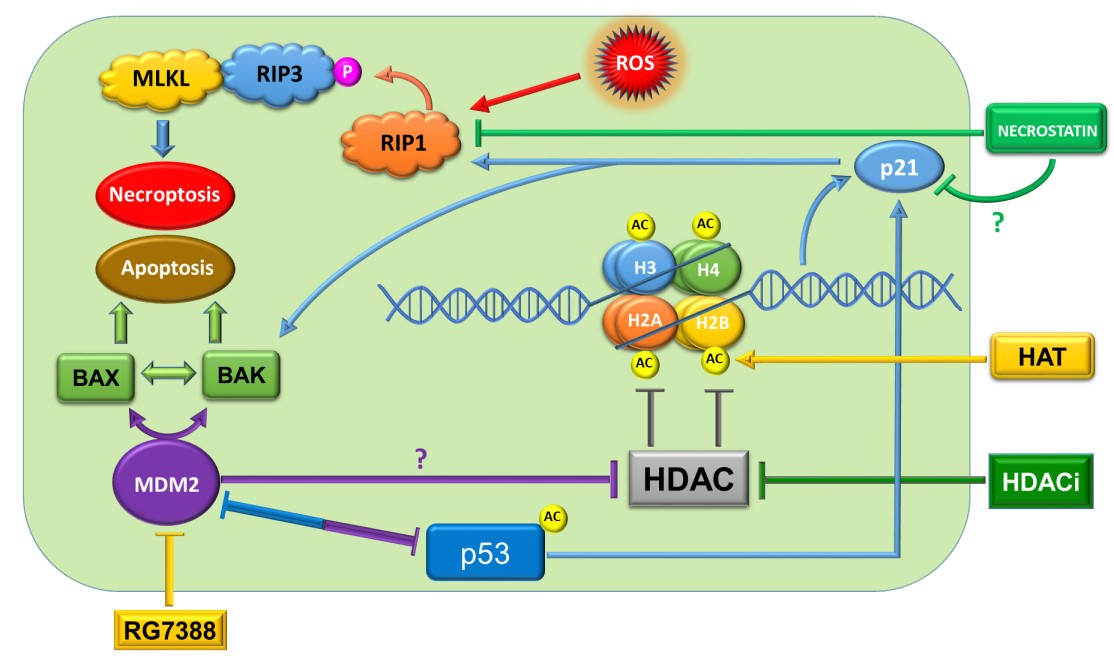 Graphical abstract
This is an open access article distributed under the
Creative Commons Attribution License
which permits unrestricted use, distribution, and reproduction in any medium, provided the original work is properly cited (CC BY 4.0).

Share & Cite This Article
MDPI and ACS Style
Natarajan, U.; Venkatesan, T.; Radhakrishnan, V.; Samuel, S.; Rathinavelu, A. Differential Mechanisms of Cell Death Induced by HDAC Inhibitor SAHA and MDM2 Inhibitor RG7388 in MCF-7 Cells. Cells 2019, 8, 8.
Note that from the first issue of 2016, MDPI journals use article numbers instead of page numbers. See further details here.
Related Articles
Comments
[Return to top]