Human Lung Cell Pyroptosis Following Traumatic Brain Injury
1
Department of Neurological Surgery, University of Miami, Miami, FL 33136, USA
2
Diabetes Research Institute, University of Miami; Miami, FL 33136, USA
3
Department of Cell Biology, University of Miami, Miami, FL 33136, USA
4
Department of Physiology and Biophysics, University of Miami School of Medicine, 1600 NW 10th Ave. RMSB 5054, Miami, FL 33136, USA
*
Author to whom correspondence should be addressed.
Received: 12 December 2018 / Revised: 9 January 2019 / Accepted: 15 January 2019 / Published: 18 January 2019
Abstract
Approximately 30% of traumatic brain injured patients suffer from acute lung injury or acute respiratory distress syndrome. Our previous work revealed that extracellular vesicle (EV)-mediated inflammasome signaling plays a crucial role in the pathophysiology of traumatic brain injury (TBI)-induced lung injury. Here, serum-derived EVs from severe TBI patients were analyzed for particle size, concentration, origin, and levels of the inflammasome component, an apoptosis-associated speck-like protein containing a caspase-recruiting domain (ASC). Serum ASC levels were analyzed from EV obtained from patients that presented lung injury after TBI and compared them to EV obtained from patients that did not show any signs of lung injury. EVs were co-cultured with lung human microvascular endothelial cells (HMVEC-L) to evaluate inflammasome activation and endothelial cell pyroptosis. TBI patients had a significant increase in the number of serum-derived EVs and levels of ASC. Severe TBI patients with lung injury had a significantly higher level of ASC in serum and serum-derived EVs compared to individuals without lung injury. Only EVs isolated from head trauma patients with gunshot wounds were of neural origin. Delivery of serum-derived EVs to HMVEC-L activated the inflammasome and resulted in endothelial cell pyroptosis. Thus, serum-derived EVs and inflammasome proteins play a critical role in the pathogenesis of TBI-induced lung injury, supporting activation of an EV-mediated neural-respiratory inflammasome axis in TBI-induced lung injury.
View Full-Text
►

▼

Figures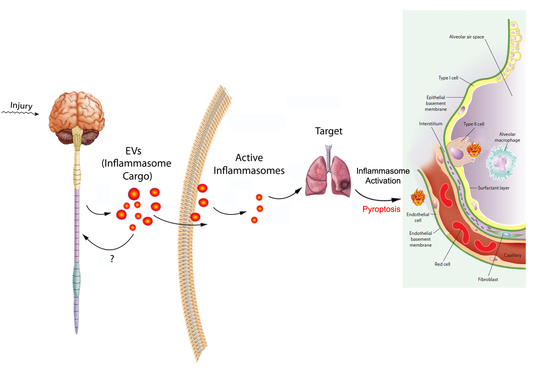 Graphical abstract
This is an open access article distributed under the
Creative Commons Attribution License
which permits unrestricted use, distribution, and reproduction in any medium, provided the original work is properly cited (CC BY 4.0).

Share & Cite This Article
MDPI and ACS Style
Kerr, N.A.; de Rivero Vaccari, J.P.; Umland, O.; Bullock, M.R.; Conner, G.E.; Dietrich, W.D.; Keane, R.W. Human Lung Cell Pyroptosis Following Traumatic Brain Injury. Cells 2019, 8, 69.
Note that from the first issue of 2016, MDPI journals use article numbers instead of page numbers. See further details here.
Related Articles
Comments
[Return to top]