The Effect of Neurotoxin MPTP and Neuroprotector Isatin on the Profile of Ubiquitinated Brain Mitochondrial Proteins
1
Department of Proteomic Research and Mass Spectrometry, Institute of Biomedical Chemistry, 10 Pogodinskaya Street, Moscow 119121, Russia
2
Zakusov Institute of Pharmacology, 8 Baltiskaya Street, Moscow 124315, Russia
*
Author to whom correspondence should be addressed.
Received: 28 June 2018 / Revised: 26 July 2018 / Accepted: 27 July 2018 / Published: 31 July 2018
Abstract
Mitochondria are a crucial target for the actions of neurotoxins, causing symptoms of Parkinson's disease in various experimental animal models, and also neuroprotectors. There is evidence that mitochondrial dysfunction induced by the neurotoxin 1-methyl-4-phenyl-1,2,3,6-tetrahydropyridine (MPTP) influences functioning of the ubiquitin-proteasomal system (UPS) responsible for selective proteolytic degradation of proteins from various intracellular compartments (including mitochondria) and neuroprotective effects of certain anti-Parkisonian agents (monoamine oxidase inhibitors) may be associated with their effects on the UPS. In this study, we have investigated the effect of the neurotoxin MPTP and neuroprotector isatin, and their combination on the profile of ubiquitinated brain mitochondrial proteins. The development of movement disorders induced by MPTP administration caused dramatic changes in the profile of ubiquitinated proteins associated with mitochondria. Pretreatment with the neuroprotector isatin decreased manifestations of MPTP-induced Parkinsonism, and had a significant impact on the profile of ubiquitinated mitochondrial proteins (including oxidative modified proteins). Administration of isatin alone to intact mice also influenced the profile of ubiquitinated mitochondrial proteins, and increased the proportion of oxidized proteins carrying the ubiquitination signature. These alterations in the ubiquitination of mitochondrial proteins observed within 2 h after administration of MPTP and isatin obviously reflect immediate short-term biological responses to these treatments.
View Full-Text
►

▼

Figures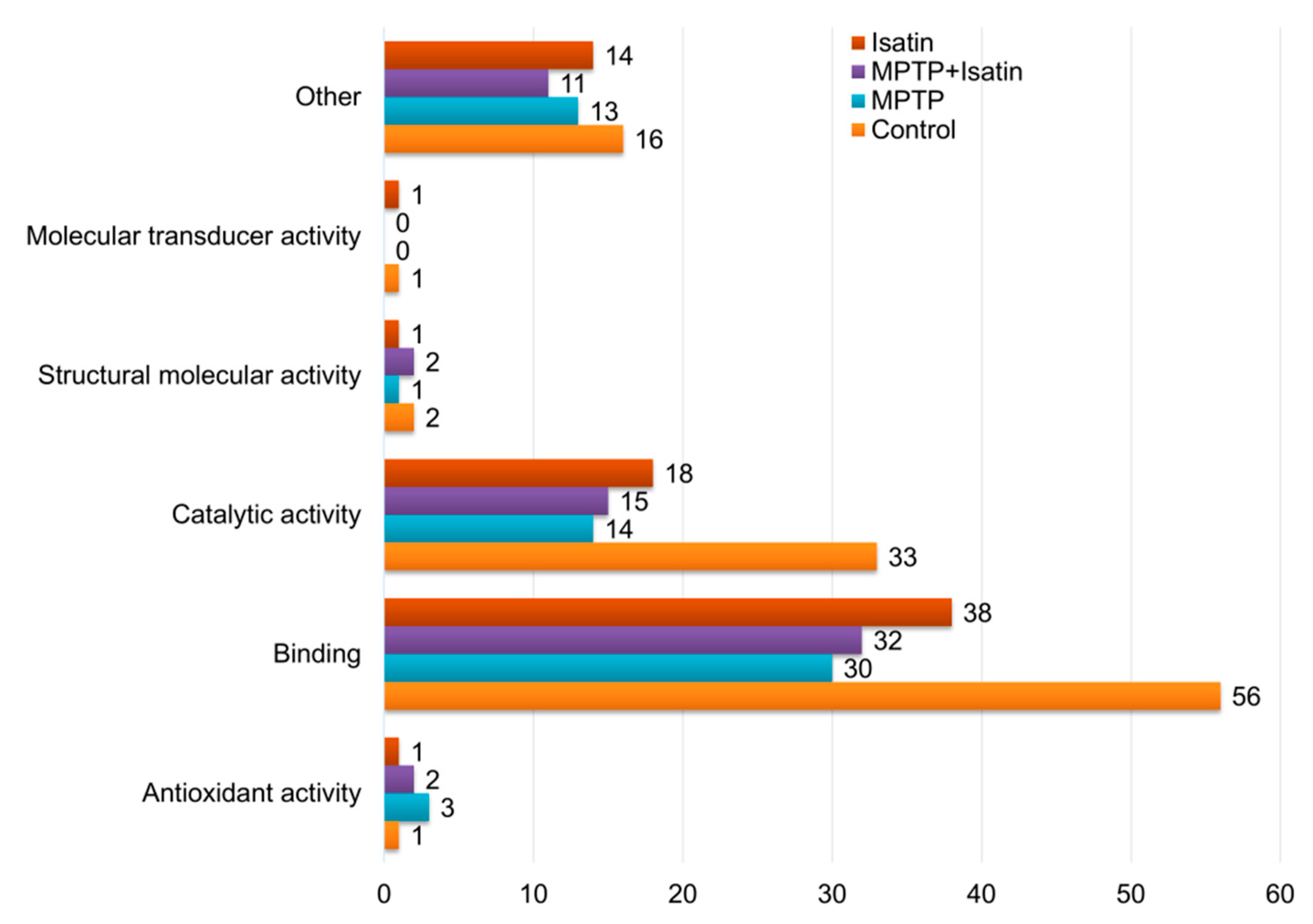 Figure 1
This is an open access article distributed under the
Creative Commons Attribution License
which permits unrestricted use, distribution, and reproduction in any medium, provided the original work is properly cited (CC BY 4.0).

Share & Cite This Article
MDPI and ACS Style
Buneeva, O.; Kopylov, A.; Kapitsa, I.; Ivanova, E.; Zgoda, V.; Medvedev, A. The Effect of Neurotoxin MPTP and Neuroprotector Isatin on the Profile of Ubiquitinated Brain Mitochondrial Proteins. Cells 2018, 7, 91.
Note that from the first issue of 2016, MDPI journals use article numbers instead of page numbers. See further details here.
Related Articles
Comments
[Return to top]