Open Access This article is
freely available
re-usable
Review
Deubiquitinating Enzymes Related to Autophagy: New Therapeutic Opportunities?
1
School of Life Sciences, University of Warwick, Coventry CV4 7AL, UK
2
Biosciences and Biotechnology Institute of Grenoble, (CEA-DRF-BIG-BGE), Univ. Grenoble Alpes, INSERM U1038, CEA, F-38000 Grenoble, France
*
Authors to whom correspondence should be addressed.
Received: 31 July 2018 / Accepted: 17 August 2018 / Published: 19 August 2018
Abstract
:
Autophagy is an evolutionary conserved catabolic process that allows for the degradation of intracellular components by lysosomes. This process can be triggered by nutrient deprivation, microbial infections or other challenges to promote cell survival under these stressed conditions. However, basal levels of autophagy are also crucial for the maintenance of proper cellular homeostasis by ensuring the selective removal of protein aggregates and dysfunctional organelles. A tight regulation of this process is essential for cellular survival and organismal health. Indeed, deregulation of autophagy is associated with a broad range of pathologies such as neuronal degeneration, inflammatory diseases, and cancer progression. Ubiquitination and deubiquitination of autophagy substrates, as well as components of the autophagic machinery, are critical regulatory mechanisms of autophagy. Here, we review the main evidence implicating deubiquitinating enzymes (DUBs) in the regulation of autophagy. We also discuss how they may constitute new therapeutic opportunities in the treatment of pathologies such as cancers, neurodegenerative diseases or infections.
Keywords:
autophagy; DUB; deubiquitinating enzymes; inhibitor; aggrephagy; mitophagy; chaperone-mediated autophagy; small-molecule; ubiquitin; ubiquitin proteases
1. Introduction
Autophagy is a lysosomal catabolic process that ensures the degradation and recycling of intra-cytoplasmic components and, therefore, highly contributes to the maintenance of cellular homeostasis. In order to adapt to various stresses and promote its survival under challenging conditions, the cell also uses autophagy to degrade a broad range of endogenous or exogenous substrates [
1
]. The best-studied endogenous substrates of autophagy are mitochondria and protein aggregates [
2
,
3
,
4
]. Defects in the elimination of such substrates are often associated with human pathologies, including neurodegenerative diseases or cancers [
5
,
6
,
7
].
Autophagy is a very dynamic process and has to be tightly regulated to provide a timed and efficient response to a multitude of signals. Posttranslational modifications play a significant role in the induction and regulation of autophagy [
8
,
9
]. Ubiquitination of substrates and protein of the autophagy machinery has notably emerged as a central regulatory mechanism of autophagy acting at various levels to promote autophagy induction or shutdown [
10
,
11
].
Ubiquitination is a reversible protein modification that consists of the covalent attachment of one or several ubiquitin moieties to protein substrates [
12
,
13
,
14
]. While ubiquitination is achieved by the sequential action of E1 ubiquitin-activating enzyme, E2 ubiquitin-conjugating enzyme, and an E3 ubiquitin ligase, the removal of ubiquitin from a protein is catalyzed by deubiquitinating enzymes (DUBs) [
15
]. Ubiquitination can promote or interfere with protein-protein interactions, modifying the conformation or the activity of the targeted protein or direct proteins for degradation by either the proteasome or the autophagy process [
16
,
17
]. Ubiquitin linkage is involved in most, if not all, cellular processes and signaling pathways. As for autophagy, defects in ubiquitination and deregulation of DUBs are associated with human disorders [
18
,
19
,
20
].
Here, we chose to focus on the role of DUBs related to the regulation of autophagy and cargo lysosomal degradation. We extended our review to the recent development of small-molecule inhibitors modulating DUBs' activity on autophagy, thus highlighting their potential as therapeutic targets.
2. Autophagy and Ubiquitin System: A Brief Overview
2.1. Autophagy
Autophagy was first described in 1966 by C. de Duve and R. Wattiaux based on observations from mammalian cells deprived of serum and amino acids [
21
]. The name autophagy was coined later, after electron microscopy observations that revealed the presence of double-membrane vesicles containing part of the cytoplasm. Autophagy can be induced in response to various stressors such as lack of nutrients or growth factors, hypoxia, or infection [
22
]. As such, autophagy was initially described as a survival mechanism in response to various stresses. However, it is now widely recognized that basal levels of autophagy also operate independently of any stress, contributing to the maintenance of cellular homeostasis by the removal of dysfunctional or unnecessary proteins and organelles (for instance, mitochondria) and ribosomes [
2
].
One can distinguish three types of autophagy: macroautophagy (mostly referred to as autophagy), chaperone-mediated autophagy and microautophagy. These autophagy processes differ by the way substrates are being delivered to the lysosome for degradation. In macroautophagy, autophagy substrates are isolated from the cytoplasm through their engulfment in double-membrane vesicles called autophagosomes [
23
]. Autophagosomes are formed by the elongation of an isolation membrane derived from the endoplasmic reticulum [
24
]. The autophagosomes eventually mature and fuse with the lysosomes where hydrolases degrade the substrates (
Figure 1
). In chaperone-mediated autophagy, soluble cytosolic proteins are recruited by the chaperone HSC70/HSP8A and directly translocated into the lysosome through pores made of LAMP2A multimers. Substrate translocation into the lysosome requires a second HSC70 chaperone resident in the lysosomal lumen [
25
,
26
,
27
]. In microautophagy, cytosolic substrates are transferred to the lysosome through direct invagination of the lysosomal membrane (in yeast) or from the late endosomes (in mammals and
Drosophila
, referred to as endosomal-microautophagy) that eventually fuse with the lysosomes [
28
,
29
,
30
]. As for chaperone-mediated autophagy, endosomal-microautophagy requires the chaperone protein HSC70 for the selection of the substrates [
28
,
30
,
31
].
The major components of the autophagy machinery are the ATG (autophagy-related gene) proteins, which are required for the formation and maturation of the autophagosome (
Figure 1
). ATG proteins form specific macromolecular complexes acting at several steps of autophagosome formation and regulating different stages of the autophagy process [
23
]. Autophagy induction by starvation is controlled by the TOR (target of rapamycin) complex 1, which is an essential signaling pathway for the sensing of nutrient availability [
32
]. Lack of nutrients leads to the down-regulation of TOR activity, resulting in the activation of the ULK1/ATG1 complex. The activation of the ULK1 complex then initiates autophagy by recruiting other ATG proteins to the nascent autophagosome. Downstream ULK1 complex, the class III PtdIns3K (PI3K-III) complex, is responsible for the production of phosphatidylinositol-3-phosphate (PtdIns3P), which triggers the proper localization and membrane association of other ATG proteins [
33
]. Beclin1, a multivalent adaptor, is one major component of the PI3K-III complex. The expansion of the autophagosomal membrane requires two ubiquitin-like conjugation cascades: the Atg12-conjugation system and the Atg8/LC3-conjugation system. The modification of the Atg8 protein by lipidation and its anchorage in the autophagosome membrane is a hallmark of autophagy induction [
34
,
35
,
36
]. After completion and closure, the autophagosome is targeted to and fuses with the lysosome, leading to the degradation of its content. Posttranslational modifications on autophagy regulators contribute to the rapid and efficient response to various stresses. If attention is focused first on phosphorylation, a growing body of evidence shows that ubiquitination also plays a crucial role in the dynamic regulation of autophagy notably by targeting substrates to autophagosome, and modifying the activity of ULK1 and PI3K-III complexes [
11
,
37
,
38
].
3. Deubiquitinating Enzymes Involved in Autophagy
Protein posttranslational modifications are crucial in the dynamic regulation of the autophagy process. Modifications of core components of the autophagic machinery are notably essential for the induction of autophagy. Autophagy proteins that are ubiquitinated constitute substrates for DUBs, therefore regulating their function and/or stability [
60
].
3.1. Regulation of Early Steps of Autophagy
3.1.1. Regulation of the mTOR Complex 1 by OTUB1
The mechanistic target of Rapamycin complex 1 (mTORC1) plays a central role in the integration of various environmental signals to regulate cell metabolism, growth, proliferation, and survival. In nutrient-rich conditions, mTORC1 is active and promotes cell growth while down-regulating autophagy. Conversely, down-regulation of mTORC1 activity during nutrient deprivation activates autophagy. The protease OTUB1 was recently reported to inhibit mTORC1 activity by deubiquitinating and stabilizing the inhibitor DEPTOR in response to amino acid deprivation [
61
] (
Figure 3
A). DEPTOR stabilization by OTUB1 depends on its catalytic activity as the catalytically inactive mutant OTUB1-C91A fails to both remove ubiquitin moieties from DEPTOR and protect it from proteasomal degradation. Consistent with these observations, OTUB1 overexpression induces autophagy while its knockdown represses autophagy induction [
61
].
3.1.2. Regulation of ULK1 by USP20
The serine/threonine protein kinase ULK1 (Unc51-like kinase 1) is a critical inducer of autophagy (see above and
Figure 1
). Dynamic phosphorylation and polyubiquitination regulate ULK1 activity. Notably, the ubiquitination of ULK1 with K63-linked ubiquitin chains contributes to its stabilization and activity [
38
]. In contrast, the linkage of K48-linked ubiquitin chains leads to proteasomal degradation of ULK1, resulting in a blockade of starvation-induced autophagy [
62
,
63
]. A loss-of-function screen of DUBs in HeLa cells identified USP20 as the first DUB to be involved in regulating ULK1 ubiquitination and stability. USP20 interacts with and deubiquitinates ULK1, thus protecting it from degradation. The maintenance of basal levels of ULK1 by USP20 contributes to rapid induction of autophagy under stress condition. Indeed, silencing of USP20 encoding gene inhibits autophagosomes and autolysosomes formation in response to starvation (
Figure 3
B). However, the interaction between ULK1 and USP20 is weakened upon prolonged induction of autophagy (4 to 8 h), leading to a reduction of the level of ULK1 protein while its ubiquitinated form accumulates [
64
]. The molecular mechanisms regulating the dissociation of USP20 and ULK1 are not known yet but could depend on posttranslational or allosteric modifications on USP20 as its stability is not affected by starvation; alternatively, the E3 ubiquitin ligase NEDD4L, may compete with USP20 to interact with ULK1 and promotes its proteasomal degradation [
63
].
3.1.3. Regulation of the Beclin1 Complex
3.2. Regulation of Selective Autophagy
3.2.1. Aggrephagy
With the variety of proteins prone to aggregations, it is not surprising that different DUBs are involved in the regulation of the formation and degradation of protein aggregates. Protein aggregation is a hallmark of various pathologies, notably neurodegeneration and infection, and a better understanding of the regulatory mechanisms associated with each pathology will greatly benefit the development of appropriate and targeted treatments.
3.2.2. Mitophagy
Whether and how these DUBs act in concert or within different organs or situations remains to be determined to fully understand their specific requirements in physiological or stressed conditions.
3.2.3. Targeted Degradation of Cargoes
Proteins can be degraded by autophagy independently of their aggregation in a way that can be either dependent or independent of their ubiquitination state. To date, only a few substrates, known to be directly targeted for degradation by autophagy in response to ubiquitination, have been shown to be regulated by a specific DUB (
Figure 3
F).
The Hypoxia-Inducible Factor 1, α subunit (HIF-1α) is a transcription factor essential for cells to adapt rapidly to low oxygen levels (hypoxia). When oxygen is available, HIF-1α is polyubiquitinated and rapidly degraded either by the proteasome or directly by the lysosome through chaperone-mediated autophagy [
117
,
118
]. The DUB Cezanne/OTUD7B is itself induced by oxygen deprivation in cultured endothelial cells. Moreover, loss of Cezanne reduces the amount of HIF-1α protein while Cezanne overexpression stabilizes HIF-1α and protects it from autophagic degradation in a catalytic-dependent manner by specifically processing K11-linked ubiquitin chains [
119
]. Mutation of the CMA-targeting motif (KFERQ motif) of HIF-1α makes it insensitive to
Cezanne
knockdown, thus suggesting that Cezanne specifically regulates the degradation of HIF-1α mediated by CMA. Cezanne is not the only DUB to regulate the ubiquitination status of HIF-1α. Indeed, USP8 is essential for the removal of ubiquitin moieties on HIF-1α in normoxia, contributing to the maintenance of a basal level of HIF-1α. In this case, however, USP8 appears to protect HIF-1α from proteasomal degradation [
120
]. These two studies show that different DUBs can regulate the fate of a shared substrate depending on the physiology of the cell.
Connexin-43/Cx43 is a member of the connexin family that forms the gap junction channels between adjacent cells, enabling direct intercellular exchanges between cells, which is another example of a substrate for at least two different degradative pathways. Indeed, Cx43 polyubiquitination triggers its degradation through either the proteasome or the lysosome via endocytosis and autophagy [
121
,
122
,
123
,
124
]. USP8 interacts with and deubiquitinates Cx43, removing monoubiquitin moieties as well as K63- and K48-linked ubiquitin chains. Cx43 ubiquitination and degradation by autophagy are increased in
Usp8
knockdown cells [
125
]. Even though USP8 regulates autophagic degradation of Cx43 in basal condition, one cannot exclude that USP8 may also affect Cx43 through the endolysosomal pathways in different conditions as USP8 is well described for its implication in the endocytosis of various plasma membrane receptors [
126
,
127
,
128
].
Thus, there are several cases of proteins being degraded through different processes notably as a result of the linkage of different kinds of ubiquitin moieties and undergoing tight regulation by specific DUBs.
3.3. Regulation of the Fusion of Endosome to Autophagosome
3.4. Transcriptional Regulation of Autophagy by USP44
The expression of a number of genes related to autophagy is activated upon starvation in mammalian cell culture. In this process, histone protein H2B monoubiquitination (H2Bub1) is an essential modification for the regulation of gene transcription. The level of H2Bub1 is controlled by the protease USP44 which is upregulated after starvation. Knockdown of
Usp44
results in the maintenance of H2Bub1 upon starvation and abolishes the change in expression of starvation-induced autophagy-related genes. Moreover, downregulation of USP44 encoding gene blocks the induction of autophagy in mESCs (mouse embryonic stem cells) (
Figure 3
H). This study thus unveils a new role for DUB in the transcriptional regulation of autophagy through the modulation of H2B monoubiquitination [
151
].
3.5. Regulation of Autophagy by Bacterial and Viral DUB-Like Enzymes
Ubiquitination of microbial molecular patterns is used by eukaryotic cells to tag invasive pathogens and target them for autophagic degradation. This reaction leads to the accumulation of ubiquitinated protein aggregate known as ubiquitinated aggresome-like induced structures (ALIS). Such aggregates contribute to the upregulation of autophagy and the removal of intracellular pathogens. In response to this host defense mechanism, intracellular pathogens, such as bacteria or viruses, have developed strategies to hijack the host ubiquitin pathway by expressing DUB-like enzymes able to counteract ubiquitination and permit them to escape their elimination by autophagy.
For instance, the intracellular pathogenic bacteria
Salmonella enterica
serovar
Typhimurium
(
S. Typhimurium
) counteracts the ALIS-induced autophagy by translocating a DUB-like enzyme, SseL (
Salmonella
-secreted factor L), into the cytosol. Lysates from mouse macrophages infected with
∆sseL
mutant bacteria are enriched in ubiquitinated proteins, and immunofluorescence experiments revealed that these bacteria are more prone to ubiquitination and recognition by autophagy markers such as LC3 or p62 [
152
,
153
]. Secreted SseL deubiquitinates ALIS and the
Salmonella
-containing vacuoles, reducing the induction of autophagy, further promoting the survival and replication of
S. Typhimurium
[
152
] (
Figure 3
D).
Like
Salmonella
,
Legionella
is an intracellular bacterium that can establish niches in cytoplasmic vacuoles which allows for the survival and replication of the bacteria. The
Legionella pneumophila
effector protein RavZ is a secreted cysteine protease that interferes with the autophagy machinery by irreversibly deconjugating LC3 from the autophagosome membrane [
154
]. LC3 is an autophagy-related ubiquitin-like protein anchored to the autophagosome membrane. The process leading to LC3 lipidation and association to the membrane is similar to the ubiquitination process and requires a ubiquitin-like conjugation system. RavZ deconjugates LC3 from the autophagosome membrane by hydrolyzing the amide bond between the C-terminal glycine residue and an adjacent aromatic residue; the lack of terminal glycine residue prevents the conjugation of LC3 to the membrane [
154
,
155
]. RavZ can also process conventional ubiquitin chains and prevent the targeting of intracellular bacteria for autophagic degradation [
156
]. Indeed, using a co-infection system with
Salmonella
and
Legionella
, Kubori and colleagues showed that
Legionella
RavZ protease prevents the recruitment of the autophagy receptors p62 and NDP52 to the
Salmonella
-containing vacuoles. The lack of autophagy receptors at the SCVs is due to the removal of ubiquitin moieties from the SCVs by RavZ [
156
]. It was recently shown that RavZ specificity toward LC3 anchored to the autophagosomal membrane depends on its interaction with PI3P [
157
]; this observation suggests that RavZ activity as DUB on ubiquitin coats depends on the lipid structure of the nearby vacuole.
Autophagy also targets viruses; yet, many viruses exploit autophagy for their replication [
158
]. Coronaviruses induce the formation of double-membrane vesicles that allow for their replication and are often decorated with LC3 and cell infection with coronaviruses is often accompanied with induction of autophagy [
159
]. The non-structural protein PLP2-TM, which is a transmembrane papain-like protease with deubiquitinating activity [
160
], is sufficient for the accumulation of autophagosomes in different cell lines. However, its role in the regulation of autophagy is independent of its protease activity [
161
]. PLP2-TM interacts with LC3 and promotes the accumulation of autophagosomes by blocking their fusion with the lysosomes. In their study, Chen and colleagues suggest that PLP2-TM blocks autophagosome-lysosome fusion through its interaction with Beclin1, a prime target for viruses that manipulate the autophagy pathway [
162
]. PLP2-TM also promotes the interaction of STING (stimulator of interferon genes) with Beclin1, possibly to impede the activation of downstream antiviral responses, accentuated by the deubiquitination of components of the signaling cascade such as RIG-1 or TRAF3 [
161
,
163
].
These studies provide fascinating examples of possible coevolution and adaptation of the pathogens with their host, where pathogens managed to bypass the host's defense to their own benefit.
4. Targeting Deubiquitinating Enzymes Acting in Autophagy for Therapeutic Purpose
Ubiquitination regulates major cellular functions by controlling protein stability and activity, and defects in this process contribute to the development of many diseases. In some cases, ubiquitin-dependent autophagic processes constitute entry points to design new treatments. Depending on the context, however, autophagy can either be beneficial and contribute to survival and recovery or have adverse effects. As such, there is a need for in-depth understanding of autophagy function and regulation in pathological or physiological situations to define in which situation the inhibition of a particular DUB will be beneficial or detrimental. Interestingly, the design of chemical tools is also a powerful strategy to probe the effect of DUBs inhibition to help both the understanding of their role in the regulation of autophagy and the design of future treatments to modulate autophagy in the corresponding pathologies.
4.1. The Challenge of Developing Drugs Targeting DUBs
Efficiency and usability of an inhibitor depends on its specificity. As such, the discovery of DUB-focused drugs has been challenging [
20
]. Indeed, although DUBs have a catalytic pocket that is suitable for drug development, their sequence and structure are very similar. Moreover, DUBs are flexible enzymes, and the regulation of their activity can involve allosteric effects as described for several DUBs that alternate between active and inactive conformations [
164
,
165
,
166
,
167
,
168
,
169
]. For instance, the free catalytic domain of USP7 undergoes significant structural modifications when it is complexed to Ubal (ubiquitin aldehyde, an irreversible DUB inhibitor) [
164
,
170
]. Recent publications of the dynamic interaction of USP7 with specific small-molecule inhibitors demonstrated that the binding of the molecules into the active site of USP7 modifies the catalytic residue C223. This modification of the active site of USP7 results in its inability to change conformation and perform the cleavage of ubiquitin chains. These studies show that the development of specific inhibitors binding to the active site of DUBs is a realistic approach, opening new avenues in the field [
171
,
172
]. In addition to intrinsic modulation of their activity and substrate specificity, some DUBs require cofactors. For instance, the full activation of USP19 requires its interaction with Hsp90, which promotes the binding of ubiquitin to the catalytic domain of USP19 [
173
]. Another example is the proteasome-associated enzyme USP14, whose activity is strongly enhanced when in association with the proteasome [
66
].
Despite the complexity of the regulation of DUBs activity, much effort has been placed in the identification and development of small-molecule regulating DUBs catalytic activity. Some of the most successful small-molecules affecting autophagy the process, through the inhibition of the activity of autophagy-associated DUBs, are shortly introduced hereafter.
4.2. Characterised Inhibitors of DUBs Acting in Autophagy
There is no doubt that new inhibitors of DUBs will arise with problems related to the existence of several substrates or to poor selectivity, requiring in-depth analysis of the selected compounds in different cell types and stress situations before any preclinical assays. Interestingly, these investigations may tell a lot about how DUBs regulate autophagy and other cell processes, and may be used as molecular tools to unveil regulatory mechanisms.
5. Conclusions
Protein ubiquitination is an essential, reversible, posttranslational modification involved in virtually every cellular process. The past decades have seen remarkable progress in the understanding of the function of DUBs, their mechanism of action and regulation. Recently, there has been an increasing body of evidence that ubiquitination plays a crucial role in regulating autophagy, and DUBs intervene at multiple steps in autophagy. Deregulation in both autophagy and ubiquitination/deubiquitination processes have been linked to many pathologies such as neurodegenerative diseases, cancer onset and progression, and different kinds of viral or bacterial infections. Also, considerable effort was placed on the development and optimization of small-molecules acting as DUBs inhibitors. Such molecules can serve not only as leads for the development of drug-like molecules but also as tremendous useful tools to investigate the molecular mechanism of autophagy and its regulation by the ubiquitin system. By the development of molecules targeting protein-protein interaction instead of the catalytic activity, it could be possible to manipulate and orientate precisely the function of a DUB towards a given process and/or target to avoid pleiotropic effects.
Author Contributions
Writing-Original Draft Preparation, A.-C.J.; Writing-Review & Editing, A.-C.J., E.T., M.-O.F.
Funding
This work was supported by the ANR Labex Gral (ANR-10-LABX-49-01).
Conflicts of Interest
The authors declare no conflict of interest.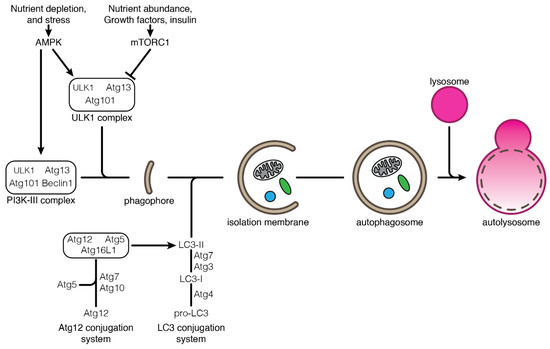 Figure 1. An overview of the macroautophagy process. Initiation of autophagy is under the control of sensor pathways that can sense the availability of nutrients, growth factors, insulin or other stresses. The main regulators of autophagy are AMPK (AMP-activated kinase) and mTORC1 (mTOR complex (1) which act as autophagy activator and inhibitor, respectively. AMPK and mTORC1 regulate the activation of the ULK1 complex which, together with the PI3K-Ш complex, initiates the autophagosome formation. The formation of an autophagosome starts with the generation of a phagophore which elongates into an isolation membrane where the cargos to be degraded are gathered. The enclosure of the isolation membrane forms a double-membraned autophagosome that matures and eventually fuses with the lysosome, forming an autolysosome where lysosomal hydrolases degrade its content. The Atg12 and LC3 conjugation systems are essential for the autophagy process and formation of the autophagosome. The Atg12 conjugation system consists in the formation of the Atg12-Atg5-Atg16L1 complex that then promotes the conjugation of LC3; pro-LC3 is cleaved by Atg4 (LC3-I) which is then conjugated with phosphatidylethanolamine (PE) (LC3-II) before being anchored to the nascent autophagosomal membrane.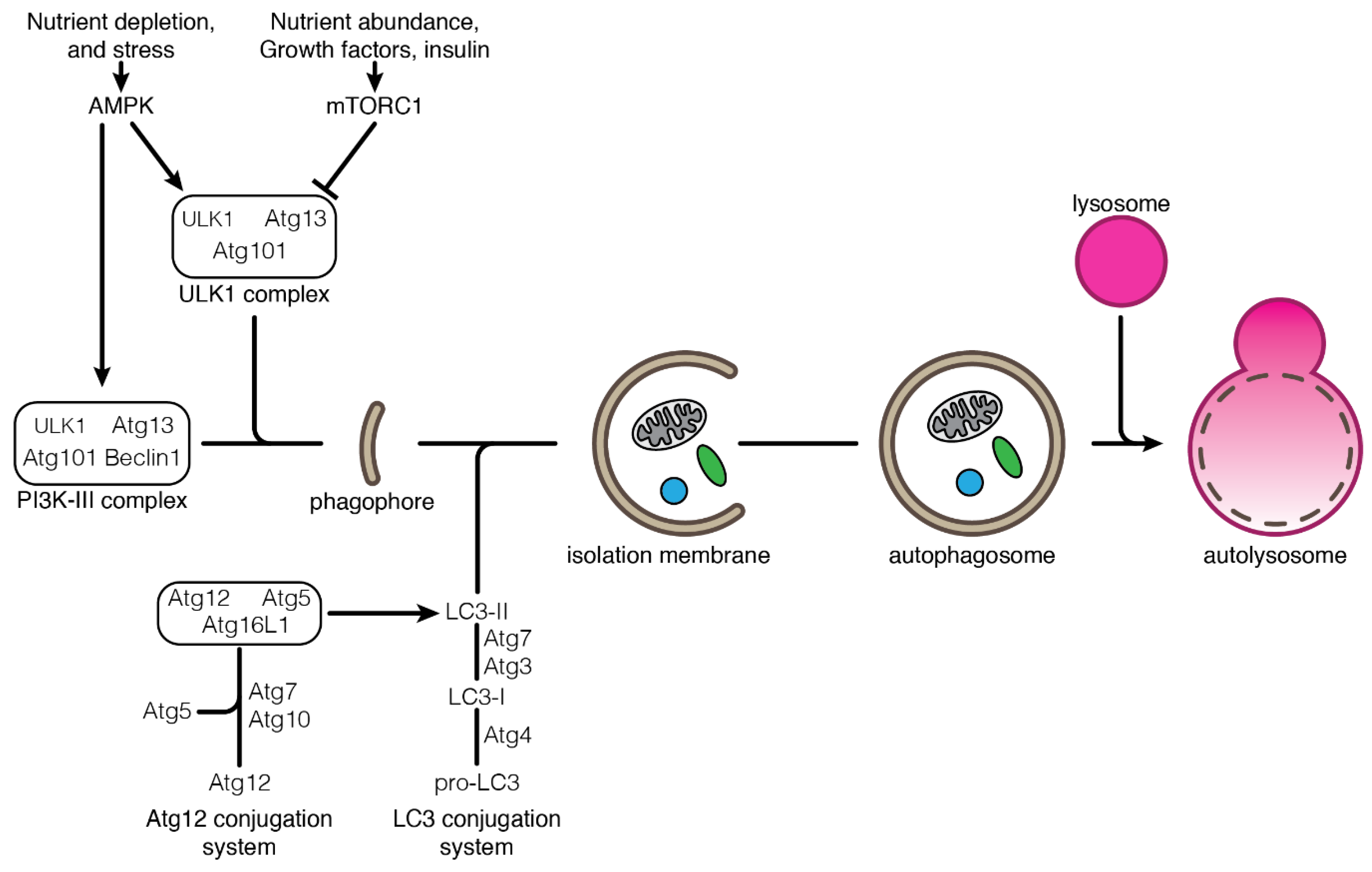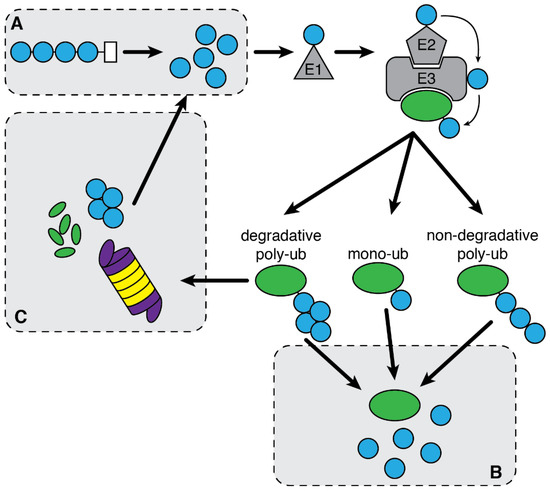 Figure 2. Localization of the action of DUBs in the ubiquitination process. Ubiquitination is catalyzed by three types of enzymes: E1, E2, E3. It is a reversible reaction. DUBs process ubiquitin chains at three level: (A) For the generation of ubiquitin monomers from a ubiquitin precursor; (B) for the selective removal of ubiquitin moieties on ubiquitinated proteins; and (C) for the recycling of ubiquitin from protein degraded by the proteasome.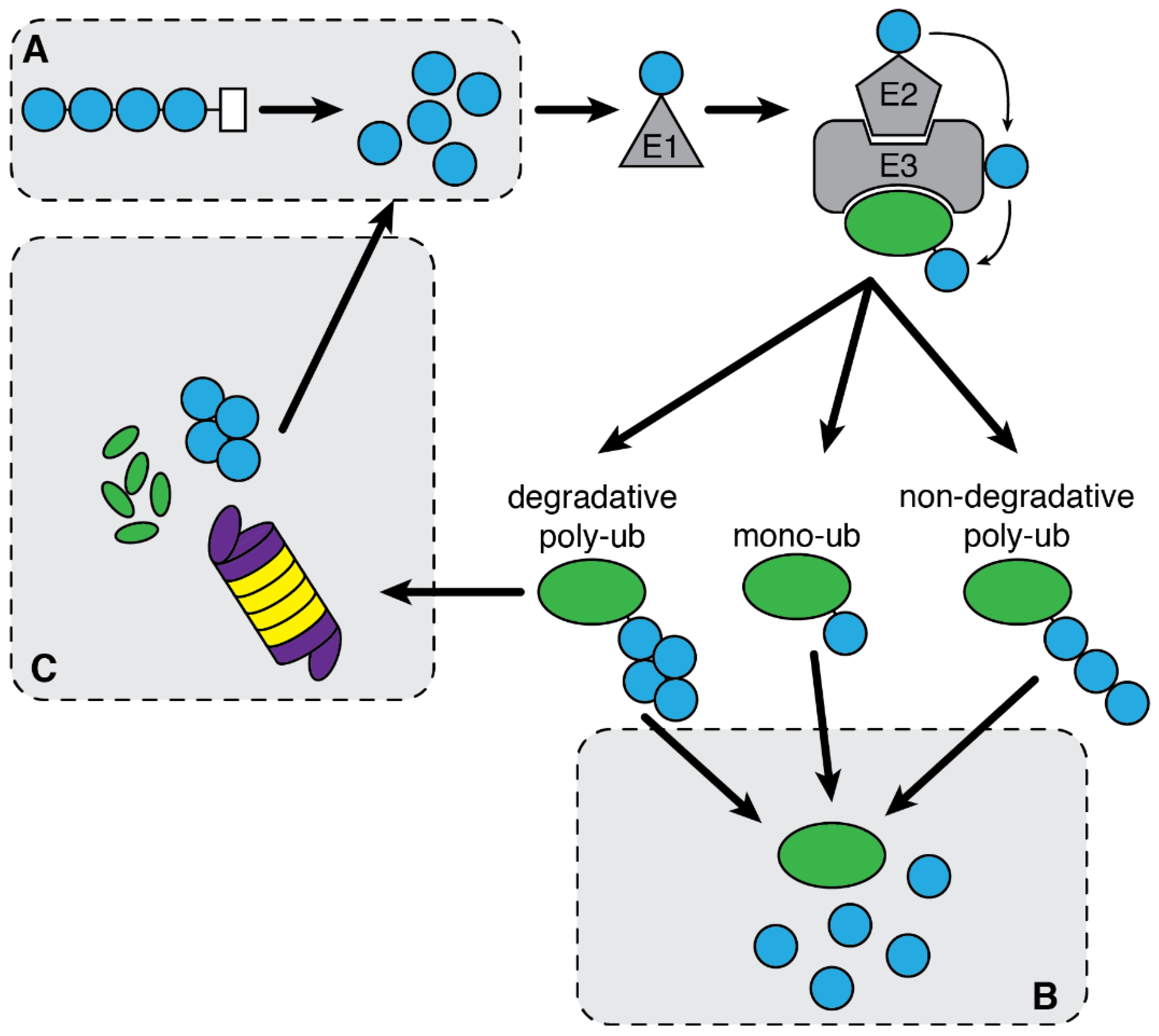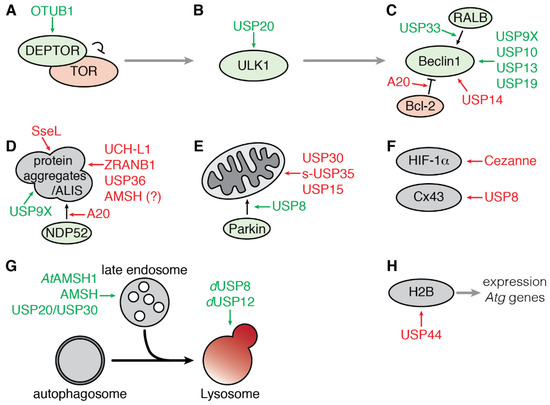 Figure 3.
Functional roles of eukaryotic deubiquitinating enzymes in autophagy. (
A
) DEPTOR interacts with mTOR and inhibits its kinase activity. Under nutrient-rich conditions, DEPTOR is degraded continuously, and mTOR is active, promoting cell growth. However, under nutrient shortage, DEPTOR is stabilized by deubiquitination by OTUB1, interacts with mTOR and inhibits its kinase activity, allowing for the induction of autophagy. (
B
) The deubiquitination of ULK1 by USP20 allows for its stabilization and promotion of autophagy induction. (
C
) Beclin1 is an essential modulator of the PI3K-Ш complex. Beclin1 ubiquitination is crucial to its function. Deubiquitination by A20 inhibits Beclin1 activity by promoting its interaction with the inhibitor Bcl-2. USP14 negatively regulates Beclin1 activity. Other DUBs positively regulate autophagy by stabilizing Beclin1 (USP9X, USP10, USP13, USP19). The deubiquitination of RALB by USP33 benefits their interaction and the induction of autophagy. Ubiquitination also mediates the degradation of selected cargoes by autophagy. (
D
) The deubiquitination of α-synuclein aggregates by USP9X favor their degradation by autophagy, while UCH-L1 contribute to the accumulation of α-synuclein by downregulating its lysosomal degradation. The deubiquitination of various protein aggregates by ZRANB1 or USP36 impairs their degradation by autophagy. Invasion by intra-cellular bacteria tends to induce the accumulation of aggregate-like structures (ALIS) which are ubiquitinated and contribute to the induction of bacterial clearance by xenophagy; the DUB-like enzyme Ssel secreted by
Salmonella
deubiquitinates ALIS, resulting in a downregulation of autophagy and better survival of the bacteria. (
E
) Mitophagy selectively degrades mitochondria. USP8 promotes Parkin-mediated mitophagy by deubiquitinating Parkin and promoting its recruitment to the mitochondria. USP30, s-USP35, and USP15 counteract Parkin by deubiquitinating Parkin's substrates, thus impairing mitophagy. (
F
) Specific ubiquitinated substrates can also be targeted for autophagy. Deubiquitination of HIF-1α and Connexin-43 (Cx43) by Cezanne and USP8, respectively, prevents their lysosomal degradation. (
G
) Autophagosomes can fuse with the endosomes. This fusion requires the ESCRT machinery as well as AMSH (AtAMSH1 in
A. thaliana
). USP20 and USP30 to a lesser extent favor the direction of the β2-adrenergic receptors to the autophagosome for degradation. In
Drosophila
, dUSP8 and dUSP12 positively regulate autophagy by contributing to the biogenesis of the lysosome. (
H
) Deubiquitination of H2B by USP44 negatively regulates the transcriptional activation of autophagy. Legend: Colored arrows show the action of DUBs that support (green) or inhibit (red) autophagy. Pink proteins are molecular inhibitors of autophagy; green proteins are inducers of autophagy.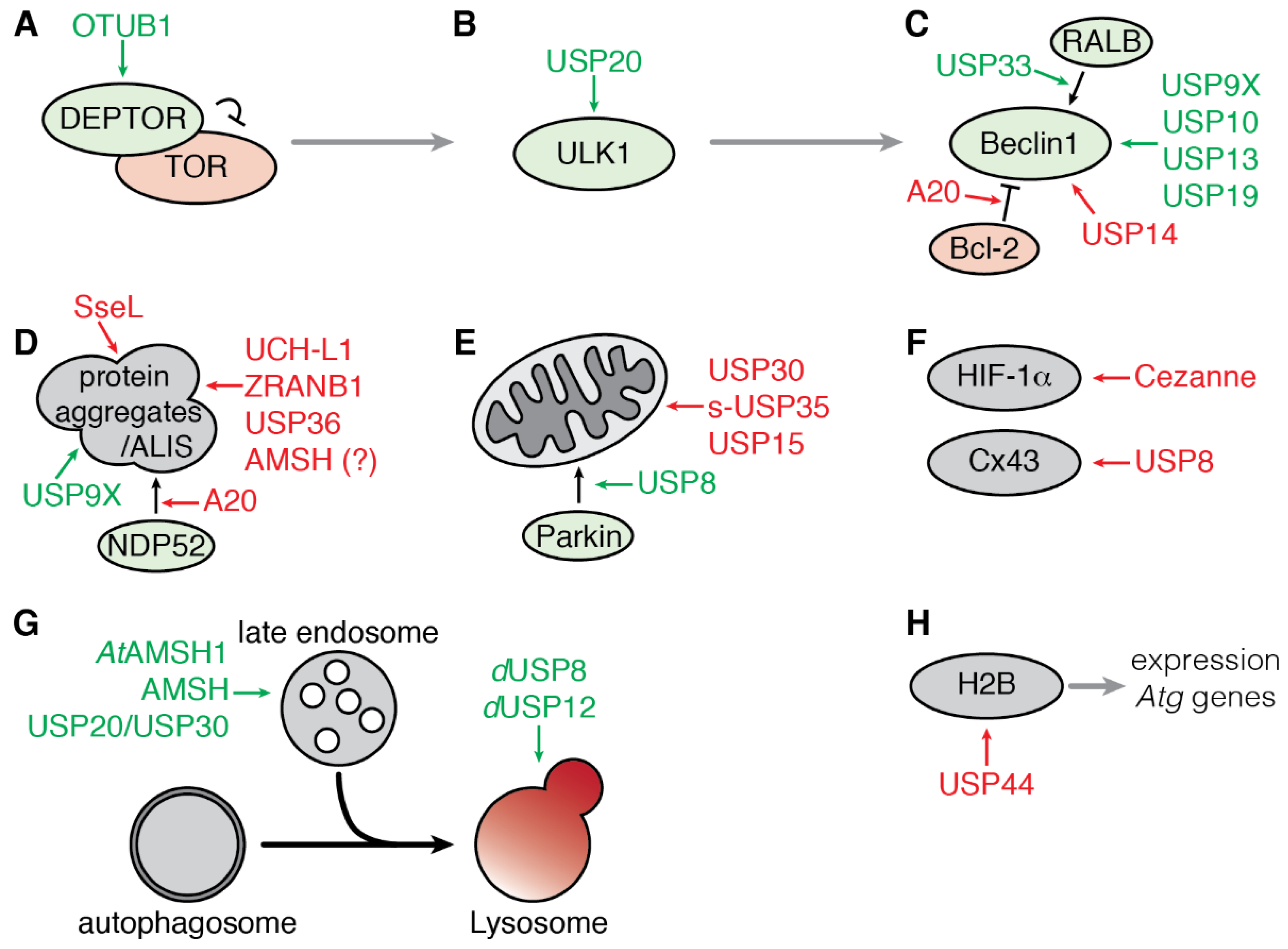 © 2018 by the authors. Licensee MDPI, Basel, Switzerland. This article is an open access article distributed under the terms and conditions of the Creative Commons Attribution (CC BY) license (http://creativecommons.org/licenses/by/4.0/).