Open Access This article is
freely available
re-usable
Review
Human-Induced Pluripotent Stem Cell Technology and Cardiomyocyte Generation: Progress and Clinical Applications
1
Department of Medicine and Aging Sciences, University "G.d'Annunzio" of Chieti-Pescara, 66100 Chieti, Italy
2
Department of Industrial Engineering (DII), University of Padova, 35131 Padova, Italy
3
Laboratory of Regenerative Medicine, Department of Experimental Medicine, University of Genova, 16121 Genova, Italy
*
Author to whom correspondence should be addressed.
Received: 14 March 2018 / Accepted: 22 May 2018 / Published: 25 May 2018
Abstract
:
Human-induced pluripotent stem cells (hiPSCs) are reprogrammed cells that have hallmarks similar to embryonic stem cells including the capacity of self-renewal and differentiation into cardiac myocytes. The improvements in reprogramming and differentiating methods achieved in the past 10 years widened the use of hiPSCs, especially in cardiac research. hiPSC-derived cardiac myocytes (CMs) recapitulate phenotypic differences caused by genetic variations, making them attractive human disease models and useful tools for drug discovery and toxicology testing. In addition, hiPSCs can be used as sources of cells for cardiac regeneration in animal models. Here, we review the advances in the genetic and epigenetic control of cardiomyogenesis that underlies the significant improvement of the induced reprogramming of somatic cells to CMs; the methods used to improve scalability of throughput assays for functional screening and drug testing in vitro; the phenotypic characteristics of hiPSCs-derived CMs and their ability to rescue injured CMs through paracrine effects; we also cover the novel approaches in tissue engineering for hiPSC-derived cardiac tissue generation, and finally, their immunological features and the potential use in biomedical applications.
Keywords:
regenerative medicine; reprogramming; cardiac differentiation; secretoma; tissue engineering
1. Introduction
Cardiovascular disease (CVD) and heart failure (HF) still represent the major causes of mortality and morbidity in the Western world [
1
]. CVD and HF can arise from myocardial infarction (MI) [
2
], chemotherapy-derived cardiotoxicity [
3
], and congenital defects [
4
] affecting cardiac function. The pathological basis is mainly related to the very limited ability of the heart to withstand injury and aging, which is due to insufficient cardioprotection combined with almost the complete lack of myocardial renewal. In such scenarios, cardiac transplantation still represents the ultimate therapeutic option for HF, although it is severely hindered by the short supply of available donor hearts. This also translates into an economic burden for national health institutions, as more than a million hospitalizations due to HF are annually reported in the EU alone [
4
]. Cell-based cardiac tissue engineering strategies could provide regenerative therapeutic options and if these strategies utilize autologous cells, the limitations derived from biocompatibility and immune response would be surmounted. Recently, the development of reprogramming technology in 2006 in Yamanka's lab [
5
] and the knowledge acquired in the cardiac specification and differentiation makes the potential replacement of the lost cardiomyocytes (CMs) more feasible. Indeed, the ability of human-induced pluripotent stem cells (hiPSCs) to differentiate into autologous tissue-specific cells, similar to embryonic stem cells (ESC), but without the need to destroy a human embryo, is an important breakthrough in human stem cell biology [
6
]. A number of pre-clinical studies have explored the effects of intramyocardial injection of hiPSCs derived cardiomyocytes into murine and porcine models of MI (a complete recent list of pre-clinical studies is provided in Lalit et al. [
7
]). Nelson et al. [
8
] showed that the intramyocardial injection of iPSC-derived CMs into a murine model of acute MI determined an improvement in the clinical outcomes four weeks after permanent coronary artery ligation. Thereby, hiPSCs have demonstrated significant potential as a tool in regenerative medicine.
Here, we review the recent advances in our understanding of the induced reprogramming of somatic cells to CMs. Starting from the growing understanding of heart development and from new insight in the epigenetic control of cardiac differentiation, we covered the progressions obtained in the cell culture approach and in the differentiation methods, the analysis of the secretoma of the hiPSCs differentiated cell, the new advances in hiPSC-derived bioengineered cardiac tissues, the exploitation of iPSCs-CMs for the in vitro modeling of cardiac diseases or for cardiac safety testing of drug and, finally, the immunological concerns associated with their clinical application.
2. Regulatory Pathways and Epigenetic Control of Cardiomyogenesis
Since hiPSCs can play a role in the therapeutic approach of CVD, a comprehensive understanding of the regulatory pathways that expand and functionally differentiate cardiac cells from their multipotent mesoderm precursors is required. Advances in cardiac progenitor cell biology are relevant, indeed, for the development of translation studies employing hiPSCs derived cells, since the possibility to obtain a near homogenous population of cardiac cells should help to minimize teratoma formation following cell transplantation.
The major steps of heart development are conserved between humans and other mammalians. This step by step complex (that have already been thoroughly reviewed in [
9
,
10
]) consists of a conserved regulatory network of transcription factors and signaling pathways that control specification, maturation, and maintenance of each of the multiple highly specialized myocardial lineages (ventricular, atrial, and conduction system cells).
2.1. Mesoderm Induction, Cardiac Specification, and Differentiation
During embryonic development, the formation of the nascent mesoderm requires the spatially and temporally regulated expression of Wnt, BMP, and Nodal/Activin pathway molecules. These factors regulate the entrance and the migration of the epithelial cells in the gastrulating epiblast, resulting in the generation of mesodermal cells marked by the expression of Brachiury T (Bry) [
9
].
Subsequent fate restriction of mesodermal precursors toward CV and hemopoietic progenitors can be identified by the expression of other specific factors. Indeed, the heart forms soon after gastrulation in the anterior mesoderm adjacent to the endoderm, whereas blood cells arise from the posterior mesoderm. Since bone morphogenetic proteins (BMPs) 2 and 4 are expressed in the lateral endoderm along the entire anterior-posterior axis, whereas heart induction is restricted to the anterior part, this implies that additional factors are required for the cardiac commitment of the undifferentiated mesodermal cells. One key gene in heart development is the mesoderm posterior 1 (Mesp1), which is considered the "master regulator" of cardiac progenitor specification [
11
,
12
,
13
]: in fact, it drives cardiac differentiation via the DKK1-mediated inhibition of Wnt signaling [
13
]. Mesp1 has been correlated with the definitive cardiac commitment by activating the expression of CV lineage defining transcription factors such as Nkx2.5, Isll, and myocardin.
2.2. The Wnt Signaling
The neuronal tube and the adjacent notochord are potent sources of signals that repress cardiogenesis in the neighboring mesoderm. In particular, Wnt genes are highly expressed by the neuronal tube. Wnt proteins bind the frizzled receptors that block glycogen synthase kinase-3 (GSK3). This enzyme, when active, phosphorylates the β-catenin, resulting in its degradation by ubiquitin-mediated proteolysis. Thereby, Wnt signaling blocking GSK3 activity prevents the degradation of β-catenin that is able to move from the cytoplasm to the nucleus where it activates the Wnt target genes. In this way, Wnt signaling blocks cardiogenesis in the posterior mesoderm. On the other hand, Wnt signaling must be blocked to permit the heart development from the Mesp-1
+
cells in the anterior mesoderm. Crescent is a family of proteins that share homology with the extracellular part of the Wnt receptor. Crescent is present in the anterior part of the mesoderm where another Wnt antagonist, DKK-1 is also expressed: in this way, the anterior mesoderm becomes permissive for heart formation interfering with the signal of Wnt [
14
,
15
].
2.3. Epigenetic Regulation of Human Cardiac Differentiation
2.4. The "Epigenetic Memory" in hiPSCs Differentiation Potential
Although hiPSCs can be generated from different somatic cells (fibroblasts, peripheral blood cells, keratinocytes), they maintain a residual DNA methylation signature transmitted from the parental cells, known as "epigenetic memory", leading them to differentiate preferably into their original cell line [
39
,
40
,
41
]. Sanchez-Freire studied the contribution of epigenetic memory on the differentiation potential and maturity of hiPSCs derived from cardiac progenitor cells (CPC-hiPSCs) and dermal fibroblasts (Fib-hiPSCs). They found that Fib-hiPSCs had higher methylation levels of a region immediately upstream of the first coding exon of Nkx2.5 when compared to CPC-hiPSC. This evidence seems to suggest that the incomplete resetting of the pre-existent epigenetic state contributes to increased differentiation efficiencies and to the enriched cardiac gene expression observed in CPC-hiPSCs [
42
].
3. Generation of CMs from hiPSCs Culture
The number of protocols that derive CMs from hiPSCs have increased exponentially over the past decade and the differentiation protocols were modulated to generate mainly atrial-, ventricular-, and nodal-like CM subtypes. Important advances have been achieved in chemical-based cardiac differentiation, cardiac subtype specification, large-scale suspension culture differentiation, and the development of chemically defined culture conditions. These protocols of hiPSCs require key steps for the differentiation progression that have already been thoroughly reviewed [
9
,
43
,
44
].
In vitro differentiation of hiPSCs into CMs, regardless of the methodological approach, should mimic the sequential steps of in vivo embryonic cardiac development providing temporal administration of molecules that regulate specific signaling cascades: the activation of the canonical Wnt signaling induces the early primitive streak/mesoendoderm stage and the following inhibition of the same pathway at a later stage allows it to achieve the cardiac mesoderm specification [
9
,
43
,
44
].
Three main culture approaches have been described for small scale hiPSCs-CMs generation: (i) the co-culture of the hiPSCs with the inducing visceral endodermal cell line END-2. This was the first system used, but was also the least efficient one [
10
]; (ii) the embryoid body formation assay (EB) based on a three dimensional (3D) aggregation system; and finally (iii), the monolayer culture system used in many labs even if with different protocols. Large-scale cell cultures rely on culturing cells in dynamic suspension systems such as spinner flasks and bioreactors. A summary of the hiPSCs-CMs generation is reported in
Table 2
.
3.1. EB Formation-Based Differentiation Protocol
3.2. Monolayer Culture-Based Differentiation Protocol
3.3. Large-Scale CM Differentiation in Suspension Culture
4. Morphological and Functional Properties of hiPSCs Derived CMs
5. hiPSC Paracrine Effects for Cardiac Repair and Regeneration
In light of such evidence, hiPSCs can offer an appealing therapeutic tool for future cardiac regenerative medicine via the combined advantage of their pluripotency and peculiar paracrine potential.
6. Advanced Technologies and Tissue Engineering: Novel Approaches for Studying hiPSC-Derived Cardiac Tissues
7. The Promise of hiPSCs-CMs in Biomedical Applications
hiPSCs demonstrate pluripotency, the ability to self-renew and are patient-specific. Based on these features, hiPSCs are expected to be applicable in drug discovery, disease modeling, and cell therapy.
8. The Immunological Challenges of hiPSCs and the Generation of Haplobank for the Cell Therapy
To date, it is still unclear how the immune system of potential recipients might perceive tissues differentiated from hiPSCs (reviewed in [
154
]). Some studies predicted that iPSCs-derived tissues may not be immunogenic since, unlike solid organs from living or cadaveric donors, tissues from hiPSCs lack both the endogenous dendritic cells and the lymphatic drainage required for the emigration of the immunological cells into the secondary lymphoid tissues of the recipient; other studies have highlighted the capacity of hiPSCs to actively exert a local nonspecific suppressive effect on T cells [
155
,
156
,
157
]. Interestingly, some authors suggested that the epigenetic memory of the hiPSCs could influence the immune response elicited by their administration. Wang et al. [
158
] demonstrated that the iPSCs lines derived from Sertoli cells of the mouse testis, an immunological-privileged site, were significantly less immunogenic when transplanted into allogeneic recipients than iPSCs derived from fibroblasts. Thus, in addition to the intrinsic immunosuppressive features of iPSCs, the epigenetic characteristics associated with immune privilege may also be exploited to reinforce the iPSCs' capacity to evade immune recognition. Unfortunately, the immunological consequences of iPSCs transplantation are still uncertain and affect the planning of clinical trials. Indeed, although iPSCs seem to be immunologically privileged, evidence suggests that the immune response of the recipient may oppose the engraftment and-/or the persistence of the iPSCs. It has been reported that iPSCs lines transplanted in syngeneic recipients attracted a significant T-cell infiltrate that led to their rejection [
159
]. The extent of such immunogenicity appeared to decrease with differentiation, but some terminally differentiated cell types, such as smooth muscle cells, retained significant immunogenicity that led to their demise upon transplantation [
159
,
160
].
The immune response evoked by transplanted iPSCs may be ascribed to the ectopic expression of "developmental antigens" [
154
]. Pluripotency-associated genes are expressed at high levels within the early embryo and are normally downregulated upon implantation, being extinguished long before thymic development and selection of the T-cell repertoire. Reprogramming of adult somatic cells to pluripotency is responsible for the re-expression of developmental antigens, which are not properly downregulated during differentiation in vitro, most likely accounting for their rejection, even by autologous recipients.
hiPSCs technology supports also the possibility to establish a "stem cell haplobank" in order to facilitate rudimentary matching with potential recipients. The opportunity to pre-select donors with a desirable haplotype for the generation of hiPSC lines opens up an opportunity, not feasible with hESC, to create a bank of cell lines specifically chosen to match the widest possible number of recipients worldwide [
161
]. This shall be done by recruiting donors who are blood group O and are homozygous for common human leukocyte antigens (HLA). The haplobank would allow to match hiPSCs and recipient for selected HLA loci (in particular HLA-A, -B and -DR), as well as in solid organ transplantation. In any case, it should be taken into consideration that different HLA loci and minor histocompatibility antigens might be responsible of rejection. This event is generally prevented by a long-term immunosuppressive therapy, that should be discouraged with hiPSCs transplantation, because of the recognized risks of tumorigenesis of these cells. Consequently, the success of an hiPSC haplobank is linked with the development of alternative strategies for immune intervention. While studies have proposed the encapsulation of the hiPSC-derived tissues in order to provide a protective barrier against the recipient's immune system, other recent studies have suggested more subtle opportunities for immune intervention and for inducing the tolerance state [
159
,
160
,
161
]. Although the challenge remains considerable, evidence indicates that the induction of immunological tolerance to hiPSC-derived tissues is feasible and significantly easier than the establishment of tolerance to tissues from conventional sources. In particular, the microenvironment created by hiPSC-derived tissues supports the establishment and maintenance of tolerance, suggesting that such grafts may actively participate in their own survival.
9. Conclusions
hiPSCs-CMs are a promising tool in drug discovery, disease modeling, and cell therapy, but despite the high hopes and expectancy, issues with the reprogramming technology and the biology of reprogrammed cells still cast a shadow on the clinical application of hiPSCs. The technical hurdles in reprogramming have resulted in diversity in the quality of hiPSCs generated, the "epigenetic memory" influences the differentiation efficiency, and the reprogrammed cells present poorly controlled risks of unpredictable reactions in both the processes of dedifferentiation and subsequent differentiation of the cell strains employed for therapeutic or experimentation goals.
However, although the reprogramming technology that creates hiPSCs-CMs is currently imperfect and much additional basic research will be required before its clinical application, these cells will likely impact future therapy, representing multi-purpose tools for medical research and illuminating many areas related to CV disease. Use of patient-specific hiPSCs-CMs may mirror clinical outcomes of drug-induced cardiotoxicity [
134
,
162
], and may be used for drug screening in the future. For precision medicine, creating biobanks that include both diseased hiPSCs and genetically matched controls has been proposed as a useful resource to study interpatient variation and changes in metabolic and stress-response genes that help risk-stratify patient-specific susceptibility to drug-induced cardiotoxicity [
163
].
Author Contributions
All authors conceived and designed the outline of the manuscript, examined, and ensured the consistency and validity of the contents. A.D.B. and B.G. revised the final version of the manuscript.
Acknowledgments
This work was supported by the Italian Ministry of Education, University and Research (Ministero dell'Istruzione, dell'Università e della Ricerca-MIUR), grant number SIR2014-RBSI140GLQ.
Conflicts of Interest
The authors declare no conflict of interest.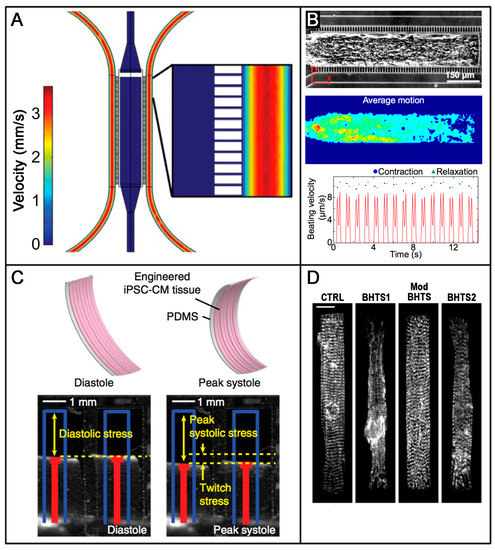 Figure 1.
(
A
). Schematic of the device: the central cell loading channel is connected to the lateral C-shaped medium-delivering channels by a "ladder" of thin microchannels, purposely design to protect cells from shear and switch to a diffusive mass transport regime. The colors are representative of the linear velocities on a chosen plane, and show decreasing values from red to blue; (
B
). Characterization of the 3D cardiac tissue formed in the middle channel. Top: optical microscopy image showing tissue density and overall organization and alignment; middle: heat map of the average motion generated by the contractile activity and, bottom: corresponding average beating kinetics. Adapted with permission from Mathur et al. [
127
]; (
C
). Top: schematic representation of contracting constructs and approach to measurements; Bottom: iPSC-CMs seeded onto thin elastomers with patterned lines of fibronectin self-organized into microscaled myocardial tissues and exhibited contractile properties in response to electrical stimulation; (
D
). Representative images showing actinin staining of iPSC-CMs on micropatterned fibronectin rectangles. BTHS iPSC-CM micro-tissues show impaired sarcomere organization (BTHS1 and 2 in Galactose and Glucose medium, respectively), while cells transfected with TAZ modRNA (Mod BHTS) clearly demonstrate a rescued organization, comparable to that of the control cultures (CTRL). Adapted from Wang et al. [
128
].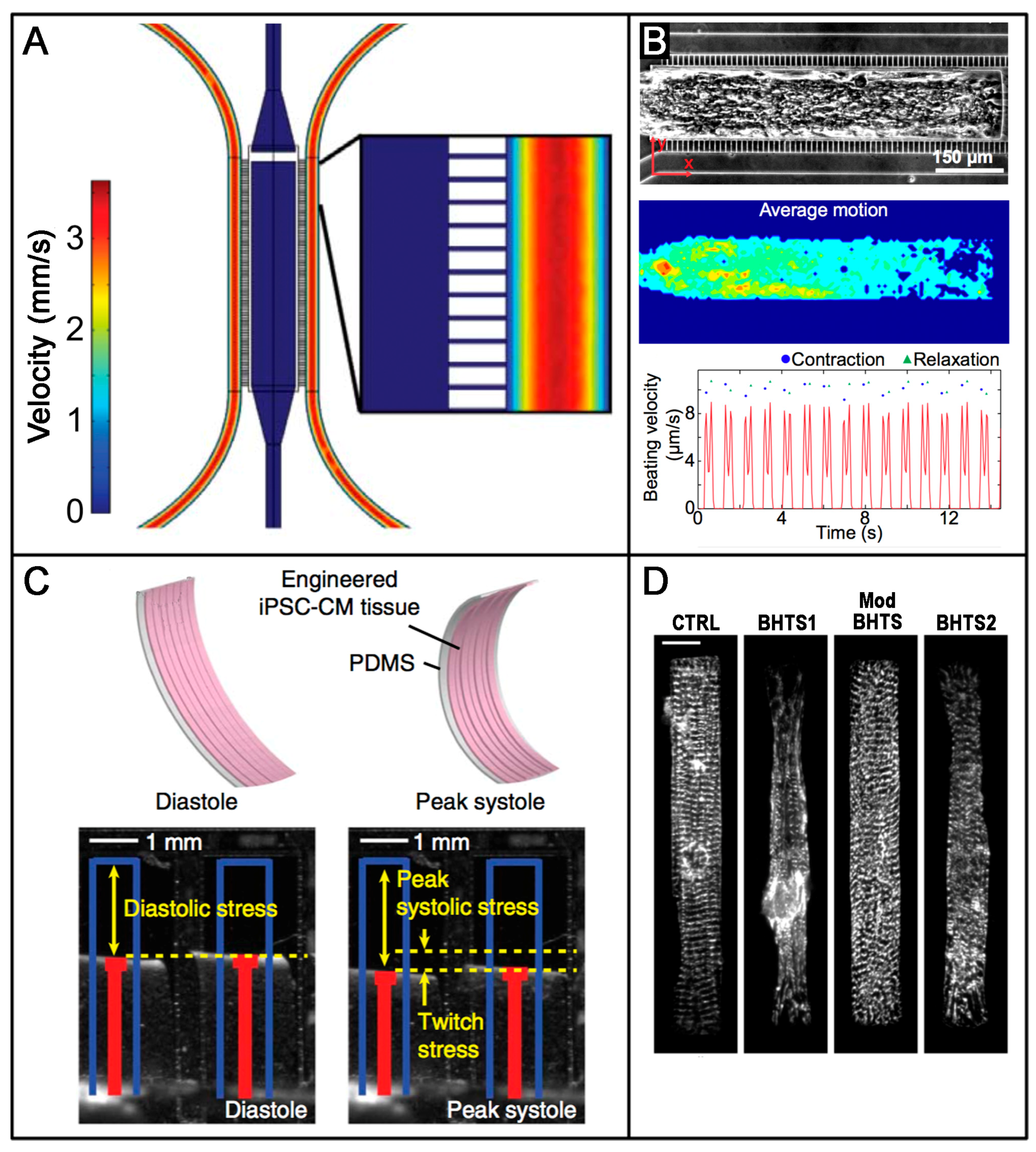 Epigenetic Modifications
Name
Action
Reference

Histone acetylation

Histone acetyltransferase (HAT)
P300 is essential for cardiac development. It contributes to Gata4, Srf, Mef5c expression. P300 knockout mice are embryonically lethal
[37]
Histone deacetylase (HDAC)
Mice lacking both HDAC1 and HDAC2 show neonatal lethality due to arrhythmias and dilated cardiomyopathy
[38]
Inhibitors of HDAC
Trichostatin A promotes cardiac differentiation increasing expression of Gata4, Mef2c and Nkx2.5
[25]
H3K9ac and H3K27ac
In CMs from fetal to adult stages, TNNT2 shows a sequential enrichment of active histone markers such as H3K9ac and H3K27ac
[24]

Histone methylation

Histone methyltransferases (HTMs)
Loss of HMT Smyd1 is embryonic lethal, because mice show right ventricular hypoplasia and impaired cardiomyocyte maturation.
[21]
HTM WHSC1 is involved in Nkx2.5 repression via H3K3me37.
Histone demethylase (HDMs)
The HDM UTX removes H3K29me3 activating the cardiac transcription factors Gata4, Nkx2.5, Srf, Tbx5. Mice lacking UTX show severe heart malformation.
[20]
H3K4me and H3K27
H3K4 methylation levels are fundamental in murine CMs. A loss of H3K4 methylation can result in intracellular calcium modifications and increased contractility
[18]
FGF19 and NODAL genes show high levels of H3K4me3 and H3K27me3 in undifferentiated ESC and low levels during the differentiation
[17]
Cardiac transcription factorsGata4, Wnt2, Tbx2, Nkx2.5 show high levels H3K27me3 during the pluripotency that decrease during differentiation, in the same time there is a gradual increase in H3K36me3 and H3K4me3
Wnt, Hedgehog, TGFβ family, VEGF, FGF family, PDGF(pathways involved in cardiac differentiation) show a stage-specific repression by H3K27me3 and activation by H3K36me3 and H3K4me3

DNA methylation

DNA methyl transferase (DNM)
DNMT1 expression decreases from mesoderm to CM stage while DNMT3A increases from ESC to primitive mesoderm stage. WNT and TGF-β genes undergo promoter methylation changes, the latter pathway became hypomethylated and upregulated in CM stage, whereas generally WNT genes acquire promoter methylation
[22]
Inhibitors of DNA methylation
5-Azacytidine promotes cardiac differentiation in ES and adult mesenchymal stem cells
[25]
mCpG
In CMs from fetal to adult stages, TNNT2 shows a sequential loss of mCpG, instead fetally expressed TNNI1 is silenced postnatally and there is a loss of de novo mCPG.
[24]
Comparison of mCpG changes during development of fetal and maturation of infantile CMs showed a predominant loss of mCpG
Changes in mCpG is accompanied by changes in histone marks. Demethylated region during maturation gained the active histone marks H3K27ac, H3K4me3, H3K36me3 and H3K9ac, whereas hypermethylated region showed a loss of these marks

Long non

-

coding RNA

Braveheart
Braveheart is an activator of Mesp1, Gata4, Nkx2,5, TBx5, Hand1. Braveheart acts upstream Mesp1 and regulates the temporal activation of cardiac genes through modulation of Mesp1 itself
[27]
Braveheart interacts with SUZ12 that acts as a histone methyltransferase.
Braveheart induces the differentiation of murine bone-marrow-derived mesenchymal cells into cells with a cardiogenic phenotype.It increases sarcomeric α-actin and cardiac troponin T expression and the upregulation of Gata4, Nkx2.5, Isl-1 and Mesp1.
[28]
Fendrr
Fendrr Interacts with PRC2 and Trg/MLL complex to modulate the chromatin signature of pitX2 and Foxf1.
[29]
Loss of Fendrr affects the expression of Nkx2.5 and Gata4. Fendrr knockout is embryonic lethal in mice due to defect on the heart septum.
[29]

MicroRNAs

miR-1, miR-499
miR-1 controls myogenic differentiation in mouse heart
[30]
miR-499 is a cardiac specific miRNA
miR-1 and miR-499 enhance the cardiac differentiation of cardiomyocyte progenitor cells, probably targeting Sox6 with a consequent increasing of α-cardiac actinin and cardiac troponin T
Inhibition of miR-1 and miR-499 blocks cardiac differentiation.
miR-322/-503 cluster
miR-322/-503 cluster encodes in an intergenic region on the X-chromosome and increases Nkx2.5, Mef2c, Tbx5, α-MHC inducing CM differentiation, probably targeting Celf1, whereas their deletion reduces the expression of cardiac markers
[33]
miR-322/-503 cluster acts by the repression of their target Celf1, that lead the ESC to the neuronal differentiation: it is likely that the miR-322/-503 cluster promotes the cardiac differentiation impairing the neuronal through Celf1 inhibition
miR-208
miR-208 is involved in the regulation of myosin heavy chain isoform switch during developmental and pathophysiological condition.
[35]
miR-1-2
miR-1-2 induces cardiac differentiation of murine bone marrow-derived mesenchymal stem cells by Wnt signaling pathway
[34]
Transfection with miR-1-2 increases expression of Nkx2.5, Gata4, cTnI
miR-133
miR-133 together with Gata4, Tbx5 and Mef2c improves cardiac reprogramming from human or murine fibroblast, by repressing Snai1
[30,32]
miR-26b
miR-26b promotes cardiac differentiation of P19 cells, by regulating canonical and non-canonical Wnt pathway. It represses the expression of Wnt5a and Gsk3β
[31]
let-7
let-7 family is upregulated during in vitro human cardiac differentiation.
[36]
The overexpression of members of let-7 family for 2 weeks in hESC derived CMs increases contractile force, cell size, sarcomere length and action potential duration. Knockdown of let-7 results in a reduction of sarcomere length and expression of cardiac maturation markers. Let-7 family probably acts downregulation two of its targets, IRS2 (a member of insulin signaling pathway) and EZH2 (a histone methyltransferase that can regulate gene expression)
Differentiation Condition
Inductive Factors
Beating Starting
Efficiency
CM Subtypes
Functional Assays
Ref
EB Formation-Based Culture
Static suspension culture
Activin A, BMP4, VEGF, DKK1, bFGF, Ascorbic Acid
Day 10
40–50% (cTNT day 14–16)
atrial, ventricular
Extracellular electrical activity, Patch clamp analysis, Cell transplantation
[45]
Static suspension culture
Activin A, BMP4, IWR-1, Ascorbic Acid, Blebbistatin
Day 7
100% beating EBs day 15 90% cTNT day 21
Ventricular
Extracellular electrical activity, Patch clamp analysis, Optical mapping of membrane potential
[46]
Forced aggregation (96 well)
Activin A, BMP4, VEGF, SCF, WNT3a
Day 9
96% beating EBs day 10 27% Nkx2.5 day 10
n.a.
Extracellular electrical activity, Patch clamp analysis
[47]
Forced aggregation (96 well and AggreWell)
Activin A, BMP4, bFGF, Lipids, Insulin, CHIR, IWP-2
Day 6
100% beating EBs day 6 50% cTnT day 6
ventricular
Extracellular electrical activity, Patch clamp analysis, Intracellular calcium transient imaging
[48]
Monolayer Culture
Monolayer
Activin A, BMP4
Day 12
50% MHC day 21
n.a.
Transplantation to the heart
[49]
Monolayer-sandwich
Activin A, BMP4, bFGF
Day 7
90% cTnT day 30
Mixed
Patch clamp analysis, Intracellular calcium transient imaging
[50]
Monolayer
BMP4, bFGF, CHIR, IWP-2, Ascorbic Acid
Day 6
90% cTnT
ventricular
Extracellular electrical activity, Patch clamp analysis, Intracellular calcium transient imaging
[48]
Monolayer
CHIR, IWP-2
Day 7
98% cTnT day 15
Mixed (atrial and ventricular)
Patch clamp analysis
[51]
Monolayer
CHIR, WNT-C59, Ascorbic Acid
Day 7
90% cTnT
Mixed
Extracellular electrical activity-based nanopillar recording, Patch clamp analysis
[52]
Monolayer
CHIR99021, IWR-1, T3, Dexamethasone
80% colocalization of sarcomeric alpha actinin and Junctophilin 2
Mixed
T Tubule staining, Paced Calcium Transients, Calcium Kinetics and contractility
[53]
Suspension Large Scale Culture
Matrix-dependent aggregates/Rocker culture
CHIR, IWP2
Day 7
65% (cTnT/day 12)
n.a.
Toxicology assay
[54]
Matrix-dependent aggregates/EB formation/spinner flasks
SB203580
Day 10
80% (beating EBs/day 16) 20% (MHC/day 16)
n.a.
QT prolongation assay and CM toxicity test
[55]
Matrix-independent aggregated/Erlenmeyer Flask and bioreactor
CHIR, IWP2
Day 6–7
84% (cTnT, MHC/day 10)
80–90% ventricular
Bioartificial cardiac tissue generation, Patch clamp analysis, Extracellular electrical activity
[56]
Matrix-independent aggregated/Spinner flask
CHIR, IWR-1, SB431542, Purmorphamine
Day 7
>90% (cTnT/day 15)
n.a.
Extracellular electrical activity, Patch clamp analysis
[57]

Table 3.
Physiological characteristics in adult and hiPSC-derived CMs. Adapted from Denning et al. [
93
].
Adult-CM
hPSC-CM
Beating
Quiescent
Present
Conduction Properties
Capacitance
150 pF
20–50 pF
Resting mem potential
−80 to −90 mV
−20 to −60 mV
Upstroke velocity
150–350 V/s
10–50 V/s
Conduction velocity
60 cm/s
10–20 cm/s
Location of gap junctions
Intercalated discs
Circumference of cells
Ion channel density (pA/pF)
INa
−196
−100 to −244
ICaL
−4.3 to −10.2
−2.2 to −10
Ito
2.3 to 10.6
2.5 to 13.7
IKs
0.18 to 0.58
0.3 to 0.7
IKr
0.5
0.4 to 0.8
IK1
−12
0 to −3.4
INCX
2.5 to 3
3.6 to 7.9 (inward mode)
Ca2+ kinetics
APD90
260 ms
300–700 ms
Cycle Length
0.8–1 s
0.8–2 s
T-rise
2.5 ms
3.5–10 ms
Triangulation
45 ms
45–120 ms

Table 4.
Cardiac Safety Index of the Tyrosine kinase inhibitors (TIKs). Adapted from Sharma et al. [
136
].
| Drug | Cardiac Safety Index |
| --- | --- |
| Afatinib | 0.444 |
| Erlotinib | 0.635 |
| Gefitinib | 0.409 |
| Lapatinib | 0.209 |
| Axitinib | 1.000 |
| Cabozatinib | 0.769 |
| Pazopanib | 0.671 |
| Ponatinib | 0.483 |
| Regorafenib | 0.010 |
| Sorafenib | 0.004 |
| Sunitinib | 0.218 |
| Vandetanib | 0.041 |
| Bosutinib | 0.315 |
| Dasatinib | 0.524 |
| Imatinib | 0.126 |
| Nilotinib | 0.104 |
| Dabrafenib | 0.459 |
| Vemurafenib | 0.003 |
| Trametinib | 1.000 |
| Ibrutinib | 0.507 |
| Crizotinib | 0.063 |
The cardiac safety index is a value ranging from 0 to 1 that, analyzing the drug effects on both the viability and physiological parameters, provides a relative metric for TKI cardiotoxicity. Drugs with a safety index at or below 0.10 are highly cardiotoxic compounds.

© 2018 by the authors. Licensee MDPI, Basel, Switzerland. This article is an open access article distributed under the terms and conditions of the Creative Commons Attribution (CC BY) license (http://creativecommons.org/licenses/by/4.0/).