Proteogenomic Analysis of
Burkholderia

Species Strains 25 and 46 Isolated from Uraniferous Soils Reveals Multiple Mechanisms to Cope with Uranium Stress

1

Environmental Biotechnology Laboratory, School of the Environment, 1515 S. Martin Luther King Jr. Blvd., Suite 305B, FSH Science Research Center, Florida A&M University, Tallahassee, FL 32307, USA

2

National Centre for Microbial Resource, National Centre for Cell Science, Pune 411007, India

3

Translational Science Lab, College of Medicine, Florida State University, Tallahassee, FL 32304, USA

4

Savannah River Ecology Laboratory, University of Georgia, Aiken, SC 29802, USA

*

Author to whom correspondence should be addressed.

†

These authors contributed equally to this work.

Received: 5 November 2018 / Revised: 5 December 2018 / Accepted: 10 December 2018 / Published: 12 December 2018
Abstract
Two
Burkholderia
spp. (strains SRS-25 and SRS-46) were isolated from high concentrations of uranium (U) from the U.S. Department of Energy (DOE)-managed Savannah River Site (SRS). SRS contains soil gradients that remain co-contaminated by heavy metals from previous nuclear weapons production activities. Uranium (U) is one of the dominant contaminants within the SRS impacted soils, which can be microbially transformed into less toxic forms. We established microcosms containing strains SRS-25 and SRS-46 spiked with U and evaluated the microbially-mediated depletion with concomitant genomic and proteomic analysis. Both strains showed a rapid depletion of U; draft genome sequences revealed SRS-25 genome to be of approximately 8,152,324 bp, a G + C content of 66.5, containing a total 7604 coding sequences with 77 total RNA genes. Similarly, strain SRS-46 contained a genome size of 8,587,429 bp with a G + C content of 67.1, 7895 coding sequences, with 73 total RNA genes, respectively. An in-depth, genome-wide comparisons between strains 25, 46 and a previously isolated strain from our research (
Burkholderia
sp. strain SRS-W-2-2016), revealed a common pool of 3128 genes; many were found to be homologues to previously characterized metal resistance genes (e.g., for cadmium, cobalt, and zinc), as well as for transporter, stress/detoxification, cytochromes, and drug resistance functions. Furthermore, proteomic analysis of strains with or without U stress, revealed the increased expression of 34 proteins from strain SRS-25 and 52 proteins from strain SRS-46; similar to the genomic analyses, many of these proteins have previously been shown to function in stress response, DNA repair, protein biosynthesis and metabolism. Overall, this comparative proteogenomics study confirms the repertoire of metabolic and stress response functions likely rendering the ecological competitiveness to the isolated strains for colonization and survival in the heavy metals contaminated SRS soil habitat.
View Full-Text
►

▼

Figures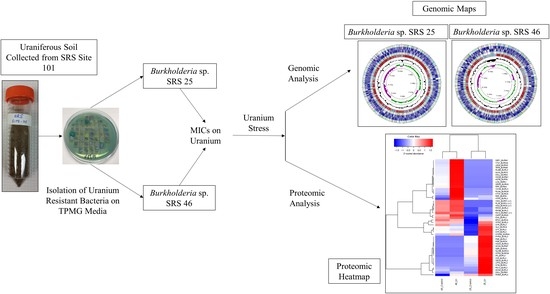 Graphical abstract
This is an open access article distributed under the
Creative Commons Attribution License
which permits unrestricted use, distribution, and reproduction in any medium, provided the original work is properly cited (CC BY 4.0).

Share & Cite This Article
MDPI and ACS Style
Agarwal, M.; Pathak, A.; Rathore, R.S.; Prakash, O.; Singh, R.; Jaswal, R.; Seaman, J.; Chauhan, A. Proteogenomic Analysis of Burkholderia Species Strains 25 and 46 Isolated from Uraniferous Soils Reveals Multiple Mechanisms to Cope with Uranium Stress. Cells 2018, 7, 269.
Note that from the first issue of 2016, MDPI journals use article numbers instead of page numbers. See further details here.
Related Articles
Comments
[Return to top]