Open Access This article is
freely available
re-usable
Review
Studying Autophagy in Zebrafish
1
Department of Molecular Medicine, Institute of Basic Medical Sciences, University of Oslo, Sognsvannsveien 9, 0317 Oslo, Norway
2
Institute of Biology Leiden, Leiden University, Einsteinweg 55, 2333 CC Leiden, The Netherlands
*
Author to whom correspondence should be addressed.
Received: 7 June 2017 / Accepted: 3 July 2017 / Published: 9 July 2017
Abstract
:
Autophagy is an evolutionarily conserved catabolic process which allows lysosomal degradation of complex cytoplasmic components into basic biomolecules that are recycled for further cellular use. Autophagy is critical for cellular homeostasis and for degradation of misfolded proteins and damaged organelles as well as intracellular pathogens. The role of autophagy in protection against age-related diseases and a plethora of other diseases is now coming to light; assisted by several divergent eukaryotic model systems ranging from yeast to mice. We here give an overview of different methods used to analyse autophagy in zebrafish—a relatively new model for studying autophagy—and briefly discuss what has been done so far and possible future directions.
Keywords:
autophagy; zebrafish; GFP-Lc3; confocal microscopy; mitophagy; aggrephagy; xenophagy
1. Introduction
We here review the current literature and the methods used to study autophagy in zebrafish, including DNA, RNA and protein-based methods. We also discuss different types of selective autophagy, with emphasis on mitophagy, xenophagy and aggrephagy and how these can be studied in zebrafish. Finally, we provide detailed information about different antibodies, chemical reagents and reporter lines that have been used to analyze autophagy in zebrafish and discuss how current methods could be improved to better understand autophagy in zebrafish.
2. Zebrafish Autophagy Genes
The identification of the zebrafish as a genetically tractable organism in the 1980s led to its immense usage in the 1990s, whereby a large number of mutations giving rise to specific phenotypes were discovered through large-scale mutagenesis screens [
24
]. However, this alone was insufficient to throw light on various rare and common human disorders as a high-quality zebrafish genome sequence and complete annotation of zebrafish protein-coding genes with identification of their human orthologues was limited. The genome of the zebrafish has now been published as a well-annotated reference genome, providing key insights into the use of this vertebrate as a desirable model to mimic human disease states. In total, 84% of human disease-associated genes have at least one obvious zebrafish orthologue [
25
,
26
,
27
].
To be able to alter or modulate autophagy genetically in zebrafish, it is critical to delineate the representative ATG zebrafish orthologues from its yeast or mammalian counterparts. We searched for human ATG proteins from National Centre for Biotechnology Information (NCBI) and blasted their respective amino acid sequences against
Danio rerio
's (taxid: 7955) reference proteins as a search set. The hit with highest query coverage and smallest E-value was selected to be an orthologue. We also compared the sequence with that annotated in the Ensemble genome browser. A detailed account of the core ATG proteins (mammalian) and their respective zebrafish orthologue with Refseq IDs and Ensemble IDs have been tabulated (
Table 1
). The overall amino acid identity between human and zebrafish core autophagy proteins range between 40 and 96% (
Table 1
).
3. Genome Editing Techniques
Genome editing, or the idea of introducing a desired change to the genomic DNA sequence, is currently driving a revolution in the medical field with the introduction of the Clustered Regularly Interspaced Short Palindromic Repeats (CRISPR)/CRISPR Associated Protein 9 (Cas9) technology [
28
,
29
,
30
]. An ideally desirable genome editing tool would edit any genomic locus with high efficiency, specificity and with little or no off-target effects. The basic process of nuclease-based genome editing is to create a specific double-strand break (DSB) in the genome and then allow the cell's own endogenous repair machinery to repair the break, by either non-homologous end-joining (NHEJ) or by homology-directed repair (HDR). The different techniques of genome editing used in zebrafish (CRISPR/Cas9, transcription activator-like effector nucleases (TALENs) and zinc finger nucleases) have been extensively reviewed elsewhere [
31
,
32
,
33
,
34
,
35
,
36
,
37
]. We will here discuss how genome editing could help drive the field of zebrafish autophagy.
3.1. CRISPR/Cas9 Mutagenesis
The CRISPR/Cas9 technology has been widely adopted in the zebrafish community and has already come a long way from the first knock-out [
38
], to high-throughput mutagenesis screens [
33
], conditional knockout [
39
], multiplex knockout [
40
,
41
] and to targeted insertion of DNA elements [
42
]. It would be highly desirable to apply systematically all of these techniques into understanding the precise role of autophagy proteins in zebrafish development, physiology and pathology.
Briefly, CRISPR/Cas9-mediated genome editing in zebrafish is facilitated by the microinjection of a "short guide-RNA" (sgRNA) and Cas9 endonuclease protein into zebrafish embryo (at 1 cell stage), wherein the Cas endonuclease protein, forms a complex with the sgRNA molecule (now called the Cas9 holoendonuclease). Cas9 holoendonuclease or the corresponding RNAs (sgRNA + Cas9 messenger RNA (mRNA)) can be injected. The target DNA sequence, in addition to being complementary to the gRNA molecule, should also have a "protospacer-adjacent motif" (PAM), that is required for compatibility with the particular Cas protein being used. Once mobilized to the target DNA site, the Cas9 holoendonuclease generates a double-strand break (DSB), which can be used to create a knock-out or add a specific function to a gene (targeted knock-in). Autophagy can be manipulated by injecting sgRNA against the core autophagy genes (
Table 1
) together with either Cas9 mRNA or protein. It is very important to minimize or best, to negate, mutagenesis of an incorrect gene (off-target effect). Step-by-step protocols describing how to design an efficient sgRNA and the heuristic rules surrounding it, purifying Cas9 mRNA or using commercial Cas9 protein along with sgRNA have been reviewed previously [
43
,
44
]. The transparency of zebrafish larvae makes zebrafish highly desirable to use for generation of reporter lines. CRISPR/Cas9 can be used to tag core autophagy genes endogenously by "knocking-in" a reporter DNA element upstream/downstream of the autophagy gene of interest, e.g., to generate a fusion protein at an endogenous locus. This is highly desirable in the study of autophagy, opening up the prospect of "double-tagging" an autophagy protein or a cargo of interest and following their degradation kinetics. "Double-tagging" is based on the principle of using tandem fluorescent tags, where one will be quenched (e.g., green fluorescent protein (GFP)) upon delivery to the acidic lysosome. CRISPR/Cas9-mediated genome editing can also used to ablate a particular gene in a specific tissue or at a particular developmental time-point. As an example,
LoxP
sites can be "knocked-in" to flank an autophagy gene of interest and later by using the cre recombinase, the gene can be inverted or excised, thereby creating a complete knock-out. This is suitable for genes whose knockout can be embryonically lethal.
The use of CRISPR/Cas9-based targeted mutagenesis for deriving stable transgenic zebrafish or zebrafish knockout autophagy lines is in its initial phase. So far only one study has used this system to create mutant lines. CRISPR/Cas9-based mutagenesis in
spns1
and
atp6v0ca
genes induced premature autophagosome-lysosome fusion marked by insufficient acidity leading to developmental senescence and death [
45
].
spns1
is thought to function as a lysosomal H
+
-carbohydrate symporter, which functions at a late and terminal stage of autophagy [
46
,
47
]
. atp6v0ca
encodes a sub-unit of the vacuolar-type H
+
-ATPase (v-ATPase) that counteracts
spns1
ablation effects in zebrafish. It is highly likely that we will soon see increasing use of CRISPR/Cas9 technology to modulate autophagy in zebrafish.
3.2. TALENS and ZFNs
Since the introduction of CRISPR/Cas9 for genome editing in zebrafish, the use of TALENs and ZFNs, which were used before for genome editing [
36
,
37
] have taken a back seat (for a review of these methods see references). The use of TALENs and ZFNs to study autophagy in zebrafish is limited. TALEN-mediated mutation of the nuclear hormone receptor
nr1d1
was shown to have a positive effect on autophagosome-autolysosome number and lead to upregulation of ATG genes.
nr1d1
mutants were also shown to affect the circadian clock by significantly upregulating the circadian clock genes, leading to the conclusion that the circadian clock regulates autophagy rhythms in zebrafish larvae [
48
].
3.3. Transient Gene Knockdown by Morpholino Oligonucleotides
3.4. Mutations
In a major effort to generate mutant zebrafish lines, Christiane Nüsslein-Volhard and Wolfgang Driever orchestrated two of the largest mutagenesis screens ever performed in zebrafish [
24
,
78
]. These studies brought forth about 1500 mutations in more than 400 genes, but neither these original screens nor any later screens have revealed a mutant allele of a core autophagy gene. One possible reason for this could be that such mutations would be early embryonic lethal or it might be explained by the late onset of autophagy-related phenotypes in zebrafish.
A high quality sequence assembly of the zebrafish genome was initiated by the Sanger Institute (UK) in 2001 and completed in 2013 [
25
]. The Sanger Institute also initiated a systematic effort called the Zebrafish Mutation Project (ZMP) [
26
], which has created mutant alleles in over 16,000 protein-coding genes, including a number of core autophagy genes (
Table 1
). Using such autophagy mutant lines would provide valuable insight into the role of autophagy in physiological processes.
4. RNA-Based Analysis
Autophagy is known to be tightly regulated by posttranslational modifications of autophagy proteins (e.g., phosphorylation of ULK1 by mTORC1 and AMPK oppositely regulate the activity of the ULK1 complex) and by regulation of protein levels. But in order to obtain a real estimation of autophagy it is necessary to also monitor their mRNA levels [
79
]. It is however important to note that increased mRNA levels of autophagic genes should not be interpreted as increased autophagy, as it can be a compensatory mechanism. A detailed list of primers used to assess the expression of autophagy-related genes by quantitative real-time PCR (qRT-PCR) in zebrafish has been reviewed recently [
77
]. Zebrafish embryos and larvae are also very suited for whole mount in situ hybridization (WISH), which provides information about the spatial expression of a particular gene in the whole organism. This does not aid much in answering questions on autophagy activity, but still could help analyze the spatial arrangement of autophagy genes under certain conditions. WISH expression patterns are systematically catalogued in the zebrafish information network (ZFIN) database (zfin.org).
mRNA sequencing is a sensitive and accurate method for analyzing the transcriptomes of disease states and/or of biological processes. Prior to the activation of the zebrafish embryo genome, maternally-derived mRNA regulate early development in zebrafish [
80
,
81
]. This occurs at the 10th cell division (~3.5 h post-fertilization) when the zebrafish zygotic genome gets activated, also known as the mid-blastula transition (MBT) [
82
]. Mathavan and colleagues applied mRNA deep sequencing (mRNA-seq) to gain a comprehensive understanding of all transcriptional processes occurring from the unfertilized egg to early gastrulation [
83
]. We procured the raw data and fished for "core autophagy genes" in the data (available in the Gene Expression Omnibus (GEO) database, accession number GSE22830). Almost all of the core autophagy genes are expressed maternally at quite low levels, except for
map1-lc3c
which is expressed at high level from the oocyte to MBT. Interestingly, while the expression of
map1-lc3c
tapers off post MBT, there is a correspondingly strong increase in
map1-lc3b
expression levels at MBT, suggesting that
map1-lc3c
plays an important role during the early embryonic cell divisions, with
map1-lc3b
being more important later.
Wipi2
is consistently highly expressed across the early cell divisions to gastrulation (
Figure 2
). Several other mRNA-seq datasets are publicly available in the GEO database, also covering other later development stages. For example, in a developmental time series from 1 to 6 days post fertilization it was shown that the autophagy modulator gene
dram1
is upregulated during
Mycobacterium marinum
infection [
84
].
5. Protein-based analysis
5.1. Fluorescence Microscopy
5.3. Transmission Electron Microscopy (TEM)
Autophagy was first discovered in the 1950s using transmission electron microscopy (TEM) [
122
]. TEM is a classical and widely used method to observe autophagic structures. If properly sampled, TEM provides superlative ultrastructural images with much higher resolution than any light microscope or super-resolution microscope. It gives details of cellular coats, cellular components and bodies in their natural environment [
79
,
123
].
TEM has been used to a limited extent in zebrafish autophagy research, owing to the difficulty in sampling and instrument availability. TEM has been used to demonstrate the presence of autophagosomes during zebrafish embryogenesis [
58
], during caudal fin [
91
] and muscle regeneration [
94
] and a variety of other contexts. For example, TEM revealed an increased number of autophagosomes and autolysosomes in the intestinal epithelial cells of zebrafish harboring a mutation in a ribosomal RNA processing gene,
pwp2h
[
106
]. Here increased autophagy enhanced survival of this zebrafish ribosomopathy model In contrast, aberrant autophagy was observed in a zebrafish motor dysfunction model [
71
], in Atrogin1-deficient zebrafish [
117
] and in a variety of zebrafish bacterial infection models [
67
,
68
,
92
]. The
Salmonella
plasmid virulence gene,
spvB
, was shown to enhance bacterial virulence by inhibiting autophagy [
120
].
6. Chemical/Pharmacological Modulations
Zebrafish embryos are easily treatable by waterborne exposure. Drugs that can modulate autophagic activity by either inducing it, decreasing it or blocking autophagosome-lysosome fusion have been well-used in zebrafish [
124
]. A detailed list of reagents used to interfere with autophagic activity in zebrafish (until 2014) has been reviewed previously [
124
]. We here present a list of autophagic modulators used in papers published after 2014 (
Table 4
,
Figure 4
).
7. Selective Autophagy
While induction of autophagy upon nutrient deprivation or other forms of stress is believed to be an unselective process when it comes to the types of cargo being sequestered and degraded to supply cells with essential building-blocks to survive the period of stress until cellular homeostasis is restored. Autophagy can however also be a highly selective process, with different cargo-specific sub-types, including lipophagy (autophagy of lipid droplets), ferrintinophagy (autophagy of iron bound ferritin), lysophagy (autophagy of lysosomes), reticulophagy (autophagy of ER), ribophagy (autophagy of ribosomes), xenophagy (autophagy of pathogens), aggrephagy (autophagy of protein aggregates) and mitophagy (autophagy of damaged mitochondria). Specific cargo binding proteins that also interact with Lc3/GABARAP proteins (so-called autophagy receptors) have been identified and found to facilitate selective autophagy by connecting cargo to the autophagy membrane. Selective autophagy plays an important house-keeping function under basal nutrient-rich conditions to mediate the removal of superfluous or damaged organelles and protein aggregates that otherwise could be toxic. Zebrafish has been used to study degradation of mitochondria and protein aggregates in different neurodegenerative disorder models and to investigate the role of autophagy in protection against pathogens, as reviewed below. For most other types of selective autophagy zebrafish have either been not used at all or very scarcely used.
7.1. Mitophagy
Selective removal of mitochondria is termed as mitophagy. The degradation of mitochondria by autophagy was already reported in the late 1950s when Clark and Novikoff observed mitochondria within membrane-bound compartments called "dense-bodies", which were later shown to contain lysosomal enzymes [
126
,
127
]. The term mitophagy was coined by Lemasters and colleagues when they observed the engulfment of mitochondria into vesicular structures coated with Lc3 [
128
]. Mitophagy is also seen in yeast and this has helped dissect the molecular machinery required for the process [
129
,
130
]. Some of the proteins required for yeast mitophagy do not have a mammalian orthologue (e.g., Atg32, Atg11), but have functional homologues, e.g., the outer mitochondrial membrane protein NIX acts both like Atg32 and Atg11 [
131
]. Mitophagy has also been found to be important during key developmental processes, such as the maturation of reticulocytes, after which the matured red blood cells lack mitochondria [
132
,
133
].
The E3 ubiquitin ligase Parkin is a major player in mitophagy [
134
]. Mitochondrial recruitment of Parkin is mediated by the accumulation of PTEN-induced putative kinase protein 1 (PINK1) on depolarized mitochondria [
135
,
136
,
137
]. NIX has also been shown to promote Parkin translocation and thereby promote mitophagy in mouse embryonic fibroblasts [
138
]. Loss of function mutations in the gene encoding Parkin
(park2)
have been linked to Parkinson's disease (PD) with loss of dopaminergic neurons in the substantia nigra, a region in the mid brain that is responsible for motor function [
139
]. Parkinsonian syndrome has also been shown in zebrafish morphants lacking
pink1
[
140
] and
park2
[
141
], with dopaminergic cell loss. A TILLING (targeting-induced local lesions in genomes) mutant for
pink1
also shows significant reduction in the number of tyrosine hydroxylase (TH)
+
cells and a reduction in mitochondrial complex I activity [
142
]. Thus, mitophagy dysfunction or an inability to degrade damaged mitochondria leading to accumulation of mitochondrial damage is a likely cause of PD.
Proteins involved in mammalian mitophagy are well conserved in zebrafish [
143
], which makes zebrafish a good model to further delineate the functional significance of mitophagy in vivo. There have not yet been many mitophagy studies in zebrafish, but several tools exist to study mitochondrial dynamics. One study tried to observe sites for mitophagy in Rohon Beard neurons of zebrafish where
UAS:LC3.GFP
was coinjected with
UAS:mitoTagRFP-T
into the
Isl2b:Gal4
transgenic line. Lc3 was found to colocalize with mitochondria, but proper mitophagy assays were not performed [
144
]. It would be highly interesting to see if Lc3 disappeared over time from these contact points. As mentioned earlier, a tandem-based approach to tagging mitochondrial proteins would help in observing their degradation kinetics via autophagy. It is a highly exciting time for zebrafish mitophagy studies. One major problem is however the lack of antibodies for zebrafish mitochondrial proteins, but with larger research interest churning up for mitochondrial studies, this scenario is likely to diminish fast.
7.2. Aggrephagy
Several neurodegenerative disorders and prion diseases are characterized by neuronal protein aggregates and inclusion body formation. Aggregates are formed due the accumulation of misfolded proteins [
145
]. Misfolded proteins can either be degraded by the ubiquitin–proteasome system (UPS), through chaperone-mediated autophagy (CMA) or by macroautophagy. Almost all soluble proteins (except for the long lived proteins) are turned over by the UPS, but as large protein-aggregates are difficult to degrade by the UPS, they are degraded by autophagy [
146
].
The zebrafish is a well-known model for the study of neurodegenerative disorders. Pharmacological modulation of autophagy in such zebrafish models of neurodegeneration has shown promising results. The first study to mention autophagy in zebrafish used a zebrafish Huntington's disease (HD) model expressing EGFP-HDQ71 aggregates, where autophagy was found to be upregulated by reagents such as calpastatin, calpeptin, 2′5′DDA and clonidine (
Table 2
), resulting in a decrease in EGFP-HDQ71 aggregates [
147
]. HD is caused by glutamine expansions (polyQ) in the gene encoding the Huntingtin protein that make it prone to misfold and aggregate. In another study using the zebrafish HD model expressing EGFP-HDQ71 it was demonstrated that autophagy inducers like rapamycin and clonidine cleared the aggregate in the retina [
148
]. A zebrafish model of Alzheimer's disease (AD) is characterized by neuronal tau aggregates and was found to have reduced aggregate clearance and decreased Lc3-II levels upon overexpression of phosphatidylinositol binding clathrin assembly protein (Picalm) [
114
]. PICALMs are known to interact with and thereby regulate the endocytosis of Soluble NSF Attachment Protein Receptor proteins (SNAREs), such as VAMP2, VAMP3 and VAMP8 [
149
]. In a recent study, it was seen that clonidine, rilmenidine and rapamycin had positive effects on the clearance of aggregated A152T-tau. It was also observed that transient overexpression of Atg5 upregulated autophagy in zebrafish larvae by 2 dpf, evident by an increase in lipidated Lc3-II and a reduction in hyperphosphorylated tau—one that causes aggregation of tau [
108
]. BAG3 is a key component of the chaperone-assisted selective autophagy (CASA) pathway [
150
]. It was recently found that in a transgenic zebrafish model of myofibrillar myopathy (induced by expression of a mutant of filamin C (FLNC
W2710X
-eGFP)) the BAG3-mediated CASA pathway is impaired and insufficient in clearing the FLNC
W2710X
aggregates, and that autophagy promoting compounds like rapamycin or carbamazepine facilitated aggregate reduction [
113
].
The zebrafish as a model is proving to be essential for understanding disease mechanisms of several neurodegenerative disorders characterized by insoluble protein aggregates. There are a plethora of studies showing reduction of protein aggregates by the induction of autophagy. So far, molecular studies on the sequestration of aggregates into autophagosomes have not elucidated the role of different autophagy proteins during aggrephagy in zebrafish. This is very likely to change in the near future with the advent of CRISPR/Cas9 technology and the availability of antibodies for protein studies. The transparency of the zebrafish and its amenability to different drugs makes them an excellent model for neurodegenerative research.
8. Future Perspective
The zebrafish is fast becoming one of the best vertebrate models for studying disease states and conditions. Owing to the various advantages that they pose and the ease at which the present advancements in genome editing technology can be applied, zebrafish hold unparalleled potential for all basic and translational research. Existing studies of autophagy in zebrafish have presented invaluable insight into the role of autophagy in development, disease progression and drug discovery. There is still however a need for antibodies that recognize specific zebrafish autophagy proteins, and their modifications (at present a limitation). The contribution of CRISPR/Cas9 to scientific research has been immense, but the overall technology depends upon efficient sgRNAs and thus having a database system to maintain and expand the existing sgRNAs is a must. Autophagy research has been expanding and the vitality of autophagy as a degradation system has been acknowledged worldwide with Yoshinori Ohsumi receiving the Nobel Prize in Medicine or Physiology in 2016. Autophagy research using the zebrafish as a model system looks promising for many more breakthroughs and new therapeutics against many diseases.
Acknowledgments
Work that led to this review has been supported by the Research Council of Norway (project 221831), the Netherlands Technology Foundation STW (project 13259), the Smartmix program of the Netherlands Ministry of Economic Affairs and the Ministry of Education, Culture and Science (project NWOA_6QY9BM), the Horizon 2020 COST action TRANSAUTOPHAGY (CA15138) and the Norwegian Centennial Chair Program. We would like to thank Philippe Collas, Håvard Aanes and Peter Aleström for sharing RNA-seq data and Carina Knudsen for helping us with the figures.
Author Contributions
All authors contributed to writing of the manuscript.
Conflicts of Interest
The authors have no conflicts of interest.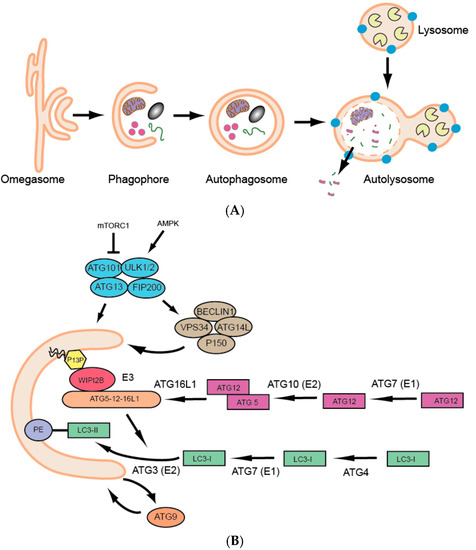 Figure 1. (A) Schematic overview of the process of macroautophagy; (B) Schematic overview of the core autophagic proteins involved in autophagosome biogenesis.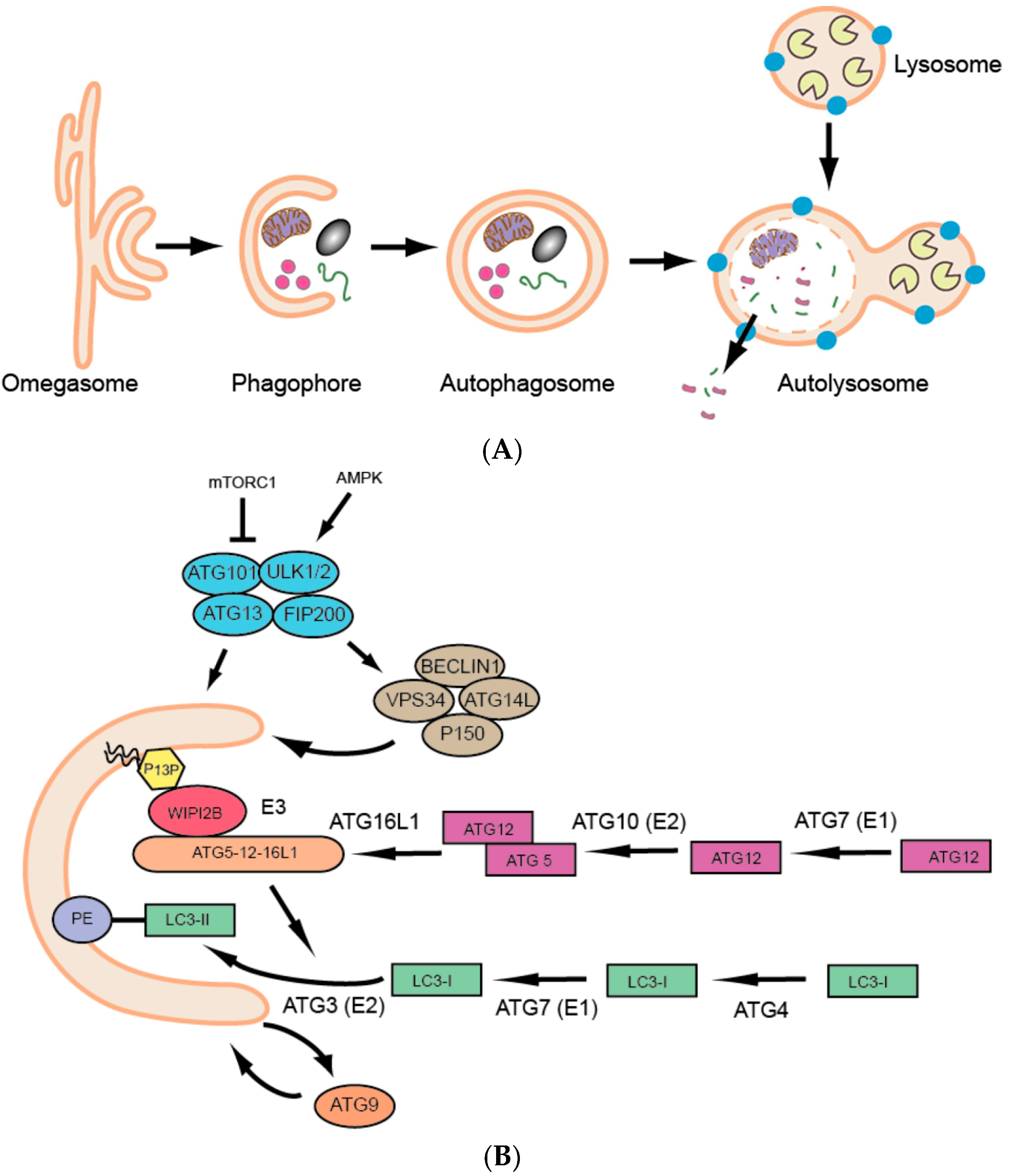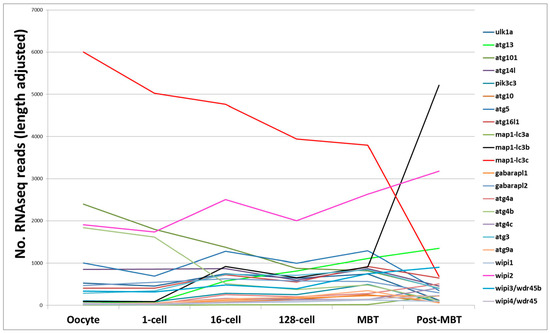 Figure 2. Messenger RNA sequence (mRNA-seq) analysis. Line plot of core autophagy gene transcripts analyzed by mRNA-seq in zebrafish embryos from the oocyte stage to post-mid blastula stage transition.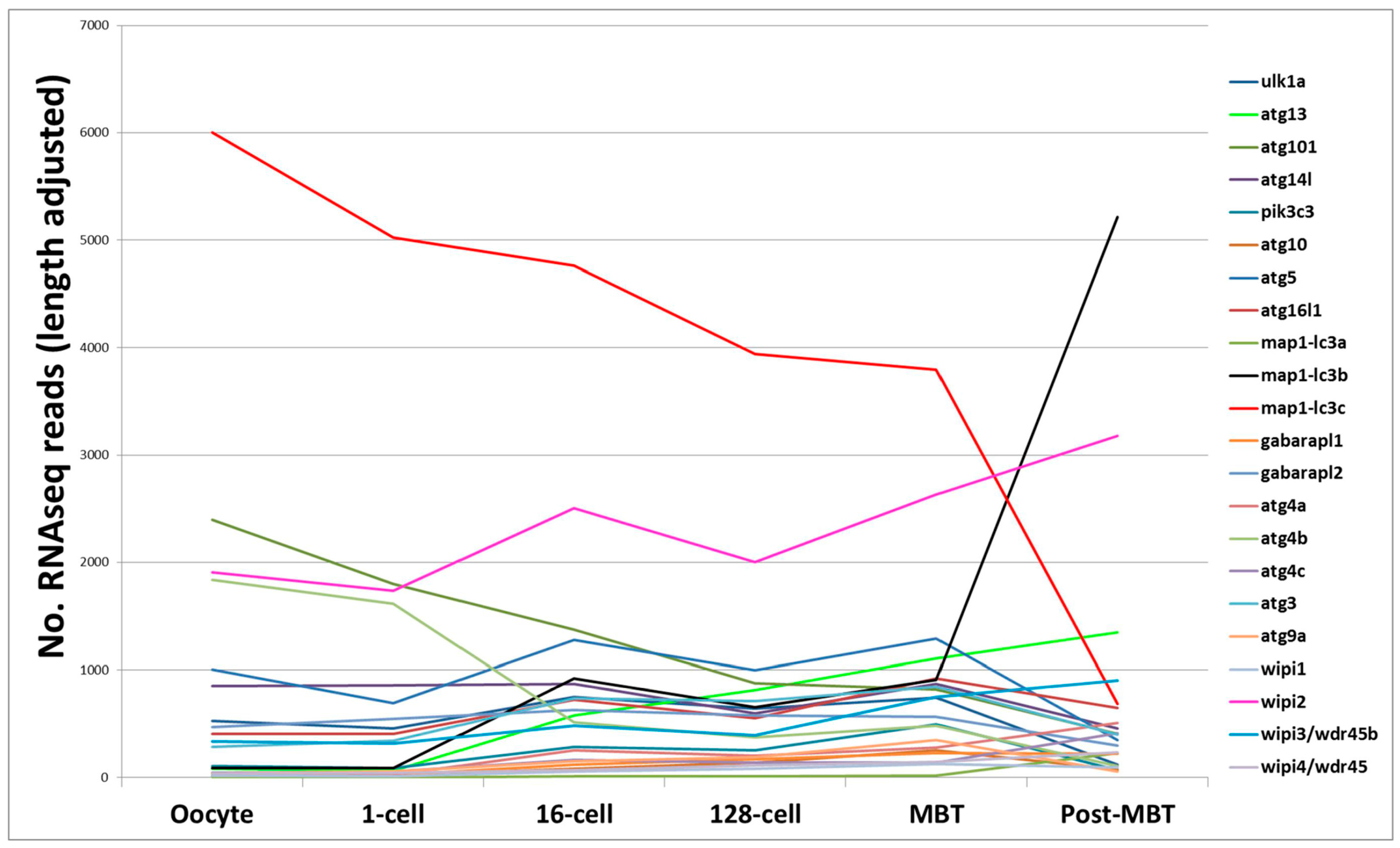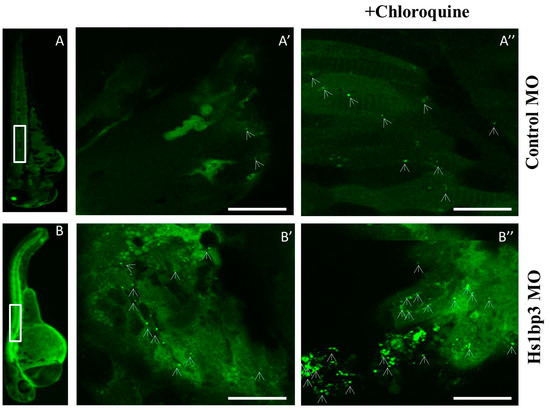 Figure 3. Confocal imaging of Tg(CMV:GFP-Lc3). Representative confocal images of GFP-Lc3 puncta (autophagosomes) in the trunk area of GFP-Lc3 transgenic zebrafish embryos injected with control morpholino or Hslbp3 translational-blocking morpholino and imaged at 2 days post fertilization (dpf) with or without pre-treatment with chloroquine (10 mM) for 6 h. Scale bars, 10 µM for the confocal images. Panel A, B shows the whole zebrafish larvae at 2 days post fertilization highlighting the trunk area chosen for confocal imaging; Panel A', A'', B', B'' shows respective confocal images.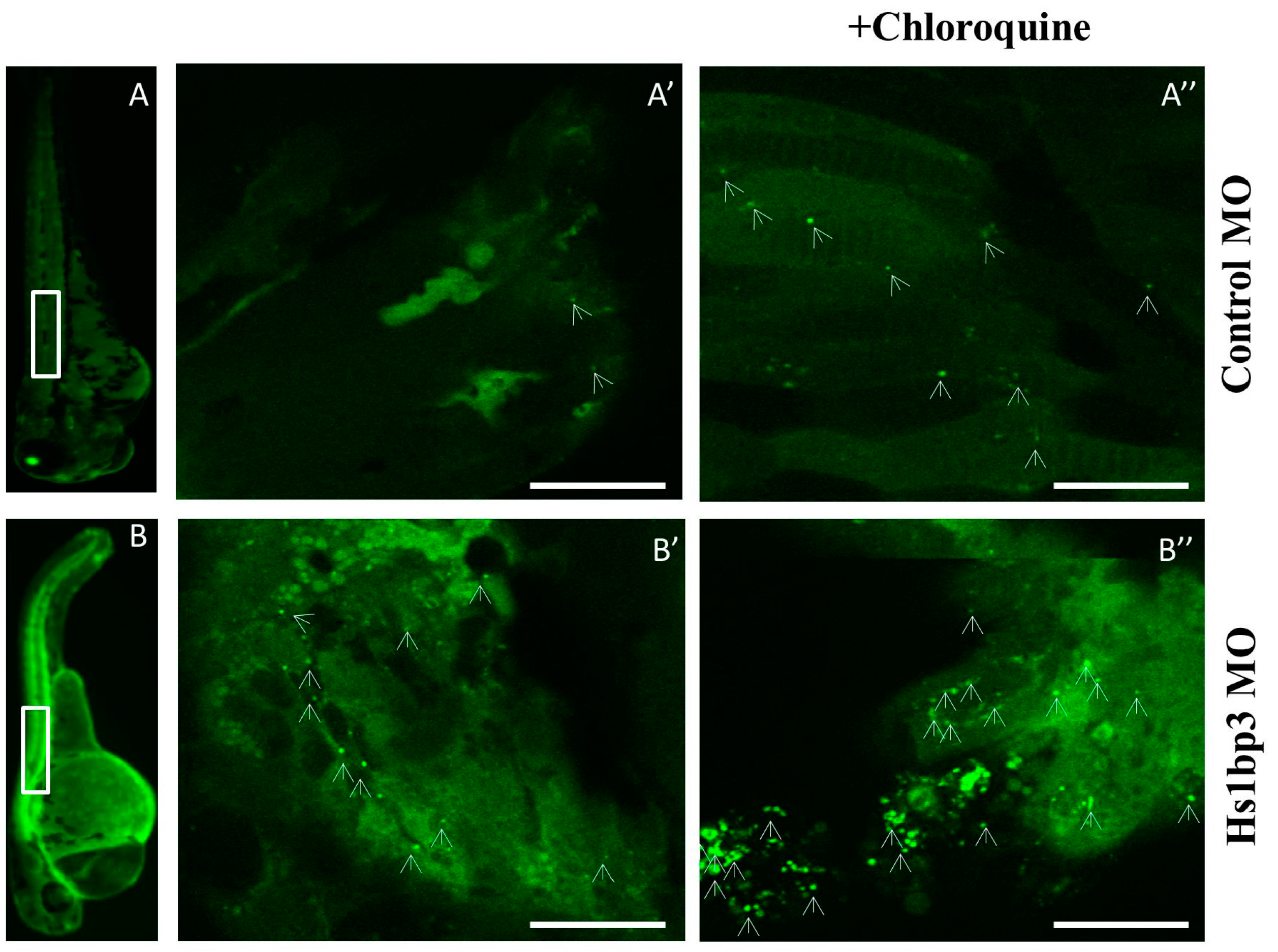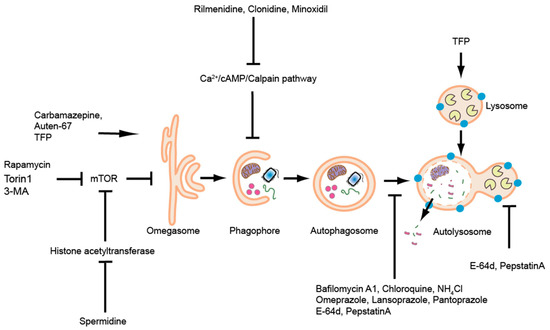 Figure 4.
Schematic overview of the autophagic pathway and a partial list of reagents (reagents used beyond 2014,
Table 2
) that modulate autophagy in zebrafish are indicated.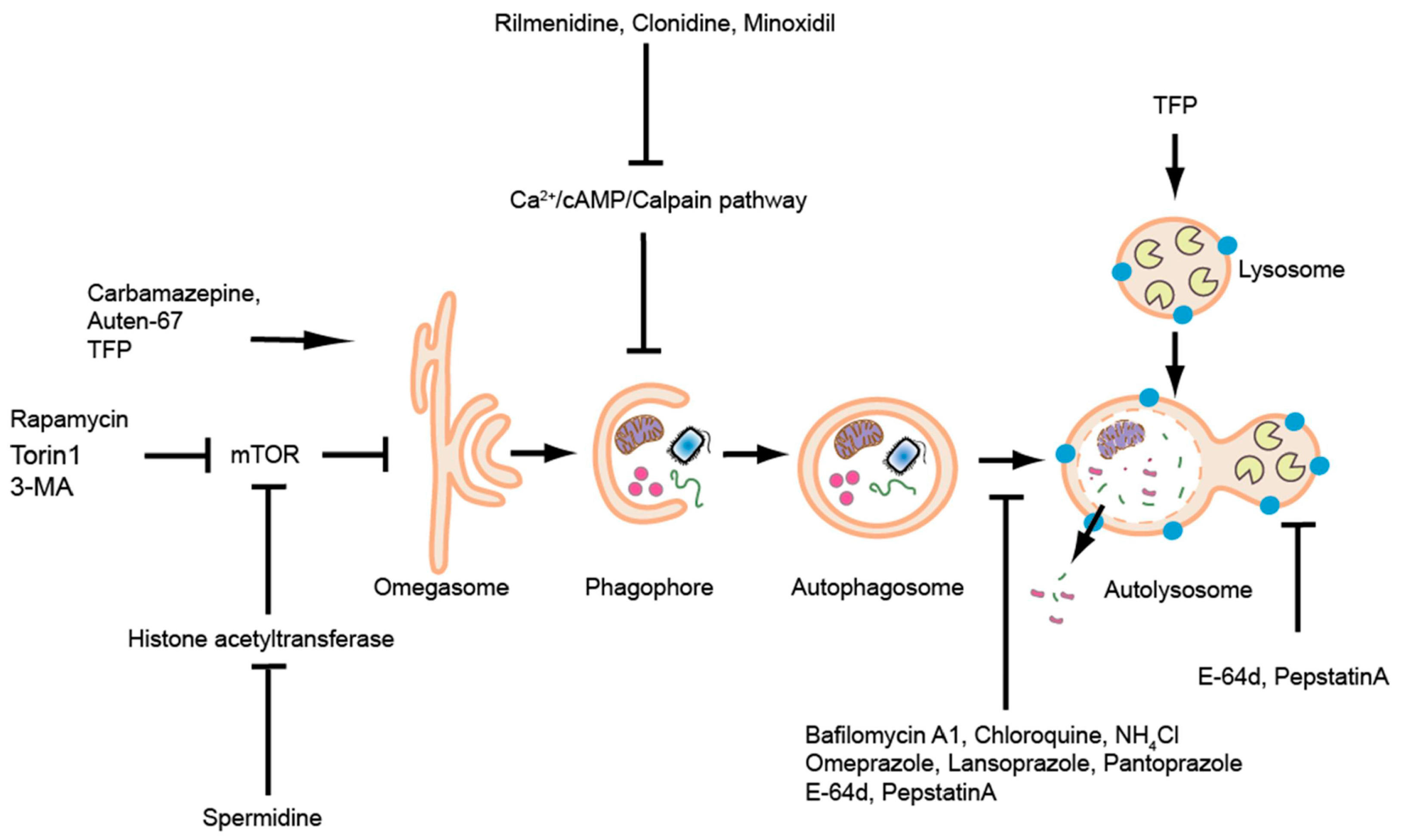 Figure 5.
Confocal imaging of Tg(CMV:EGFP-Mapllc3b) on infection. GFP-Lc3 signal around clusters of
M. marinum
bacteria in 4-day-old zebrafish larva at 3 days post infection. Scale bars, 10 µM.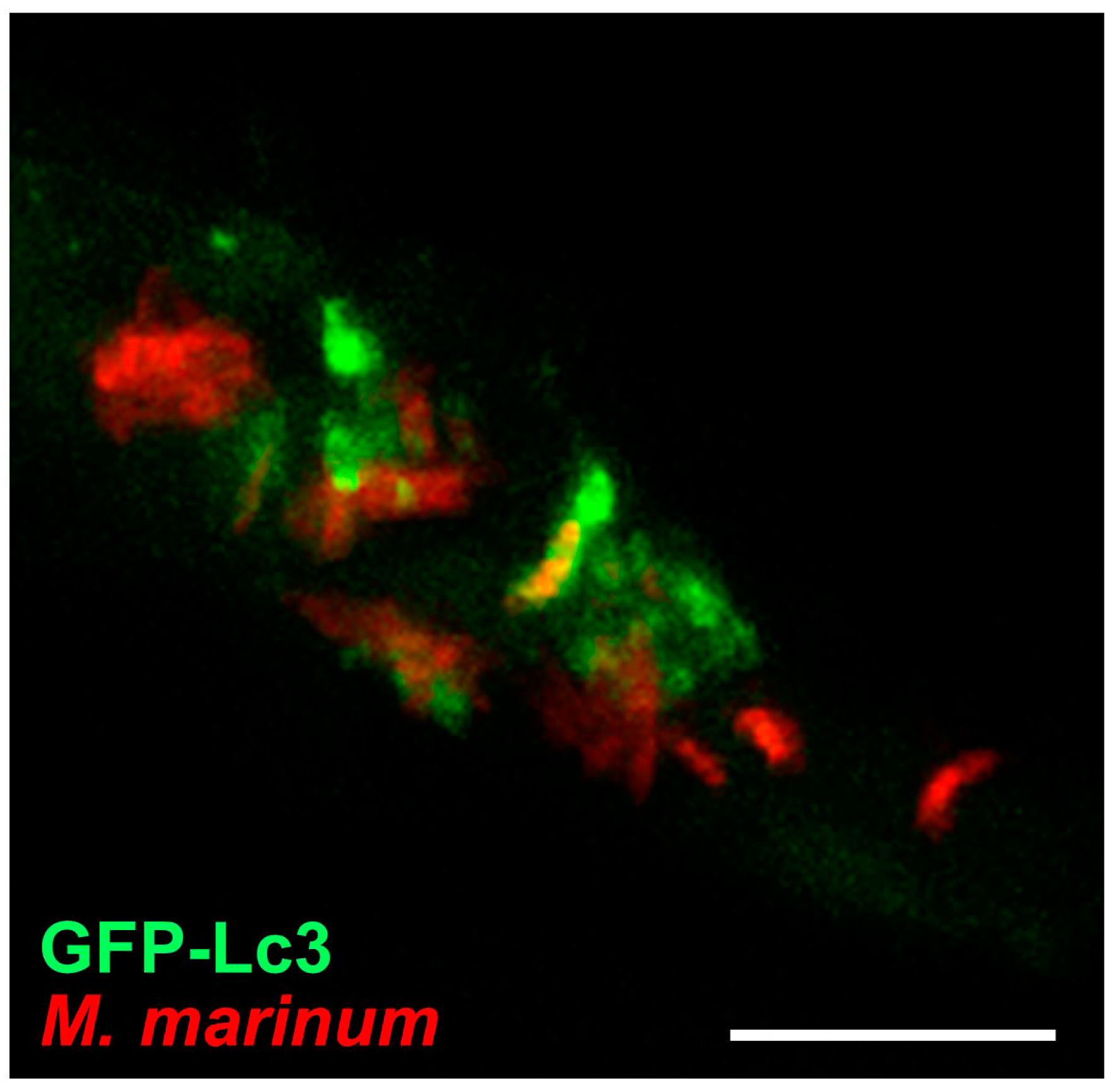 Table 1.
Zebrafish (
Danio rerio
) orthologues of human autophagy genes, with amino acid percentage identity and allele availability at the Sanger ZMP. ULK: UNC-51-like kinase; ZMP: Zebrafish Mutation Project; PE: phosphatidylethanolamine, mTORC1: Mammalian Target of Rapamycin Complex 1, AMPK: Adenosine Mono-Phosphate Kinase; ER: Endoplasmic Reticulum; PtdIns3K: Phosphatidylinositol 3-Kinase; VPS34: Vacuolar Protein Sorting 34.
Table 1. Zebrafish (

Danio rerio

) orthologues of human autophagy genes, with amino acid percentage identity and allele availability at the Sanger ZMP. ULK: UNC-51-like kinase; ZMP: Zebrafish Mutation Project; PE: phosphatidylethanolamine, mTORC1: Mammalian Target of Rapamycin Complex 1, AMPK: Adenosine Mono-Phosphate Kinase; ER: Endoplasmic Reticulum; PtdIns3K: Phosphatidylinositol 3-Kinase; VPS34: Vacuolar Protein Sorting 34.
Core Autophagic Process
Mammalian Protein
Zebrafish Orthologue
Refseq Id of Zebrafish DNA/Protein
Ensemble Id of Zebrafish DNA/Protein
Amino Acid Identity
Role in Autophagy
Mutant Allele Availability at the Sanger ZMP
Nucleation step
ULK1 complex
ULK1

ulk1a

NM_001130631, NP_001124103.1
ENSDART00000090534.4
50%
Phosphorylated by mTORC1 (negative) and AMPK (positive). Induces autophagy by phosphorylation of ATG13
Ulk1a—Yes

ulk1b

XM_005161121.3, XP_005161178.1
ENSDART00000112407.3
No
ULK2

ulk2

XM_002664615.4, XP_002664661.3
ENSDART00000153726
74%
No
ATG13/KIAA0652

atg13

NM_200433, NP_956727
ENSDART00000052324.5
71%
Member of the ULK1 complex, phosphorylated by mTORC1 and ULK1
No
Fip200/RB1CC1

rb1cc1

XM_009302198.2, XP_009300473.1
ENSDART00000113014.3
59%
Scaffold for ULK1/2 and ATG13
Yes
ATG101

atg101

NM_001037239, NP_001032316
ENSDART00000063544.6
87%
Interacts with ATG31
No
Class III PI3-kinase complex (PIK3C3)
ATG14L

atg14L/kiaa0831

NM_001024812, NP_001019983
ENSDART00000018683.10
67%
Autophagy-specific subunit of PIK3C3 complex I. ER binding motif
Yes
PtdIns3K/VPS34

pik3c3

NM_001328533, NP_001315462
ENSDART00000101265.4
87%
Catalytic subunit. Phosphorylates phosphatidylinositol to generated PI3-phosphate
No
Beclin1

beclin1

NM_200872, NP_957166
ENSDART00000115237.3
79%
Subunit of PIK3C3. Regulatory function through binding to Bcl-2
Yes
p150

pik3r4

XM_005158299.3, XP_001922676.1
ENSDART00000085228.5
82%
Adaptor protein for VPS34
No
Atg12 conjugation system
ATG12

atg12

NM_001246200, NP_001233129
ENSDART00000101304.4
71%
Ubiquitin like, conjugates to ATG5
Yes
ATG7

atg7

XM_017358254.1, XP_017213743.1
ENSDART00000162152
77%
E1-like enzyme
Yes
ATG10

atg10

NM_001037124, NP_001032201.1
ENSDART00000160159.1
50%
E2-like enzyme
No
ATG5

atg5/apg5L

NM_205618, NP_991181
ENSDART00000029727.6
81%
Conjugated by ATG12
Yes
ATG16L1

atg16L1

NM_001017854, NP_001017854
ENSDART00000161937.1
69%
Interacts with ATG5 to form the ATG12-5-16L1 complex, an E3 like ligase for Atg8 conjugation
No
Atg8 conjugation system
MAP1-Lc3A

map1-lc3a

NM_214739, NP_999904
ENSDART00000042322.3
96%
Ubiquitin like, conjugates to PE
No
MAP1-Lc3B

map1-lc3b

NM_199604, NP_955898
ENSDART00000163508.1
93%
MAP1-Lc3C

map1-lc3c

NM_200298, NP_956592
ENSDART00000161846.2
72%
GABARAP

gabarapa

NM_001013260, NP_001013278
ENSDART00000051547.3
98%
Ubiquitin like, conjugates to PE
No
GABARAPL1

gabarapl1

NM_001002707, NP_001002707
ENSDART00000060037.3
59%
GABARAPL2

gabarapl2

NM_205723, NP_991286
ENSDART00000039485.6
97%
ATG4A

atg4a

NM_001024434, NP_001019605
ENSDART00000026666.10
70%
Atg8 C-terminal hydrolase, deconjugating enzyme
Yes
ATG4B

atg4b

NM_001089352, NP_001082821
ENSDART00000121558.3
73%
No
ATG4C

atg4c

NM_001002103, NP_001002103
ENSDART00000051779.3
59%
Yes
ATG4D

atg4da

XM_009294436.2, XP_009292711.1
ENSDART00000152289.2
50%
No

atg4db

ENSDART00000172196
50%
No
ATG3

atg3

NM_200022, NP_956316
ENSDART00000041304.7
82%
E2-like enzyme
No
Other core Atg proteins during autophagosome formation
ATG2A

atg2a

XM_009307758.2, XP_009306033.1
ENSDART00000172444.1
55%
Proper closure of autophagosome
No
ATG2B

atg2b

XP_001340508.3
ENSDART00000155615
42%
No
ATG9A

atg9a

NM_001083031, NP_001076500
ENSDART00000065411.6
71%
Transmembrane protein on the autophagsome
No
ATG9B

atg9b

NM_001320078, NP_001307007
ENSDART00000147499.3
49%
No
WIPI1

wipi1

NM_200391, NP_956685
ENSDART00000059533.4
71%
Phosphatidyl-insolitol 3-phosphate PI(3)P-binding proteins
Yes
WIPI2

wipi2

NM_001327789, NP_001314718
ENSDART00000134026.2
82%
Yes
WIPI3/WDR45B

wipi3/wdr45b

NM_200240, NP_956534
ENSDART00000152327.2
96%
No
WDR45

wipi4

NM_200231, NP_956525
ENSDART00000130229.2
90%
No
Autophagy receptor proteins
NCOA4

ncoa4

NM_201129, NP_957423
ENSDART00000017052.8
38%
Autophagy cargo receptor required during iron homeostasis
No
SQSTM1/p62

sqstm1/p62

NM_001312913, NP_001299842
ENSDART00000140061.2
44%
Autophagy cargo receptor
No
OPTN

optn

NM_001100066, NP_001093536
ENSDART00000014036.10
41%
Autophagy cargo receptor
No
CALCOCO2/NDP52

calcoco2

NM_001020741, NP_001018577
ENSDART00000152964.2
30%
Autophagy cargo receptor during xenophagy and mitophagy
No
NBR1

nbr1

NM_001305595, NP_001292524
ENSDART00000133048.2
38%
Autophagy cargo receptor
Yes
TAX1BP1

tax1bp1a

NM_001346178, NP_001333107
ENSDART00000171664.1
44%
Autophagy cargo receptor during mitophagy
Yes

tax1bp1b

NM_212664, NP_997829
ENSDART00000040727.7
52%
Autophagy cargo receptor
Yes
Table 2. Constitutive and transient reporter constructs used to study autophagy in zebrafish.

| Reporter | Expression | Reference |
| --- | --- | --- |
| Tg(CMV:GFP-Lc3) | Ubiquitous | [86] |
| Tg(CMV:GFP-Gabarap) | Ubiquitous | [86] |
| Tg(pT2-mCherry-Sqstm1) | Ubiquitous | [45] |
| Tg(pT2-Lamp1-mCherry) | Ubiquitous | [45] |
| Tg(TαCP:mCherry-GFP-Map1lc3b) | Cone photoreceptors | [97] |
| Tg(TαCP:GFP-Map1lc3b) | Cone photoreceptors | [97] |
| Tg(TαCP:YFP-2XFYVE) | Cone photoreceptors | [97] |
| Tg(CMV:EGFP-Map1lc3b; CMV:mCherry-Map1lc3b) | Ubiquitous | [46] |
| Tg(CMV:EGFP-Gabarapa; CMV:mCherry-Map1lc3b) | Ubiquitous | [46] |
| Tg(fabp10: EGFP-Map1lc3b) | Liver | [95] |
| Tg(TαCP:GFP-Map1lc3b) | Cone photoreceptors | [90] |
| pEGFP–Map1lc3b | Transient (embryonic cells) | [103] |
| mCherry-Lc3 mRNA | Transient | [104,105] |
| pDest(CMV:RFP.GFP.Lc3) mRNA | Transient | [105] |
| GFP-Lc3-RFP-Lc3ΔG mRNA | Transient | [101] |
| mCherry-Map1lc3b | Transient | [106] |
| hsp70l:RFP-Map1lc3b | Transient | [61] |

Table 3. List of antibodies ever used to detect autophagy-related proteins in zebrafish. (Catalogue numbers listed in italics have been used for immunostaining too).
Table 3. List of antibodies ever used to detect autophagy-related proteins in zebrafish. (Catalogue numbers listed in italics have been used for immunostaining too).
Antibody
Company
Catalogue No.
Reference
LC3
Novus biologicals
NB100-2220
[93,108,111,112,113,114,115,116]
Novus biologicals
NB100-2331
[86,94,117]
Proteintech
12135-1-AP
[118]
Cell Signaling
4108
[45,109]
Not indicated
[74,104]
2775
[62,114]
MBL
Not indicated
[119]
PD014
[95]
PM036
[115]
Sigma
L7543
[59]
Abcam

ab51520

[106]
Thermo Scientific

PA1-46286

[68]
Gabarap
Non-commercial
[86]
SQSTM1/p62
Abnova
H00008878-M01
[111]
Cell Signaling
5114
[94,112]
Abcam
ab109012
[117]

ab31545

[68]
MBL Japan
Not indicated
[119,120]
Cliniscience
PM045
[67]
mTOR
Cell Signalling
2983
[116]
Phospho-mTOR, Ser2448
Cell Signaling
2971
[121]
Akt
Cell Signaling
Not indicated
[74]
Phospho-Akt, Ser473
Cell Signaling
9271
[74,121]
Phospho-S6K, Thr389
Cell Signaling
9205
[121]
Phospho-S6K
Cell Signaling
Not indicated
[104]
S6k
Cell Signaling
2708
[121]
Beclin1
R&D systems
Not indicated
[120]
Abcam
Not indicated
[104]
Santa Cruz
H-300 11427
[58,62]
Lamp-2A
Abcam
ab18528
[121]
Atg5
Novus biologicals
NB110-53818
[59,93]
Abcam
Not indicated
[108]
ab540333
[59]
Abgent
AP1812a, AP1812b
[59]
Actin (loading control)
Sigma
Not indicated
[108]
α-Tubulin (loading control)
Sigma
T5168
[73]
GAPDH (loading control)
Millipore
Not indicated
[108]
Table 4. List of reagents used to modulate autophagic activity in zebrafish (post–2014).
Reagent
Conc.
Observed Effect
Reference
Reagents increasing autophagy
Rapamycin
400 nM
Inhibited mTOR, activated autophagy; ameliorated kidney cysts and preserved kidney function
[112]
1 µM
Increased autophagy dependent release of Tumor necrosis factor α and Interleukin-8 (TNFα and IL-8) in mycobacterium-infected zebrafish larvae
[105]
10 µM
Enhanced clearance of protein aggregates in FLNCW2710X mutants
[113]
30 µM
Enhanced the clearance of A152T-tau, reduced hyperphosphorylated tau
[108]
Torin1
0.4 µM
ATP-competitive mTOR inhibitor; increased Lc3-I and Lc3-II levels; increased resistance of zebrafish embryos to

Salmonella

Typhimurium infection
[119]
Rilmenidine
50 µM
Imidazoline-1 receptor agonist, reduced cyclic adenosine monophosphate (cAMP) levels; enhanced the clearance of A152T-tau
[108]
Clonidine
30 µM
Imidazoline-1 receptor agonist, reduced cAMP levels; enhanced the clearance of A152T-tau
[108]
Carbamazepine
20 µM
mTOR-independent autophagy activator; attenuated kidney cysts
[112]
50 µM
Increased autophagy-dependent cytokine release
[105]
0.5 mM
Enhanced clearance of protein aggregates in FLNCW271°X mutants
[113]
Minoxidil
400 nM
Inhibited L-type Ca2+ channel currents, thereby activating autophagy via a cyclical mTOR independent pathway; attenuated kidney cysts
[112]
Auten-67
50 µM
Upregulated autophagy by inhibiting phosphatase activity of MTMR14, which is a negative regulator of autophagic membrane formation.
[125]
Spermidine
5 mM
Inhibited acetyl-transferases; enhanced clearance of protein aggregates in FLNCW2710X mutants
[113]
Trifluoperazine (TFP)
1 mM
Activated Transcription Factor EB (TFEB) which is a master regulator of autophagy pathway, activated autophagy
[111]
Reagents blocking autophagosome—lysosome fusion
Bafilomycin A1 (BafA1)
20 nM
Autophagosome-lysosome fusion inhibitor; slight increase in Lc3-II
[117]
25 nM
Significant increase in Lc3-II
[104]
167 nM
Showed defects in autophagy flux
[112]
200 nM
Zebrafish larvae recapitulated atp6v0ca morphant, reduced yolk opacity and senescence phenotypes
[45]
Chloroquine
10 µM
Autophagosome-lysosome fusion inhibitor; blocked autophagy and increased GFP-Lc3 punctae
[73]
2 mM
Reduced muscle regeneration on blocking autophagy
[94]
100 c
Decreased Lc3 accumulation, defective autophagy
[113]
5 µM
Increased Lc3 accumulation in Kri1lcas002 mutant
[104]
2.5 µM
Significant accumulation of autophagosomes in zebrafish larvae infected with mycobacterium
[105]
50 µM
Accumulation of Lc3-II and p62; no effect on zebrafish infection with

Salmonella

Typhimurium
[119]
Omeprazole
100 µM
Late-stage autophagy inhibitor; rescued senescence phenotype
[45]
Lansoprazole
100 µM
Late-stage autophagy inhibitor; rescued senescence phenotype
[45]
Pantoprazole
100 µM
Late-stage autophagy inhibitor; rescued senescence phenotype
[45]
Pepstatin A
5 µg/mL
Prevented autolysosomal maturation and turnover
[45]
E-64d
5 µg/mL
Prevented autolysosomal maturation and turnover
[45]
Ammonium chloride
100 mM
Prevented autolysosome maturation; blocked autophagy and increased GFP-Lc3 punctae
[113]
100 mM
Significant increase in Lc3-II
[117]
Early autophagy inhibitor
3-MA
10 mM
Inhibited PIK3C3 activity; significant reduction of autophagy visualized by Lc3-II puncta
[104]
© 2017 by the authors. Licensee MDPI, Basel, Switzerland. This article is an open access article distributed under the terms and conditions of the Creative Commons Attribution (CC BY) license (http://creativecommons.org/licenses/by/4.0/).