Dissecting the T Cell Response: Proliferation Assays
vs.

Cytokine Signatures by ELISPOT

1

Department of Medicine, Case Western Reserve University, Cleveland, OH 44106, USA

2

Department of Pathology, Case Western Reserve University, Cleveland, OH 44106, USA

3

The Veterans Administration Medical Center, Cleveland, OH 44106, USA

4

University Hospitals of Cleveland, Cleveland, OH 44106, USA

5

Divisions of Infectious and Rheumatic Diseases, Cleveland, OH 44106, USA

6

Case Western Reserve University, Cleveland, OH 44106, USA

7

Cellular Technology Limited, Cleveland, OH 44122, USA

8

The Center for AIDS Research, Cleveland, OH 44106, USA

*

Author to whom correspondence should be addressed.

Received: 6 April 2012 / Revised: 30 April 2012 / Accepted: 7 May 2012 / Published: 10 May 2012
Abstract
Chronic allograft rejection is in part mediated by host T cells that recognize allogeneic antigens on transplanted tissue. One factor that determines the outcome of a T cell response is clonal size, while another is the effector quality. Studies of alloimmune predictors of transplant graft survival have most commonly focused on only one measure of the alloimmune response. Because differing qualities and frequencies of the allospecific T cell response may provide distinctly different information we analyzed the relationship between frequency of soluble antigen and allo-antigen specific memory IFN-g secreting CD4 and CD8 T cells, their ability to secrete IL-2, and their proliferative capacity, while accounting for cognate and bystander proliferation. The results show proliferative responses primarily reflect on IL-2 production by antigen-specific T cells, and that proliferating cells in such assays entail a considerable fraction of bystander cells. On the other hand, proliferation (and IL-2 production) did not reflect on the frequency of IFN-γ producing memory cells, a finding particularly accentuated in the CD8 T cell compartment. These data provide rationale for considering both frequency and effector function of pre-transplant T cell reactivity when analyzing immune predictors of graft rejection.
View Full-Text
►

▼

Figures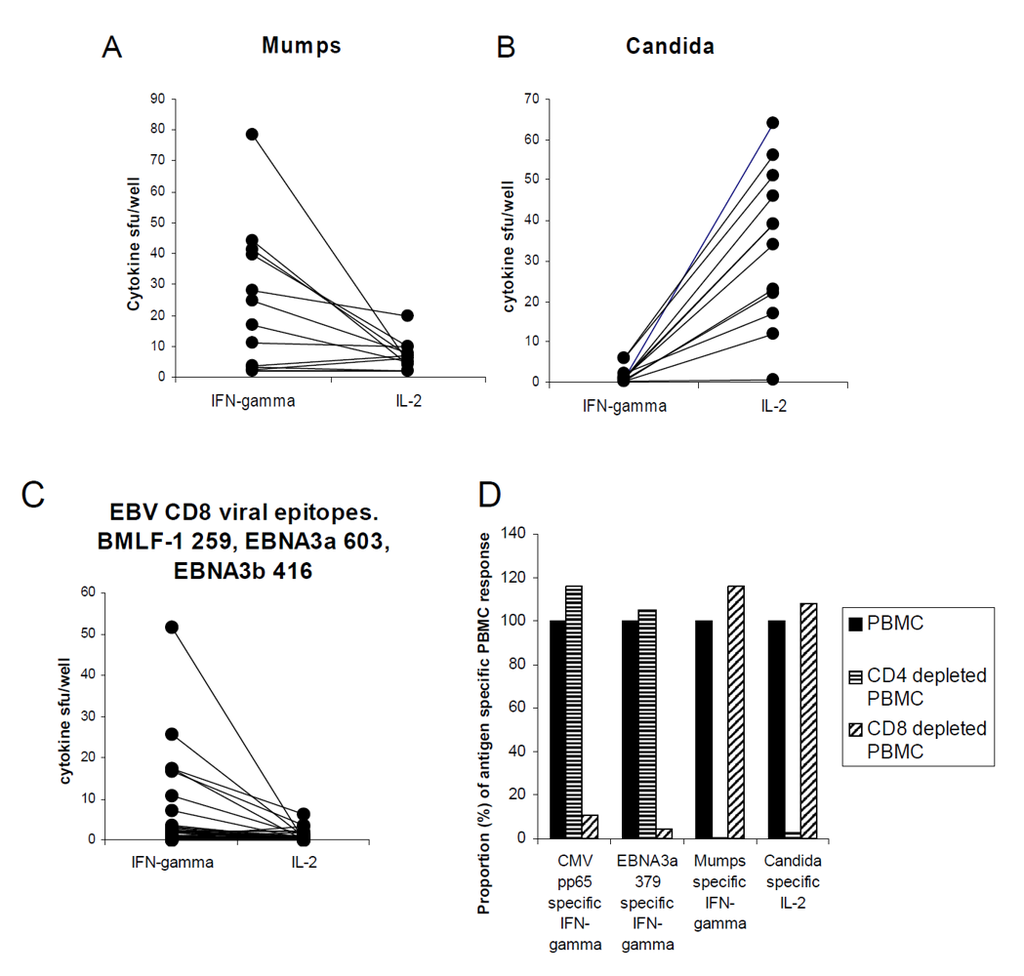 Figure 1

Share & Cite This Article
MDPI and ACS Style
Anthony, D.D.; Milkovich, K.A.; Zhang, W.; Rodriguez, B.; Yonkers, N.L.; Tary-Lehmann, M.; Lehmann, P.V. Dissecting the T Cell Response: Proliferation Assays vs. Cytokine Signatures by ELISPOT. Cells 2012, 1, 127-140.
Related Articles
Comments
[Return to top]