AgROS: A Robot Operating System Based Emulation Tool for Agricultural Robotics
1
Institute for Bio-Economy and Agri-Technology (iBO), Centre for Research and Technology Hellas (CERTH), 6th km Charilaou-Thermi Rd, GR 57001 Thermi, Thessaloniki, Greece
2
Centre for International Manufacturing, Institute for Manufacturing (IfM), Department of Engineering, School of Technology, University of Cambridge, Cambridge CB3 0FS, UK
3
Department of Industrial Engineering and Management, International Hellenic University (IHU), GR 57400 Sindos, Thessaloniki, Greece
*
Author to whom correspondence should be addressed.
Received: 2 May 2019 / Revised: 13 June 2019 / Accepted: 17 July 2019 / Published: 20 July 2019
This research aims to develop a farm management emulation tool that enables agrifood producers to effectively introduce advanced digital technologies, like intelligent and autonomous unmanned ground vehicles (UGVs), in real-world field operations. To that end, we first provide a critical taxonomy of studies investigating agricultural robotic systems with regard to: (i) the analysis approach, i.e., simulation, emulation, real-world implementation; (ii) farming operations; and (iii) the farming type. Our analysis demonstrates that simulation and emulation modelling have been extensively applied to study advanced agricultural machinery while the majority of the extant research efforts focuses on harvesting/picking/mowing and fertilizing/spraying activities; most studies consider a generic agricultural layout. Thereafter, we developed AgROS, an emulation tool based on the Robot Operating System, which could be used for assessing the efficiency of real-world robot systems in customized fields. The AgROS allows farmers to select their actual field from a map layout, import the landscape of the field, add characteristics of the actual agricultural layout (e.g., trees, static objects), select an agricultural robot from a predefined list of commercial systems, import the selected UGV into the emulation environment, and test the robot's performance in a quasi-real-world environment. AgROS supports farmers in the ex-ante analysis and performance evaluation of robotized precision farming operations while lays the foundations for realizing "digital twins" in agriculture.
Author Contributions
Conceptualization: N.T., D.B. (Dimitrios Bechtsis) and D.B. (Dionysis Bochtis); methodology: N.T., D.B. (Dimitrios Bechtsis) and D.B. (Dionysis Bochtis); resources: D.B. (Dimitrios Bechtsis) and N.T.; writing—original draft preparation: N.T. and D.B. (Dimitrios Bechtsis); writing—review and editing: D.B. (Dionysis Bochtis); project administration: N.T. and D.B. (Dionysis Bochtis); funding acquisition: N.T. and D.B. (Dionysis Bochtis).
Funding
This research has received funding from the General Secretariat for Research and Technology (GSRT) under reference no. 2386, Project Title: "Human-Robot Synergetic Logistics for High Value Crops" (project acronym: SYNERGIE).
Conflicts of Interest
The authors declare no conflict of interest.
Figure 1. Publications per applied research analysis approach (pie chart on the left); and distribution of the reviewed publications based on the elaborated research analysis approach per farming type (bar chart on the right).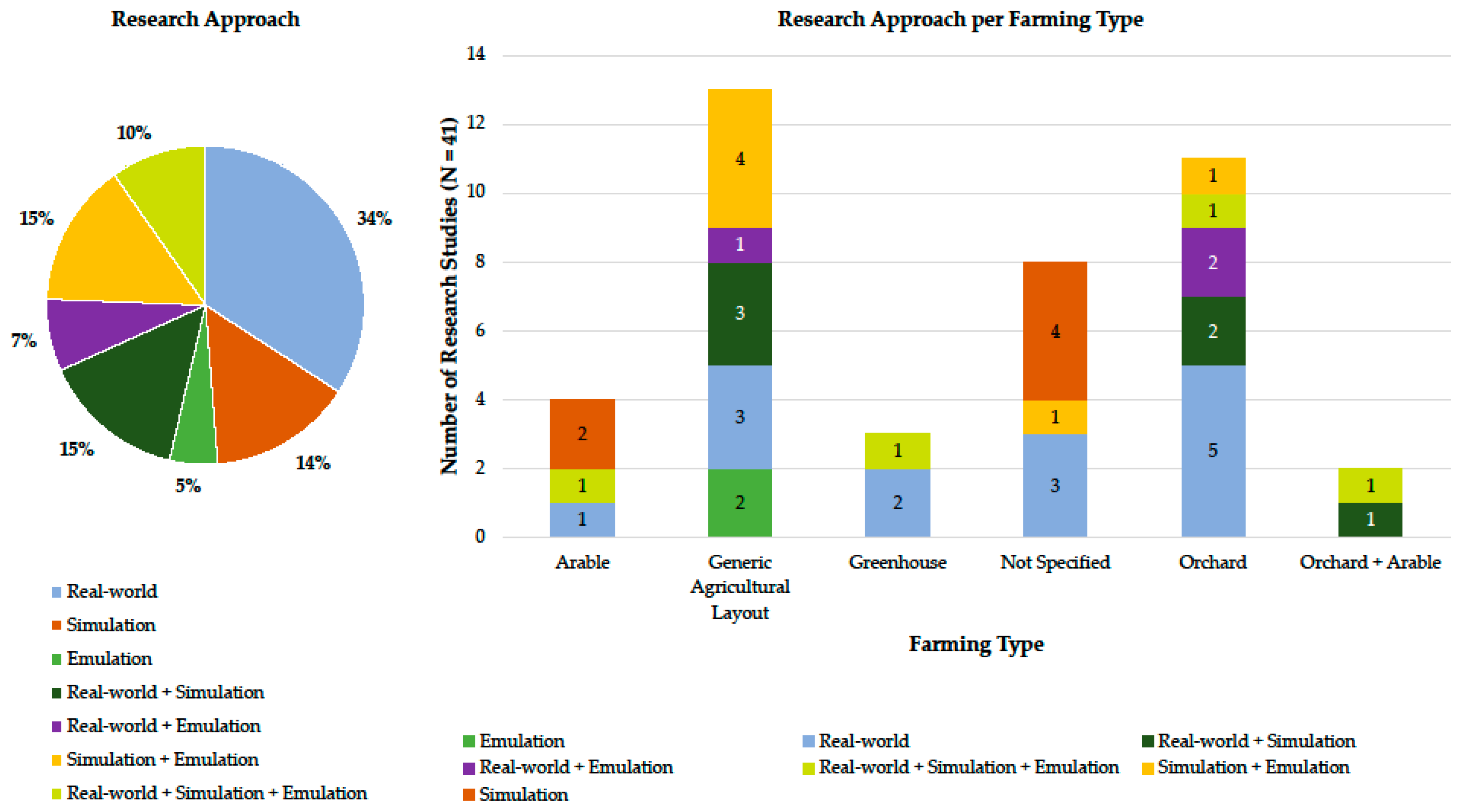 Figure 2. Distribution of the reviewed publications based on the elaborated research analysis approach per farming operation.
Figure 5. Functionalities of the AgROS graphical user interface: (a) insert a flat landscape; (b) insert a 3D landscape; (c) import agricultural models (e.g., trees); and (d) emulate the integrated field environment.
Figure 6. Field layout environment in AgROS comprises of: (a) Standard Open Street Maps; (b) digital elevation model for the region; (c) exact geographical region; and (d) 3D landscape to be used in Gazebo.
Figure 9. AgROS's geospatial mapping process: (a) real-time localization of trees; and (b) recording of every tree on the field.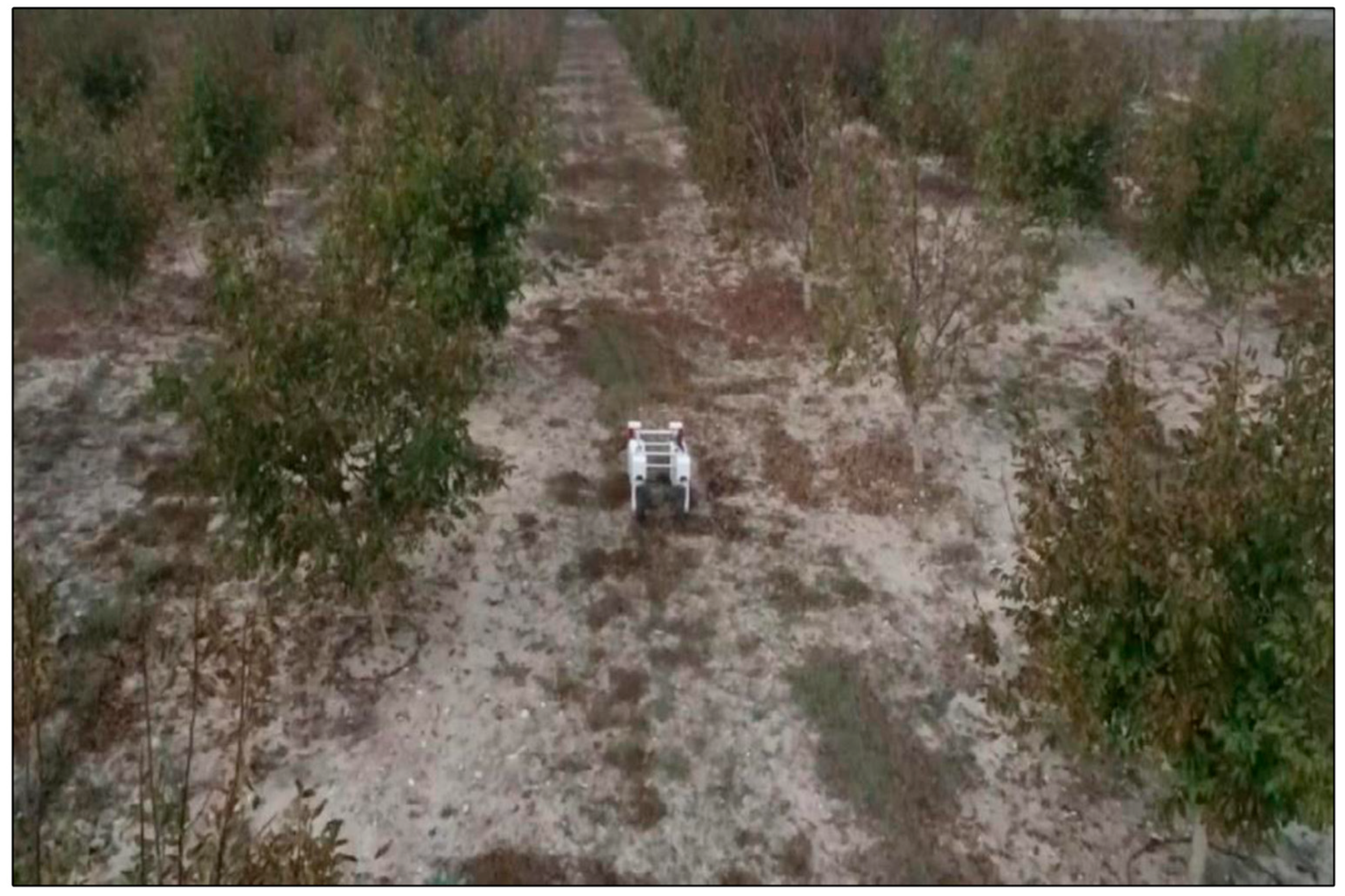 Reference
Analysis Approach 1
Farming Operation 2
Farming Type 3
1
2
3
4
5
6
7
8
9
10
11
12
13
14
[23]
ν
ν
ν
ν
[24]
ν
[25]
ν
[26]
ν
ν
ν
[27]
ν
ν
[28]
ν
ν
ν
ν
ν
[29]
ν
ν
ν
ν
ν
[30]
ν
ν
ν
[31]
ν
ν
ν
ν
[32]
ν
ν
[33]
ν
ν
[34]
ν
ν
ν
[35]
ν
ν
ν
ν
ν
ν
ν
ν
ν
ν
[36]
ν
ν
ν
ν
ν
ν
ν
ν
ν
ν
[37]
ν
ν
ν
ν
[38]
ν
ν
ν
ν
[39]
ν
ν
ν
ν
[40]
ν
ν
ν
ν
ν
[41]
ν
ν
ν
ν
[42]
ν
ν
ν
ν
ν
ν
ν
ν
ν
ν
ν
[43]
ν
ν
ν
ν
[44]
ν
ν
ν
ν
ν
[45]
ν
ν
ν
ν
ν
[46]
ν
ν
ν
ν
ν
ν
ν
[47]
ν
ν
ν
ν
ν
ν
ν
[48]
ν
ν
ν
ν
ν
[49]
ν
ν
ν
ν
ν
ν
[50]
ν
[51]
ν
ν
ν
ν
ν
ν
ν
[52]
ν
ν
ν
ν
[53]
ν
ν
ν
[54]
ν
ν
ν
[55]
ν
ν
ν
[56]
ν
ν
ν
ν
[57]
ν
ν
ν
ν
ν
[58]
ν
ν
ν
ν
[59]
ν
ν
ν
ν
[60]
ν
ν
ν
ν
[61]
ν
ν
ν
[62]
ν
ν
ν
[63]
ν
1 Analysis Approach Coding Reference: 1. Real-world Implementation; 2. Simulation Modelling; 3. Emulation Modelling. 2 Farming Operation Coding Reference: 4. Monitoring/Analysing; 5. Harvesting/Picking/Mowing; 6. Fertilizing/Spraying; 7. Planting/Seeding; 8. Watering; 9. Weeding; 10. Tilling. 3 Farming Type Coding Reference: 11. Generic Agricultural Layout; 12. Orchard; 13. Arable; 14. Greenhouse.

© 2019 by the authors. Licensee MDPI, Basel, Switzerland. This article is an open access article distributed under the terms and conditions of the Creative Commons Attribution (CC BY) license (http://creativecommons.org/licenses/by/4.0/).