May the Inclusion of a Legume Crop Change Weed Composition in Cereal Fields? Example of Sainfoin in Aragon (Spain)
1
Department of Plant Health, Centro de Investigación y Tecnología Agroalimentaria de Aragón, Instituto Agroalimentario de Aragón-IA2, CITA-Universidad de Zaragoza, 50059 Zaragoza, Spain
2
Departamento de Agricultura, Ganadería y Medio Ambiente, Diputación General de Aragón, 50071 Zaragoza, Spain
3
Departamento de Ciencias Agrarias y del Medio Natural, Instituto Agroalimentario de Aragón-IA2, CITA-Universidad de Zaragoza, 22027 Huesca, Spain
4
Dep. Hortofructicultura, Botànica i Jardineria, ETSEA, Agrotecnio, Universitat de Lleida, 25198 Lleida, Spain
*
Author to whom correspondence should be addressed.
Received: 21 January 2019 / Revised: 27 February 2019 / Accepted: 9 March 2019 / Published: 14 March 2019
Abstract
Onobrychis viciifolia
(Scop.) (sainfoin) is promoted in the Spanish Aragón region through the Agro-Environmental Schemes (AES) since 2007 with the aim of enhancing biodiversity. Also, in other countries, the interest in this legume crop is growing due to its rusticity and beneficial effects on the soil and livestock. However, the effect of the crop on weed flora in the subsequent cereal crops has hardly been investigated yet. With this aim, weed flora has been characterised in 2011–2014 in sainfoin fields in the second and third year of establishment (S2 and S3), in cereal monocrop (CM), in cereal after sainfoin (CS) and in organic cereal fields (OC). Additionally, the soil seedbank was determined in two years in CM and S3 fields. Weed species richness of emerged flora and of the soil seedbank was highest for sainfoin and lowest for CM, being intermediate for OC and CS regardless of the sampling year. The most feared weed species in winter cereal did not increase by growing sainfoin or in CS compared to CM. Curiously, summer annuals dominated in the soil seedbank. Sainfoin fields cause thus a shift in the weed flora, which does not seem to damage subsequent cereal crops provided fields are mouldboard ploughed after sainfoin.
View Full-Text
►

▼

Figures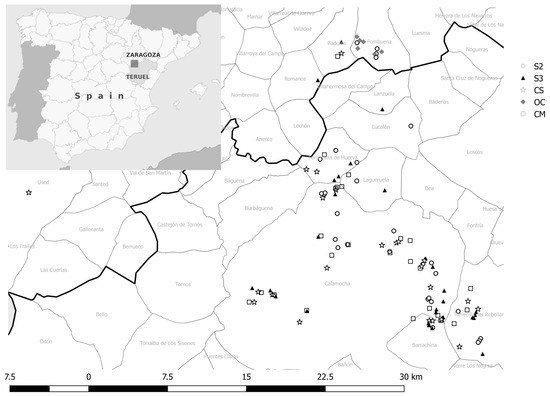 Figure 1
This is an open access article distributed under the
Creative Commons Attribution License
which permits unrestricted use, distribution, and reproduction in any medium, provided the original work is properly cited (CC BY 4.0).

Share & Cite This Article
MDPI and ACS Style
Cirujeda, A.; Marí, A.I.; Murillo, S.; Aibar, J.; Pardo, G.; Solé-Senan, X.-O. May the Inclusion of a Legume Crop Change Weed Composition in Cereal Fields? Example of Sainfoin in Aragon (Spain). Agronomy 2019, 9, 134.
Note that from the first issue of 2016, MDPI journals use article numbers instead of page numbers. See further details here.
Related Articles
Comments
[Return to top]