Open Access This article is
freely available
re-usable
Article
Using Neural Networks to Estimate Site-Specific Crop Evapotranspiration with Low-Cost Sensors
1
Department of Soil and Water Systems, University of Idaho, Moscow, ID 83844, USA
2
Department of Mechanical Engineering, University of Utah, Salt Lake City, UT 84112, USA
*
Author to whom correspondence should be addressed.
Received: 31 December 2018 / Accepted: 19 February 2019 / Published: 23 February 2019
Abstract
:
Irrigation efficiency is facilitated by matching irrigation rates to crop water demand based on estimates of actual evapotranspiration (ET). In production settings, monitoring of water demand is typically accomplished by measuring reference ET rather than actual ET, which is then adjusted approximately using simplified crop coefficients based on calendars of crop maturation. Methods to determine actual ET are usually limited to use in research experiments for reasons of cost, labor and requisite user skill. To pair monitoring and research methods, we co-located eddy covariance sensors with on-farm weather stations over two different irrigated crops (vegetable beans and hazelnuts). Neural networks were used to train a neural network and utilize on-farm weather sensors to report actual ET as measured by the eddy covariance method. This approach was able to robustly estimate ET from as few as four sensor parameters (temperature, solar radiation, humidity and wind speed) with training time as brief as one week. An important limitation found with this machine learning method is that the trained network is only valid under environmental and crop conditions similar to the training period. The small number of required sensors and short training times demonstrate that this approach can estimate site-specific and crop specific ET. With additional field validation, this approach may offer a new method to monitor actual crop water demand for irrigation management.
Keywords:
machine learning; site-specific; actual evapotranspiration; irrigation efficiency
Author Contributions
Conceptualization, J.K. and E.P.; methodology, J.K.; software, J.K.; validation, J.K.; formal analysis, J.K.; investigation, J.K.; resources, J.K. and E.P.; data curation, J.K.; writing—original draft preparation, J.K.; writing—review and editing, J.K. and E.P.; visualization, J.K.; project administration, J.K.; funding acquisition, J.K. and E.P.
Acknowledgments
The authors gratefully acknowledge: Chad Higgins (Oregon State) and Walt Mahaffee (USDA-ARS), who provided support, equipment and ongoing input to the development of ANN and ET monitoring methods; field staff including Taylor Vagher, Willow Walker, Johanna Alexson, Tom DeBell, Payse Smith; and most importantly for the cooperating farms—Greenspring LLC, Jeff Newton and Christensen Farms. Carrie Roever of Northwest Knowledge Network provided assistance with data accessibility. Publication of this article was funded by the University of Idaho Open Access Publishing Fund. The authors acknowledge the contributions made by the three anonymous reviewers, which improved the manuscript significantly.
Conflicts of Interest
The authors declare no conflict of interest. The funders had no role in the design of the study; in the collection, analyses or interpretation of data; in the writing of the manuscript or in the decision to publish the results.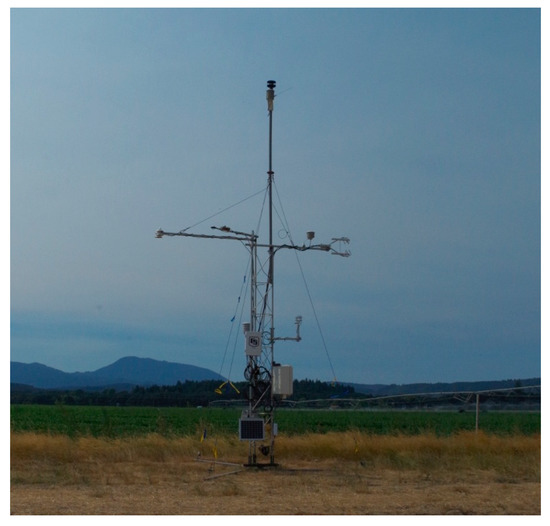 Figure 1. Typical sensor array used in the field experiments shown at site 1. Crop (green beans) and center pivot irrigation system is visible in the background. Note that this is not the full array used for the 8-month period at site 1 but an auxiliary system that is shown for clarity. The eddy-covariance system used here (IRGASON) is visible extending to the right.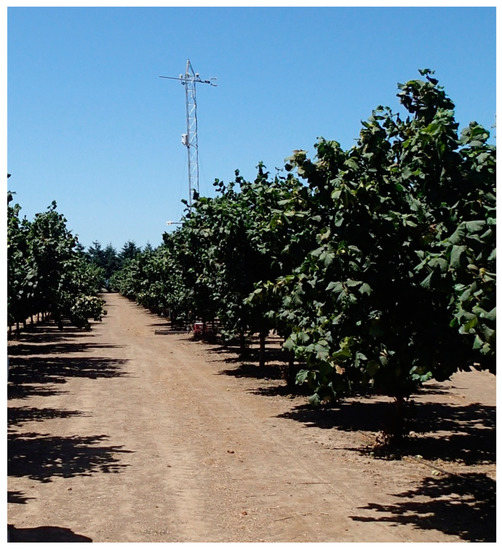 Figure 2. Photograph of experimental site 2 (Hazelnut orchard) showing the eddy-covariance system, net radiometer and other sensors on a 10-m tower in background.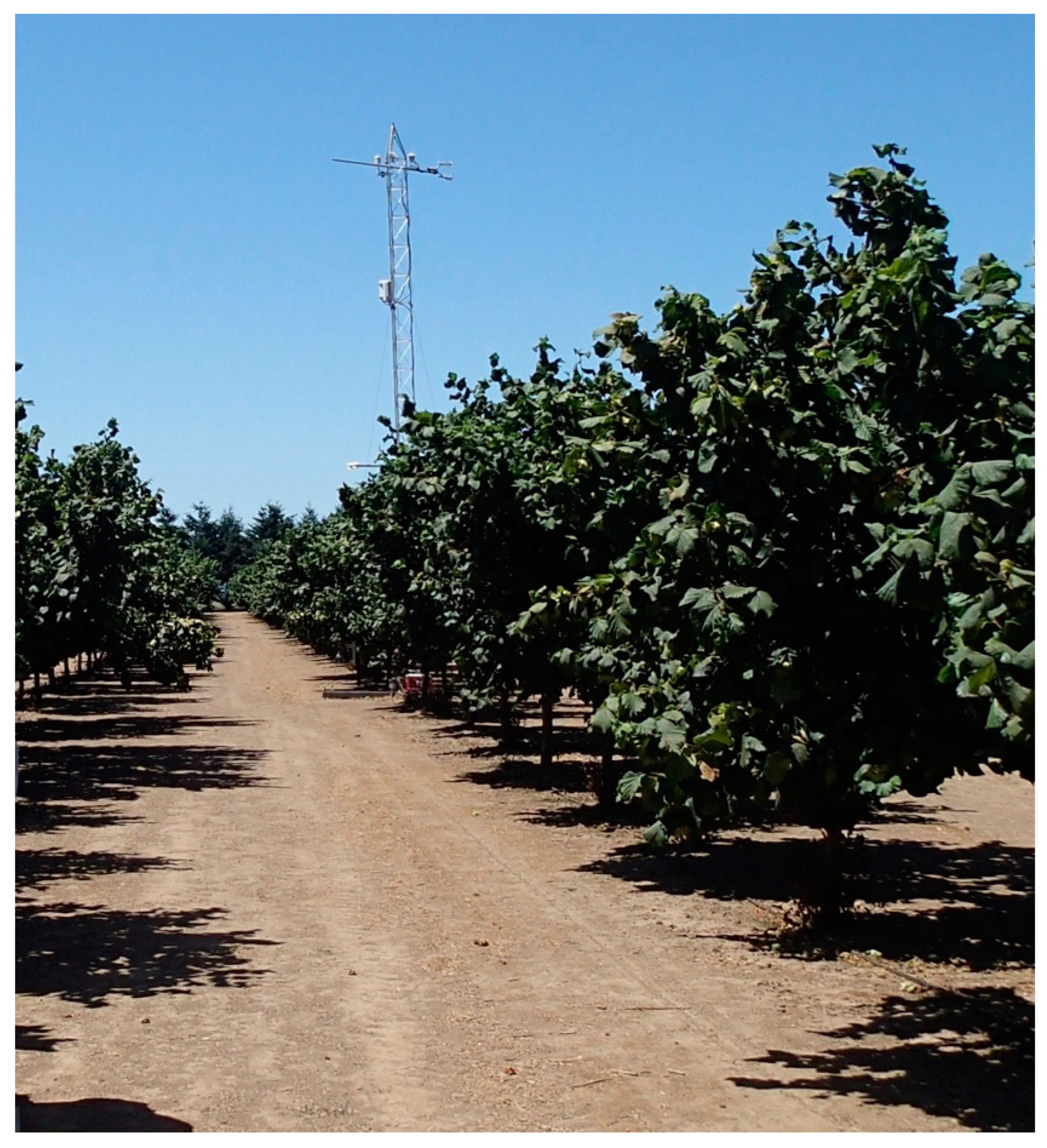 Figure 3. Excerpted time series of latent heat flux determined by the eddy-covariance measurements, Penman-Monteith equation (with no crop coefficient applied) and the actual latent heat flux estimated by the artificial neural network (ANN) method. The shaded area indicates the period used for training the ANN.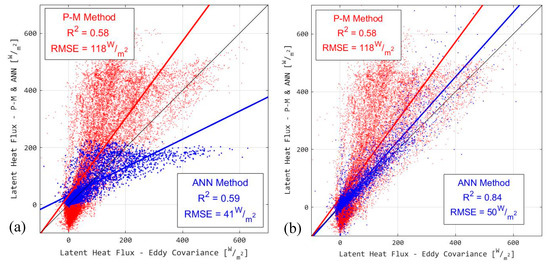 Figure 4. Results at site 1 from (a) 3-day training and (b) 14 day training period. The RMSE indicates the departure of the dependent values (P-M and ANN) from the eddy covariance control.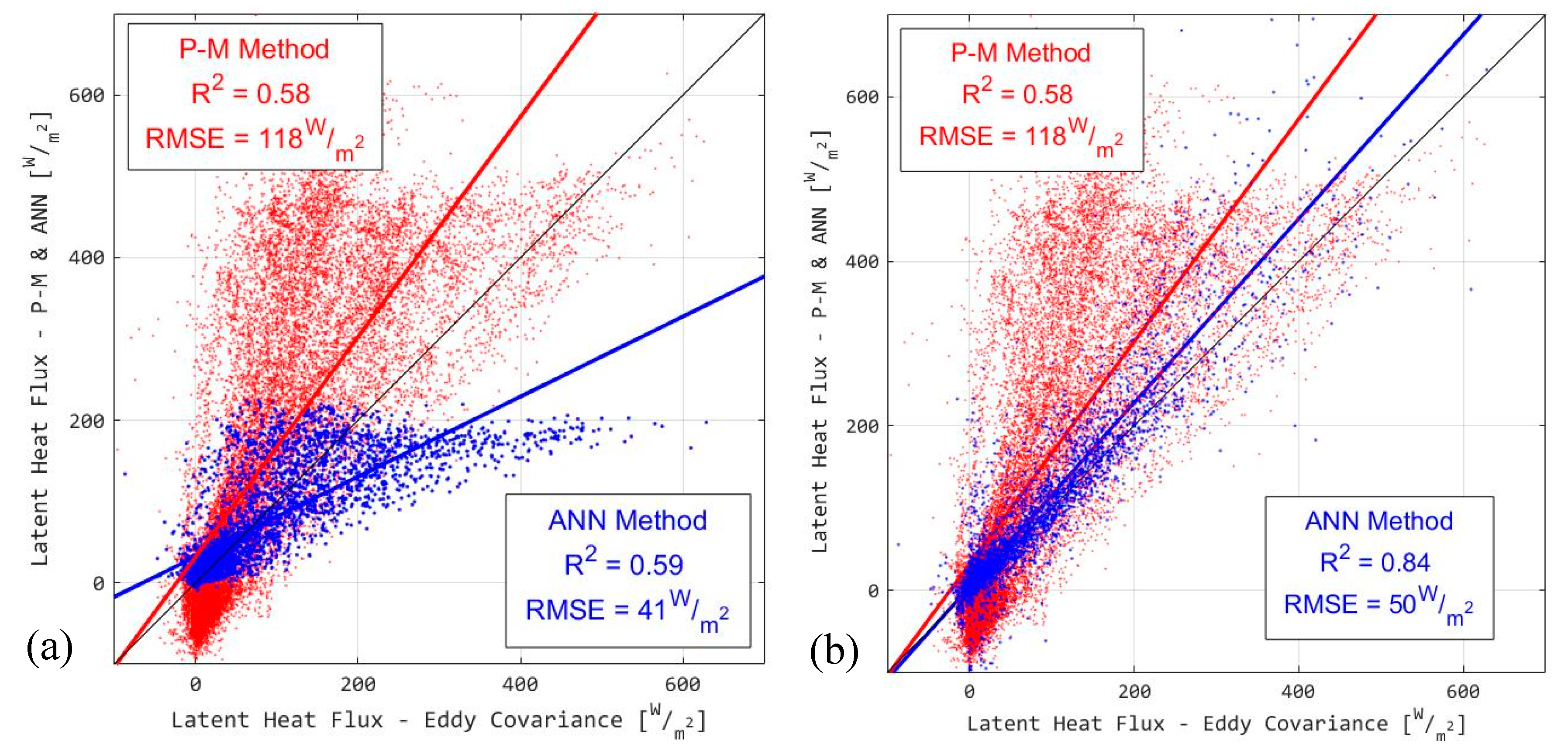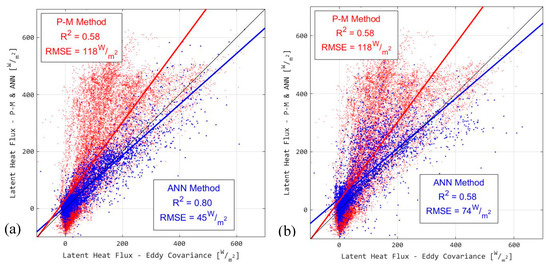 Figure 5. Method comparisons at site 1 from 7 day training (a) mid-season, when the crop was adequately irrigated; and (b) at the end of season, when irrigation was over-applied.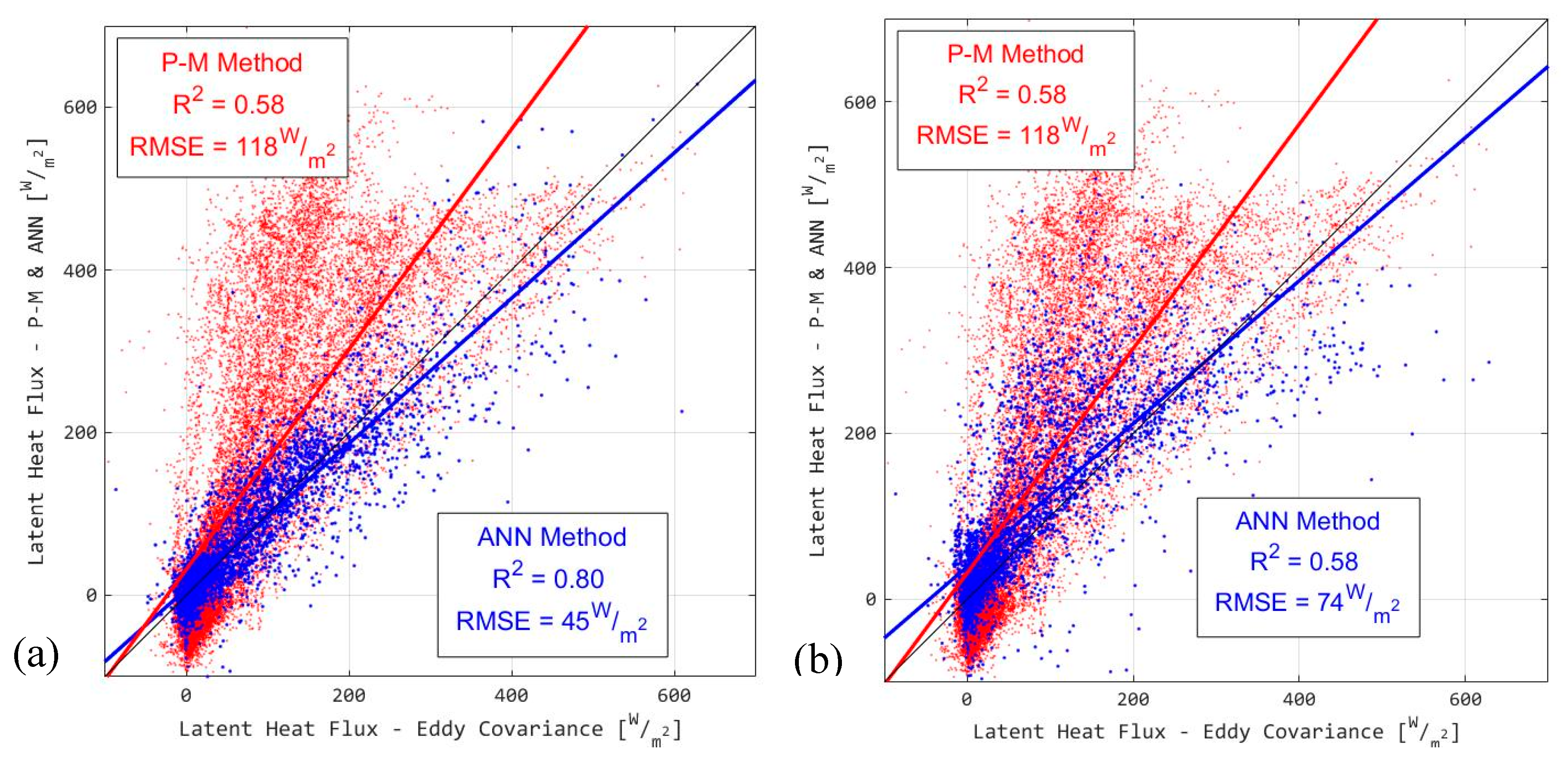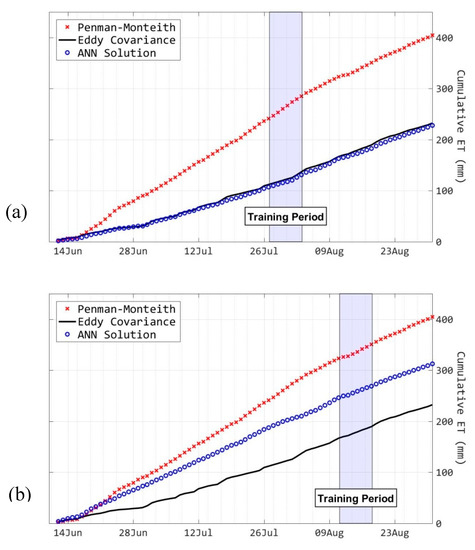 Figure 6.
Training results at site 1 using 7-day training periods—Trained during (
a
) midseason and (
b
) end of season. Although half hour comparisons for the two trainings do not appear significantly different (
Figure 5
), the cumulative water use plot shows that training during a period of over watering (
b
) results in the ANN estimating significantly greater ET over the entire two month growing season.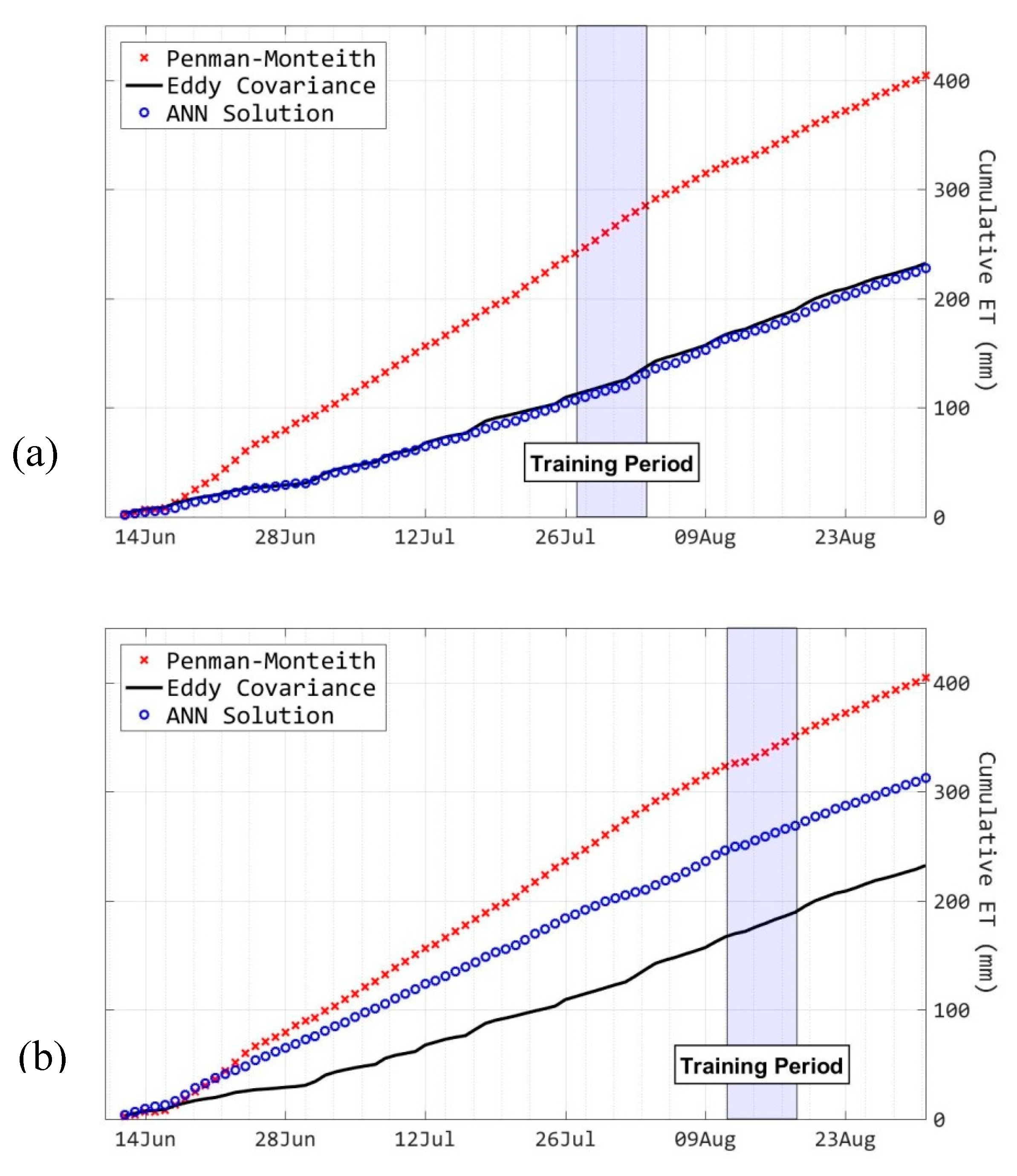 Figure 7. Time series of latent flux at Site 1. The variability in ETa followed the 4 to 5-day irrigation cycle (irrigation occurring on 2 July, 8 July, 12 July, 17 July).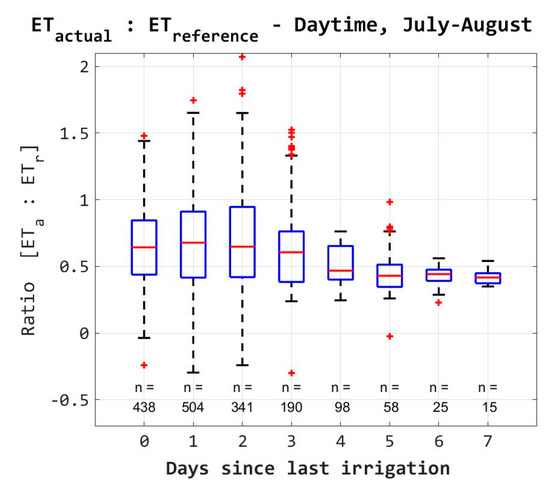 Figure 8. Average of ratio of 30-min ETa:ETref, grouped by the number of days since last irrigation (at site 1). Boxes indicate the 1st to 3rd quartile range (25th–75th percentile), with the median value indicated by the red line. Whiskers bound the most extreme values within ± 2.7σ, with outliers outside these bounds indicated by "+" markers.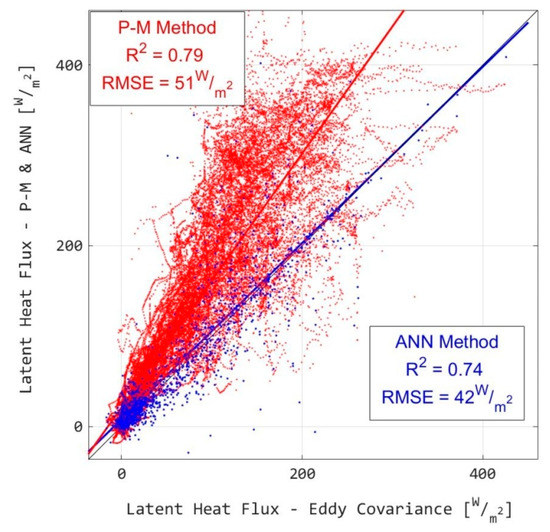 Figure 9. Method comparison for ET at site 2 (hazelnut orchard) resulting from two week training period.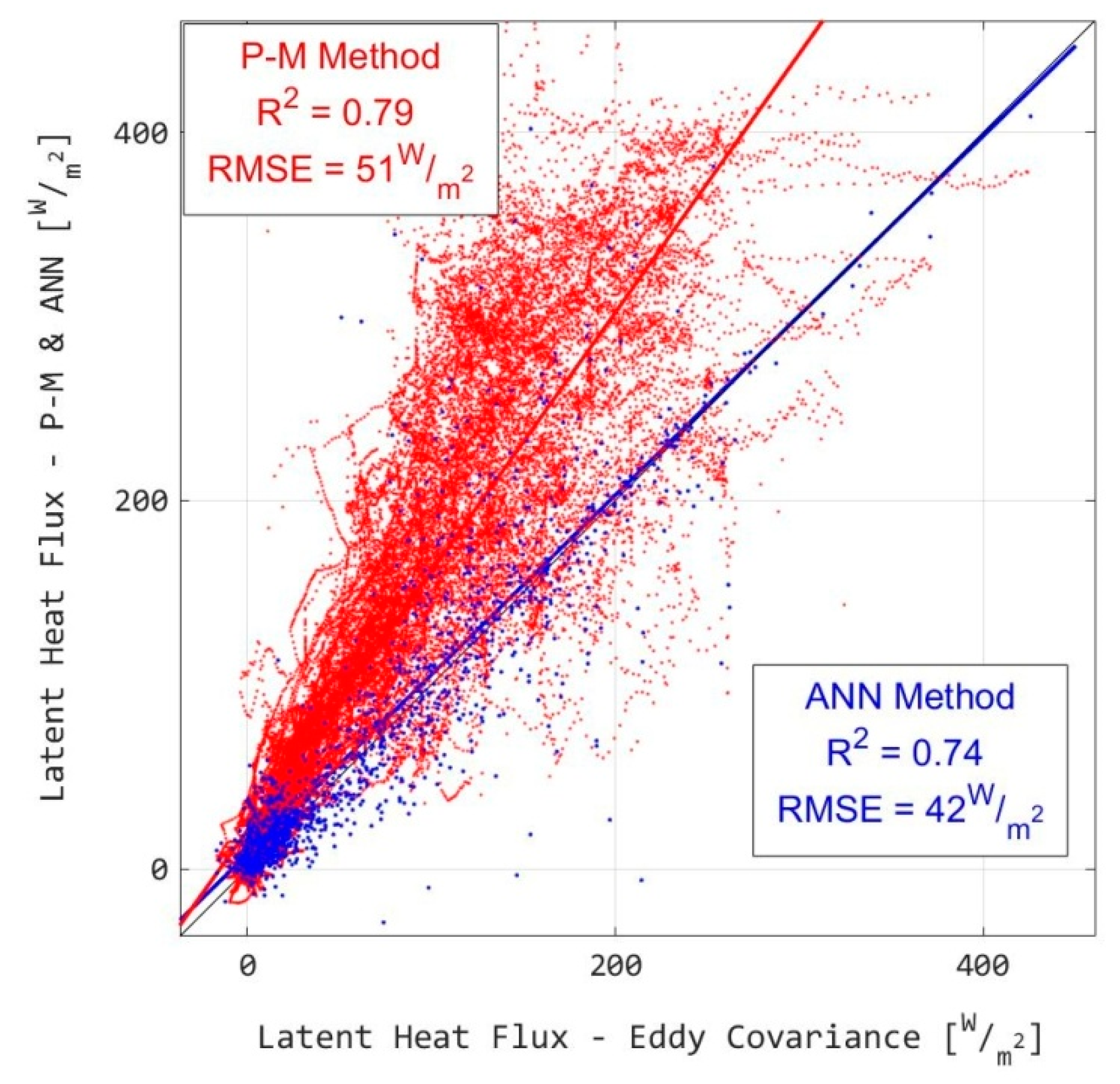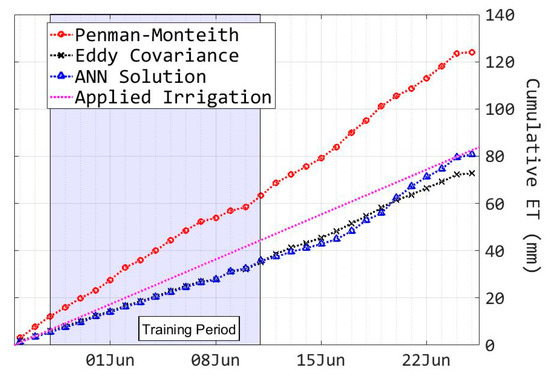 Figure 10. Cumulative ET and water use observed at site 2 (hazelnut orchard). The two week training period is shaded in blue.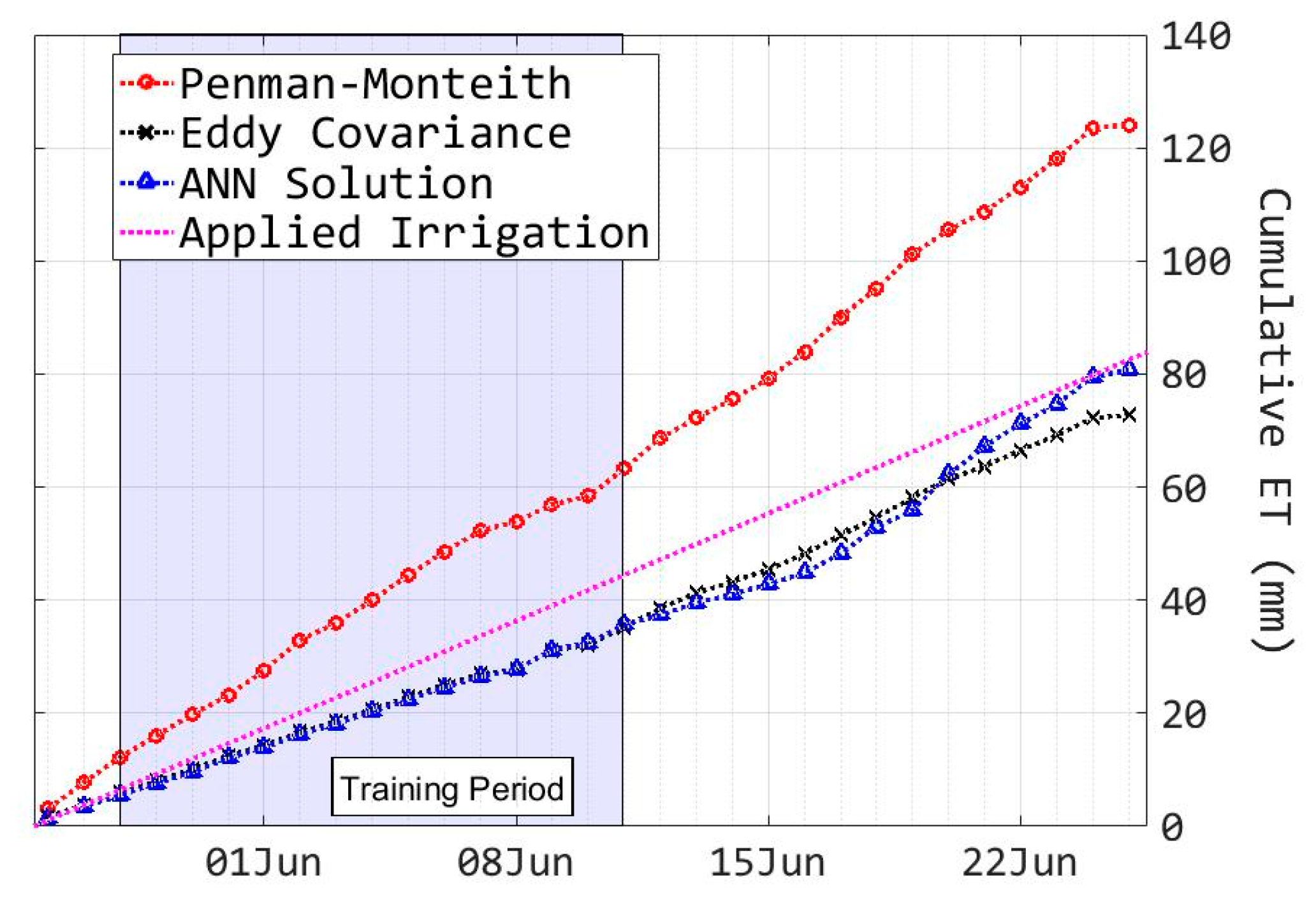 | Measured Parameters | Sensor (Manufacturer) | Site 1 | Site 2 |
| --- | --- | --- | --- |
| Air Temperature and Humidity | HMP60 (Vaisala, Vanta, Finland) | 2 m a.g.l. and 5 m a.g.l. | Canopy Top & 3 m above canopy |
| Soil Moisture & Temperature | GS3 (Decagon Inc., Pullman, WA, USA) | 5 cm and 30 cm depths | At drip emitter, & 25 cm from emitter (5 cm depth) |
| Soil Matric Potential and Temperature | MPS-2 (Decagon Inc., Pullman, WA, USA) | 5 cm depth | 5 cm depth, near drip emitter |
| Precipitation and Irrigation | ECRN-100 (Decagon Inc., Pullman, WA, USA) | Gauges within & outside irrigated area | Captured drip irrigation |
| Net Radiation | Q-7 net radiometer (REBS, no longer in production) | 2 m a.g.l. | Top of canopy |
| Downwelling Photosynthetic Active Radiation | PAR quantum sensor (Apogee Instr., Logan, UT, USA) | 2 m a.g.l. | N/A |
| Wind Speed and Direction | DS-2 Sonic anemometer (Decagon Inc., Pullman, WA, USA) | 2 m a.g.l. | N/A - used IRGASON anemometer data |
| Wind Speed and Direction | Wind Sentry cup and vane (RM Young, Traverse City, MI, USA) | 2 m a.g.l. | N/A |

© 2019 by the authors. Licensee MDPI, Basel, Switzerland. This article is an open access article distributed under the terms and conditions of the Creative Commons Attribution (CC BY) license (http://creativecommons.org/licenses/by/4.0/).