Open Access This article is
freely available
re-usable
Review
Similarities and Differences in the Acquisition of Fe and P by Dicot Plants
1
Deparment of Botany, Ecology and Plant Physiology, University of Cordoba, Edificio C-4, Campus de Rabanales, 14071 Córdoba, Spain
2
IFAPA, Alameda del Obispo Center, Area of Improvement and Biotechnology, Avda. Menédez Pidal s/n, Apdo. 3092, 14004 Córdoba, Spain
3
Deparment of Agronomy, University of Cordoba, Edificio C-4, Campus de Rabanales, 14071 Córdoba, Spain
*
Author to whom correspondence should be addressed.
Received: 29 June 2018 / Accepted: 13 August 2018 / Published: 15 August 2018
Abstract
:
This review deals with two essential plant mineral nutrients, iron (Fe) and phosphorus (P); the acquisition of both has important environmental and economic implications. Both elements are abundant in soils but are scarcely available to plants. To prevent deficiency, dicot plants develop physiological and morphological responses in their roots to specifically acquire Fe or P. Hormones and signalling substances, like ethylene, auxin and nitric oxide (NO), are involved in the activation of nutrient-deficiency responses. The existence of common inducers suggests that they must act in conjunction with nutrient-specific signals in order to develop nutrient-specific deficiency responses. There is evidence suggesting that P- or Fe-related phloem signals could interact with ethylene and NO to confer specificity to the responses to Fe- or P-deficiency, avoiding their induction when ethylene and NO increase due to other nutrient deficiency or stress. The mechanisms responsible for such interaction are not clearly determined, and thus, the regulatory networks that allow or prevent cross talk between P and Fe deficiency responses remain obscure. Here, fragmented information is drawn together to provide a clearer overview of the mechanisms and molecular players involved in the regulation of the responses to Fe or P deficiency and their interactions.
Keywords:
iron; phosphorus; ethylene; nitric oxide; phloem signals
1. Fe and P Nutrition in Dicot Plants
2. Hormones and Signaling Substances in the Regulation of Fe and P Deficiency Responses in Dicot Plants
3. Crosstalk among Fe and P Deficiencies
Several authors have shown that the induction of some Fe responses due to other nutrient deficiencies is common, although the responses to Fe deficiency are specifically induced under this deficiency. As an example, some Fe deficiency responses are up-regulated by K, S, P or Cu deficiency in dicot plants [
37
,
56
,
59
,
136
,
137
]. On a reciprocal basis, it is also frequent that Fe deficiency conditions induce responses to other nutrient deficiencies. The common participation of similar signals, like ethylene, NO and auxin, in the induction of their responses, could be related to the existence of crosstalk among nutrient deficiencies (reviewed in [
3
]). According to this view, ethylene, besides P and Fe deficiency responses, is also implicated in the induction of responses to K deficiency [
138
], to S deficiency [
139
,
140
], and to other deficiencies ([
3
] and references therein). Recently, Rai et al. [
141
] demonstrated the potential roles of auxin and Zinc (Zn) in mediating local Pi deficiency responses of the root system during growth under different Fe regimes, supporting the existence of crosstalk between Pi, Fe and Zn for maintaining Pi homeostasis.
Plants can increase exudation of phenolics, citrate and protons; they can also induce changes such as proliferation of root hairs, cluster roots and an increased ferric reductase activity under P deficiency conditions, strongly resembling the Fe deficiency response of Strategy I plants [
56
]. Some Fe acquisition genes, such as
IRT1
-like,
FRO2
-like and
FIT
-like genes, are up-regulated by P deficiency in tomato, lupine and
Arabidopsis
plants ([
37
,
59
] and references therein; [
56
]). The higher Fe accumulation in leaves of P-deficient plants supports the up-regulation of Fe responses by P deficiency [
61
]. Reciprocally, there is also data showing up-regulation of P deficiency responses under Fe deficiency. For example, the tomato Pi transporter
SlPT1
was up-regulated in roots of Fe-deficient tomato plants [
59
].
Besides these positive and mutual influences among P and Fe deficiencies, P or Fe excess could negatively affect the responses to the other deficiency. For example, P excess can limit Fe acquisition under certain conditions ([
64
]; see effect of P on the availability of Fe and vice versa).
4. Effect of P on Fe Nutrition and Vice Versa
5. Conclusions and Perspectives
Nowadays, finding new alternatives to the use of P and Fe fertilizers is urgent in order to minimize their environmental impacts, and to lower costs for farmers due to the high prices of both fertilizer [
165
]. Fe and P are essential elements for plants and are closely interrelated. As examples, the induction of Fe chlorosis, under certain circumstances, could be a consequence of P overfertilization and the immobilization of P in soil could be due to its adsorption to Fe oxides. In addition, there are numerous works that show similarities between Fe and P deficiency responses, both in the type of responses and in their regulation and signaling. As several works have shown, a consequence of this relationship is the existence of induction of P deficiency responses by Fe deficiency and vice versa [
2
,
4
,
54
,
55
,
56
,
103
]. This is logical if one considers that there are hormones, such as ethylene, involved in the activation of responses to both deficiencies. This common implication of ethylene suggests that it must act in conjunction with other more specific Fe- or P-related signals, more intimately related to each deficiency. In this regard, it should be noted that our group has presented evidence suggesting that a signal related to phloem Fe interacts with ethylene in the regulation of responses to Fe deficiency. The molecular mechanisms involved in the regulation of Fe and P deficiency responses are complex and not sufficiently understood.
Therefore, it is important to expand the knowledge about these mechanisms, and to identify the common and specific aspects of both deficiencies. The qualitative and quantitative evaluation of the expression along time of already known genes implicated in each of these deficiencies, will allow further investigation of the processes that regulate the responses to both deficiencies and a better understanding of the physiological and morphological responses that plants activate to cope with Fe or P deficiency. Given the close relationship between these two elements, it is necessary to fully understand the physiological and molecular bases of their interaction, to achieve adequate nutrition for both elements and avoid the problems associated with their inappropriate use.
Funding
This research received no external funding.
Conflicts of Interest
The authors declare no conflicts of interest.
Figure 1. Overview of morphological and physiological responses to Fe (red arrows) or P (blue arrows) deficiency in dicot plants. The production of ethylene (ET), nitric oxide (NO) and auxin (IAA) is increased by roots of dicot plants under both deficiencies. These hormones up-regulate the expression of genes implicated in physiological and morphological responses to both deficiencies. Under Fe deficiency, dicot plants increase ferric reductase (1) and Fe2+ uptake through a Fe2+ transporter (2). Under P deficiency, dicot plants enhance the synthesis and release of acid phosphatases (3) and the P uptake through P transporters (4). Both deficiencies induce the acidification of the extracellular medium and the synthesis and release of organic acids and phenolics. In relation to morphological responses, both deficiencies can activate the formation of subapical root hairs and cluster roots. Besides ethylene, NO and IAA, long distance signals become very important in the regulation of the responses to both deficiencies. Phloem Fe could play a role in the inhibition of the expression of Fe acquisition genes in roots. Similarly, miRNA399, overexpressed under P deficiency, could affect P deficiency responses in roots.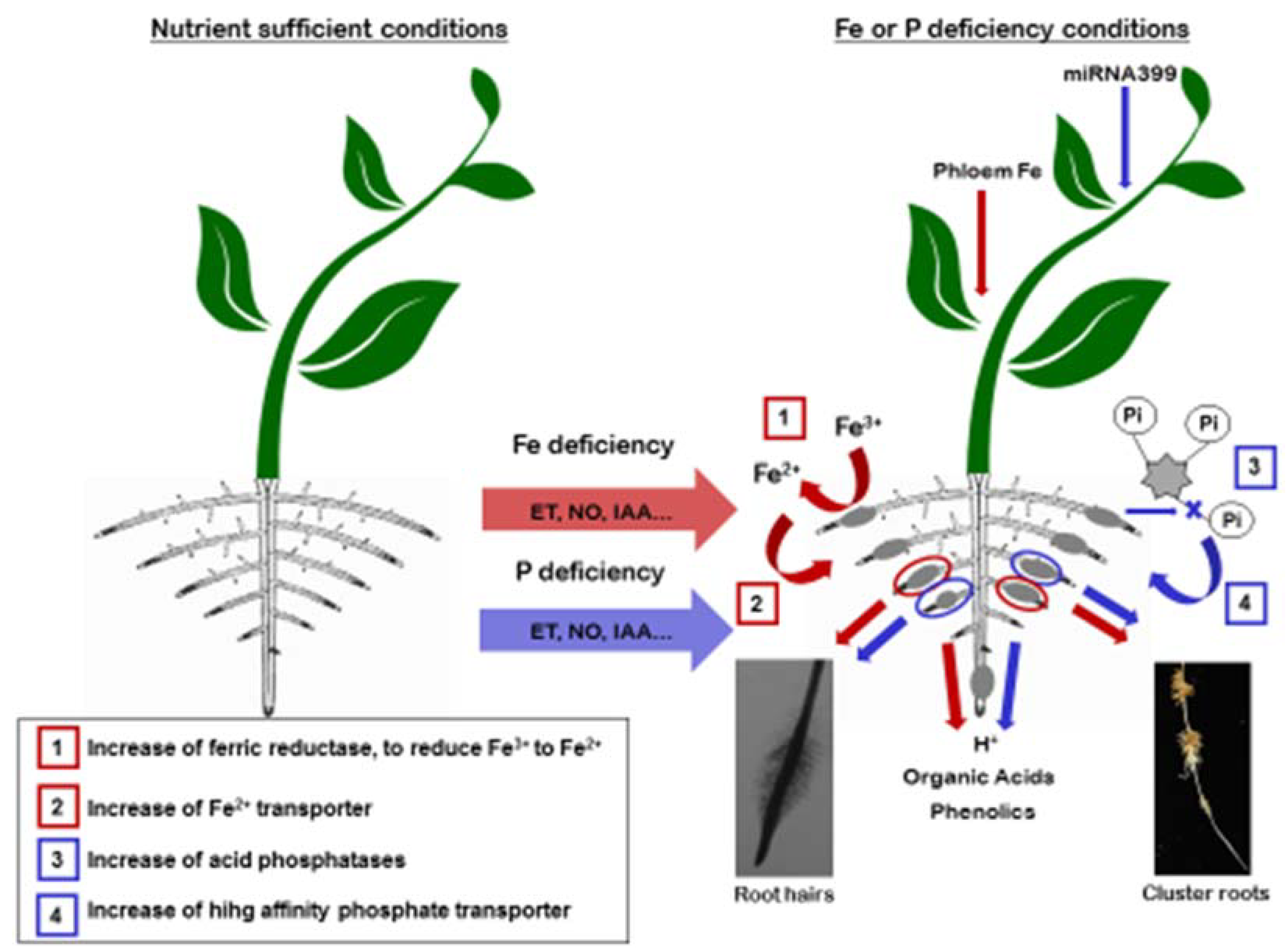 © 2018 by the authors. Licensee MDPI, Basel, Switzerland. This article is an open access article distributed under the terms and conditions of the Creative Commons Attribution (CC BY) license (http://creativecommons.org/licenses/by/4.0/).