Sensing and Automation in Pruning of Apple Trees: A Review
1
Department of Agricultural and Biological Engineering, Pennsylvania State University, University Park, PA 16802, USA
2
Fruit Research and Extension Center, Pennsylvania State University, Biglerville, PA 17307, USA
3
Department of Plant Science, Pennsylvania State University, Pennsylvania State University, University Park, PA 16802, USA
*
Author to whom correspondence should be addressed.
Received: 23 July 2018 / Revised: 25 September 2018 / Accepted: 26 September 2018 / Published: 30 September 2018
Pruning is one of the most important tree fruit production activities, which is highly dependent on human labor. Skilled labor is in short supply, and the increasing cost of labor is becoming a big issue for the tree fruit industry. Meanwhile, worker safety is another issue in the manual pruning. Growers are motivated to seek mechanical or robotic solutions for reducing the amount of hand labor required for pruning. Identifying tree branches/canopies with sensors as well as automated operating pruning activity are the important components in the automated pruning system. This paper reviews the research and development of sensing and automated systems for branch pruning in apple production. Tree training systems, pruning strategies, 3D structure reconstruction of tree branches, and practice mechanisms or robotics are some of the developments that need to be addressed for an effective tree branch pruning system. Our study summarizes the potential opportunities for automatic pruning with machine-friendly modern tree architectures, previous studies on sensor development, and efforts to develop and deploy mechanical/robotic systems for automated branch pruning. We also describe two examples of qualified pruning strategies that could potentially simplify the automated pruning decision and pruning end-effector design. Finally, the limitations of current pruning technologies and other challenges for automated branch pruning are described, and possible solutions are discussed.
1. Introduction
In the following sections, we discuss the tree training systems and strategies for automated pruning, the machine vision sensing technologies for tree branch identification, the current development of automated pruning systems, and the issues and challenges that remain in the procedure.
2. Tree Training Systems
Tree training systems are critical to the success of adopting automation in orchard production. Previously, studies were conducted on free-standing trees on semi-dwarf rootstocks, established at moderate planting density and trained as central leader trees, with numerous scaffolds and a complex branching hierarchy. Modern intensive orchards have a smaller canopy with less branching hierarchy, and are grown at close spacing on size controlling rootstocks that restrict tree vigor, resulting in a smaller simpler canopy. Trellising reduces the variability in canopy shape and position. This serves to make the operation of machinery simpler and less fatiguing to the machine operator and should facilitate more predictable and repeatable results.
Table 1
shows the typical tree training systems of apple trees and their specifications.
Detection and accessibility to branches and fruits is a key factor for automating labor-intensive orchard tasks. Establishment of intensive orchards systems at close spacing and using size-controlling rootstocks and training systems is a global trend. Modern intensive orchard systems could provide easier detection and access to both tree canopy and fruits, resulting in higher potential of applying mechanical and robotic technologies [
32
]. A "Robot Ready" concept was proposed recently to train and manage tree orchards for robotic harvesting [
33
]. Horticultural advancement along with the attempt of conducting automated activities in tree fruit production has been blooming recently. Various intensive modern tree architecture systems have been developed and tested for production and labor efficiency.
Figure 2
shows two examples: a V-trellis fruiting wall system with horizontal branches, and the tall spindle tree system.
For intensive fruit systems, especially those trained to 2D planar fruiting wall, the narrow canopy becomes much simpler and easier to access with machines, which has brought great benefit to tree fruit growers in many aspects. Previous studies have documented the effect of intensive tree architectures in terms of light interception and distribution [
34
,
35
], the influence on yield and fruit quality [
36
,
37
,
38
], earlier production and higher returns [
39
], and compatibility to mechanical solutions such as blossom thinning machines or harvest aids [
40
,
41
]. Additionally, mechanical or robotic harvesting is also becoming more promising on intensive trees [
12
,
42
,
43
]. He et al. [
42
] developed a shake and catch harvesting system for trellis trained V-trellis apple trees. Their results indicated that this tree system provides an opportunity to shake only targeted fruiting limbs and catch the fruit just under those limbs, increasing the potential to keep fruit quality at a desirable level for the fresh market. In [
43
], the fruit detection and picking rate could reach 100% and 85% for robotic apple picking if working with horizontal branch fruiting wall system. Fewer studies have focused on automated pruning for the intensive architectural trees. With a simplified tree architecture, tree branches could be detected and identified much more easily, by applying simple rules for robotic pruning [
44
].
3. Pruning Strategies for Automated Pruning
The rules and pruning strategy generated in this study are very easily implemented, removing only those branches with diameters greater than the setting level. Once the pruning severity level is determined, the maximum allowable branch diameter could be calculated easily based on the calculation. Those with diameters greater than the threshold will be cut from the branch base or about one inch away the trunk depending on the necessary of new branch growth. Therefore, the first critical information needed for automated pruning is to measure the diameter of the trunk as well as the diameter for each individual branch, then the cross-sections and LTR are calculated, and pruning decision are made. This method is suitable for intensively planted trees with minimal branching complexity and no permanent branches, such as the tall spindle or the super spindle. To apply robotic pruning, it will require machine vision to locate branches and map a pruning path.
The pruning rules proposed in this study are mainly for the trellis trained trees with horizontal permanent branches, the removed part is from the twigs growing from the permanent horizontal branches. Three different pruning treatments with different twig lengths were compared, and results showed that shorter length twigs had higher fruit removal efficiency, while it required more cuts since there were more twigs needed to be cut if the targeted twig length is shorter. Furthermore, by adopting the twig diameter into consideration, an index was proposed based on the ratio of twig diameter and length. With determined index, the twigs with larger diameter could retain longer. The results indicated that the treatment of using an index determined pruning treatment achieved very promising fruit removal as well as fruit yield. The pruning strategy created in this study gained the guidance for the autonomous pruning by providing the specific rules to cut the branches. To apply the created pruning strategy for automated pruning, identifying the twig length as well as the diameter would be essential.
4. Machine Vision Sensing for Branch Detection and 3D Reconstruction
5. Automated Pruning System
As introduced above, manual pruning is a labor intensive and costly operation in the tree fruit production. Mechanical pruning and robotic pruning are two alternative methods to replace the manual pruning. By integrating with autonomous platform, these two methods could accomplish automated pruning task.
Robotic pruning is a selective pruning operation, which aims to mechanically prune the tree branches at the same quality and level as human hands. Pruning for tree fruit crops is highly labor intensive, but no work specific to automated pruning has been carried out in the past due to a few challenges. The first challenge is the complex environments of tree canopy/structure. The second challenge is moving robotic parts quickly, efficiently and delicately. Compared to fruit trees, grape vines are relatively more uniform, which benefited from certain amount of studies and field trials.
6. Discussion: Challenges and Solutions
As discussed above, tree structures in modern orchard are getting much simpler by adopting the intensive system. Even with these trees, the pruning task is still relatively complex due to the natural biological system. For robotic pruning, the cuts on branches require high precision with a cutting end-effector applied at the right locations and perpendicular to branch orientation. A successful robotic pruning system needs to be c accurate, robust, fast, and even inexpensive. Therefore, the critical points for success of robotic pruning for fruit trees are the accuracy of branch identification/reconstruction, the spatial requirement of pruning end-effector, and the efficiency of pruning operation (time for branch identification and the time for maneuvering the end-effector).
To apply robotic pruning, firstly, the tree branch and cutting location need to be accurately identified. Most studies on automated pruning focus on the tree branch identification and reconstruction using machine vison system, as discussed above. Some studies have been reported on developing algorithms to improve the accuracy of the branch reconstruction [
115
,
116
,
117
]. Most of these studies focus on the tree skeleton from the 3D images, which typically could get the location and the length of the tree branches. It is hard to get other information, such as the diameter and angle of branches. One recent study from Tabb and Medeiros showed the ability to detect and automatically measure the branching structure, branch diameters, branch lengths, and branch angles. That information is required for tasks such as robotic pruning of trees as well as structural phenotyping. At this stage, it takes about 8 min to finish one tree reconstruction, which is too long for practical pruning process [
69
]. The time for finishing a pruning is determined by both the speed of sensing system and the mechanical/robotic executive system. Both speeds could be potentially improved in the future with the advancement of related technologies. It would be more practical to use stop-and-go since the pruning task for each tree varies, and the time for finish each individual tree also varies. A platform is needed for the automated pruning system, and the platform used in the mechanical harvesting of apples could be an option [
48
]. With the sensing system mounted on the front of the platform, and the overall pruning system could still be considered as real-time system if the pruning operation could be conducted right after the platform reaches the tree.
Not only branch identification task, but also the accessibility of the robotic manipulator and end-effector is challenging due to complexity and variability of agricultural environment, as well as the required speed of operation. Previously developed pruning robots typically use serial robotic arm with a fix cutter, while this level of specificity in the spatial placement of the end effector results in a complex set of maneuvers and slows the pruning process. Meanwhile, the serial robot arm with an end-effector requires large space for the cutter to engage with the branches. Although it is not for pruning directly, effort has been made to simplify the maneuvers and improve the efficiency of robotic operations in harvesting. Two robotic fruit picking robots have been developed and tested, one is from FFRbotics (Gesher HaEts 12, Benei Dror, Israel) and the other one is from Abundant Robotics (Abundant Robotics, Hayward, CA, USA). These robotic arms are parallel type, which limits the spatial requirement of the picking end-effector. The position of the end-effector could be adjusted at the base of the overall robotic arm, and then the picking end-effector could reach the fruit directly or by extending the rod. Similar robotic arms could be considered for developing the pruning system. There is one thing needs to consider that normally no specific orientation was required for the end-effector to engage fruits. For robotic pruning, the end-effector (cutter) needs not only to reach the right location, but also to be placed perpendicularly to the branch. To be always perpendicular to the branch, as well as using the parallel type robotic arm, the end-effector should be with adjustable orientation [
118
]. With this kind of end-effector, the cutter itself could be rotated with very small spatial need. Moreover, the cutter could be made of saw blade with no specific orientation constraints.
Finally, the economics of the robotic pruning system also needs to be considered. Typically, the cost for a robotic system is high. With the use of off-the-shelf robotic arms (such as Robolink, Igus, Cologne, Germany) and low cost sensing system (such as Kinect v2, Microsoft), the overall cost of the robotic system could be dramatically decreased. Therefore, with the consideration of labor shortage issue as well as putting effort on building low cost robotic pruning system with off-the-shelf components, the benefit of developing a robotic pruning system would be obvious. Meanwhile, multiple robots could be employed to improve the working efficiency. The cost/benefit ratio of a robotic pruning machine will have to be analyzed after the machine is built.
7. Conclusions
In this study, automated pruning related technologies have been reviewed, from the tree training systems, machine vision sensing, pruning strategies, as well as mechanical and robotic pruning development. Through this comprehensive review and discussion, the following statement could be concluded.
Tree architecture is very critical for adopting automated orchard operations such as pruning and harvesting. Intensive tree orchard with narrow tree canopy or even 2D planar fruiting wall would be suitable for fully autonomous pruning system in the future.

To develop robotic pruning, simple and quantified pruning rules are the essential of practical pruning strategies.

Many studies have focused on the tree branch identification and reconstruction, however the accuracy and efficiency still needs to be improved for practical pruning operation.

Robotic pruning technologies have been successfully investigated in some uniformed crops, such as grapevines. With the adoption of intensive tree architecture as well as the improvement of cutting end-effector, it is very promising to have a robotic pruning system for tree fruit crops.
Author Contributions
L.H. led the writing of this manuscript. J.S. was involved in the discussion of the manuscript structure and provided some of the writing materials, especially for the horticultural related sections.
Funding
This research was funded by U.S. Department of Agriculture: Project #PEN04653 and Accession #1016510.
Acknowledgments
This work was supported by the USDA National Institute of Food and Multistate/Regional Research and/or Extension Appropriations under Project #PEN04653 and Accession #1016510. Any opinions, findings, conclusions, or recommendations expressed in this publication are those of the authors and do not necessarily reflect the view of the U.S. Department of Agriculture and Pennsylvania State University.
Conflicts of Interest
The authors declare no conflicts of interest.
Figure 1.
An example of production cost breakdown in percentage for each category for a Gala apple orchard (40 Acres). The fixed cost, such as land, trellis, irrigation setup, etc., is not included [
17
].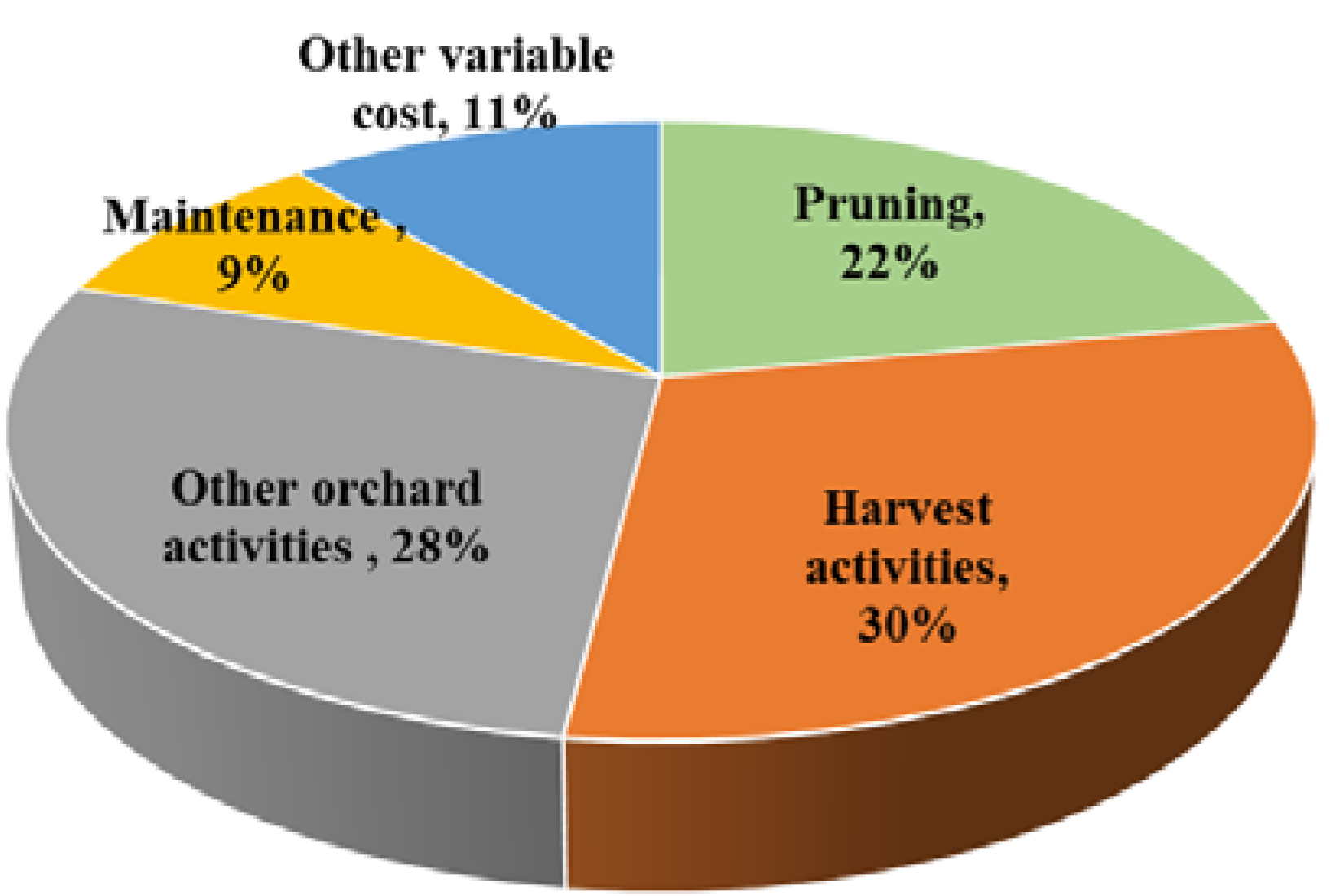 Figure 2. Intensive modern fruit tree systems: (A) horizontal branch fruiting wall V-Trellis system in Washington; and (B) tall spindle tree system in Mid-Atlantic fruit region.
Figure 4.
Pruning based on the length of the twigs and the ratio of length and diameter of twig (from [
48
], used with permission).
Figure 6.
An example of tree reconstruction with 3D machine vision: (
A
) RGB image of the test tree; and (
B
) reconstructed tree [
69
].
Tree Training Systems
Specifications
Pruning Complexity
References
Bi-axis
- Most in Italy and new to Washington
- Two-stem tree architecture
- High density and trellis required
- Pre-formed and split-branch tree required
- Short shoot length reduced pruning mass
- Well adopted for mechanical harvesting
[24,25]
Tall spindle
- High density
- Most common system in Eastern north America
- One leader with narrow canopy
- No permanent branches
- No pruning of leader
- Limb renewal pruning is used
- Summer hedging applicable
[25,26]
Super spindle
- Super high density and trellis required
- Low operation cost
- No pruning of leader
- Limb renewal pruning is used
- Summer hedging applicable
[25,27]
V-trellis/Vertical fruiting wall
- Fruiting wall (2D)
- Common system in Washington
- Horizontal branches on trellis wire
- Designed for precision pruning
- High accessibility of branches
- Compatible for robotic pruning
[25,28]
Vertical axis
- Narrow pyramidal shape
- Central leader with support post
- Support by a trellis
- Lateral branches are renewed periodically
[29,30]
Solaxe
- Common in south France, part of Spain and Chile
- Extensive limb bending
- Central leader
- Removal of shoot close to trunk and other large shoots
- Limit pruning is required after properly training in first few years
[25,31]
Tree Training System
Pruning Rules
Technical Difficulties for Automated Pruning
References
Tall spindle
- Limb renewal pruning: elimination of large branches
- Obtain location of each branch
- Identity base diameter of each individual branches
- Machine Accessibility
[45,47]
Tall spindle
- Certain branch length and spacing
- Measure the length of each branch
- Determine the density of the branches
[44]
Super/tall Spindle
- Branch simplification pruning: removing lateral secondary branches
- Identify the diameter and length of each secondary branches
[45]
Vertical/V-trellis fruiting wall
- Keep secondary branches in certain length
- Identify the diameter and length of each secondary branches
[48]
Trellis training central leader
- Hedging and topping
- Identify tree structure
- Determine the cutting location
[49]
Slender spindle
- Remove tree top
- Remove unwanted shoot
- Identify tree structure
- Determine the cutting location
[50]
Hedgerow
- Hedging and topping
- Identify tree structure
- Determine the cutting location
[20]

Table 3. Sensors and techniques used for tree/branch detection and reconstruction in different applications.
Application
Sensors
Technique Difficulties
References
Forest tree inventory
Airborne laser scanner
- Relatively low accuracy
- Difficult to detect small trees
[57,58,59]
Mechanical harvesting
3D camera (ToF *)Kinect v2
- Leaves/fruits may block the branches
- Affected by the direct sunlight
[60,61]
Robotic grapevine pruning
Laser scanner (ToF)
- Only for wood estimation
- Efficacy needs to be improved
[62]
3 Grey Grasshopper2 color cameras
- Moving canes are not modeled
- Incorrect 3D structure around vine head
- Requires stops at each plant
[63,64]
RGB camera
- Not for precise pruning
- Not suit for big distance variation of cane base
[65]
Robotic fruit tree pruning
Laser scanner/ToF
- Human intervention is necessary for part of registration
[66]
3D camera (CamCube 3.0 **)
- Overlap branch removal rate is about 70%
- More pruning criteria will be considered
[44]
Kinect v2
- Color information is required to improve performance
- Separate two adjacent/close trees
[67,68]
RGB-D camera(ToF)
- The operation of 3D reconstruction is offline
- The speed is low
[69,70,71,72]
* ToF camera: Time-of-flight camera; ** CamCube 3.0 is a 3D camera from PMD Tech.

© 2018 by the authors. Licensee MDPI, Basel, Switzerland. This article is an open access article distributed under the terms and conditions of the Creative Commons Attribution (CC BY) license (http://creativecommons.org/licenses/by/4.0/).