Open Access This article is
freely available
re-usable
Review
Organically Grown Soybean Production in the USA: Constraints and Management of Pathogens and Insect Pests
1
USDA-ARS, 1101 W. Peabody St, Urbana, IL 61801, USA
2
Department of Crop Sciences, University of Illinois, 1101 W. Peabody St, Urbana, IL 61801, USA
*
Author to whom correspondence should be addressed.
Academic Editor: Alan H. Schulman
Received: 31 October 2015 / Accepted: 13 February 2016 / Published: 23 February 2016
Abstract
:
Soybean is the most produced and consumed oil seed crop worldwide. In 2013, 226 million metric tons were produced in over 70 countries. Organically produced soybean represents less than 0.1% of total world production. In the USA, the certified organic soybean crop was grown on 53 thousand ha or 0.17% of the total soybean acreage in the USA (32 million ha) in 2011. A gradual increase in production of organically grown soybean has occurred since the inception of organic labeling due to increased human consumption of soy products and increased demand for organic soybean meal to produce organic animal products. Production constraints caused by pathogens and insect pests are often similar in organic and non-organic soybean production, but management between the two systems often differs. In general, the non-organic, grain-type soybean crop are genetically modified higher-yielding cultivars, often with disease and pest resistance, and are grown with the use of synthetic pesticides. The higher value of organically produced soybean makes production of the crop an attractive option to some farmers. This article reviews production and uses of organically grown soybean in the USA, potential constraints to production caused by pathogens and insect pests, and management practices used to reduce the impact of these constraints.
Keywords:
soybean; edamame; soymilk; tofu; aphids; rust; Sclerotinia stem rot; stink bugs; sudden death syndrome; cyst nematode
1. Introduction
Worldwide, soybean [
Glycine max
(L.) Merr.] is one of the most widely grown crops with 226 million metric tons produced in over 70 countries in 2013 [
1
]. Soybean was grown for organic oilseed production on 0.22 million ha in 2013 representing 29% of the total ha of organically grown oilseed crops worldwide [
2
].
In 2015, soybean was grown on 33.3 million ha or about 26% of the total USA cropland [
3
]. Since the USDA National Organic Program was implemented in 2002, the total area of organic crop production has increased from 0.5 million ha in 2002 to 1.3 million ha in 2011 with major growth in organically produced corn, soybean, and wheat; for soybean, 53 thousand ha were certified organic in 2011, which represents 0.17% of the total ha in soybean production [
4
]. In addition to domestic production, organic product imports added up to nearly 1.3 billion USD, and organic soybean products were among the top imports into the USA along with coffee, wine, and olive oil [
2
]. In general, there has been a gradual increase in production of organically grown soybeans worldwide. This is due in part to the increase in soybean products for human consumption such as edamame, organic vegetable oil, soybean milk, and tofu, and the increased need for organic soybean meal used to feed animals in organic production.
2. Uses and Production of Organically Produced Soybeans in the USA
2.2. Production, Processing, and Pricing in the US
Certified organically produced soybean was grown on 53 thousand ha in the USA in 2011 [
4
]. The states that produce the most certified organically grown soybean include Iowa, Minnesota, Michigan, and Illinois (
Figure 2
).
Most of the elevators that trade in organic soybeans are in these states, although the soybean seeds are stored on-farm until the contract is delivered. Organic soybeans are bought and sold as "premium beans" at a premium price compared to conventional soybeans, which comprise mostly transgenic soybean cultivars. Premium beans include non-GM clear and non-GM dark hilum soybeans, food and feed grade, respectively. Organic soybeans make up only a small portion of the premium beans for this market. The average per bushel prices for food grade and feed grade organic soybeans for the third quarter 2015 were 28.98 USD and 23.79 USD, respectively [
13
], while conventional soybeans averaged 9.19 USD for the same period [
17
]. A July 2015 USDA ERS report shows prices down slightly from a peak in 2012 [
4
] (
Figure 3
).
The report found costs for organically grown soybeans higher and yields lower than those for non-organic soybeans. However, the report concluded that these costs were offset, on average, by the price premium for organic soybeans [
4
].
3. Disease and Insect Pest Management Strategies in Organic Soybean Production
4. Biological Enhancement to Improve Plant Growth
4.1. Plant Growth Promoting Rhizobacteria
4.2. Mycorrhizal Associations
The phylum Glomeromycota is composed of arbuscular mycorrhizal (AM) fungi, an ancient group of fungi that are believed to have helped plants first move onto land [
50
]. With over 200 species, AM fungi are ubiquitous and survive in a broad range of environments and form mutualistic associations with approximately 80% of all land plants including soybean. They contribute many benefits to the associated plant including enhanced nutrient uptake, drought tolerance, and disease and pest resistance. AM fungi are obligate biotrophs and persist in the soil as spores until they detect a host through exogenous signaling. This will stimulate germination and hyphal growth, resulting in the formation of a symbiotic connection with roots of the plant host. The extra radical hyphae will extend past the root system to obtain immobile nutrients, particularly phosphorus, in exchange for carbon from the plant [
50
,
51
].
Interest in AM fungi has increased in recent years. Their positive impact on crop production includes suppression of certain diseases by outcompeting pathogens for root tissue and stimulating host defense responses. To establish a symbiotic relationship, AM fungi interact with the plant to alter some specific plant defense pathways including the salicylic acid-dependent and the jasmonic acid/ethylene-dependent pathways to establish successful associations with roots [
51
]. The altering of these defense pathways often makes mycorrhizal plants more resistant to necrotrophic pathogens and chewing insects, but may make the plants more susceptible to biotrophic pathogens [
51
]. Mycorrhizal induced resistance has been shown to reduce disease severity in roots and also in shoots of colonized plants [
51
]. However, the effect of AM fungi is highly dependent on the host-pathogen-AM fungi interaction.
Overall, AM fungi are considered to be beneficial to soybean production, by increasing growth, nutrient uptake, and yield, especially when co-inoculated with PGPR [
52
,
53
]. Although there is little data on the effect of AM fungi in certified organic soybean fields, there are commercial OMRI-certified mycorrhizal inoculants labeled for use on soybeans [
22
].
5. Major Diseases and Insect Pests of Organically Grown Soybean
6. Future of Organic Soybean Production
Production of organically grown crops worldwide has increased because of increased demand for organic food products and increased presence of organic products in mainstream retail food outlets. For organically grown soybean, it is likely that the cropping area will double or triple in the next few decades, both in the USA and internationally, to meet demand for increased human consumption and increased demand for organic animal products. Diseases and insect pests pose potential constraints to production that can be costly for growers. Many of the current management tactics for organic producers only partially alleviate the problem and may be costly to implement. One management approach that needs further attention is to improve breeding efforts for increasing disease and insect pest resistance, which ultimately will provide growers with higher yielding disease and pest resistant cultivars. Another area of management that can aid organic soybean growers is the continued improvement of organically approved biopesticides and other products that stimulate growth and plant defenses to pathogens and pests. Private industry has increased their research capacity in these areas, and will continue to push forward improved soybean cultivars and products for certified organic production fields. Public research institutions may provide service to the growers by evaluating effectiveness of available cultivars and products. Other concerns that can affect yield, such as weed problems and feeding damage by mammals, will also need to be addressed as production expands. Growers in the future may benefit from advanced technologies that could include robots on the ground and in the air to reduce the impact of not only diseases and insect pests, but other abiotic or biotic constraints. Computer-based precision will be especially advantageous for organic growers. In summary, the increase in production of organically grown soybean will be complimented with improvements in host genetics, more organically approved biopesticides, other products that stimulate plant growth and yield, and new technological innovations that increase overall efficiency and productivity. All of these will add value to organically grown soybean, and knowledge advances for improved organic soybean production may in turn prove to be beneficial to other organic crops and to non-organically grown soybean.
Conflicts of Interest
The authors declare no conflict of interest.
Figure 1.
Value of organic soybean seeds imported into the USA from various countries from 2011 to 2014, and includes the value of USA *** produced organic soybean seeds. ** Includes seven other countries [
16
].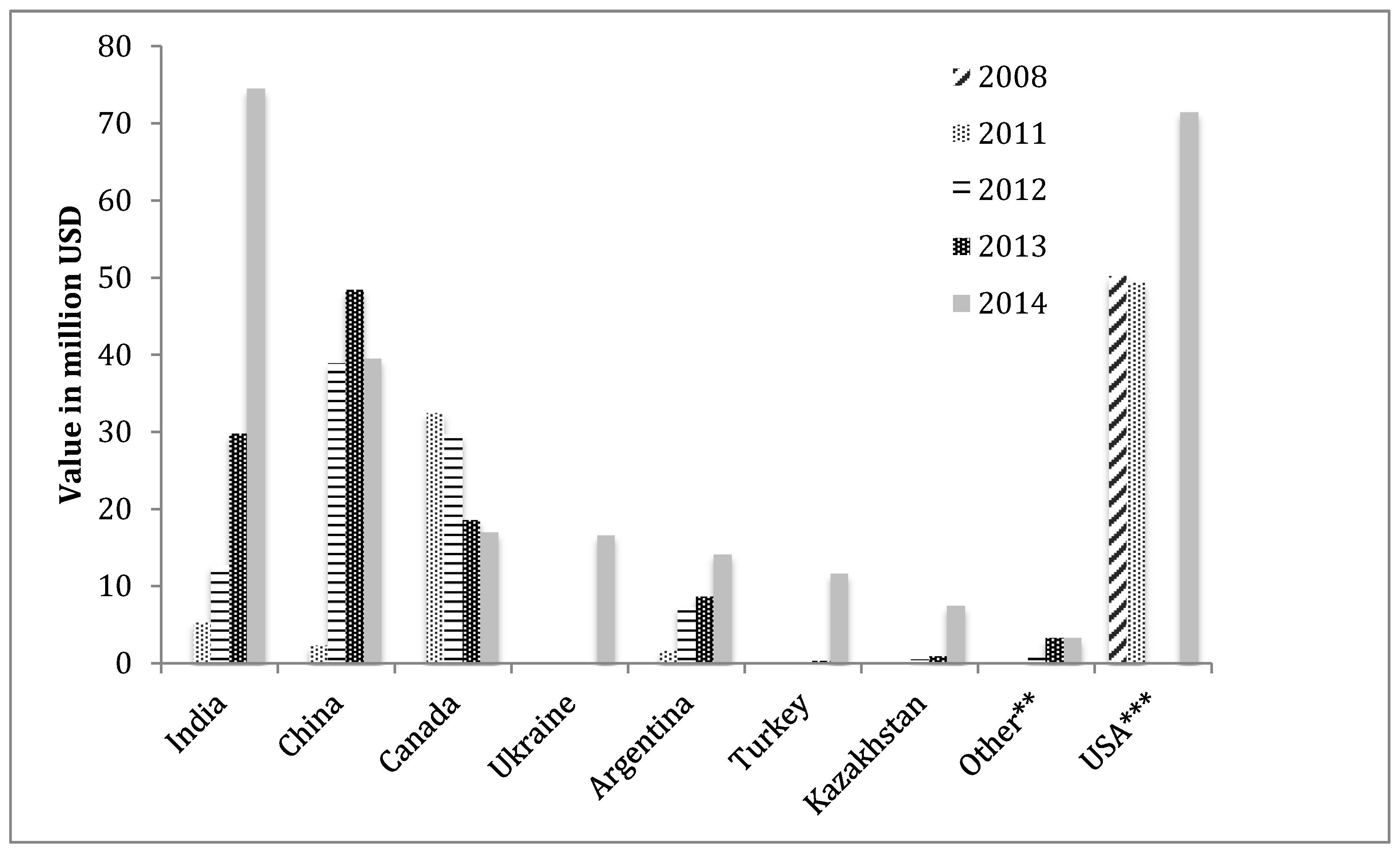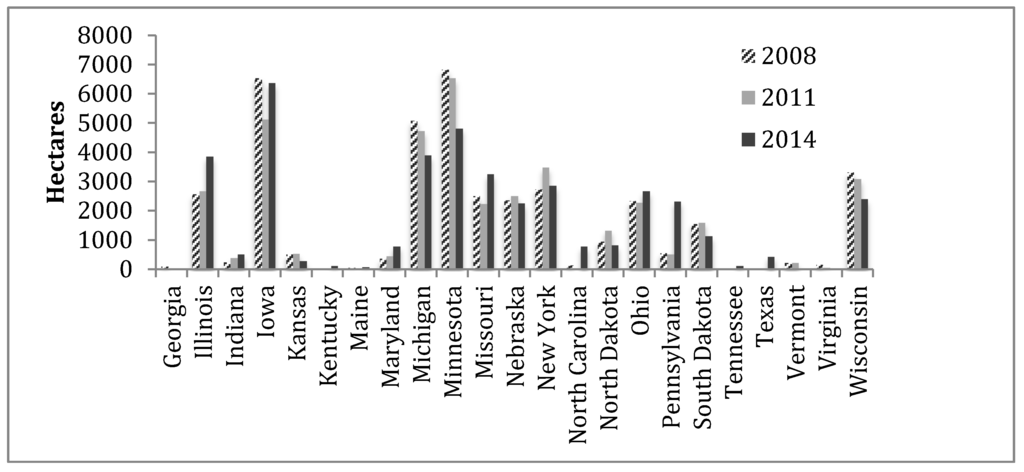 Figure 2.
Production area harvested of organically produced soybean in the USA in 2008, 2011, and 2014 [
3
].
Figure 3.
Prices in US dollars per bushel (27.22 kg) for soybean seed produced for organic food, organic feed, and non-organic (conventional) [
4
].
Figure 4. Examples of soybean diseases and insect pests found in organically produced soybean. Top right from left to right: Sclerotinia stem rot, soybean cyst nematode, and the soybean aphid. Middle right to left: Phytophthora root and stem rot, Phomopsis seed decay, and sudden death syndrome. Bottom right to left: soybean rust, seed abnormalities, and marmorated stink bug nymphs.

Table 1. Examples of diseases and insect pests of organically grown soybean and their management in organic systems based on USDA organic production standards 1.
Table 1. Examples of diseases and insect pests of organically grown soybean and their management in organic systems based on USDA organic production standards 1.

| Disease/pest 2 | Biological 3 | Cultural 4 | Resistance 5 | Pesticides 6 |
| --- | --- | --- | --- | --- |
| Sclerotinia stem rot | Yes | Yes | No | Yes |
| Seedborne/seedling | Yes | Yes | Yes | Yes |
| Soybean aphid | Yes | Yes | Yes | Yes |
| Soybean cyst nematode | Yes | Yes | Yes | Yes |
| Soybean rust | No | Yes | No | Yes |
| Stink bugs | No | Yes | No | Yes |
| Sudden death syndrome | No | Yes | No | No |
1 The USDA National Organic Program is a regulatory program housed within the USDA Agricultural Marketing Service that is responsible for developing national standards for organically produced agricultural products [21]; 2 This is not an exhaustive list of diseases and insect pests, but a list of pests that could be problematic in organic production fields; 3 These include commercial products that use biological control agents for pathogen and pest control; 4 These include techniques such as amendments, crop rotations, fertility management, tillage techniques, plant population densities, row spacing and row direction, time of planting, and others; 5 These include commercial cultivars, including grain-type non-genetically modified, which could be used in certified organic production; 6 These include commercial products that could be used in certified organic production according to USDA standards [21].
© 2016 by the authors; licensee MDPI, Basel, Switzerland. This article is an open access article distributed under the terms and conditions of the Creative Commons by Attribution (CC-BY) license (http://creativecommons.org/licenses/by/4.0/).