Kinetics of Non-Isothermal and Isothermal Crystallization in a Liquid Crystal with Highly Ordered Smectic Phase as Reflected by Differential Scanning Calorimetry, Polarized Optical Microscopy and Broadband Dielectric Spectroscopy
1
The Henryk Niewodniczanski Institute of Nuclear Physics, Polish Academy of Sciences, Radzikowskiego 152, 31-342 Kraków, Poland
2
Department of Chemistry, Faculty of Pure and Applied Sciences, University of Tsukuba, Tsukuba, Ibaraki 305-8571, Japan
*
Author to whom correspondence should be addressed.
Received: 27 March 2019 / Revised: 9 April 2019 / Accepted: 10 April 2019 / Published: 12 April 2019
Abstract
The kinetics of the non-isothermal and isothermal crystallization of the crystalline smectic B phase (soft crystal B, SmB
cr
) in 4-n-butyloxybenzylidene-4′-n′-octylaniline (BBOA) was studied by a combination of differential scanning calorimetry (DSC), broadband dielectric spectroscopy (BDS) and polarized optical microscopy (POM). On cooling, part of the SmB
cr
phase undergoes conversion to a crystalline phase and the remainder forms a glassy state; after the glass softens, crystallization is completed during subsequent heating. By analyzing the area of the crystal growing in the texture of SmB
cr
as a function of time, the evolution of degree of crystallinity,
D
(t), was estimated. It was demonstrated that upon heating,
D
(t) follows the same Avrami curve as the crystallization during cooling. Non-isothermal crystallization observed during slow cooling rates (3K/min ≤ ϕ ≤ 5K/min) is a thermodynamically-controlled process with the energy barrier Ea ≈ 175 kJ/mol; however, the crystallization occurring during fast cooling (5 K/min > ϕ ≥ 30K/min) is driven by a diffusion mechanism, and is characterized by E
a
≈ 305 kJ/mol. The isothermal crystallization taking place in the temperature range 274 K and 281 K is determined by nucleus formation.
View Full-Text
►

▼

Figures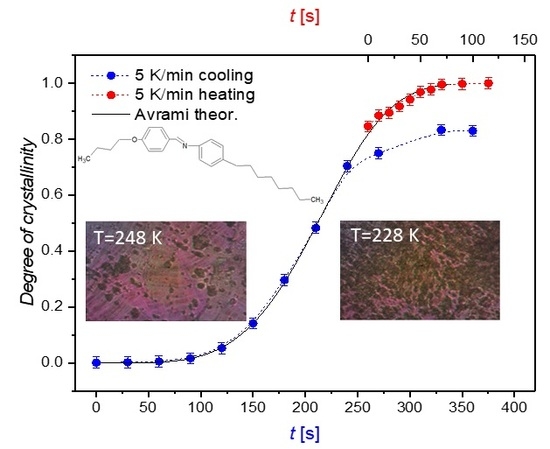 Graphical abstract
This is an open access article distributed under the
Creative Commons Attribution License
which permits unrestricted use, distribution, and reproduction in any medium, provided the original work is properly cited (CC BY 4.0).

Share & Cite This Article
MDPI and ACS Style
Jasiurkowska-Delaporte, M.; Rozwadowski, T.; Juszyńska-Gałązka, E. Kinetics of Non-Isothermal and Isothermal Crystallization in a Liquid Crystal with Highly Ordered Smectic Phase as Reflected by Differential Scanning Calorimetry, Polarized Optical Microscopy and Broadband Dielectric Spectroscopy. Crystals 2019, 9, 205.
Note that from the first issue of 2016, MDPI journals use article numbers instead of page numbers. See further details here.
Related Articles
Comments
[Return to top]