Radio-, Thermo- and Photoluminescence Properties of Lu2O3:Eu and Lu2O3:Tb Nanopowder and Film Scintillators
1
Institute of Physics of Kazimierz Wielki University in Bydgoszcz, 85-090 Bydgoszcz, Poland
2
Faculty of Chemistry, University of Wroclaw, 50-383 Wroclaw, Poland
*
Authors to whom correspondence should be addressed.
Received: 22 February 2019 / Revised: 7 March 2019 / Accepted: 8 March 2019 / Published: 13 March 2019
Abstract
This work is dedicated to the preparation and characterization of the radio-, thermo-, and photoluminescent properties of Lu
2
O
3
:Eu and Lu
2
O
3
:Tb nanopowder (NPs) scintillators, prepared by means of hydrothermal processing, and their film analogues made of these NPs by the spin coating method. The luminescent properties of NPs and films were characterized by cathodoluminescence (CL), photoluminescence (PL), X-ray excited radioluminescence (RL), and thermoluminescence (TL) at low and high temperatures. In Lu
2
O
3
:Eu NPs and films, mostly the luminescence of Eu
3+
ions occupying the C
2
site of the host, with the most intensive peaks at 611.6 nm and a decay time of 1.5 ms, was observed. On the contrary, two types of Tb
3+
centers in the C
2
and C
3i
sites with the main emission lines at 542.4 and 544.0 nm and the corresponding 4f→5d excitation bands at 270 and 305 nm and decay times of t
1/e
= 2.17 and 3.96 ms were observed in the case of Lu
2
O
3
:Tb NPs and films. Indications were noted that Tb
3+
in the C
3i
symmetry position was most active in the CL spectra of Lu
2
O
3
:Tb NPs and a respective film. Thermoluminescent peaks at 110 °C and 170 °C for Lu
2
O
3
:Eu NPs and at 75 °C and 120 °C in Lu
2
O
3
:Tb NPs were observed corresponding to the hole and electron traps, respectively. Significantly different onsets of temperature quenching of Eu
3+
and Tb
3+
luminescence in Lu
2
O
3
:Eu and Lu
2
O
3
:Tb NPs were found at ~90 °C and ~320 °C, respectively.
View Full-Text
►

▼

Figures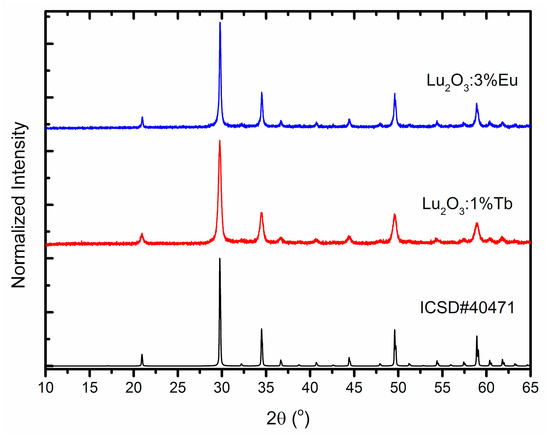 Figure 1
This is an open access article distributed under the
Creative Commons Attribution License
which permits unrestricted use, distribution, and reproduction in any medium, provided the original work is properly cited (CC BY 4.0).

Share & Cite This Article
MDPI and ACS Style
Popielarski, P.; Zeler, J.; Bolek, P.; Zorenko, T.; Paprocki, K.; Zych, E.; Zorenko, Y. Radio-, Thermo- and Photoluminescence Properties of Lu2O3:Eu and Lu2O3:Tb Nanopowder and Film Scintillators. Crystals 2019, 9, 148.
Note that from the first issue of 2016, MDPI journals use article numbers instead of page numbers. See further details here.
Related Articles
Comments
[Return to top]