Open Access This article is
freely available
re-usable
Article
Modeling Energy Bands in Type II Superlattices
1
Faculty of Exact Sciences, El-Oued University, P.O. Box 789, El-Oued 39000, Algeria
2
Faculty of Art, Science and Technology, The University of Northampton, Northampton NN2 6JD, UK
3
LMSE Laboratory, University of Biskra. B.P 145 R.P, Biskra 07000, Algeria
†
These authors contributed equally to this work.

Received: 5 November 2019 / Accepted: 25 November 2019 / Published: 28 November 2019
Abstract
:
We present a rigorous model for the overall band structure calculation using the perturbative kp approach for arbitrary layered cubic zincblende semiconductor nanostructures. This approach, first pioneered by Kohn and Luttinger, is faster than atomistic ab initio approaches and provides sufficiently accurate information for optoelectronic processes near high symmetry points in semiconductor crystals. kp Hamiltonians are discretized and diagonalized using a finite element method (FEM) with smoothed mesh near interface edges and different high order Lagrange/Hermite basis functions, hence enabling accurate determination of bound states and related quantities with a small number of elements. Such properties make the model more efficient than other numerical models that are usually used. Moreover, an energy-dependent effective mass non-parabolic model suitable for large gap materials is also included, which offers fast and reasonably accurate results without the need to solve the full multi-band Hamiltonian. Finally, the tools are validated on three semiconductor nanostructures: (1) the bound energies of a finite quantum well using the energy-dependent effective mass non-parabolic model; (2) the InAs bulk band structure; and (3) the electronic band structure for the absorber region of photodetectors based on a type-II InAs/GaSb superlattice at room temperature. The tools are shown to work on simple and sophisticated designs and the results show very good agreement with recently published experimental works.
Keywords:
multi-band
k
·
p
; FEM; Bir–Pikus Hamiltonian; Type-II InAs/GaSb superlattices
1. Introduction
In recent years, developments in crystal growth techniques and in semiconductor device technology has resulted in the fabrication of complicated nano-heterostructures with interesting physical phenomena and promising device applications. Thus, new methods and tools are required for the simulation and analysis of such nanostructures [
1
]. Among these nanostructures, Antimony-based type-II superlattices (T2SLs) have gained a lot of attention in the field of infrared detectors and lasers due to their high operating temperature. T2SLs combined with unipolar barrier architectures [
2
,
3
] have been recently demonstrated to operate at room temperature in infrared photodetectors [
4
] and interband cascade lasers [
5
]. Another interesting property of T2SLs is the ability to tune an effective band gap over a wide range by varying layer thicknesses instead of mole compositions [
6
,
7
]. The accurate determination of the overall band structure and wave functions of nanostructures is very complicated to tackle analytically except for a few special cases. Therefore, numerical calculations are required to handle complex designs. Among the difficulties of calculating the full band structure for heterostructures is the sensitivity of modeling tools and techniques to the input parameters, namely effective masses, band gap energies, and valence band offset (VBO), especially for structures made of narrow gap materials such as InAs and InSb [
7
]. Importantly, the exact VBO values are crucial for modeling heterostructures, yet they are very sensitive to the heterointerface imperfections and even a small shift leads to erroneous results. The choice of the modeling technique often comprises a trade-off between accuracy and computational load. Generally, the approaches used for the overall band structure calculation fall into two categories: first principle calculations (i.e., ab initio) [
8
,
9
] and empirical methods [
10
,
11
,
12
]. Ab initio calculations such as density functional theory and the quantum Monte Carlo start from atomistic values where information about atomic orbitals and atoms' positions are required without the need of any fitting and/or empirical parameters [
8
,
9
]. Although these methods yield highly accurate results, they require considerably long execution time and hence they are limited to systems of a small number of atoms. In contrast, empirical methods are usually used for band structures calculation of large semiconductor heterostructures where some properties are approximated using experimentally fitted parameters. These fitting parameters give a tremendous reduction to the computational cost. One of the most used empirical methods for the band structure calculation is the
kp
method, which treats heterostructures as a stack of bulk materials. The method is convenient to model large complex designs due to its highly computational efficiency and good accuracy, despite the hidden atomic scene. The aim of this work is to develop rigorous modeling tools for calculating the band structure of nanostructures using the
kp
approach. Since this method is sensitive to variations of input parameters across the heterointerface, the finite element method (FEM) is chosen as a numerical technique to discretize the
kp
Hamiltonians. The finite element method has been applied to many quantum mechanical problems ranging from simple isolated systems such as the hydrogen atom [
13
,
14
,
15
] and the single quantum well [
16
,
17
] to more complex problems such as the periodic potential [
18
] and shown to give very precise numerical results in calculating the energies of the system. However, due to the complexity of the FEM and the complicated formulation of the variational functional for a given multiband
kp
Hamiltonian, finite difference method (FDM) is usually favored over FEM. Despite FEM accuracy, its application or use remains limited. In FEM, a non-uniform mesh as well as high order Lagrange/Hermit basis functions can be utilized [
19
], hence the band structure and wavefunctions for heterostructures with layers of arbitrary thicknesses can be calculated accurately with a smoothed mesh the near heterointerface edges. In this work, we first choose the Luttinger–Kohn Hamiltonian as a case study and present its formulation using
k
p
theory taking into account strain effects and the coupling between conduction and valence bands. This formulation is adapted to heterostructures by using the envelope function approximation (EFA). Then, the finite element discretization scheme for the
kp
Hamiltonian is presented by applying the variational principle [
20
] to the multiband Hamiltonian, which leads to an equivalent eigenvalue matrix representation of the problem. Next, the accuracy of the tools using energy-dependent effective mass non-parabolic model is investigated and compared to published results on a structure of a single quantum wells using FEM, FDM, and the Transfer Matrix Method (TMM). Then, the tools are applied to calculate the bulk dispersion of InAs material under compressive strain. The tools are also applied to calculate miniband dispersions and absorption coefficient of the active region of an infrared photodetector based on type-II InAs/GaSb superlattices operating at room temperature.
2. kp Band Structure Theory
2.1. 8 × 8 kp Hamiltonian Model
Based on the theory of Luttinger–Kohn [
21
] and Bir–Pikus [
22
], the 8 × 8
kp
Hamiltonian for bulk zincblende crystal, which describes the interaction between the conduction and the valence bands (heavy-hole (HH), the light-hole (LH), and the spin–orbit split-off (SO)) including strain effects reads:
where
The shape of the Hamiltonian usually depends on the states and on the order of the basis states used for the construction. The above Hamiltonian is formulated using the following basis states where it is assumed that the growth
z
-axis of the crystal coincides with the crystallographic axis [001]:
These states are formed by an appropriate linear combinations of atomic
p
-like zone center basis states , , and their spin counterpart , , , respectively, as described by Kane [
23
].
In addition, and are Kohn–Luttinger parameters; and stand for the unstrained conduction and valence band edges, respectively; , , and are the wave vector components; ; is the conduction-electron effective mass and is the free electron mass; is the Kane's interband momentum-matrix element parameter, which is also related to the Kane's energy ; is the spin–orbit splitting energy; , , and
b
are the Bir–Pikus hydrostatic and shear deformation potentials, respectively; and , , and are the nonzero components of the strain tensor in the case of a biaxial Strain. This case covers most of the important strained systems, namely a bulk semiconductor under an external uniaxial stress and a semiconductor strained-layer pseudomorphically grown on a (001) substrate. These components of the strain tensor arise from two strain contributions. Firstly, intrinsic due to lattice constant mismatch defined by:
where and
a
are the lattice constant of the substrate and of any layer material within the heterostructures, respectively.
C
11
and
C
12
are the elastic stiffness constants. Secondly, extrinsic due to external applied stress, which, for the case of an external uniaxial stress
T
along the directions [100], [110], and [001], contributes by [
24
]:
where , , and are compliance constants related to the elastic stiffness constants.
2.2. Non-Parabolic Single Band kp Model
This model is a simplified version of the multiband model where only a single band is concerned. If one ignores the interaction between the conduction band and the valance bands, which is the case for most III–V direct gap semiconductors, then the conduction band can be described using the following single band parabolic Hamiltonian model [
25
]:
where is the electron effective mass along the growth direction and the transverse one. is the unstrained conduction band edge. The fact of using two different effective masses is to account for the anisotropy of the energy band. To increase the accuracy of this model Hamiltonian, the effect of non-parabolicity has to be accounted for, which includes the effect of remote bands in an indirect way without the need to solve the full multi-band Hamiltonian. To this end, an energy-dependent effective mass model has been proposed [
26
]:
where is an effective energy gap and does not necessarily match with real energy gap. With this energy dependence, and under the effective mass approximation [
27
], the eigenvalue problem corresponding to the Hamiltonian in Equation (
6
) is quadratic and a nonlinear one in terms of energy [
28
]. To solve such a problem, an iterative algorithm should be invoked to avoid dealing with a fourth-order derivative when ensuring the continuity of probability current across heterointerfaces, which involves only the first derivative of the envelop function.
3. Finite Element Discretization of a K · P Hamiltonian
4. Simulation Results and Discussion
5. Conclusions
In this work, an efficient, accurate and rigorous model for the overall band structure calculation based on the
kp
approach is presented and tested for cubic zincblende bulk semiconductor materials as well as for their heterostructures. These modeling tools are useful for the design of optoelectronic devices and the estimation of their performance. The tools include different
kp
Hamiltonian formulations namely: 14 × 14, 8 × 8, 6 × 6, 4 × 4, and single band non-parabolic model. These models take into account the strain effects and can be invoked easily within the modeling steps. The results of the using a non-parabolic model are in excellent agreement with published data. The predicted cutoff energies for different types of interband transitions are consistent with the calculated band dispersion curves of InAs/GaSb Type II broken gap superlattice and demonstrate excellent agreement with the experimental data reported in [
48
]. Our modeling shows that the IF's lattice mismatch and induced strain yields a significant increase in the absorption coefficient as well as in cut-off wavelengths. As a result, a wide tunable range of optical properties can be obtained with IF layers. Finally, the model can be extended easily to cover materials belonging to wurtzite crystal symmetry just by generating the correct Hamiltonian.
Author Contributions
Z.B. and A.B. were mainly responsible for writing the original draft, developing and validating the model and analysing the important information presented in the manuscript. N.S. contributed to the funding acquisition and project administration.
Acknowledgments
The authors acknowledge the financial support of the Ministry of Higher Education and Scientific Research, Algeria. The authors are also grateful to the valuable discussion with Phil Picton that contributed to enriching the final version of the manuscript.
Conflicts of Interest
The authors declare no conflict of interest.
Appendix A. Momentum Matrix Elements
We provide here the explicit derivation of matrix elements corresponding to TE transition mode between the initial spinor and the final spinor . These are for the 8 × 8 KP Hamiltonian given by Equation (
1
) and are evaluated for any direction in transversal reciprocal space and in terms of spinor envelope components from the initial vector state and from the final vector state. In the following, the subscript has been dropped for convenience.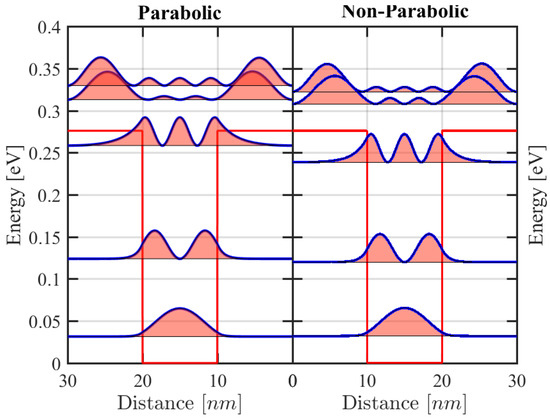 Figure 1. The conduction band edge profile (red), first five electron eigenstates, and the corresponding probability densities for in 100 Å quantum well for : (Right) calculated using a parabolic single band model; and (Left) calculated using a non-parabolic single band model.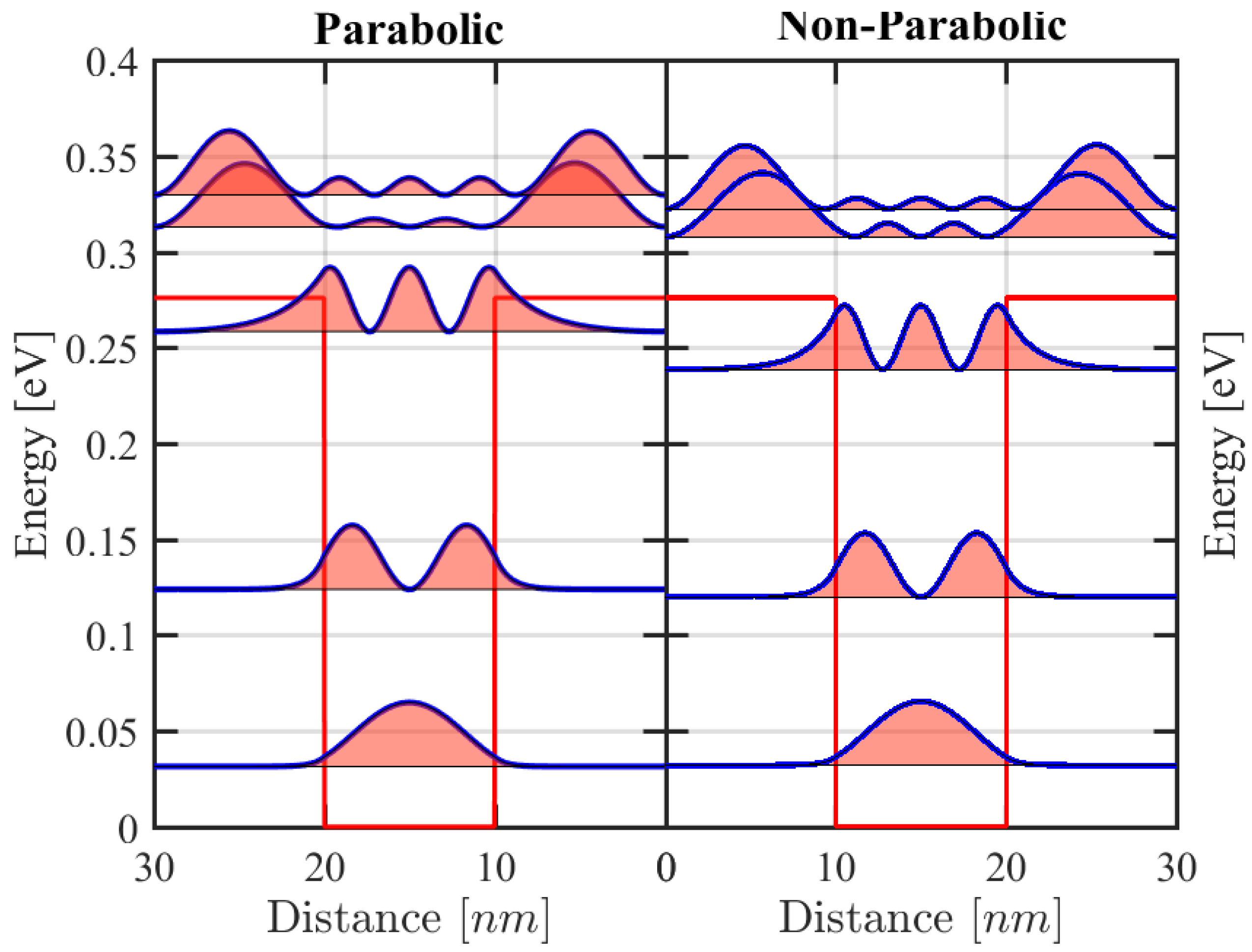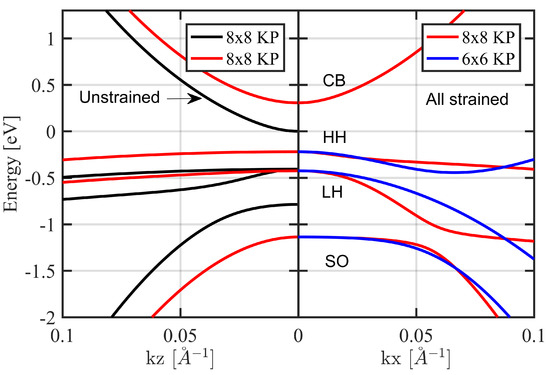 Figure 2. (Right) The overall band dispersion of strained bulk InAs. The material is under intrinsic compressive strain of −7.09%. The red solid line is from the 8 × 8 Hamiltonian while the blue line is from the 6 × 6 Hamiltonian. (Left) The band dispersion of standalone bulk InAs against the strained one.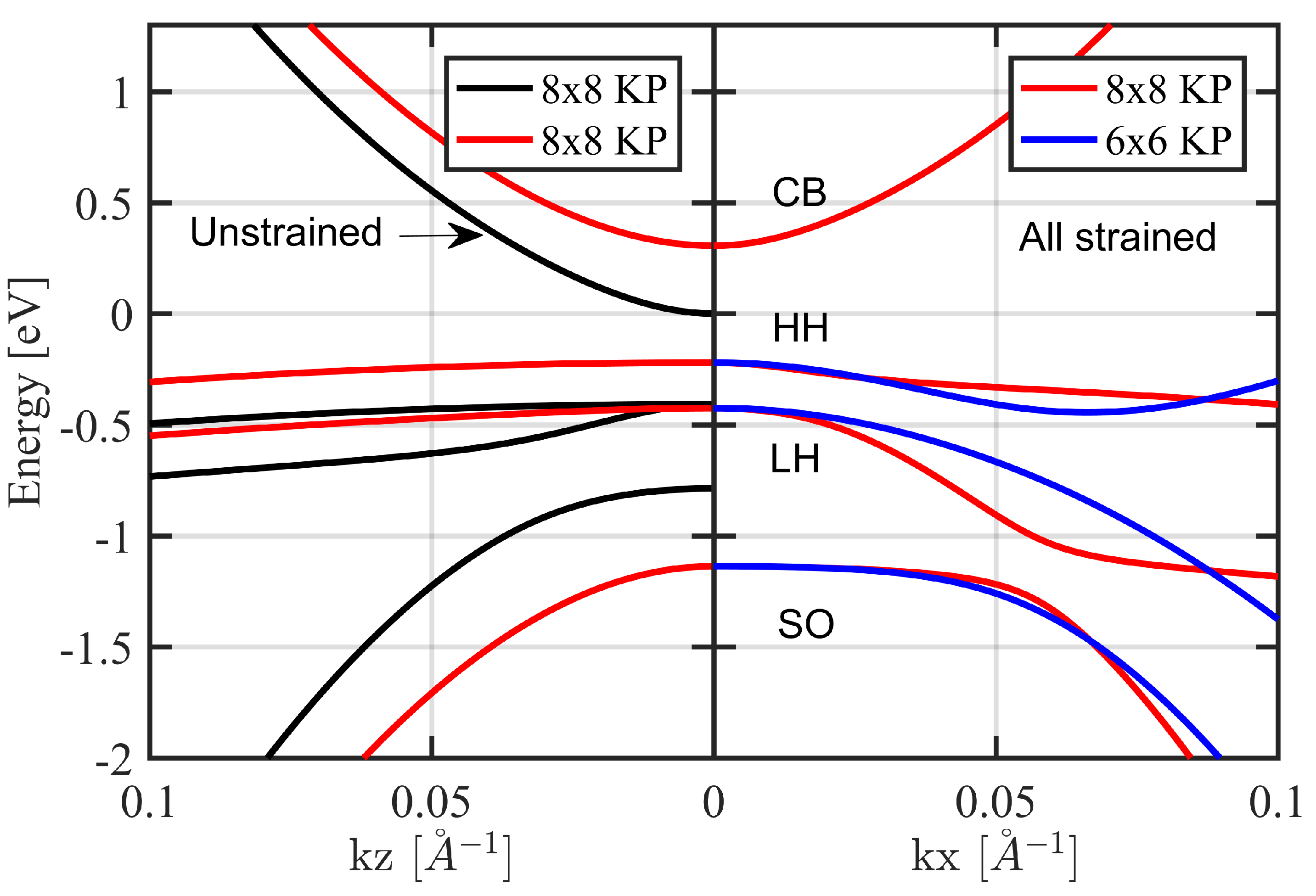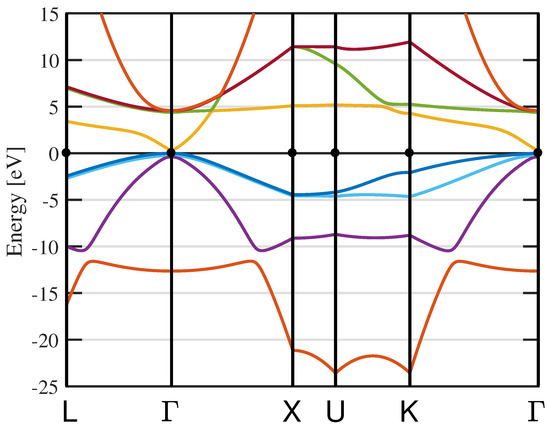 Figure 3.
The bulk band structure of unstrained InAs along different crystallographic directions. The vertical solid lines are the boundaries of the first Brillouin zone. Solid curves are from the 14 × 14
k
p
Hamiltonian [
34
].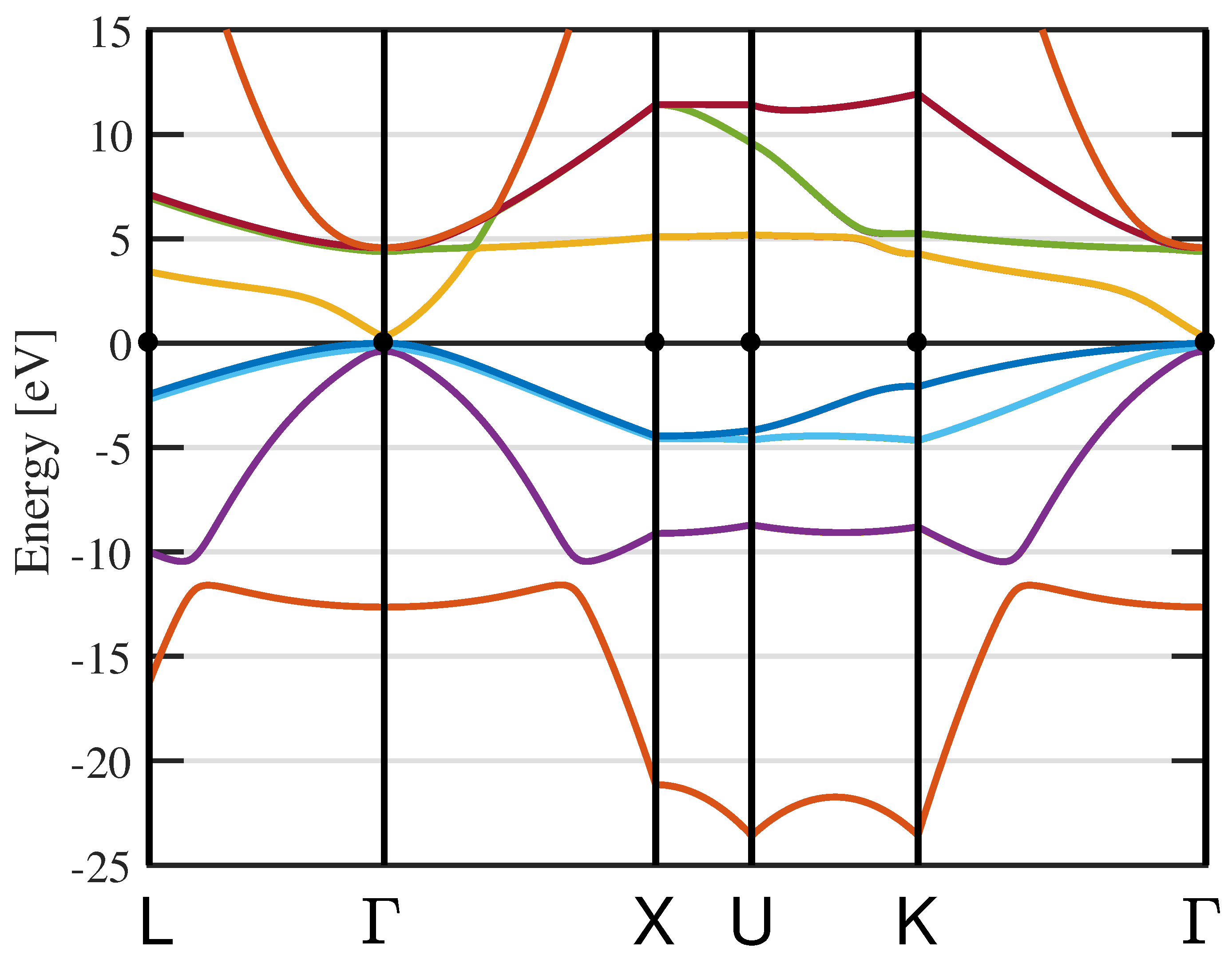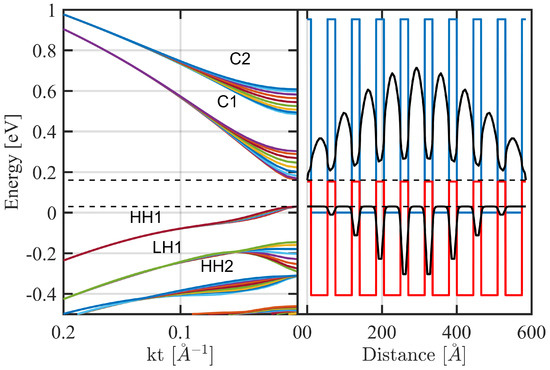 Figure 4. (Right) Band edge profile (in blue) and (in red) of a nine-period InAs/GaSb 44 Å/21 Å grown on GaSb substrate. The fundamental electron and heavy-hole envelope-function component moduli squared are shown in black, respectively. (Left) The corresponding overall band dispersion as a function of the in-plane wavevector where they have been calculated using full 8 × 8 Hamiltonian and Dirichlet boundary conditions. The black dashed horizontal lines indicate the effective bandgap. The reference of energies is the unstrained InAs conduction band edge with a VBO value of 560 meV.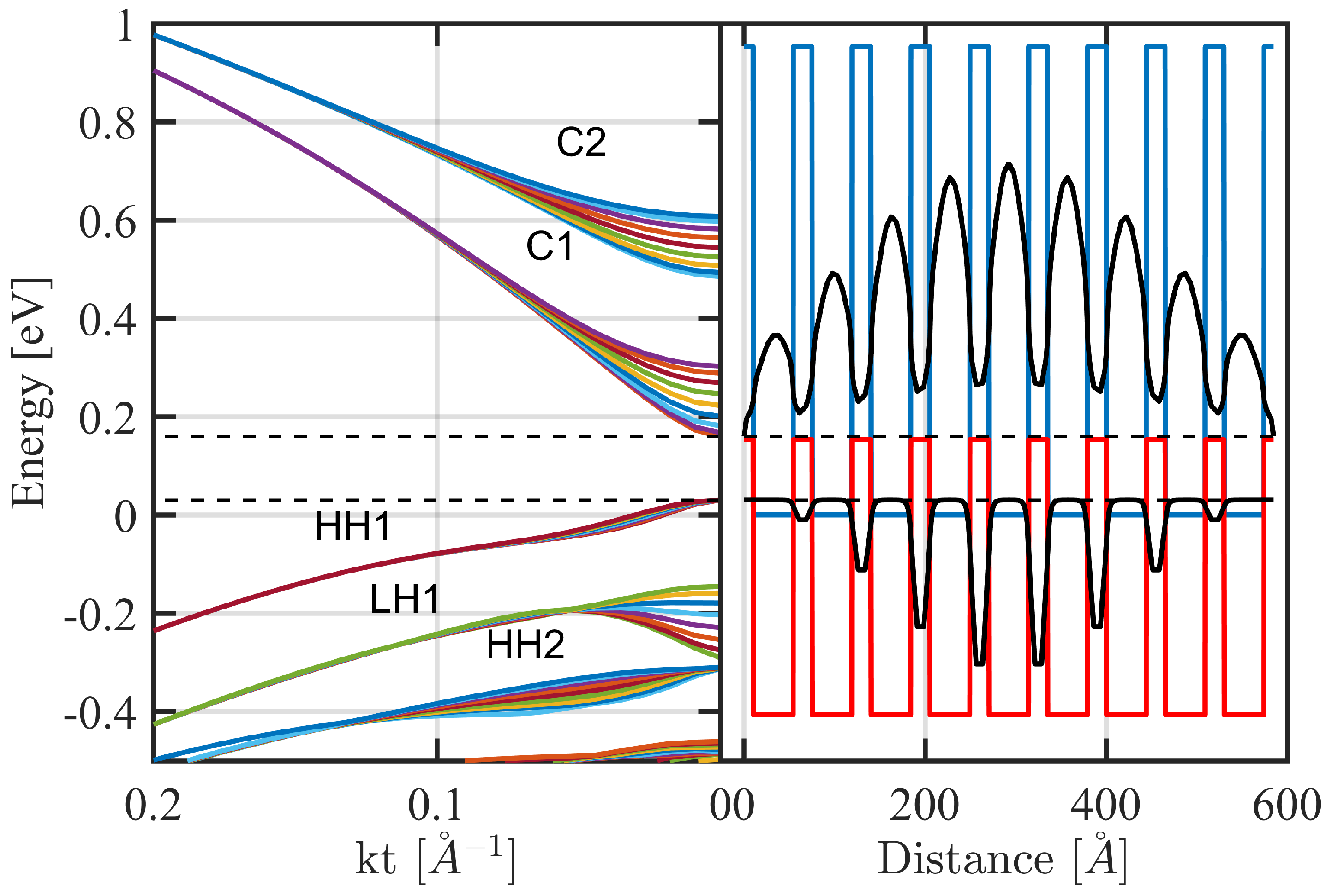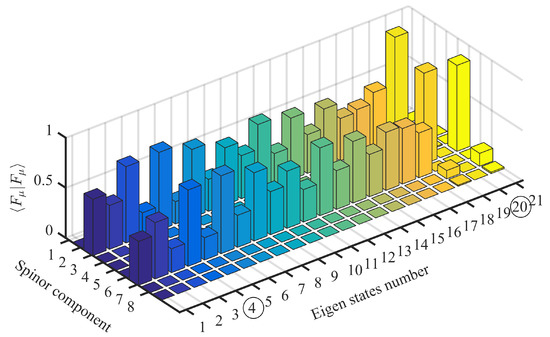 Figure 5. Components of the envelope function spinor of the eigenstates near the effective gap for 9 periods InAs/GaSb 44 Å/21 Å solved using Dirichlet boundary conditions.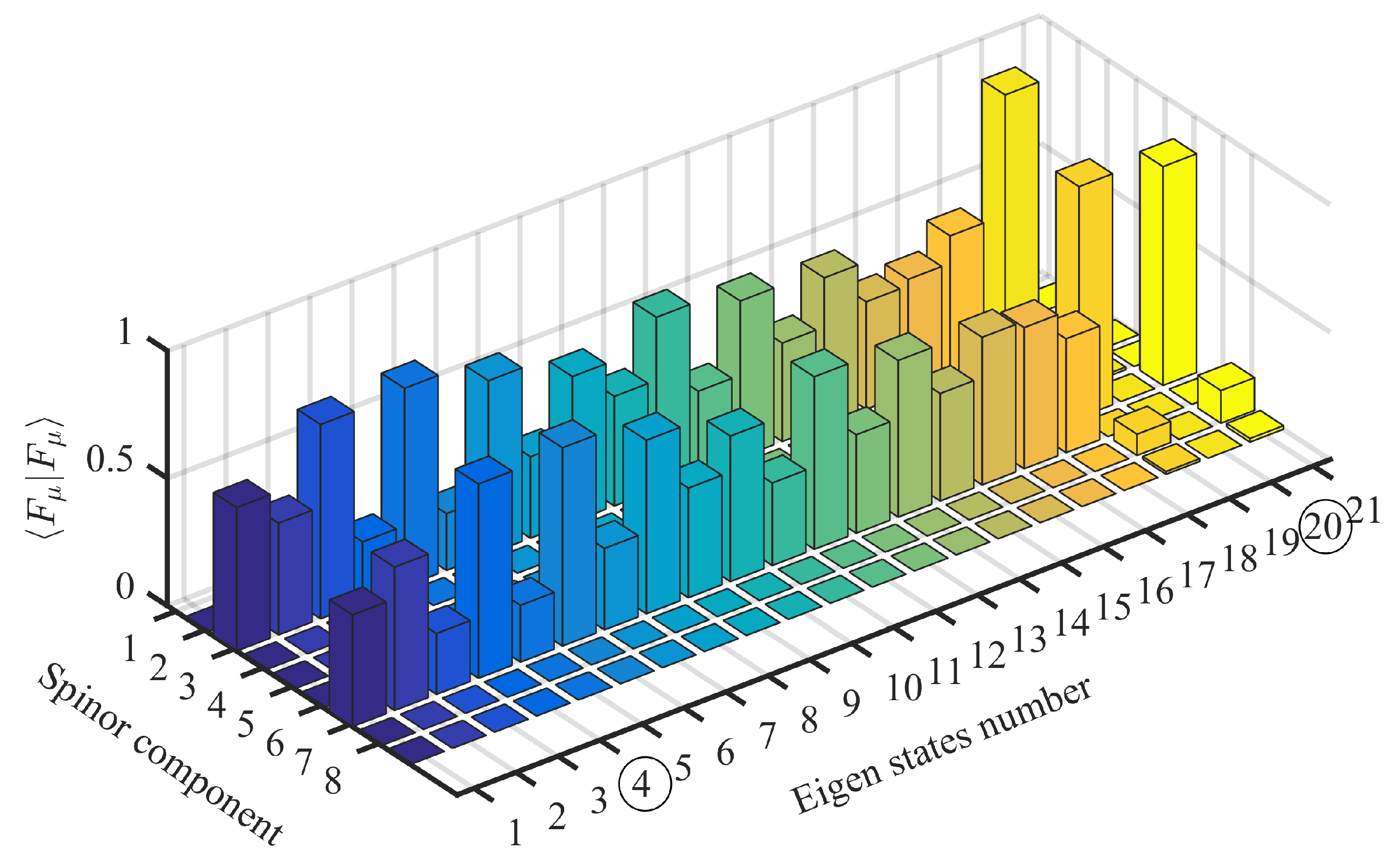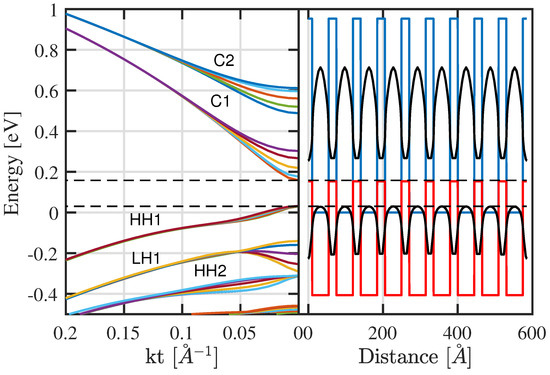 Figure 6. (Right) Band edge profile (in blue) and (in red) of nine-period InAs/GaSb 44 Å/21 Å grown on GaSb substrate. The fundamental electron and heavy-hole envelope-function component moduli squared are shown in black, respectively. (Left) The corresponding overall band dispersion as a function of in-plane wave vector where they have been calculated using the full 8 × 8 Hamiltonian and periodic boundary conditions. The black dashed horizontal lines indicate the effective bandgap. The reference of energy is the unstrained InAs conduction band edge with a VBO value of 560 meV.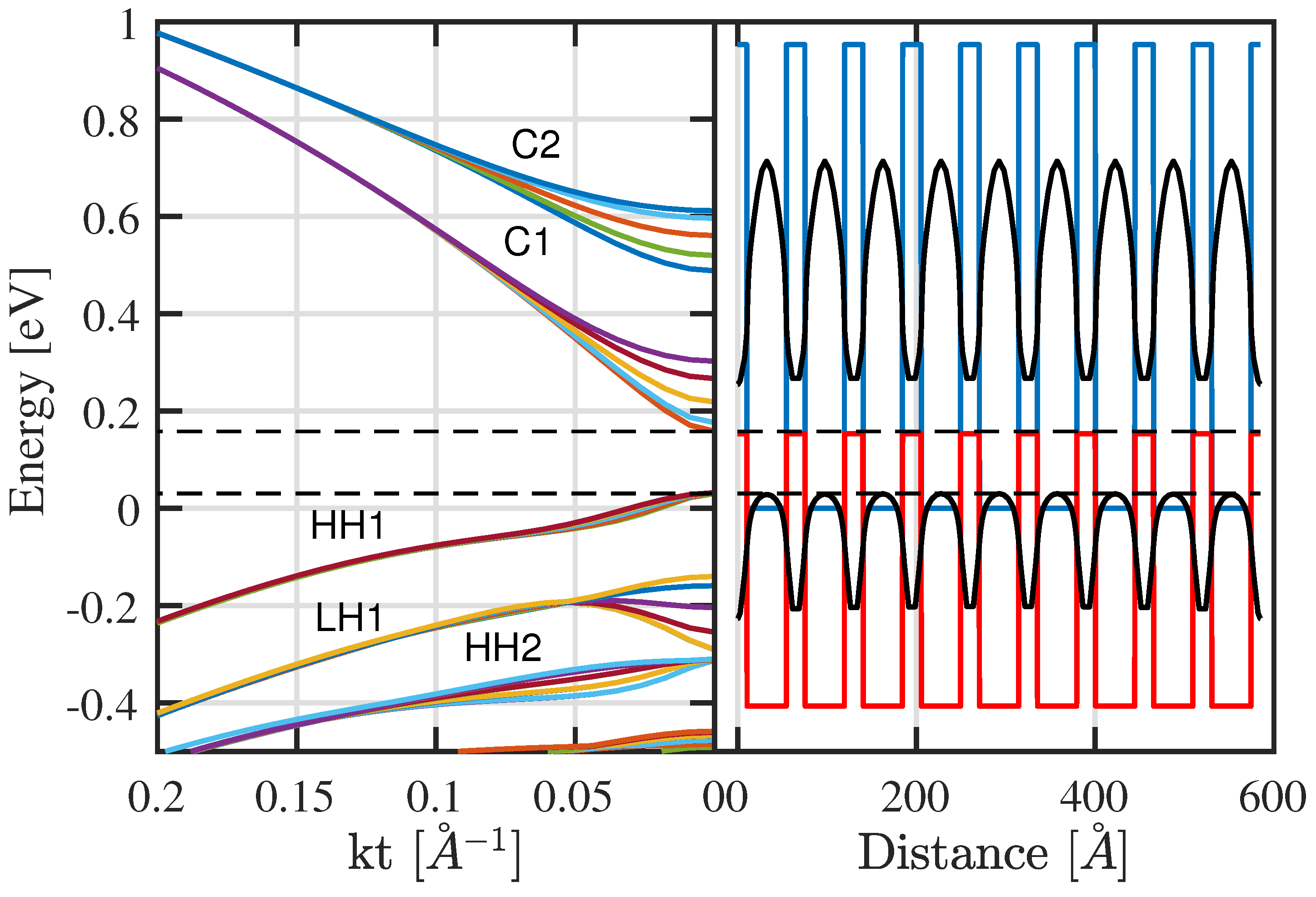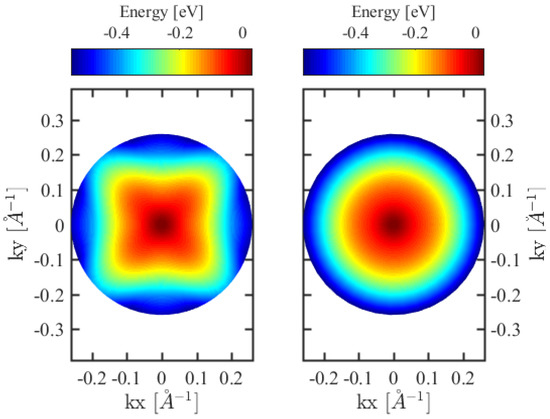 Figure 7. Fundamental heavy hole sub-band structure: (Right) using full Hamiltonian; and (Left) using block diagonalized Hamiltonian.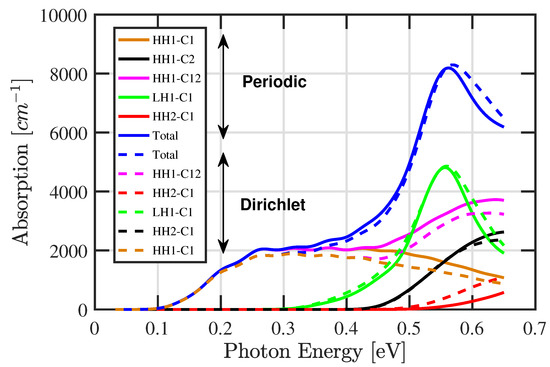 Figure 8. The absorption spectrum for nine-period InAs/GaSb 44 Å/21 Å type II superlattice using both kind of boundary conditions at room temperature. The specific inter-miniband transitions contributing to the shown total absorption are explicitly indicated.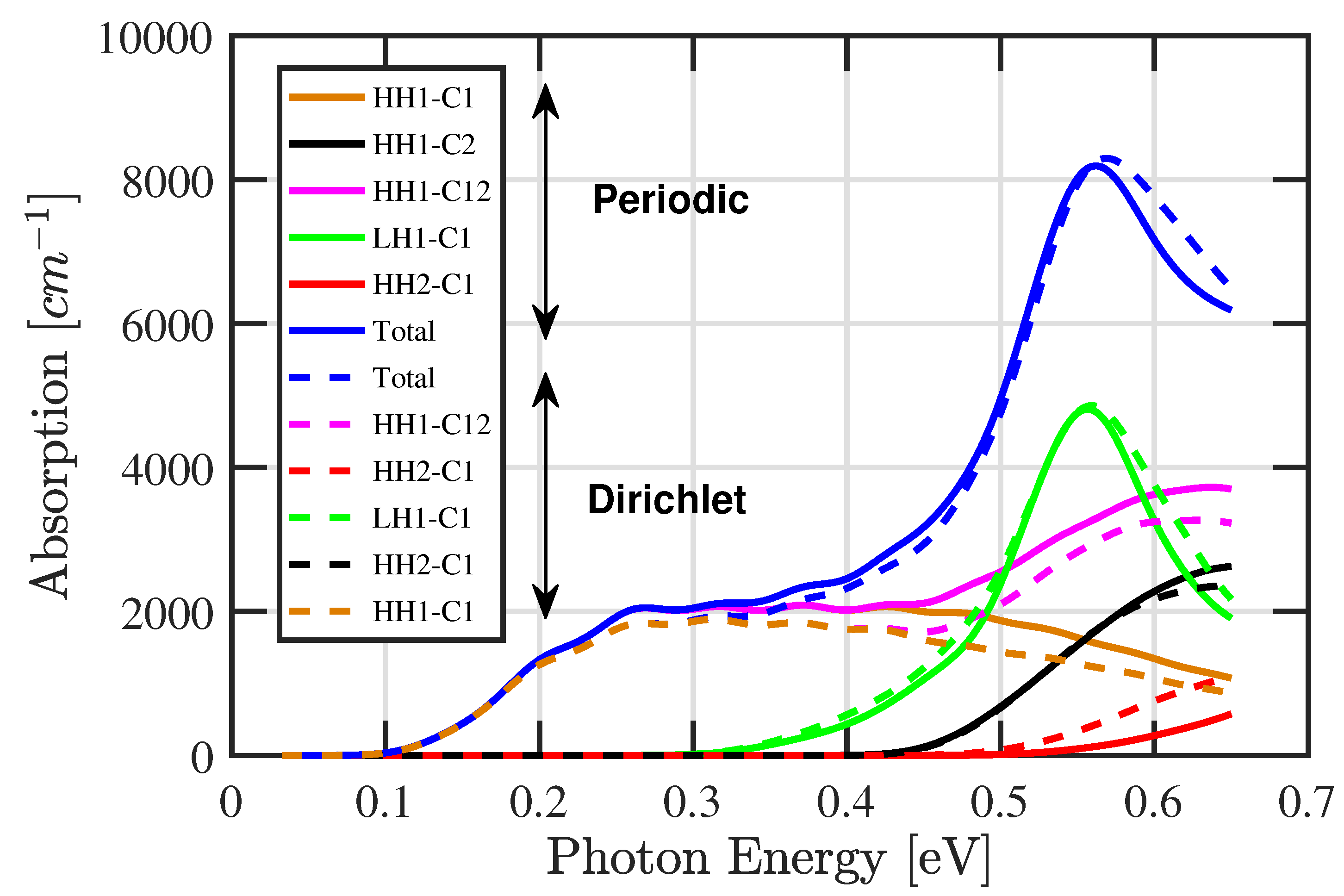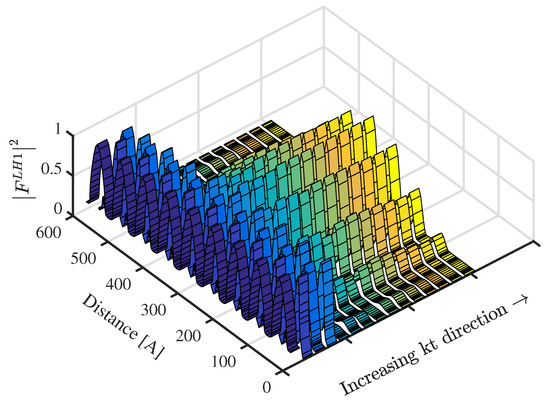 Figure 9. The dependence of the light hole envelope function spinor component on in-plane wavevectors near the LH1 miniband for nine-period InAs/GaSb 44 Å/21 Å type II superlattice.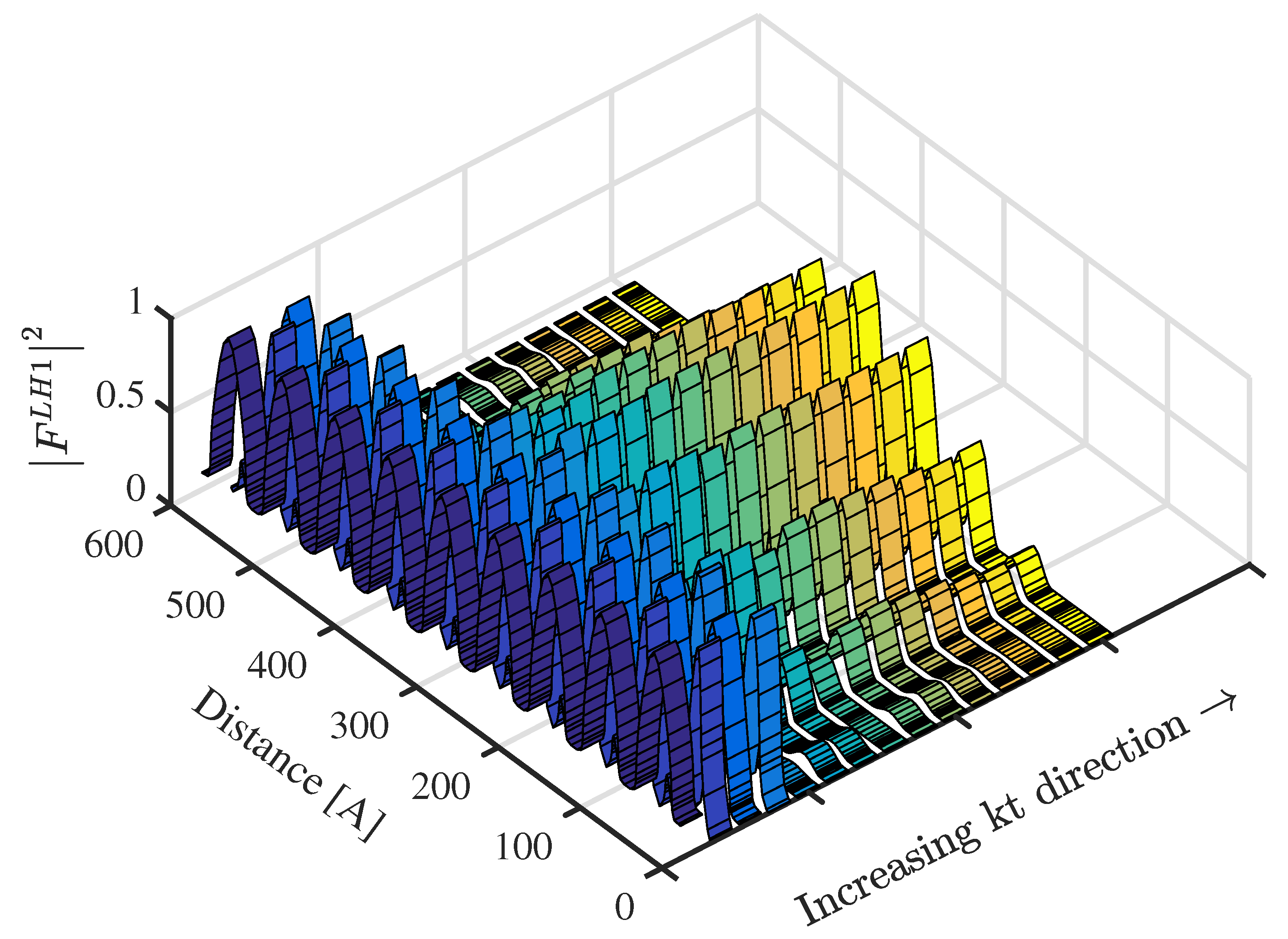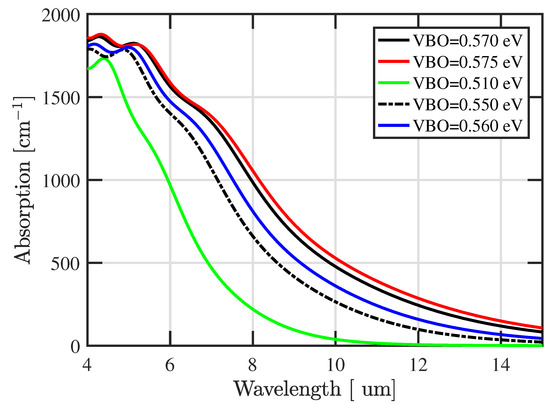 Figure 10. Calculated total absorption spectrum for nine-period InAs/GaSb 48 Å/22 Å type II superlattice for different valence band offset (VBO) values. The periodic boundary condition is used.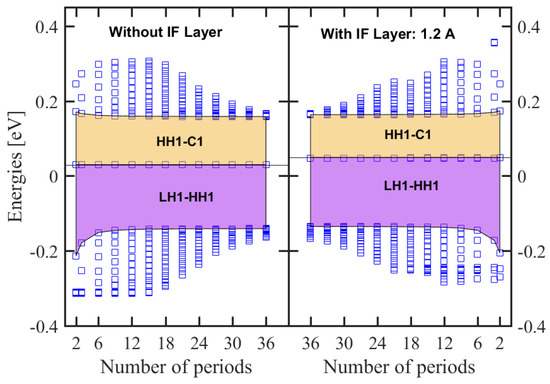 Figure 11. Variation of the inter-miniband band transition energies at with the number of periods for InAs/GaSb 44 Å/21 Å type II superlattice. The HH1-C1 and LH1-HH1 transitions are denoted by brown and mauve shaded zones, respectively. The effect of including InSb interfacial layers are also shown (left). The blue square markers are energies of states above the bottom of C1 miniband edge and below the top of LH1 miniband edge, while those at middle are for HH1 miniband. The value used for VBO is 560 meV.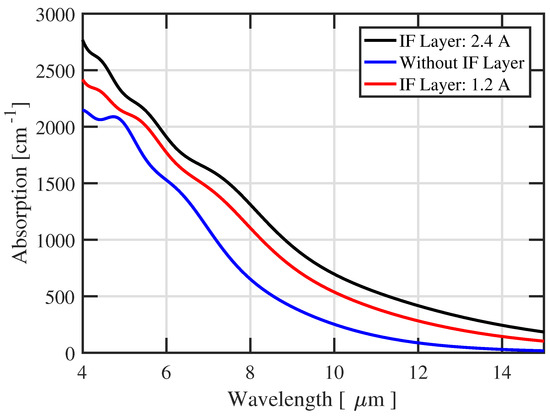 Figure 12. Effect of InSb interfacial layers on the modeled total absorption spectrum for InAs/GaSb 44 Å/21 Å type II superlattice grown on GaSb substrate.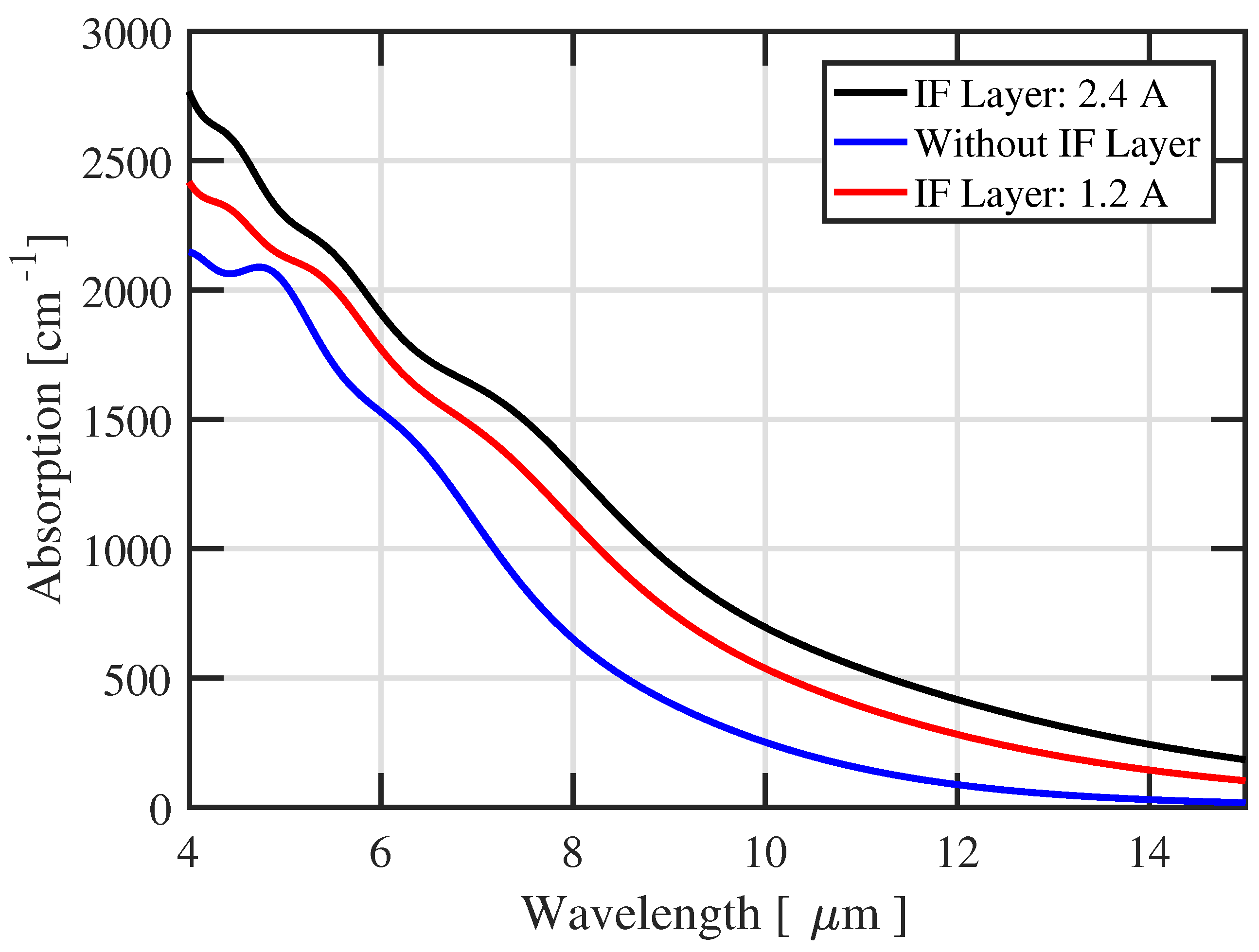 Table 1.
Eigen energies of a single GaAs/AlGaAs quantum well (in meV). Δ
E
is the shift due to nonparabolicity. The FEM results are compared to the results from [
28
].
Well Width
Parabolic
Nonparabolic
Δ

E

FDM
FEM
TMM
[28]
FDM
FEM
TMM
[28]
FDM
FEM
TMM
[28]
5 Å
267.48
267.48
265.40
267.51
267.51
267.51
265.42
267.53
+0.03
+0.03
+0.02
+0.02
20 Å
179.95
179.95
179.93
179.93
180.96
180.96
180.95
180.99
+1.01
+1.02
+1.01
+1.07
50 Å
79.56
79.58
79.58
79.54
81.03
81.05
81.05
81.07
+1.48
+1.47
+1.47
+1.53
270.16
270.17
268.20
270.19
254.67
254.69
254.13
254.70
−15.49
−15.48
−14.08
−15.49
100 Å
31.48
31.49
31.49
31.48
32.18
32.19
32.19
32.20
+0.70
+0.70
+0.70
+0.72
123.84
123.89
123.89
123.87
119.01
119.05
119.05
119.06
−4.83
−4.84
−4.84
−4.81
258.34
258.40
257.83
258.42
234.89
234.95
234.84
234.96
−23.46
−23.45
−22.99
−23.46
200 Å
10.31
10.31
10.31
10.30
10.49
10.50
10.50
10.50
+0.18
+0.19
+0.19
+0.20
41.13
41.15
41.15
41.14
40.88
40.90
40.90
40.91
−0.25
−0.25
−0.25
−0.23
92.08
92.14
92.14
92.13
88.29
88.35
88.35
88.36
−3.79
−3.79
−3.79
−3.77
161.91
162.08
162.08
162.07
148.78
148.92
148.92
148.93
−13.13
−13.16
−13.16
−13.14
245.78
246.08
245.93
246.09
217.49
217.76
217.74
217.77
−28.29
−28.31
−28.19
−28.32
Parameter
Unit
InAs
GaSb
GaAs
InSb

a

Å
6.0522
6.0854
5.6535
6.4794

C

11
1011 dyn/cm2
8.33
8.842
12.21
6.67

C

12
1011 dyn/cm2
4.526
4.026
5.66
3.65
ac
eV
−5.08
−7.5
−7.17
−5.1
av
eV
1
0.8
−1.16
2.1

b

eV
−1.8
−2
−2
−2.0
Eg at 0 K
eV
0.42
0.81
1.519
0.235
Eg at 77 K
eV
0.407
0.8
1.43
0.227
Ep
eV
21.5
22.4
28.8
23.3
Δ
eV
0.38
0.81
0.341
0.81
mc/

m

0
−
0.0224
0.0412
0.0670
0.0135

γ

1
−
19.4
11.84
6.98
32.4

γ

2
−
8.545
4.25
2.06
13.3

γ

3
−
9.17
5.01
2.93
15.15
VBO
eV
−0.59
−0.03
−0.8
−0.03

© 2019 by the authors. Licensee MDPI, Basel, Switzerland. This article is an open access article distributed under the terms and conditions of the Creative Commons Attribution (CC BY) license (http://creativecommons.org/licenses/by/4.0/).