Open Access This article is
freely available
re-usable
Review
Interaction of Dislocations and Interfaces in Crystalline Heterostructures: A Review of Atomistic Studies
1
Guangdong Provincial Engineering Research Center of Metal-Matrix-Composites Database, Guangdong Institute of Materials and Processing, Guangzhou 510000, China
2
Guangdong Provincial Key Laboratory of Microbial Culture Collection and Application, Guangdong Institute of Materials and Processing, Guangzhou 510000, China
3
Physics Department and Research Center OPTIMAS, University Kaiserslautern, Erwin-Schrödinger-Straße, D-67663 Kaiserslautern, Germany
*
Authors to whom correspondence should be addressed.
Received: 8 October 2019 / Accepted: 5 November 2019 / Published: 7 November 2019
Abstract
:
Interfaces in heterostructures of crystalline materials could strongly affect the slip of dislocations. Such interfaces have become one of the most popular methods to tailor material strength and ductility. This review focuses on the interaction of dislocations and interfaces in heterostructures, in which at least one component is metallic, as investigated by molecular dynamics, in order to systematically summarize our understanding about how dislocations interact with the interfaces. All the possible heterostructures of metallic materials are covered, such as twin boundaries, grain boundaries, bi-metal interfaces and metal/non-metal interfaces. Dislocations may either penetrate the interfaces by inducing steps into the interfaces or dissociate within the interfaces, depending on the type and orientation of the interface as well as the applied strain. Related dislocation interactions at the interface are also presented. In addition, we also discuss the effect of dislocation types, of applied strain and of the deformation method on the interaction of dislocations and interfaces.
Keywords:
dislocations; heterostructures; metallic materials; twin boundaries; grain boundaries; interface; molecular dynamics
Author Contributions
Z.Z. designed and wrote this paper; C.S. collected the information; S.W. contributed to metals and alloys part; X.L. contributed to bi-metal interface part; K.Z. contributed to metal/non-metal interface part; H.M.U. supervised and revised this paper.
Funding
This research was funded by GDAS Project of Science and Technology Development (Molecular dynamic simulation of grain refinement and crack nucleation and growth in Al/Si composites during wearing), National Natural Science Foundation of China (Grant NO. 51901050), Guangdong Province Key Area R & D Program (2019B010940001) and Guangzhou Technology Program(201906040007). Z. Zhang and H. M. Urbassek acknowledge the financial support of the Deutsche Forschungsgemeinschaft via the IRTG 2057.
Conflicts of Interest
The authors declare no conflict of interest.
Abbreviations
The following abbreviations are used in this manuscript:
| | |
| --- | --- |
| Molecular dynamics | MD |
| face-centered-cubic | fcc |
| body-centered-cubic | bcc |
| twin boundary | TB |
| grain boundary | GB |
| low-angle grain boundary | LAGB |
| high-angle grain boundary | HAGB |
| grain boundary dislocation | GBD |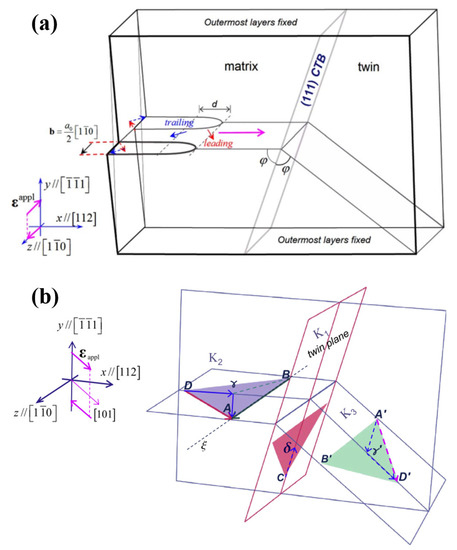 Figure 1.
Configuration of a twinned bi-crystal for simulating the interaction between (
a
) an incident screw dislocation and (
b
) a perfect lattice dislocation with a coherent twin boundary in fcc metals. denotes the applied shear strain that drives the dislocation towards the twin boundary. Figures taken from Refs. [
19
,
20
] with permission.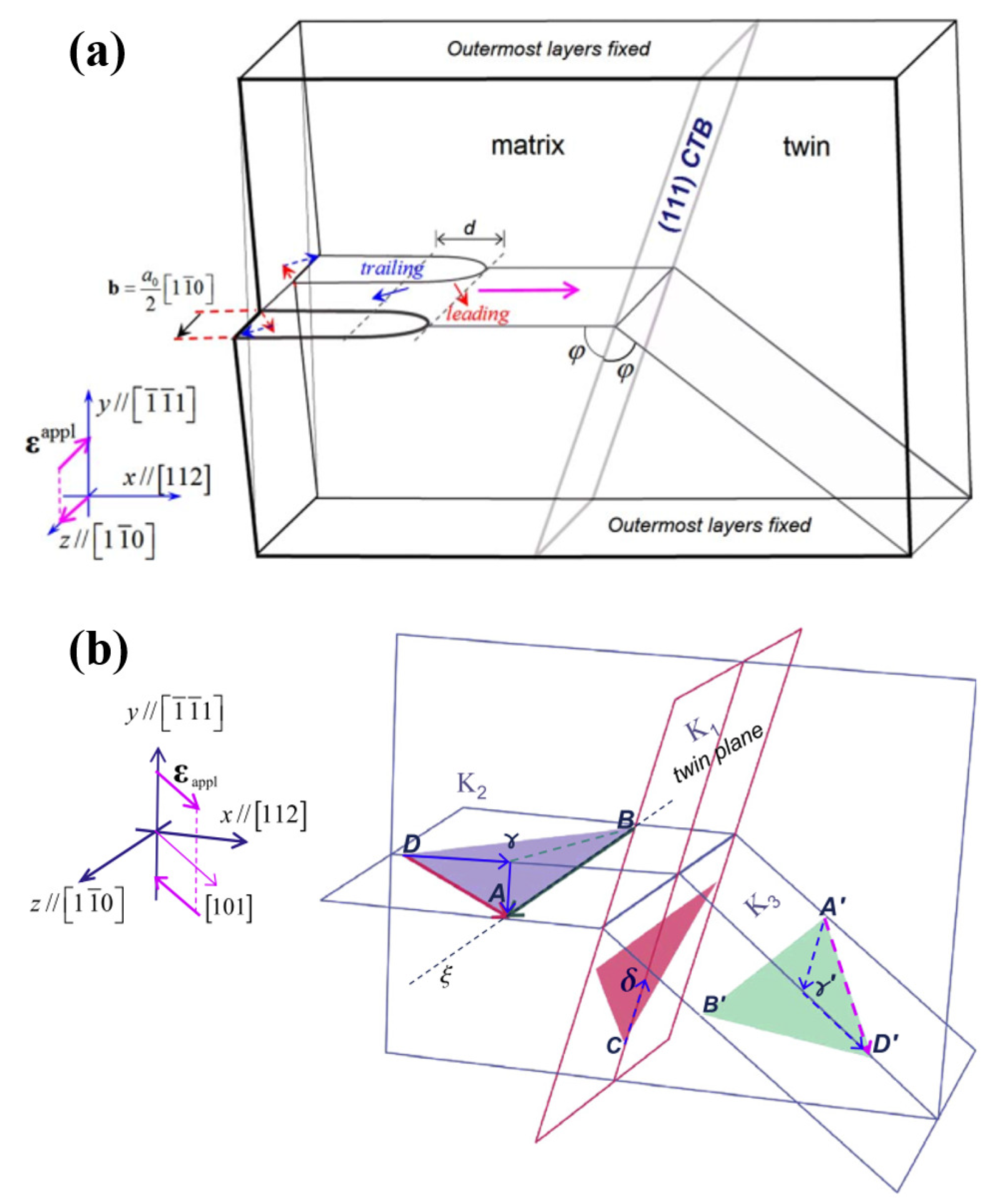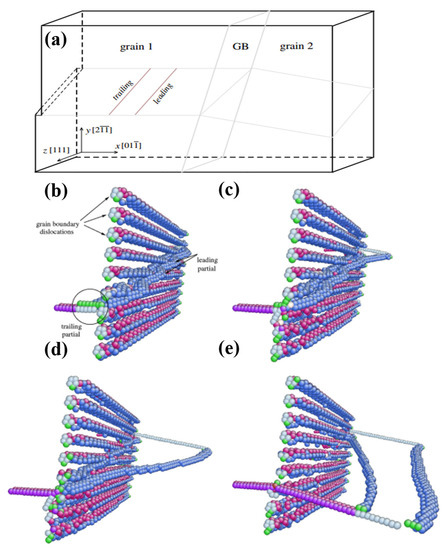 Figure 2.
(
a
) Simulation box containing two grains misoriented around the [111] rotation axis for simulating the interaction between a lattice dislocation and a tilt GB. (
b
–
e
) Snapshots showing different steps of the interaction between a dislocation and a symmetrical tilt GB. Figure taken from Ref. [
33
] with permission.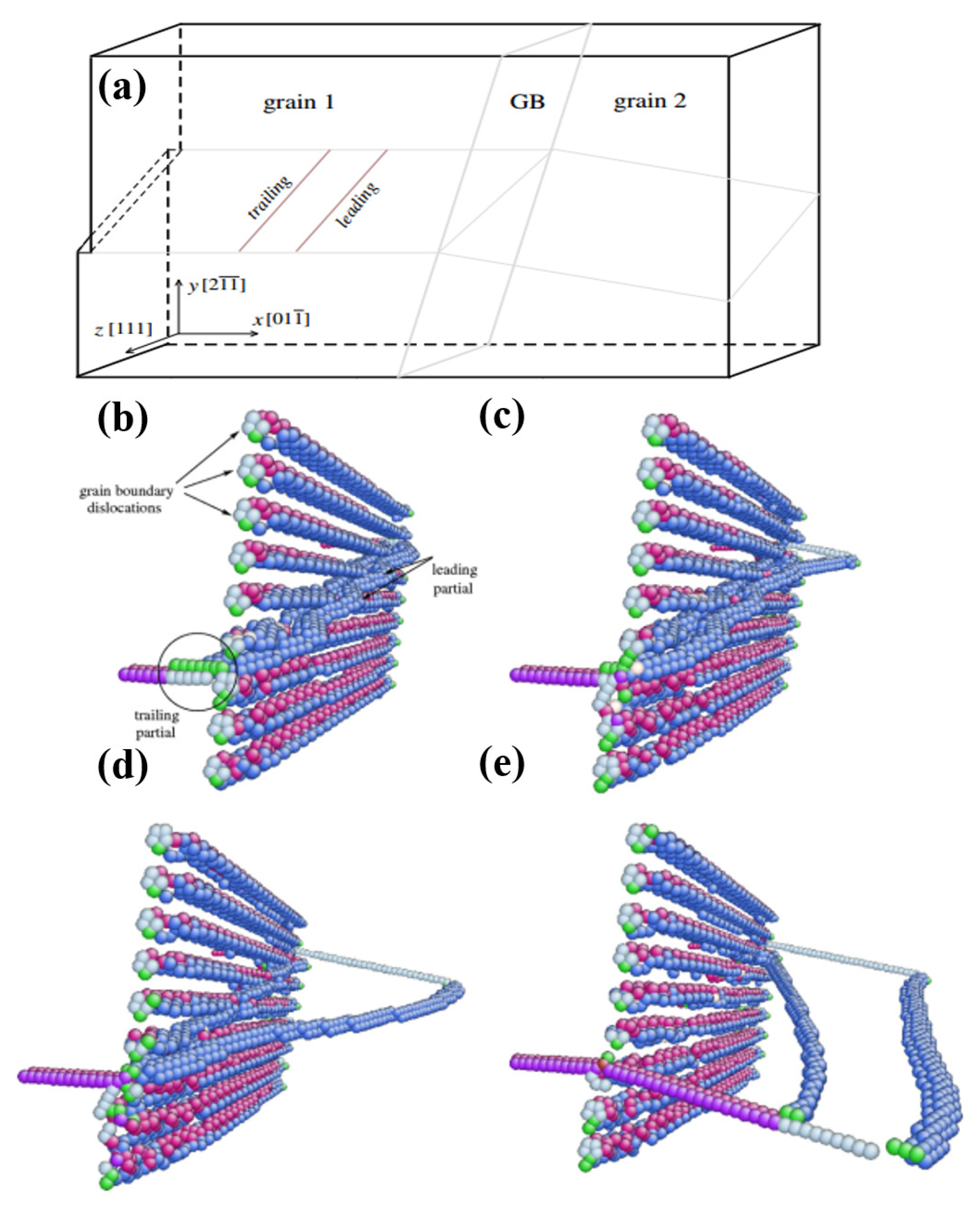 Figure 3.
Dislocation structures developing under indention of a Ni-Cu bicrystal. Atoms are color coded according to the centrosymmetry parameter; atoms corresponding to a nearly perfect structure are not shown. Since the interface between Ni and Cu is not visible due to its coherency, a mesh that schematically represents the interface is added to the plots. At an early stage of indentation (
a
), dislocations are contained in the top Ni layer, but have traversed the interface after further indentation (
b
). The arrow points at a stacking-fault plane widening in the Cu bottom layer due to the small stacking-fault energy in Cu. Atoms are colored according to the centrosymmetry parameter. Figure taken from Ref. [
46
] with permission.
Figure 4.
Interaction of dislocations generated by indentation of an Al/Si bicrystal to the depths
d
indicated with the interface. Dislocations are generated in the top Si layer which is crystallographically aligned with the bottom Al layer. P1–4 denote dislocation segments. Top row: dislocations generated in the Si top layer colored according to Burgers vector: (dark blue), (green), (yellow), and others (red). The gray planes indicate the surface, interface and the indent pit. Middle row: Close-up view of the penetrating dislocations and the Al interface atoms. Interface atoms are colored by height, see color bar. Bottom row: View from the Al side showing the Al interface atoms, the dislocations and the stacking faults. Insert at 54.2 Å zooms into rectangular area and demonstrates dislocation interaction, A+B=C, Equation (
1
). Figure taken from Ref. [
22
] with permission.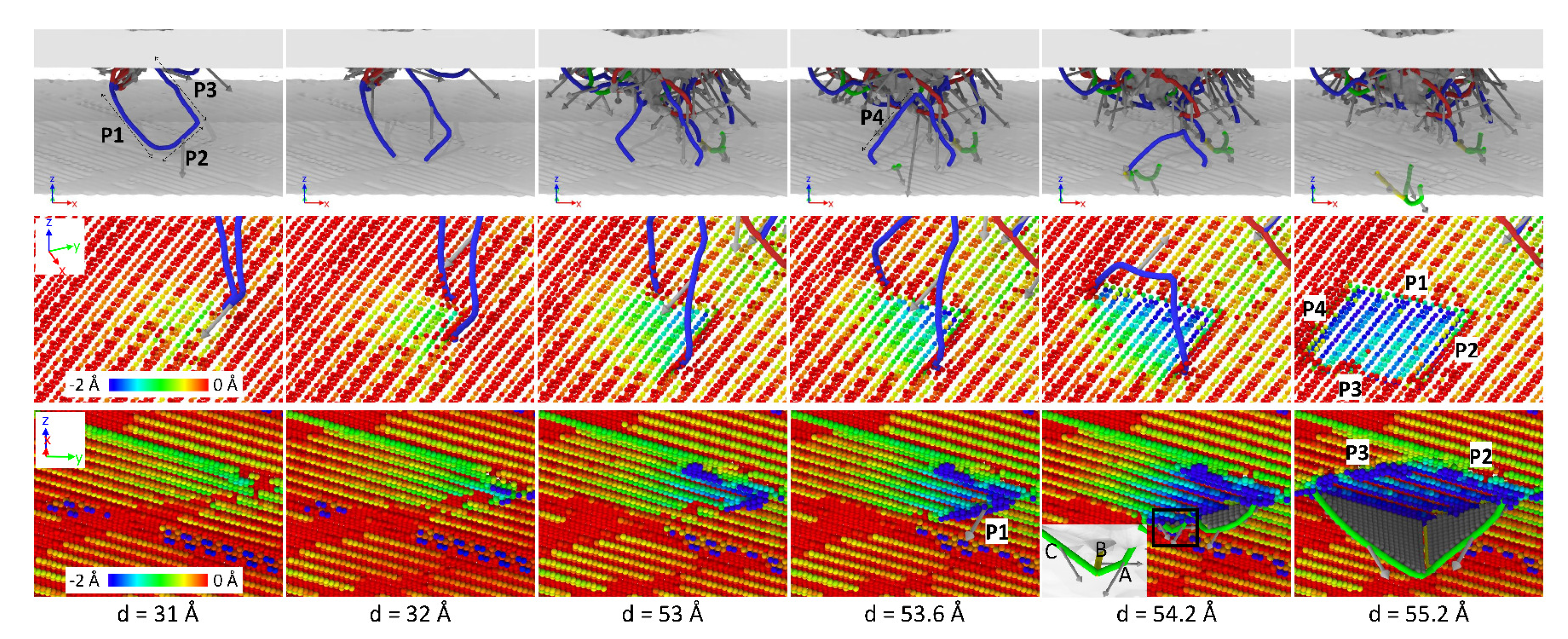 © 2019 by the authors. Licensee MDPI, Basel, Switzerland. This article is an open access article distributed under the terms and conditions of the Creative Commons Attribution (CC BY) license (http://creativecommons.org/licenses/by/4.0/).