Open Access This article is
freely available
re-usable
Article
Synthesis of Manganese Mononitride with Tetragonal Structure under Pressure
1
Center for High Pressure Science and Technology Advanced Research, Beijing 100190, China
2
Key Laboratory of Materials Physics, Institute of Solid State Physics, Chinese Academy of Sciences, Hefei 230031, China
3
University of Science and Technology of China, Hefei 230026, China
4
State Key Laboratory of Metastable Materials Science and Technology, Yanshan University, Qinhuangdao 066004, China
5
Hawai'i Institute of Geophysics and Planetology, School of Ocean and Earth Science and Technology, University of Hawai'i at Manoa, Honolulu, HI 96822, USA
*
Authors to whom correspondence should be addressed.
Received: 14 August 2019 / Accepted: 27 September 2019 / Published: 30 September 2019
Abstract
:
The exploration of the vast phase space of transition metal nitrides is critical for discovering novel materials and potential technological applications. Manganese mononitride with a tetragonal structure (space group
I
4
/mmm
) was synthesized in a laser-heating diamond anvil cell, which could be quenched to ambient pressure. The bulk modulus of 173 GPa was measured using in situ high-pressure diffraction, and the axial compressibility shows that, under pressure, the
a
direction is much more compressible than the
c
direction in tetragonal MnN. DFT results with correction of the on-site repulsion (GGA +
U
) confirm that tetragonal MnN is energetically stable and antiferromagnetic. This study highlights the need to include on-site repulsion to understand 3
d
metal nitrides.
Keywords:
transition metal nitrides; MnN; high pressure laser heating; density functional theory
1. Introduction
Nitrogen is an abundant element in atmospheric conditions, and it can form a large number of important materials with main group elements and transition metal elements. Transition metal nitrides attract considerable interest due to their mechanical, electronic, and magnetic properties. For example, transition metal nitrides are considered to be potentially superhard materials [
1
] because of the strong hybridization between nitrogen and transition metals, giving them high incompressibility and hardness. Furthermore, the partially filled
d
orbitals of transition metals bonded with nitrogen also lead to the presence of interesting electronic and magnetic properties, which are also great candidates for magnetic storage devices [
2
].
At ambient pressure, most transition metal nitrides are prepared through traditional synthesis routes, such as ammonolysis or nitridation of metals and their compounds [
3
,
4
], vapor deposition [
5
], and epitaxial growth methods [
6
]. However, some binary nitrides are difficult to synthesize using standard methods, so high-pressure synthesis provides an alternative route for discovering novel nitrides. Recently, several novel transition metal nitrides have been synthesized in the Fe–N [
7
], Cu–N [
8
], Hf–N [
9
], and Ta–N [
10
] systems, suggesting that pressure can effectively promote the role of
d
-electrons in chemical bonding with nitrogen [
11
].
Manganese nitrides are particularly interesting because of their variety of electronic and magnetic properties. Experimentally, the perovskite-type
ε
-Mn
4
N films showed ferromagnetic properties with a magnetic moment of 1.1 μ
B
per unit cell, and the tetragonal
η
-Mn
3
N
2
films exhibited antiferromagnetism with 0.4 μ
B
per unit cell [
12
]. So far, among the manganese nitrides, the most nitrogen rich-nitride is reported to be mononitride,
θ
-MnN (Space group:139), which has been synthesized using different methods, such as molecular beam epitaxy [
13
] and DC reactive sputtering [
14
]. Tetragonal MnN was found to have anomalous thermal expansion and be antiferromagnetic with a Néel temperature of 650 K [
15
]. Moreover, experimental data found that the magnetic structure of MnN consisted of ferromagnetically aligned
c
-planes coupled anti-ferromagnetically in the
c
-direction [
16
]. Here, we report the synthesis of the MnN compound starting from elemental Mn and liquid nitrogen in a laser-heated diamond anvil cell to explore the phase space of the Mn–N system. Tetragonal MnN was synthesized at 30 GPa and 1500 °C and was quenchable to ambient pressure. The bulk modulus and the axial compressibility were measured using in situ high-pressure diffraction. DFT results with GGA +
U
confirm that tetragonal MnN is energetically stable and antiferromagnetic.
2. Materials and Methods
Experimental details: A micrometer-sized manganese (99.95% Alfa Aesar) flake was placed into the gasket hole of a diamond anvil cell (DAC) and subsequently loaded with high-purity liquid nitrogen. Liquid nitrogen served both as a pressure medium and a reactant. A stainless-steel gasket was used to form the sample chamber in the experimental runs with 300 μm culets. The pressure was calibrated by the ruby fluorescence. After cold compression to a maximum pressure of 30.0 GPa, the sample was heated at about 1500 °C for about 5 min. The heating was performed using two 100 W YLF (yttrium lithium fluoride) fiber lasers within a double-sided infrared laser heating system at 16-IDB, High-Pressure Collaborative Access Team (HPCAT). Temperatures from both sides were measured individually with an imaging spectrograph [
17
]. Angle-dispersive powder X-ray diffraction patterns were collected before and after laser heating at HPCAT, beamline 16-IDB (wavelength: λ = 0.4066 Å) and GeoSoilEnviroCARS, beamline 13-BM-C (Wavelength: λ = 0.434 Å) of the Advanced Photon Source (APS), Argonne National Laboratory (ANL). The diffraction images were integrated using DIOPTAS [
18
], and Rietveld refinement with GSAS software was performed to obtain the unit cell volume and lattice parameters [
19
,
20
].
Computational details: Theoretical calculations were carried out using the Vienna ab initio approximation package (VASP) [
21
,
22
] within the generalized gradient approximation (GGA) parametrized by the Perdew–Burke–Ernzerhof (PBE) functional [
23
]. All structures were fully relaxed without symmetry constraints with a cutoff energy of 850 eV, and the convergence of energy and force were set to 1 × 10
−6
eV and 0.001 eV/Å, respectively. The
k
-points were automatically generated by the Monkhorst–Pack grids with a resolution of 0.03 Å
−1
[
24
]. The projector-augmented plane-wave (PAW) potentials [
24
,
25
] were used. To accurately describe the strongly correlated interaction between MnN, FeN, and CrN, GGA +
U
was also employed to study the stability and electronic properties with a fixed
U
value of 4 eV. The phonon dispersion curves were calculated using the PHONOPY code with density-functional perturbation theory (DFPT) [
26
].
3. Results and Discussion
4. Conclusions
In this work, manganese and nitrogen were compressed and laser-heated at 30.0 GPa for the first time, which overcomes the energy barrier towards the formation of a more stable MnN compound. We performed Rietveld refinement to determine the structure of MnN, which is indexed by face-center tetragonal structure (space group
I
4
/mmm
). The compound is stable after quenching upon pressure release. Analysis of the lattice parameters and bond lengths found that the MnN is much more compressible along the
a
direction than along the
c
direction. In addition, the MnN volume–pressure data were fitted with an EoS to obtain the bulk modulus. Tetragonal MnN possesses a larger bulk modulus than the corresponding pure manganese elements due to the presence of hybridized
p
–
d
bonding. The theoretical calculations with on-site repulsion based on DFT support that MnN with an antiferromagnetic structure is the most stable structure from ambient to 75 GPa.
Author Contributions
Conceptualization, H.G.; Formal analysis, D.H., C.N., L.W. and X.W.; Investigation, D.H., B.Y., B.G. and D.Z.; Supervision, H.G.; Writing – original draft, D.H. and C.N.; Writing – review & editing, X.W. and H.G.
Funding
This research was funded by the National Natural Science Foundation of China, grant number 11674329, and Science Challenge Project, grant number TZ2016001.
Acknowledgments
The laser-heating and in situ synchrotron XRD experiments were performed at 16IDB of HPCAT (Sector 16), and 13 IDD of GSECARS (Sector 13), Advanced Photon Source (APS), Argonne National Laboratory (ANL). HPCAT operations are supported by DOE-NNSA's Office of Experimental Sciences. GeoSoilEnviroCARS is supported by the National Science Foundation - Earth Sciences (EAR-1634415) and Department of Energy-GeoSciences (DE-FG02-94ER14466). Use of the COMPRES-GSECARS gas loading system was also supported by COMPRES under NSF Cooperative Agreement EAR -1606856. APS is a U.S. Department of Energy (DOE) Office of Science User Facility operated for the DOE Office of Science by ANL under Contract No. DE-AC02-06CH11357. The authors express great thanks to Freyja O'Toole for English editing.
Conflicts of Interest
The authors declare no conflict of interest.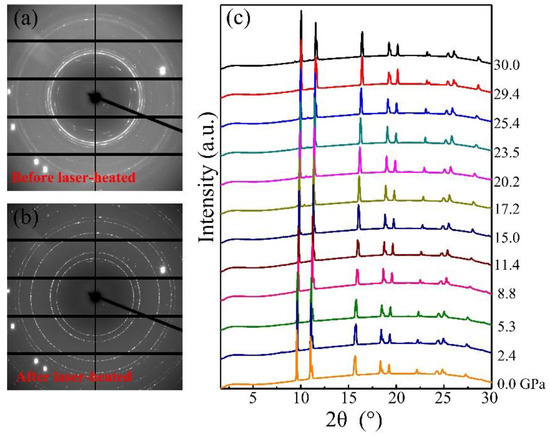 Figure 1. X-ray diffraction pattern of Mn and liquid N before (a) and after (b) laser heating at 30.0 GPa; (c) powder X-ray diffraction patterns of MnN from 30 GPa to ambient pressure.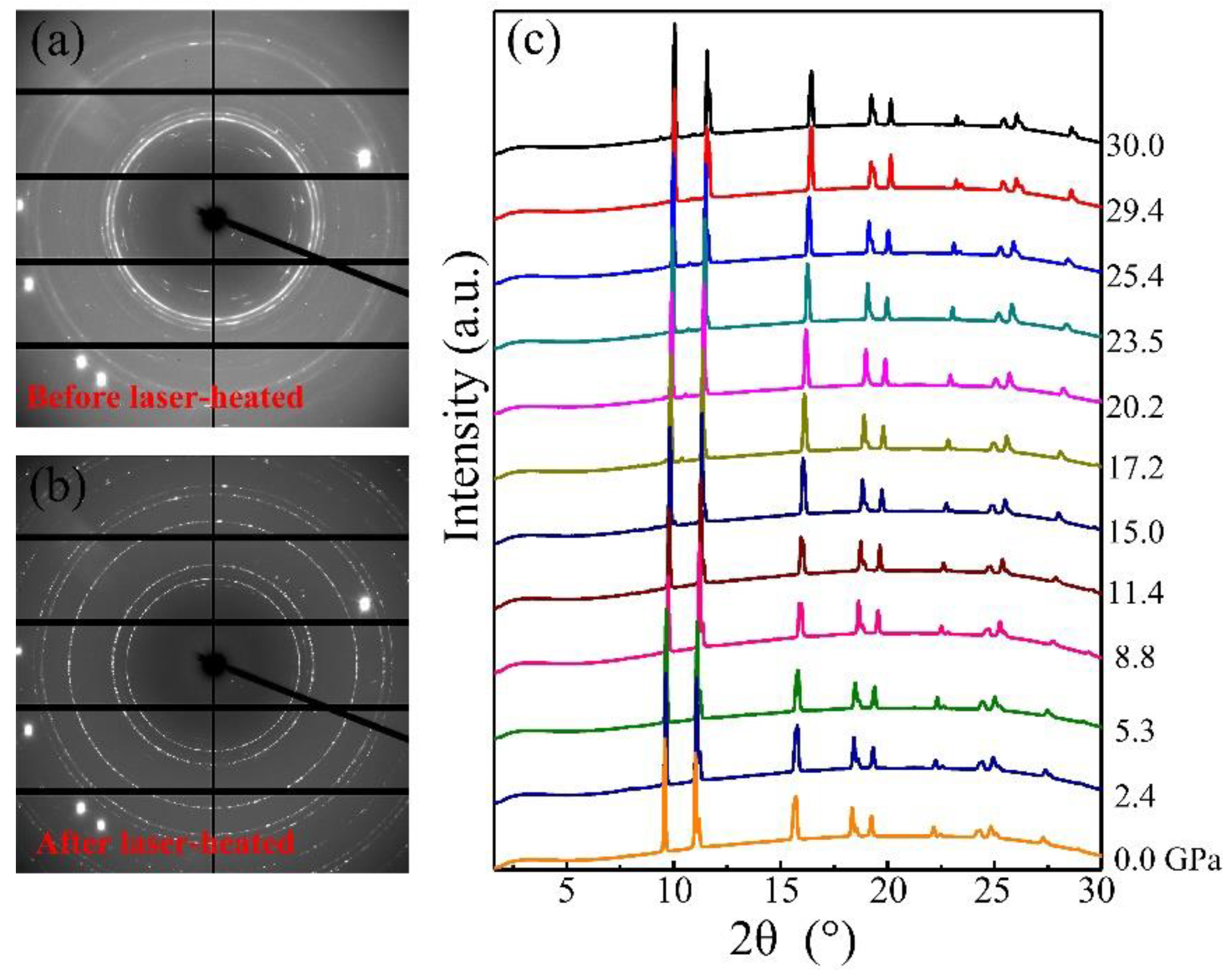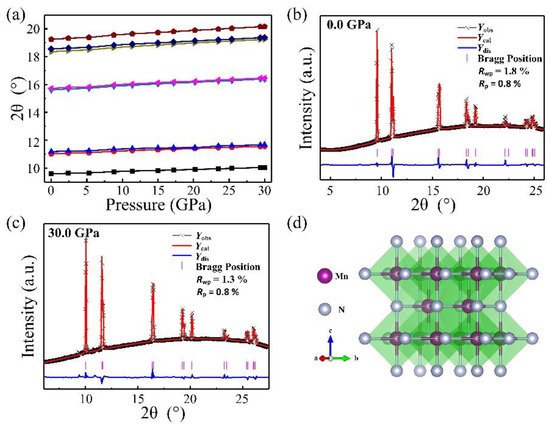 Figure 2. (a) X-ray diffraction lines' evolution with pressure; (b) crystal structure of MnN; Rietveld refinement of the XRD pattern of the MnN sample at (c) 0.0 GPa and (d) 30.0 GPa, respectively.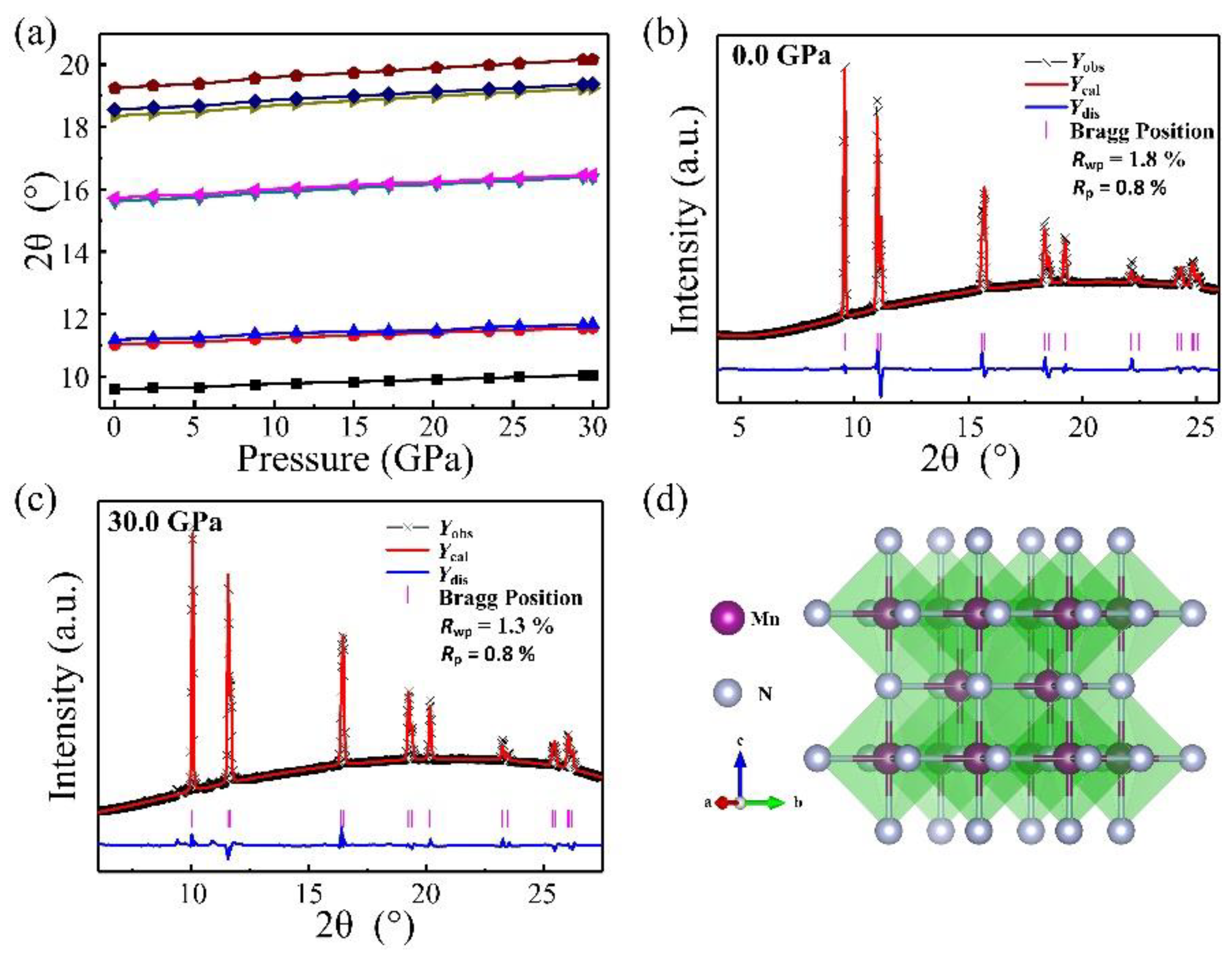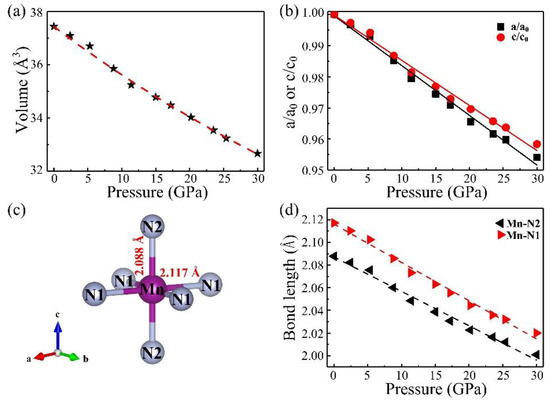 Figure 3. The changes of (a) unit cell volume and (b) lattice parameters in the entire pressure change; (c) The atomic arrangement of the MnN6 octahedron; (d) Bond length of Mn–N as a function of pressure.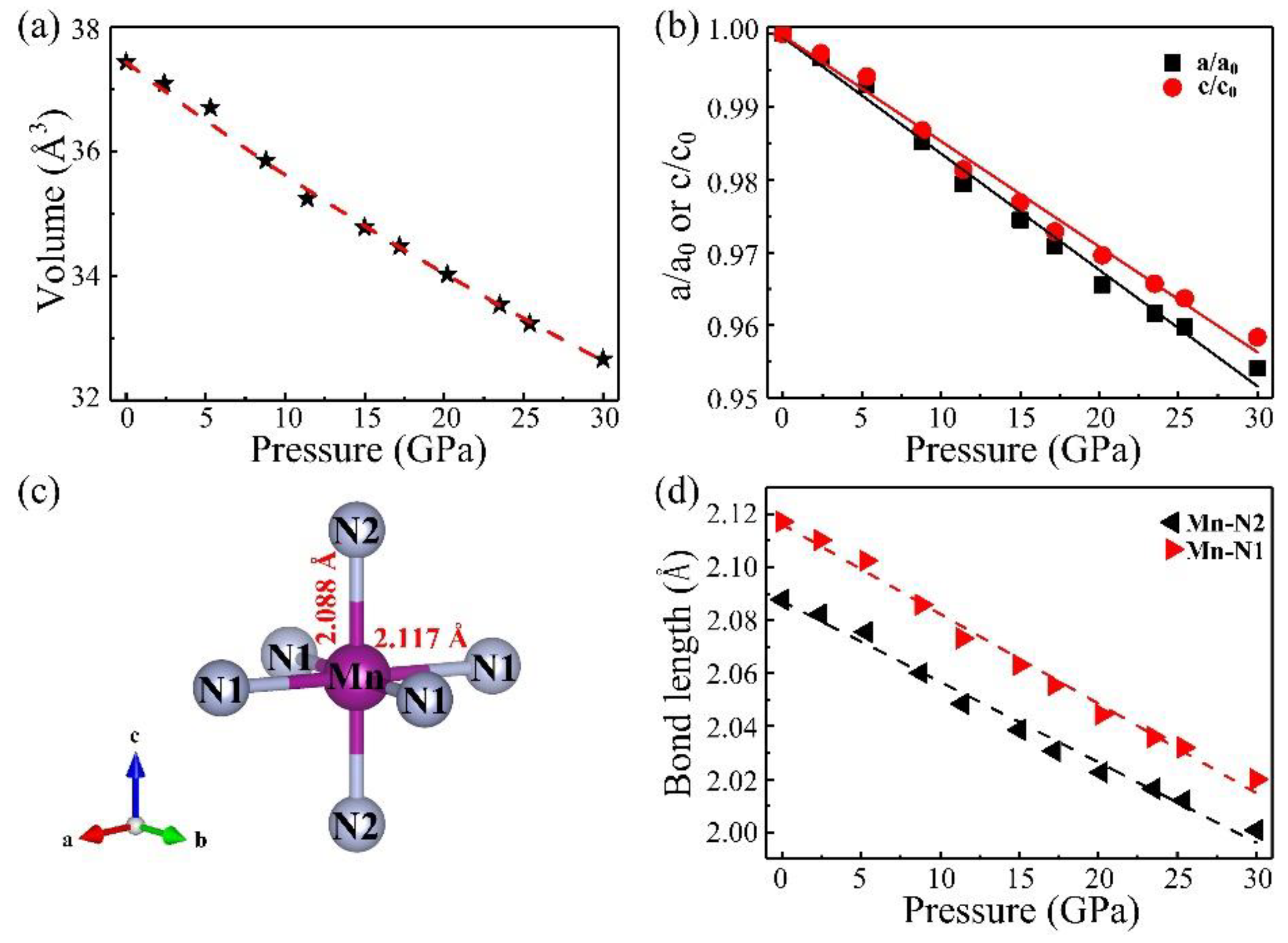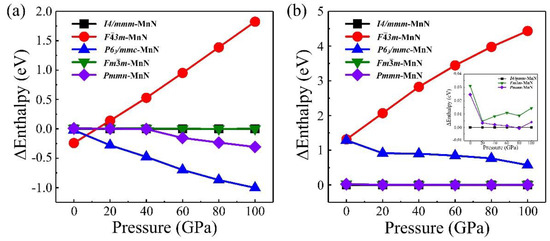 Figure 4.
Enthalpies of MnN are shown as a function of pressure based on the DFT method (
a
) and DFT+
U
method (
b
). The enthalpy of MnN in phase A is set to zero, and contrasts between enthalpies of different phases are shown more clearly in the insets of (
b
).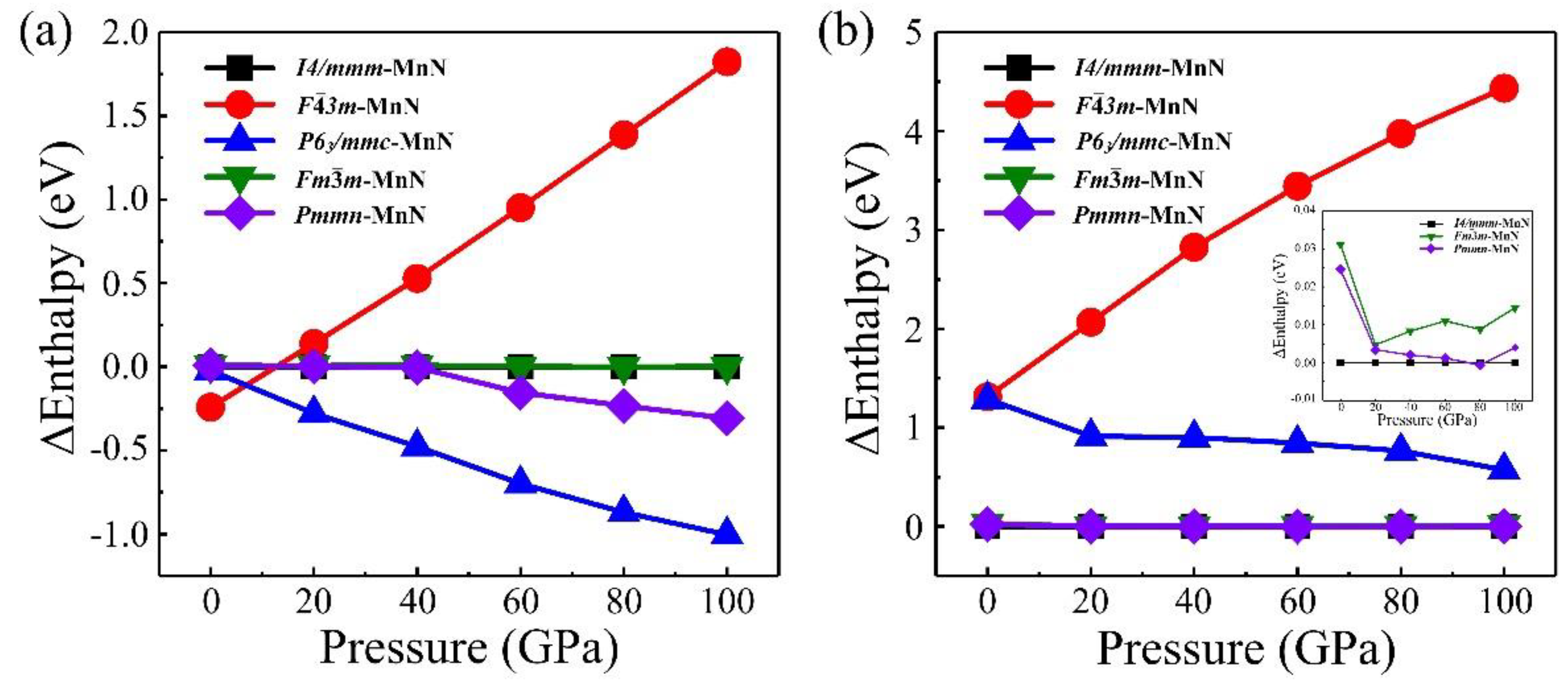 Figure 5.
(
a
–
c
) show the band structures and density of states (DOS) of
I
4
/mmm
–MnN,
F
3m
–FeN, and
Fm
m
–CrN at zero pressure, respectively. The dashed lines show the Fermi level. For the density of states, the top, middle, and bottom part represent the total DOS, partial DOS of transitional metal elements, and partial DOS of N, respectively.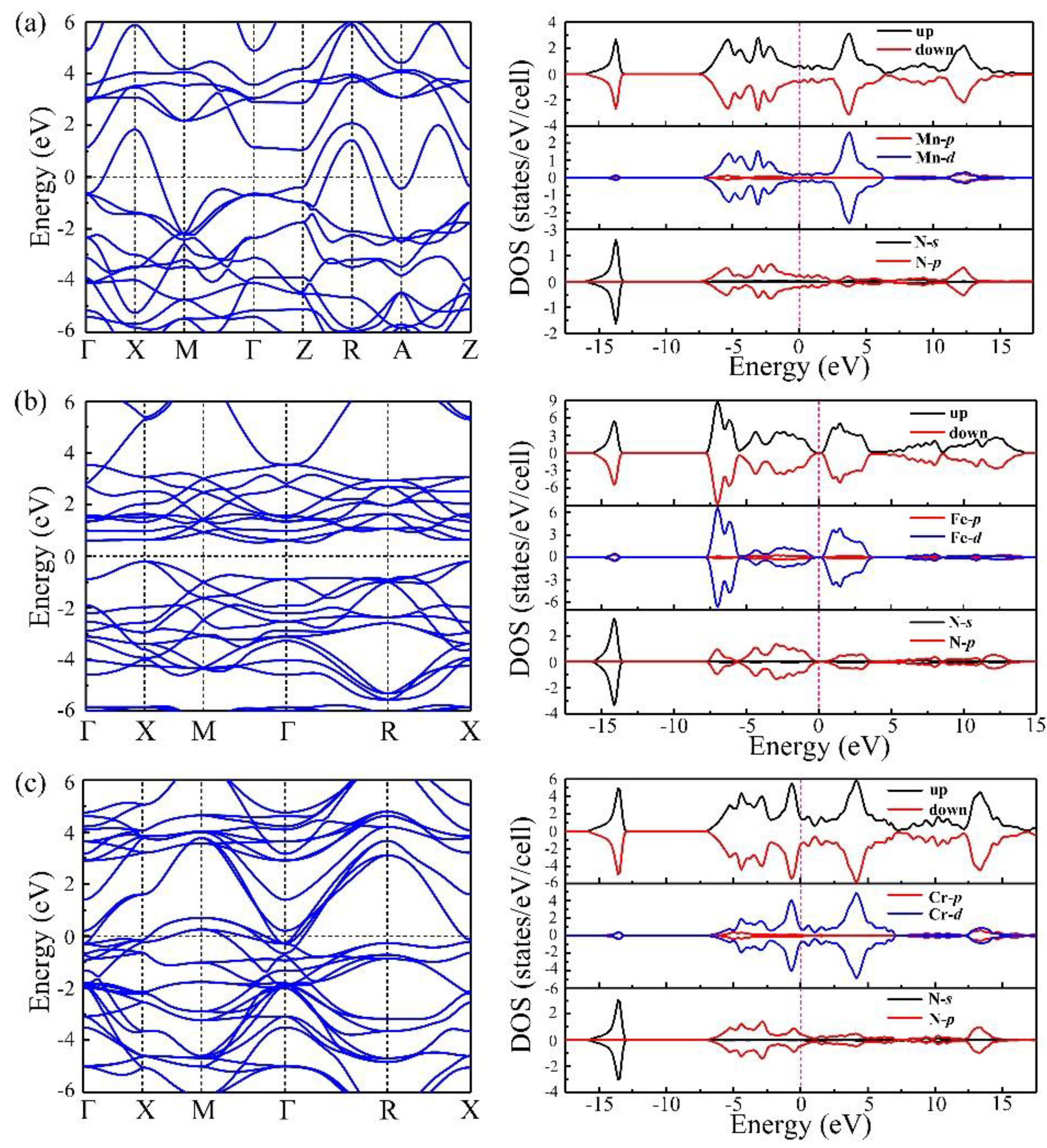 Table 1.
Summary of crystal data of tetragonal MnN, and adjacent 3
d
transition metal nitrides.
B
0
is the bulk modulus and its pressure derivative.
Compound
Space Group
Structure
Lattice Parameters (Å)

B

0 (GPa)
Ref.
CrN

Fm3m

RS
DFT: 340-430
[27]
CrN

Pnma

Orthorhombic
243(10)
[27]
MnN

I

4

/mmm

RS

a

= 2.994(1)


c

= 4.175(1)
173
DFT: 187
3.06
Present
FeN

Fm

m

RS

a

= 4.1041
186
4.77
[28]
FeN

F

3m

ZB

a

= 4.2250
266
6.65
[28]
* RS represents rock-salt structure; ZB represents zinc blende structure.

© 2019 by the authors. Licensee MDPI, Basel, Switzerland. This article is an open access article distributed under the terms and conditions of the Creative Commons Attribution (CC BY) license (http://creativecommons.org/licenses/by/4.0/).