Reactive Mechanism of Cu2ZnSnSe4 Thin Films Prepared by Reactive Annealing of the Cu/Zn Metal Layer in a SnSex + Se Atmosphere
1
Tianjin Institute of Power Source, Tianjin 300384, China
2
Institute of Photoelectronic Thin Film Devices and Technology of Nankai University, Key Laboratory of Photoelectronic Thin Film Devices and Technology of Tianjin, Key Laboratory of Optical Information Science and Technology of Ministry of Education, Collaborative Innovation Center of Chemical Science and Engineering, Nankai University, Tianjin 300071, China
3
Department of Electronic Engineering, Chang Gung University, KueiShan 333, Taiwan
4
Department of Otolaryngology-Head and Neck Surgery, Chang Gung Memorial Hospital, Linkou 244, Taiwan
*
Authors to whom correspondence should be addressed.
Received: 13 November 2018 / Revised: 10 December 2018 / Accepted: 20 December 2018 / Published: 23 December 2018
Abstract
Cu
2
ZnSnSe
4
(CZTSe) thin films were prepared by a two-step process with the electrodeposition of a Cu/Zn metallic stack precursor followed by a reactive anneal under a Se + Sn containing atmosphere. We investigate the effect of the Se
x
and SnSe
x
(x = 1,2) partial pressures and annealing temperature on the morphological, structural, and elemental distribution of the CZTSe thin films. Line scanning energy dispersive spectroscopy (EDS) measurements show the presence of a Zn-rich secondary phase at the back-absorber region of the CZTSe thin films processed with higher SnSe
x
partial pressure and lower annealing temperatures. The Zn-rich phase can be reduced by lowering the SnSe
x
partial pressure and by increasing the annealing temperature. A very thin MoSe
2
film between the CZTSe and Mo interface is confirmed by X-ray diffraction (XRD) and grazing incidence X-ray diffraction (GIXRD) measurements. These measurements indicate a strong dependence of these process variations in secondary phase formation and accumulation. A possible reaction mechanism of CZTSe thin films was presented. In a preliminary optimization of both the SnSe
x
partial pressure and the reactive annealing process, a solar cell with 7.26% efficiency has been fabricated.
View Full-Text
►

▼

Figures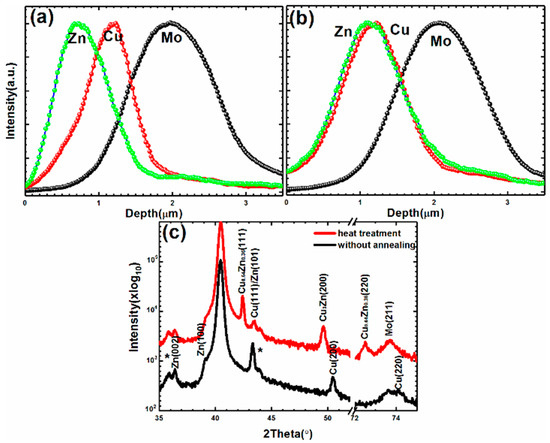 Figure 1
This is an open access article distributed under the
Creative Commons Attribution License
which permits unrestricted use, distribution, and reproduction in any medium, provided the original work is properly cited (CC BY 4.0).

Share & Cite This Article
MDPI and ACS Style
Yao, L.; Ao, J.; Jeng, M.-J.; Bi, J.; Gao, S.; Sun, G.; He, Q.; Zhou, Z.; Zhang, Y.; Sun, Y.; Chang, L.-B. Reactive Mechanism of Cu2ZnSnSe4 Thin Films Prepared by Reactive Annealing of the Cu/Zn Metal Layer in a SnSex + Se Atmosphere. Crystals 2019, 9, 10.
Note that from the first issue of 2016, MDPI journals use article numbers instead of page numbers. See further details here.
Related Articles
Comments
[Return to top]