A Crystallographic Study of a Novel Tetrazolyl-Substituted Nitronyl Nitroxide Radical
1
N. N. Vorozhtsov Institute of Organic Chemistry, 9 Ac. Lavrentiev Avenue, Novosibirsk 630090, Russia
2
Novosibirsk State University, 2 Pirogova Str., Novosibirsk 630090, Russia
3
Institute of Chemical Kinetics and Combustion, 3 Institutskaya Str., Novosibirsk 63009, Russia
4
Universit´e Claude Bernard Lyon-1, Campus de La Doua, 69622 Villeurbanne CEDEX, France
*
Author to whom correspondence should be addressed.
Received: 10 August 2018 / Revised: 17 August 2018 / Accepted: 19 August 2018 / Published: 21 August 2018
Abstract
Spin-labelled compounds are widely used in chemistry, physics, biology, and material sciences, but the directed synthesis of some functionalized organic radicals is still a challenge. We succeeded in the preparation of a tetrazolyl-substituted nitronyl nitroxide radical in pure crystalline form. According to the single-crystal X-ray data, intra- (NH…O, 2.43 Å) and inter-molecular hydrogen bonds (NH…O, 1.91 Å) are formed between NH groups of the tetrazole cycles and O atoms of the paramagnetic moieties. The intermolecular H-bonds connect the molecules forming chains along the
a
-axis. Moreover, there are short intermolecular contacts between the O atoms (3.096 Å) and between the O and C atoms (3.096 Å) of the nitronyl nitroxide moieties within the chain. The spin-unrestricted broken-symmetry calculations performed at the BS-UB3LYP/def2-TZVP level of theory predicted a sufficient ferromagnetic interaction (
J
≈ 20 cm
–1
) between the adjacent radicals inside the chain, but a weak antiferromagnetic interaction (−
J
≤0.2 cm
−1
) between the nearest radicals belonging to the different chains. Thus, a rare case when stable radicals, the tetrazolyl-substituted nitronyl nitroxides, are ordered into ferromagnetic chains was revealed; an investigation of the magneto-structural correlations inherent in the nitroxide radical will demand a special experiment in the sub-Kelvin regime.
View Full-Text
►

▼

Figures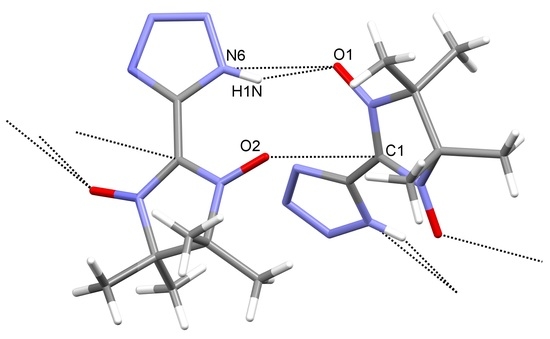 Graphical abstract
This is an open access article distributed under the
Creative Commons Attribution License
which permits unrestricted use, distribution, and reproduction in any medium, provided the original work is properly cited (CC BY 4.0).

Share & Cite This Article
MDPI and ACS Style
Romanov, V.E.; Bagryanskaya, I.Y.; Gorbunov, D.E.; Gritsan, N.P.; Zaytseva, E.V.; Luneau, D.; Tretyakov, E.V. A Crystallographic Study of a Novel Tetrazolyl-Substituted Nitronyl Nitroxide Radical. Crystals 2018, 8, 334.
Note that from the first issue of 2016, MDPI journals use article numbers instead of page numbers. See further details here.
Related Articles
Comments
[Return to top]