Ageing and Langmuir Behavior of the Cage Occupancy in the Nitrogen Gas Hydrate
1
Institut des Sciences Moléculaire-UMR CNRS 5255-Univ. Bordeaux, 351 cours de la Libération, 33404 Talence CEDEX, France
2
Laboratoire Léon Brillouin, UMR 12 CEA-CNRS, Bât. 563 CEA Saclays, 91191 Gif-sur-Yvette CEDEX, France
*
Author to whom correspondence should be addressed.
Received: 22 February 2018 / Revised: 15 March 2018 / Accepted: 16 March 2018 / Published: 23 March 2018
Abstract
Clathrate hydrates are ice-like systems in which nanometric water cages encapsulate guest molecules. Functionalizing clathrate hydrates is an important issue, accomplished by playing with their chemical composition and their cage structure. In this issue, the cage occupancy and its kinetics constitute key information for future developments. In many aspects, nitrogen gas hydrate represents an interesting system not only for its applied relevance (e.g., gas separation and methane/carbon dioxide exchange), but also for its fundamental interest (e.g., structural metastability and kinetics). Thanks to the complementarity of neutron diffraction and Raman scattering, the vibrational signatures of the so-called SI and SII clathrate structures of the nitrogen hydrates are reviewed. Moreover, the investigation of the ageing of the SII structure is reported together with its interpretation in the frame of the Langmuir behavior of the cage filling at low temperature. The cage filling is monitored with the help of a time-dependent analysis of the Raman scattering signals (over several months). The SII large cage filling decreases with a kinetic rate of
h
−1
at 77 K and atmospheric pressure, so that equilibrium is reached after ca. eight weeks. Isotherm measurements of the guest Raman signatures lead to revealing a Langmuir constant higher in the small cage than in the large cage at 150 K. Such a behavior might thus be correlated with the nitrogen depletion with time, observed in the large cage of the SII nitrogen hydrate.
View Full-Text
►

▼

Figures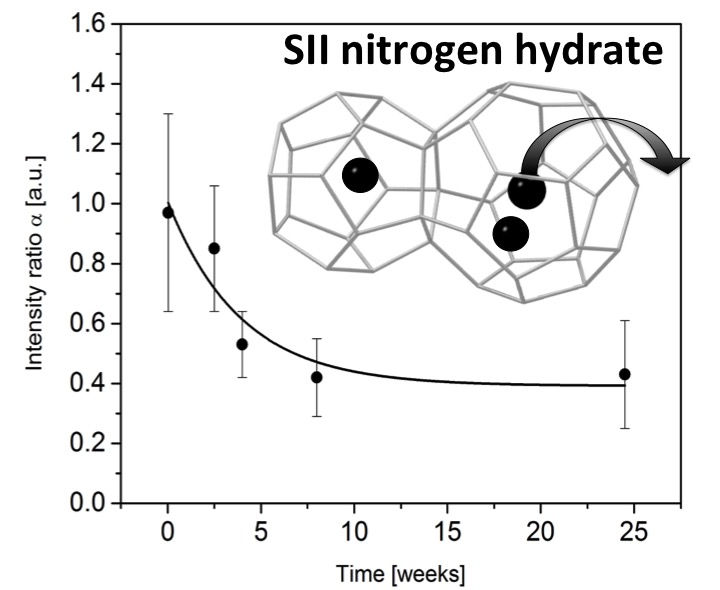 Graphical abstract
This is an open access article distributed under the
Creative Commons Attribution License
which permits unrestricted use, distribution, and reproduction in any medium, provided the original work is properly cited (CC BY 4.0).

Share & Cite This Article
MDPI and ACS Style
Petuya, C.; Damay, F.; Desplanche, S.; Aupetit, C.; Desmedt, A. Ageing and Langmuir Behavior of the Cage Occupancy in the Nitrogen Gas Hydrate. Crystals 2018, 8, 145.
Note that from the first issue of 2016, MDPI journals use article numbers instead of page numbers. See further details here.
Related Articles
Comments
[Return to top]