Rb2Na(NO3)3: A Congruently Melting UV-NLO Crystal with a Very Strong Second-Harmonic Generation Response
1
Department of Chemistry, Chung-Ang University, Seoul 06974, Korea
2
Fujian Institute of Research on the Structure of Matter, Chinese Academy of Sciences, Fuzhou 350002, China
*
Author to whom correspondence should be addressed.
Academic Editors: Ning Ye and Helmut Coelfen
Received: 26 January 2016 / Revised: 26 March 2016 / Accepted: 7 April 2016 / Published: 13 April 2016
Abstract
Crystals of congruently melting noncentrosymmetric (NCS) mixed alkali metal nitrate, Rb
2
Na(NO
3
)
3
, have been grown through solid state reactions. The material possesses layers with NaO
8
hexagonal bipyramids and NO
3
triangular units. Rb
+
cations are residing in the interlayer space. Each NaO
8
hexagonal bipyramid shares its corners and edges with two and three NO
3
units, respectively, in order to fulfill a highly dense stacking in the unit cell. The NaO
8
groups share their six oxygen atoms in equatorial positions with three different NO
3
groups to generate a NaO
6
-NO
3
layer with a parallel alignment. The optimized arrangement of the NO
3
groups and their high density in the structure together produce a strong second-harmonic generation (SHG) response. Powder SHG measurements indicate that Rb
2
Na(NO
3
)
3
has a strong SHG efficiency of five times that of KH
2
PO
4
(KDP) and is type I phase-matchable. The calculated average nonlinear optical (NLO) susceptibility of Rb
2
Na(NO
3
)
3
turns out to be the largest value among the NLO materials composed of only [NO
3
]
−
anion. In addition, Rb
2
Na(NO
3
)
3
exhibits a wide transparency region ranging from UV to near IR, which suggests that the compound is a promising NLO material.
View Full-Text
►

▼

Figures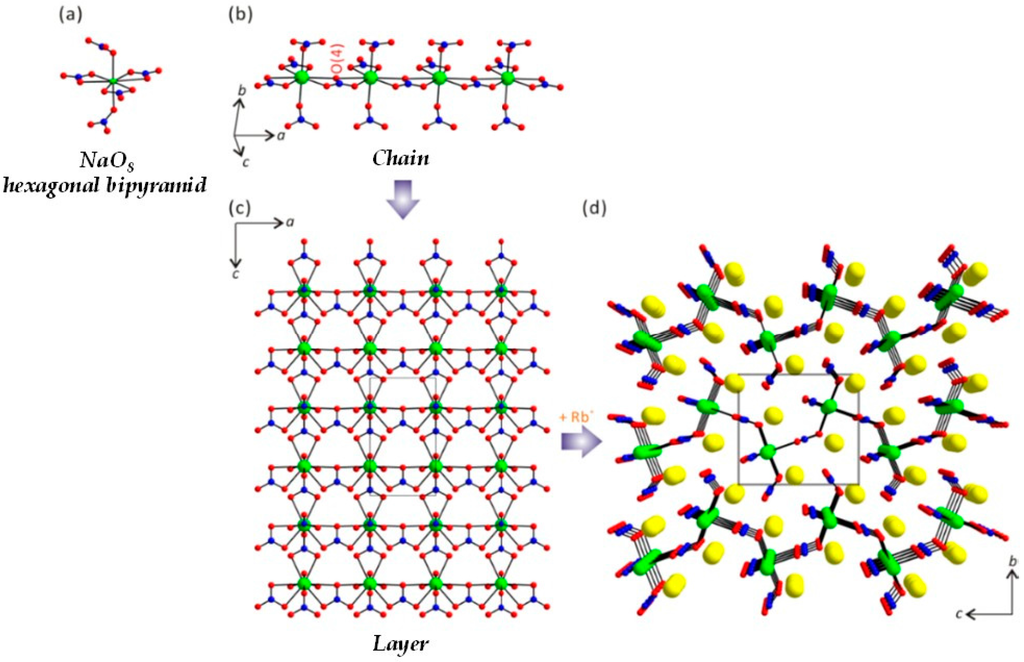 Figure 1
This is an open access article distributed under the
Creative Commons Attribution License
which permits unrestricted use, distribution, and reproduction in any medium, provided the original work is properly cited (CC BY 4.0).

Share & Cite This Article
MDPI and ACS Style
Zou, G.; Lin, C.; Kim, H.G.; Jo, H.; Ok, K.M. Rb2Na(NO3)3: A Congruently Melting UV-NLO Crystal with a Very Strong Second-Harmonic Generation Response. Crystals 2016, 6, 42.
Note that from the first issue of 2016, MDPI journals use article numbers instead of page numbers. See further details here.
Related Articles
Comments
[Return to top]