Open Access This article is
freely available
re-usable
Article
In Situ Preparation of Pr1-xCaxMnO3 and La1-xSrxMnO3 Catalysts Surface for High-Resolution Environmental Transmission Electron Microscopy
Institute of Materials Physics, University of Goettingen, D-37077, Goettingen, Germany
*
Authors to whom correspondence should be addressed.
Received: 19 July 2019 / Accepted: 29 August 2019 / Published: 6 September 2019
Abstract
:
The study of changes in the atomic structure of a catalyst under chemical reaction conditions is extremely important for understanding the mechanism of their operation. For in situ environmental transmission electron microscopy (ETEM) studies, this requires preparation of electron transparent ultrathin TEM lamella without surface damage. Here, thin films of Pr1-xCaxMnO3 (PCMO, x = 0.1, 0.33) and La1-xSrxMnO3 (LSMO, x = 0.4) perovskites are used to demonstrate a cross-section specimen preparation method, comprised of two steps. The first step is based on optimized focused ion beam cutting procedures using a photoresist protection layer, finally being removed by plasma-etching. The second step is applicable for materials susceptible to surface amorphization, where in situ recrystallization back to perovskite structure is achieved by using electron beam driven chemistry in gases. This requires reduction of residual water vapor in a TEM column. Depending on the gas environment, long crystalline facets having different atomic terminations and Mn-valence state, can be prepared.
Keywords:
perovskites; environmental transmission electron microscopy; surface chemistry
2. Results
In order to verify the chemical composition of original, amorphous and recrystallized PCMO, the EELS spectra were collected at the beginning of experiment and after the recrystallization was completed. In addition, K- edges of oxygen and L-edges of Mn were collected with the better energy resolution to examine the oxidation state of Mn.
3. Discussion
As already mentioned, the observed recrystallization of amorphous PCMO resembles SPE of an amorphous Si which happens via a moving amorphous/crystalline interface, where velocities of a few nm per min requires elevated temperatures above 500 °C [
33
]. The recrystallization temperature can be significantly reduced to around 200–300 °C, if the recrystallization is assisted by ion irradiation [
34
]. Although the electron-beam induced recrystallization reported here also happens via the movement of the crystalline/amorphous interface, it however strongly differs from the SPE. First of all, the beam induced temperature increase ΔT in the TEM lamella is irrelevant, excluding a thermally activated growth mechanisms. The upper limit of temperature increase for the used beam parameters is Δ T = 0.015 K (see
Appendix A
). Furthermore, the epitaxial recrystallization in our experiments strongly depends on the gas environment. In high vacuum conditions, no epitaxial growth is observed. Here, the amorphous layer partially disappears on timescales of tens of minutes due to electron beam-induced sputtering of atoms from damaged areas.
In oxygen both amorphous PCMO x = 0.1 and x = 0.33 layers transform into a crystalline perovskite layer under oxygen uptake during the recrystallization process. This is confirmed by a change of the Mn valence state from about +2.9 in the amorphous to close to the nominal value. There are three possible candidates for beam induced electronic excitations driven the observed solid state chemistry: (i) a photo-chemical process driven by beam induced generation of hole carriers. Since the lifetime of photo-holes (1 ns) is orders of magnitudes below the recrystallization rate (1 s per atom), a photo-chemical process is highly improbable. (ii) An electrochemical process driven by beam induced positive electric potentials due to secondary electron emission. Such an electrochemical mechanism is feasible: The relevant redox potential for oxygen in manganites is of the order of 1 V (see
Figure 8
), a potential which can be easily generated in semiconductors at dose rates above 10.000 e/Å
2
s [
35
]. (iii) Radiolysis, the dissociation of molecules or covalently bound solids by inelastic scattering of primary electrons with bond forming valence electrons. Whereas radiolysis may be relevant for the dissociation of molecular oxygen and activation of O
2
for the solid state reaction, it is irrelevant in ionic or metallic solids. Here, this is confirmed by the formation of rather perfect crystalline perovskite structure in O
2
.
Beam-induced displacements of atoms by nuclear collisions is probable process for activating the growth of crystalline PCMO by a moving amorphous/crystalline interface as observed in O2 as well as in the inert gases N2 and He. However, it cannot explain the oxygen uptake in O2. Maximum energy transfer takes place by backscattering of electron which could displace surface adsorbed oxygen into the amorphous material on the top side of the lamella, but would lead to sputtering on the bottom side and at the edge. This would represent an "inverse sputtering process", where in contrast to HV, oxygen vacancies are filled by activated surface oxygen. Conversely, in N2, one should then form oxynitrates, in contrast to observation.
The observation that the amorphous phase transforms into crystalline PrO
x
nanoparticles in the presence of sufficient partial pressure of H
2
O by preferential leaching of Mn and also Ca give strong hints about the beam induced chemistry involved. Based on the equation provided by Egerton et al. [
36
], for the energy transfer between a high energy electron and an atom due to elastic scattering, we calculate the upper limit for the different atomic species:
Emax
is 53.1 eV (O
2
), 42.5 eV (Ca), 34.0 eV (Mn) and 14.4 eV (Pr). This must be compared to binding energies of
Eb
= 50 eV (O), 70 eV (A site) [
14
] and between 50–170 eV (Ti as an exemplary B-site in BaTiO
3
) [
37
], depending on the crystal orientation of a perfect perovskite single crystal. This is consistent to the statement that
Emax < Eb
. However,
Eb
should be generally reduced in the amorphous phase of the same chemical elements, because of the lower density of packing, open voids and change of bond coordination. Remarkably, our experiments show that the preferential sputtering of atomic species strongly depends on the gas environment. In HV, the amorphous surface layer is partially removed with preferential sputtering of O, Ca and Mn without formation of PrO
x
. In contrast, in O
2
or inert gases, the presence/absence of preferential leaching of Mn and Ca strongly depends on the p
H2O
. This reflects that the vacancy formation energy close to surfaces depends on the surface chemistry. The presence of adsorbed surface H
2
O, where Mn
2+
and Ca
2+
is soluble, clearly facilitates the leaching of displaced Mn and Ca species, giving rise to the formation of PrO
x
. In contrast, in O
2
this process is suppressed and the uptake of oxygen for example by occupation of V
O
vacancy sites is the dominating process.
Clearly, the crystallization rate and thus the velocity of the amorphous/crystalline interface is slowed down in inert gases He and N
2
, compared to experiments in O
2
. This indicates, that beam induced atomic displacements cannot be the only driving force for the movement of the interface.
Figure S9
shows that residual molecular and atomic oxygen is also present in an inert gas experiment, e.g., in He. Its relative concentration is only slightly reduced after switching on the cold trap. The epitaxial recrystallization in inert gases may thus be influenced by the presence of oxygen. The analysis of the Mn valence state after He in comparison with the amorphous material at the pristine lamellas does not provide evidence for a large amount of oxygen uptake, since the Mn valence state is the same within error. However, sputtering of oxygen may be still compensated by the electrochemical oxidation, which is slowed down at lower p
O2
. This could indicate that beam induced epitaxial recrystallization in inert gases is also accompanied by a solid state chemical reaction with oxygen. Consequently, even without net uptake of oxygen, the presence of surface adsorbed oxygen species can alter the beam induced effects from absent in high vacuum, over leaching in H
2
O to perovskite epitaxy in inert gases.
4. Materials and Methods
Thin films of Pr
1-x
Ca
x
MnO
3
(PCMO) with different Pr/Ca ratio (x = 0.1 and x = 0.33) were grown on Nb-doped SrTiO
3
(001) with a 20 nm thick epitaxial La
0.6
Sr
0.4
MnO
3
(LSMO) (001) interlayer by reactive Xe-ion beam sputtering in an oxygen atmosphere with a partial pressure of 1.4·10
−4
mbar at the deposition temperature of T
dep
= 1020 K. The PCMO film of thickness of d ≈ 100 nm reveals epitaxial growth with [001]/[110] growth domains, inevitably present due to twinning. The LSMO interlayer was grown in order to adjust the lattice misfit between STO and PCMO. The growth parameters and detailed structural characterization of studied films is published elsewhere [
17
,
18
,
28
].
Specimens for in situ TEM studies were prepared by lift-out technique using a NanoLab 600 (Thermo Scientific™, former FEI, Hillsboro, Oregon, USA) dual beam instrument operated at 30 and 5 kV. Conventional method with FIB lift-out technique usually starts from the deposition of platinum/carbon (Pt/C) protection layers by electron or ion beam [
38
]. Since Pt is highly active catalyst, its presence at the surface of perovskites should be excluded. All lamellas in this study were prepared using a protection layer of Alkali Resistant Positive Photoresist X AR-P 5900/4 (ALLRESIST GmbH, Strausberg, Germany) which was deposited onto the surface of LSMO and PCMO thin films before FIB cutting procedure. Electron transparent lamella was finally cleaned with Ar
+
ions with energies from 500 eV to 100 eV using a Gatan PIPS 691 ion polishing system. The rest of protection layer was removed with a plasma cleaner prior TEM studies. High-resolution TEM (HRTEM), electron diffraction (ED) and STEM studies were performed using an aberration corrected Titan 80-300 environmental microscope (Thermo Scientific™, former FEI, Hillsboro, Oregon, USA) operated at 300 kV. The specimens were imaged along [010] and [110] crystallographic directions in the Pbnm space group. ETEM experiments are performed with N
2
, He, O
2
gases. The chemical composition of gas environment was controlled by the Residual Gas Analyzer (RGA) QMG220 (Pfeiffer Vacuum GmbH, Germany) controlled by Quadera™ software (version 4.3, INFICON Aktiengesellschaft, Liechtenstein, 2010). During the experiments the deviations of pressure from desired values of 5 and 50 microbars did not exceed 5%. Other residual gases are always present in the inlet tubes and electron microscope column. In order to minimize their influence the inlet tubes were purged firstly with the working gas. Then, the specimen chamber was also purged with the working gas during at least half an hour, and the electron beam was blanked. These procedures allowed reducing the presence of other gases to be less than 1%. For example, during the used experimental setting, typical values are H
2
O: 1% (cold trap off) and 0.05% (cold trap on); O
2
: 0.2%; N
2
: 0.04%; hydrocarbons (unspecified) and very low amounts of atomic nitrogen and oxygen. Switching on the cold trap thus changes the main residual gas impurity from H
2
O to O
2
(see SI1). EELS data were collected with a Gatan Imaging Filter (GIF) Quantum 965ER (Gatan, Pleasanton, CA, USA). Atomic models were built using the Vesta software package (version 3.4.7, 2019) [
39
]. High-angle annular dark field (HAADF) contrast and spectrum imaging was used in order to visualize change in chemical composition. HRTEM images were simulated using QSTEM software (version 2.51, 2019) [
40
].
5. Conclusions
We successfully demonstrated high-quality preparation of cross-section TEM lamella of complex oxide thin films by FIB, using metal free protection layer, i.e. photoresist. Although beam damage is small, subunit cell disordered layers remain on the surface after plasma etching of photoresist which can be treated in situ by beam driven recrystallization in suitable gas environments. It allows the formation of well-ordered crystalline facets with different surface termination, dependent on the gas. This is an important prerequisite for the in situ atomic scale observation of active states of catalysts. The work also demonstrates the feasibility of direct imaging of solid state chemical and structural transformations from amorphous to crystalline structures on atomic scale. The length of modified edge at TEM lamella varies in a range from several nanometers to several tens or even hundred nanometers. The chemical composition of the modified area depends on the gases used, as well as on the presence of residual water molecules in the column of electron microscope. The presence of water can cause selective leaching of atomic species (Mn and Ca) and thus irreversible chemical changes of surface of PCMO perovskites. By contrast, the reduction of water partial pressure below 5·10−8 bar forms conditions, where crystalline perovskite oxide structure can be grown from a damaged amorphous material by electron-beam-induced solid phase epitaxy controlled by gas regulated solid state chemistry. The observation that the nominal Mn oxidation state can be reached from the reduced amorphous state in pO2 = 50·10−6 bar points to the key role of residual oxygen in N2 and He environments for the healing of preparation induced damage. At this point of our studies, we suggest that beam-induced atomic displacements drive the crystallization front between the amorphous and crystalline phase. However, this process is most probably accompanied by beam-induced electrochemical oxidation which compensates the sputtering of oxygen or can even drive oxygen uptake to the stoichiometric level. This statement is strongly supported by the observed higher speed of epitaxial recrystallization for the material with a pronounced electrochemical redox couple Mn2+/½VO ↔ Mn3+/OO.
The reported results are important both for the design of in situ experiments related to the study of heterogeneous catalysis and battery technology in oxide-based materials. The well controlled design of perovskite oxide surface edges in O2 and inert gases at low pH2O is a vital requirement for the realization of a well-defined starting state of the surface in situ reactions. In order to have better control over size and chemical composition of the modified area, significant improvements of specimen stage stability, inlet and outlet systems of ETEM as well as chemical analysis of gaseous environment is highly desirable.
Supplementary Materials
The following are available online at
https://www.mdpi.com/2073-4344/9/9/751/s1
: Figure S1: The PCMO (x = 0.33) after electron beam treatment in He at 50 μbars, Figure S2: The PCMO (x = 0.33) after electron beam treatment in O2 at 50 μbars, Figure S3: HRTEM image and rotationally averaged profiles of PCMO in O2 and in He (x = 0.33), Figure S4: HRTEM image and rotationally averaged profiles of PCMO in He (x = 0.1), Figure S5: Analysis of broadening of spots in FFTs, lattice disorder in PCMO (x = 0.1), Figure S6: (1) Through focus series of HRTEM images of PCMO (x = 0.33) for the thickness of 10 nm, (2) Experimental and calculated HRTEM images of PCMO (x = 0.33) for the thickness of 3 nm, Figure S7: The PCMO (x = 0.1) after electron beam treatment in He at 50 μbars, Figure S8: HRSTEM image and EELS spectrum of PrOx particle at the surface of PCMO (x = 0.33), Figure S9: An example of multiple ion detection scan in Quadera™ software, Table S1: Summary of the Mn valence PCMO (x = 0.33) after electron beam treatment in He at 50 μbars, Table S2: Summary of the Mn valence of PCMO (x = 0.33) after electron beam treatment in O2 at 50 μbars. Table S3 (1): Simulation parameters for the through focus series, (2) Simulation parameters for individual experimental images, Table S4. Summary of the Mn valence of PCMO (x = 0.1) after electron beam treatment in He at 50 μbars.
Author Contributions
Conceptualization: C.J. and V.R.; Formal analysis: G.L. and V.R.; Investigation: G.L. and V.R.; Resources: C.J.; Writing—original draft preparation: V.R.; Writing—review and editing: V.R., G.L. and C.J.; Visualization: V.R. and G.L.; Supervision: C.J. and V.R.; Project administration: C.J. and V.R.; Funding acquisition: C.J. and V.R.
Funding
The authors are grateful for financial support by the Deutsche Forschungsgemeinschaft, grant number CRC 1073 (Projects C02 and Z02).
Acknowledgments
The authors wish to thank V. Radisch, V. Moshnyaga and V. Bruchmann-Bamberg for excellent support in TEM specimen preparation.
Conflicts of Interest
The authors declare no conflict of interest.
Appendix A
We calculate the upper limit of TEM lamella heating in the irradiated area under the assumption that all excitations due to inelastic scattering of primary electrons are converted into heat. The energy uptake per unit volume and second (= adsorbed power
P
per unit volume
V
) is thus:
where the rate of incidents electrons is given by:
Here, A denotes the illuminated area of the lamella and j the electron current density of primary electrons. In order to estimate the temperature increase due to the absorbed power, we us the Fourier law in 1D:
where is the thermal conductivity of the manganite, J
q
is the heat flux density, which is equal to the absorbed power per unit area. From these equations it follows:
where L is the length where the heat must be transported before it hits the interface to the substrate with a much higher thermal conductivity. Heat transfer due to gas convection is negligible at the used pressure range of our experiments.
For the calculation, we use a current of I = 4 nA on a circle of 100 nm diameter. This corresponds to an average dose rate (flux) of r = 3.18 × 10
4
e/Å
2
s. In semiconductors, the average energy transfer per inelastic excitation ΔE ~ 3 E
g
, where E
g
is the bandgap of the material [
41
]. Since the low loss excitations are the dominating feature in EELS, we use this estimate. It gives ΔE = 3eV per inelastic scattering event in PCMO.
With a measured inelastic mean free path of λ = 70 nm, the scattering probability of an electron in the thin surface regions of t = 10 nm is W = t/ λ = 0.14. Thermal conductivity of PCMO at T = 300 K is k = 1.5 W/mK [
42
]. The distance of the electron irradiated surface area to the substrate is around L = 100 nm. This yields an upper limit of beam-induced lamella heating of ΔT = 15 mK.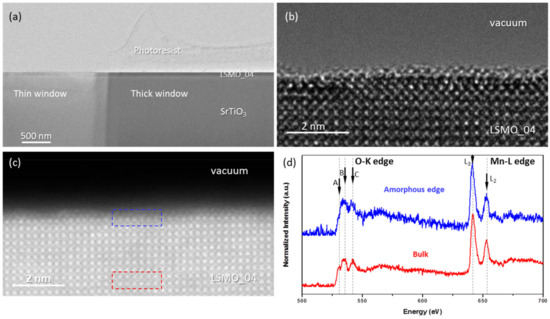 Figure 1. (a) Low magnification image of La0.6Sr0.4MnO3 (LSMO) (x = 0.4) lamella prepared with the use of photoresist protection layer; (b) High-resolution transmission electron microscope (HRTEM) image of an edge collected from the thin window area; (c) high-resolution scanning TEM (HRSTEM) image, the areas marked with red and blue are used to collect electron energy loss spectroscopy (EELS) data (0.1 eV/channel) presented in (d). Spectral features marked with A, B, C, L2 and L3 are discussed in text.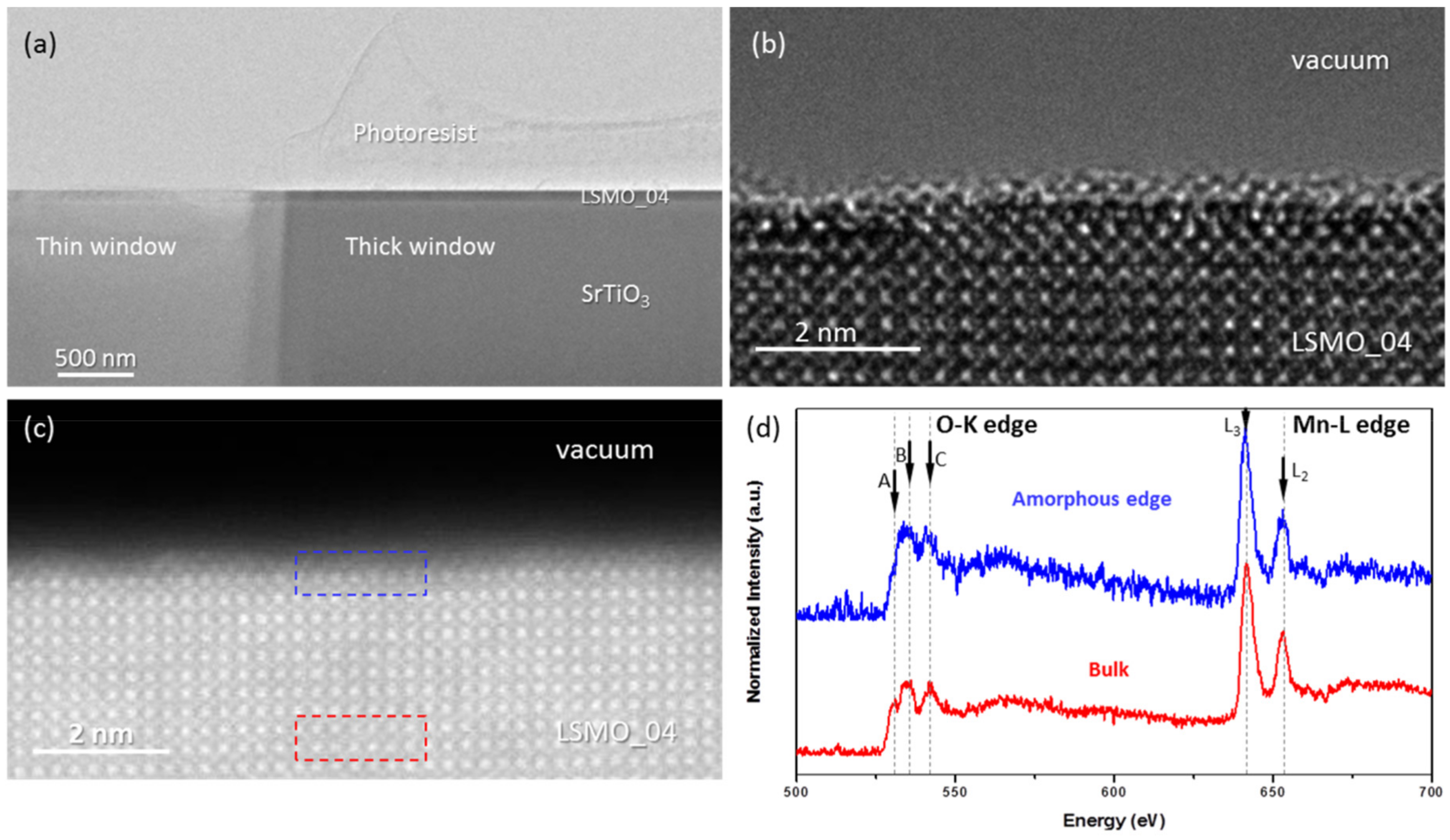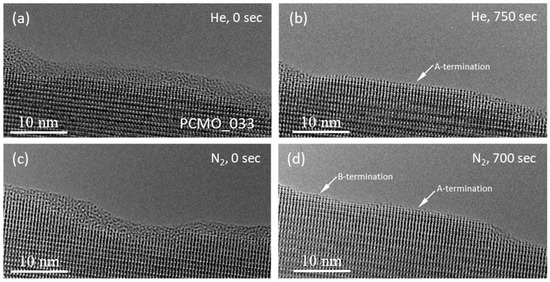 Figure 2. HRTEM images of an edge of Pr1-xCaxMnO3 (PCMO) (x = 0.33) material in He (pHe = 50 ubar) at the beginning (a), after 750 s (b), and in N2 at the beginning (c) and after 700 s (d), respectively.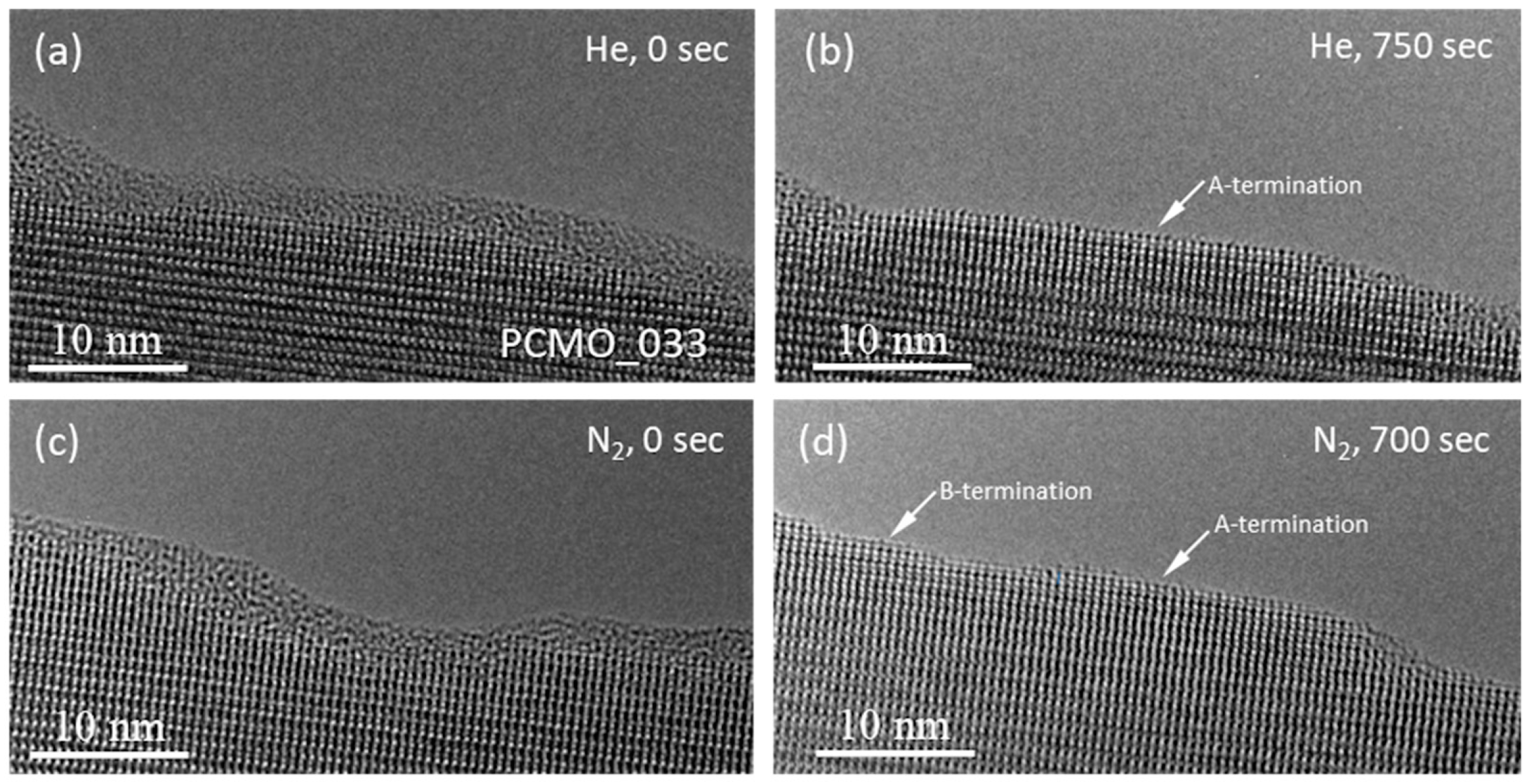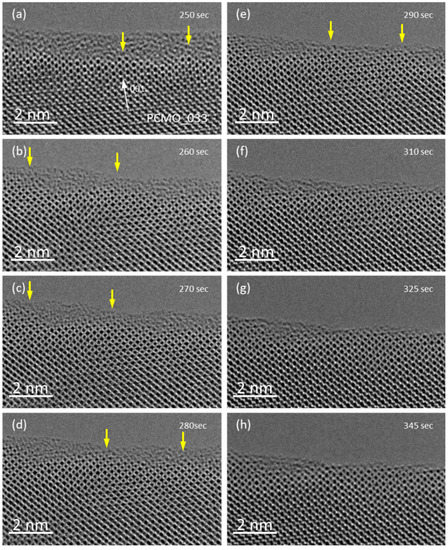 Figure 3. A series of images showing transformation of amorphous edge of PCMO (x = 0.33) into crystalline structure. The images were collected in O2, pO2 = 50 ubar. (a) During several minutes only mobility of atoms in amorphous layer is visible. (b–d) The growth of small island of pyramidal shape is observed (the place is marked with the yellow arrow). (e)These pyramids grow slowly and reach the surface of amorphous layer. Its thickness becomes smaller at the same time. Finally, amorphous areas between pyramids also transform in crystalline perovskite oxide phase, and flat facets up to 10 nm in length are formed (f–h).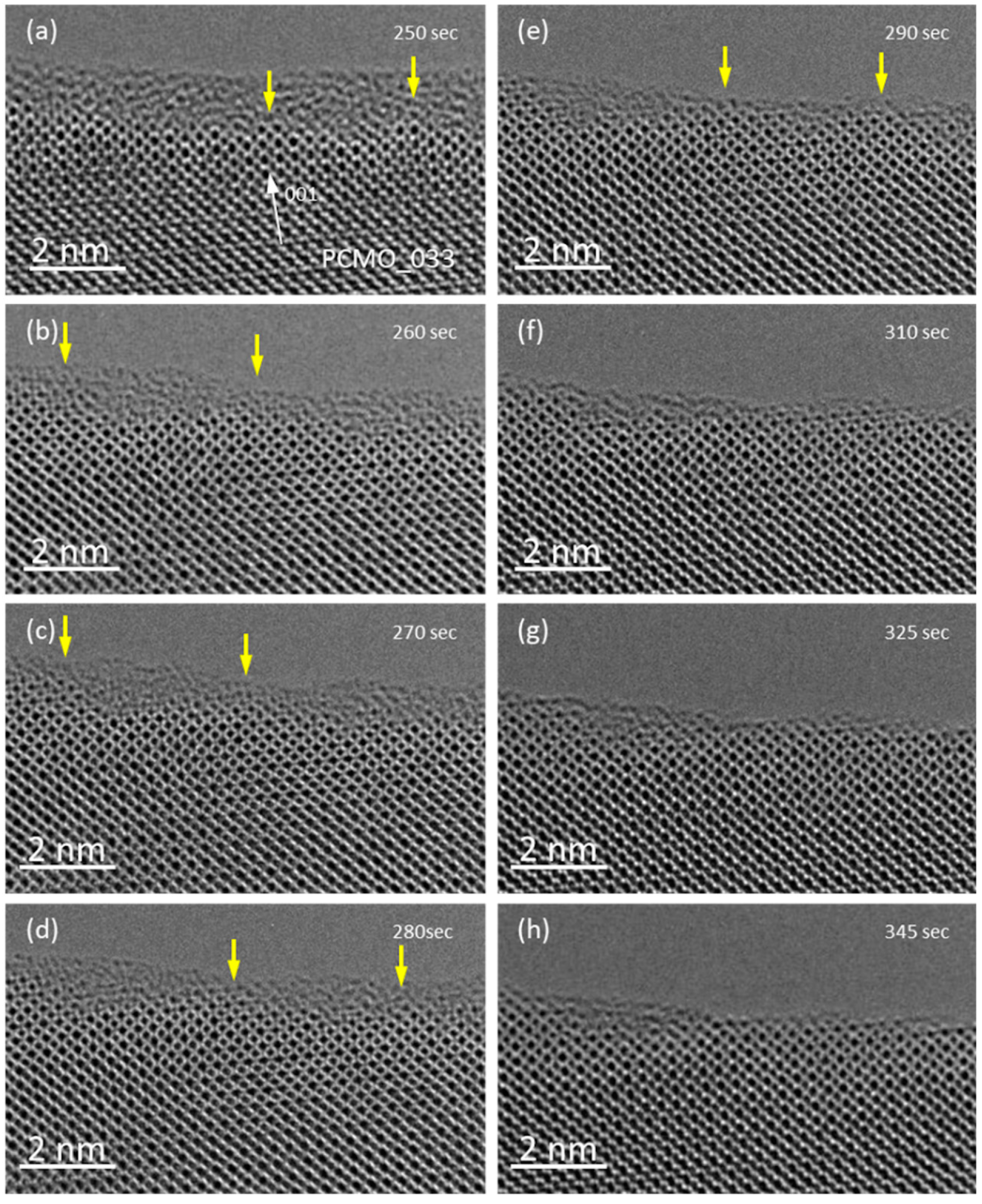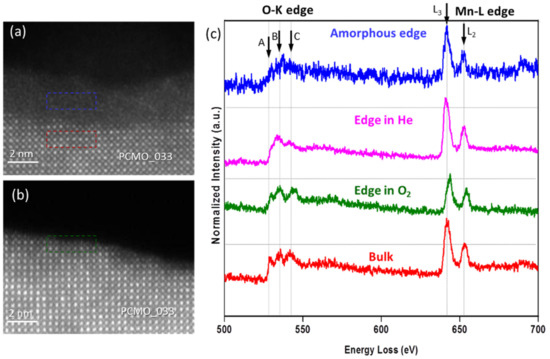 Figure 4. HRSTEM images of PCMO (x = 0.33) before (a) and after (b) crystallization under electron beam in oxygen, respectively. (c) EELS spectra (0.1 eV/channel) collected from the areas marked with different colors in (a) and (b). Spectral features marked with A, B, C, L2 and L3 are discussed in the text.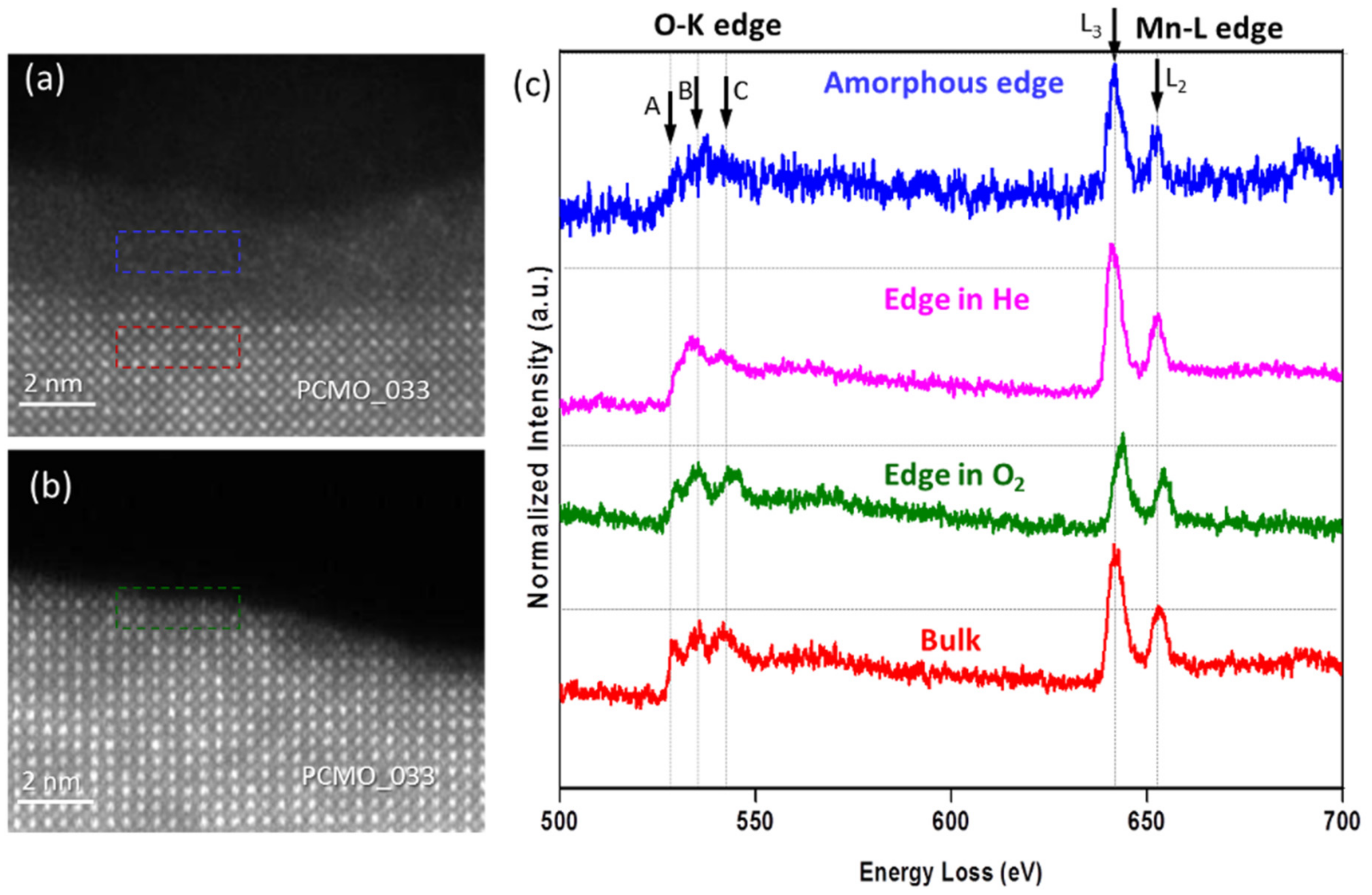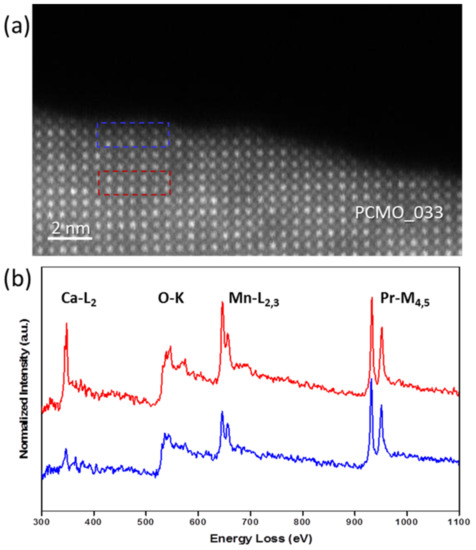 Figure 5. (a) HRSTEM image of PCMO (x = 0.33) with two selected area used to verify the chemical composition of original PCMO material and recrystallized amorphous layer. The corresponding normalized spectra (1 eV/channel) are shown in (b), and the signal from Ca is remarkably weaker at the last unit cell.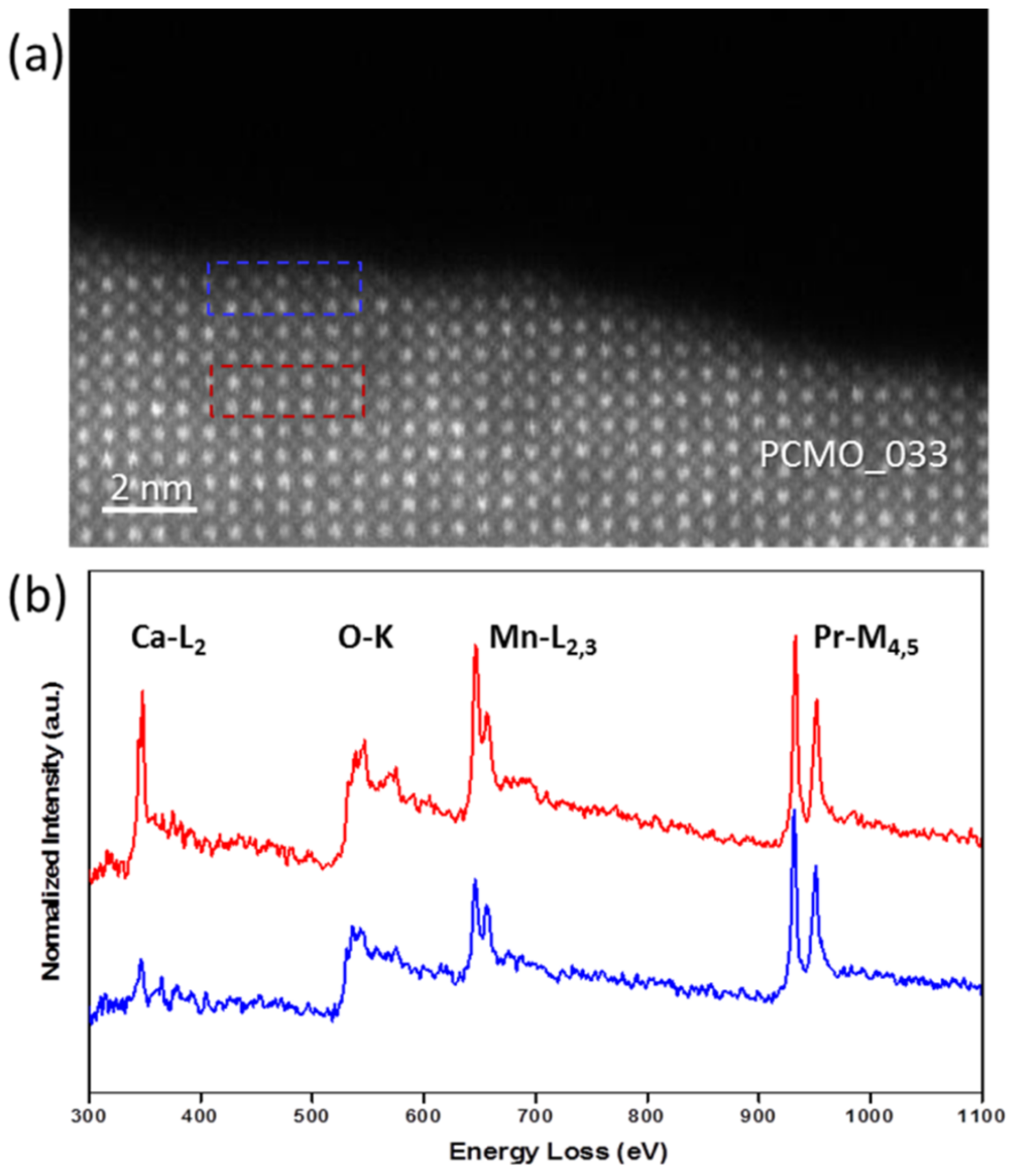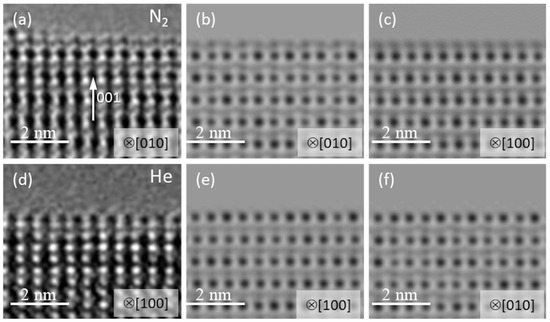 Figure 6. Experimental HRTEM images of PCMO (x = 0.33) collected in N2 (a) and in He (d) at p = 50 ubar; (b,c,e,f) corresponding calculated images along [100] and [010] directions. Both A- and B-cation stable terminations are visible in N2, whereas only the A-cation termination of facets is visible in He.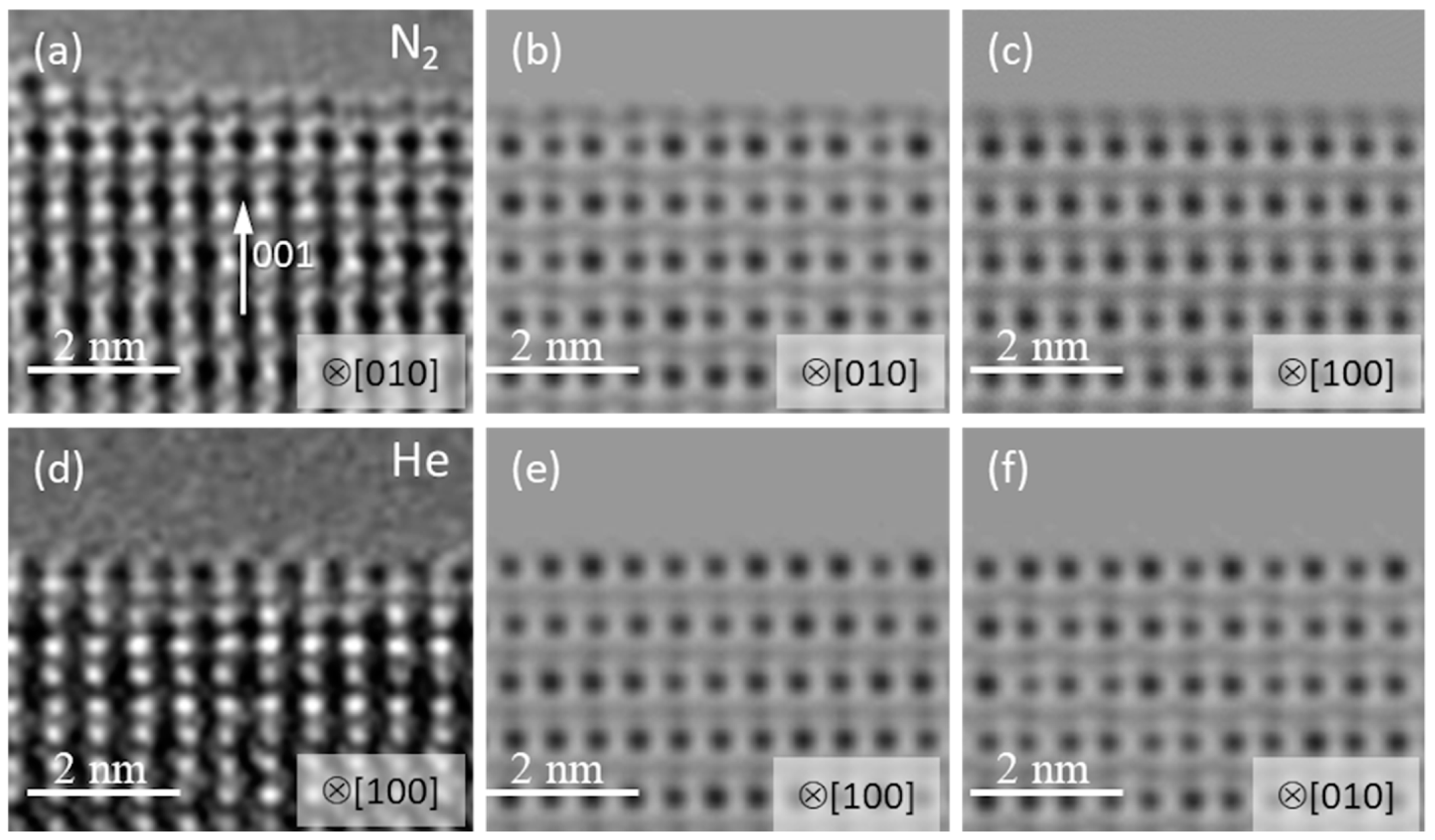 Figure 7. (a)–(c) HRTEM mages showing transformation of amorphous edge into crystalline for the PCMO (x = 0.1) in He gas at pressure of 50 ubar. The first crystalline facets (marked with the yellow arrow in b) start to appear after ~28 min (1710 s). (d) High-angle annular dark field (HAADF) image of the recrystallized area. (e) EELS spectra (1 eV/channel) demonstrate the presence of Pr, Ca, Mn and O. (f) EELS spectra (0.1 eV/channel) reveal a slightly reduced Mn oxidation state.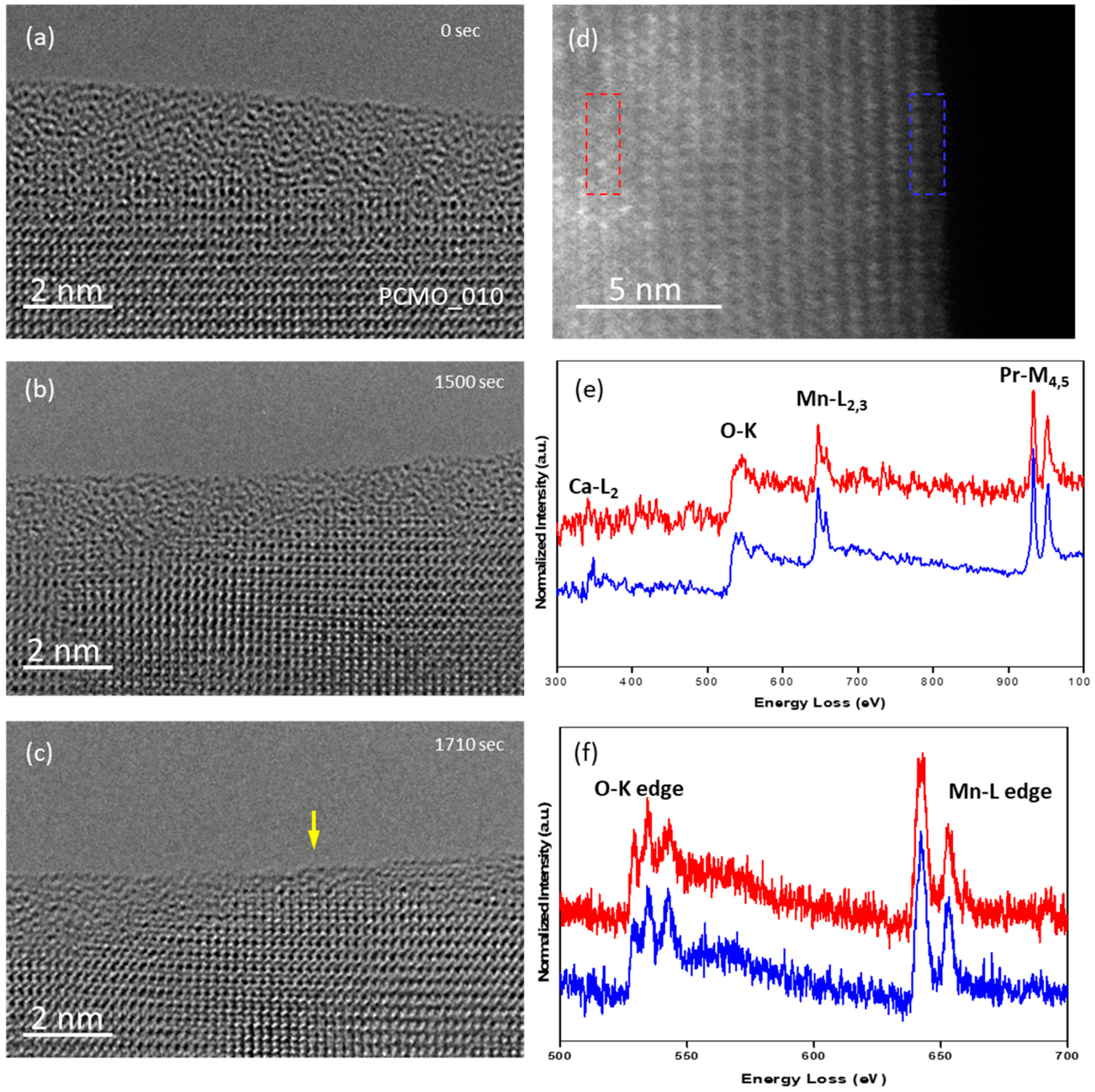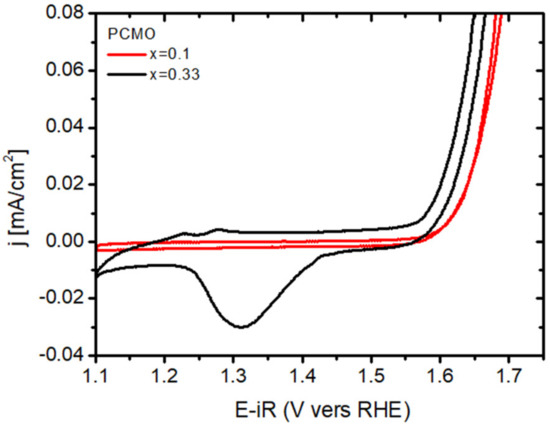 Figure 8. Cyclovoltagramms of (001) oriented PCMO (x = 0.1) and (x = 0.33) films in 0.1 M KOH. The x = 0.33 film shows a redox couple which is overlapping to the onset of OER at the anodic branch and well separated from OER at the cathodic branch. This redox couple is absent for PCMO (x = 0.1).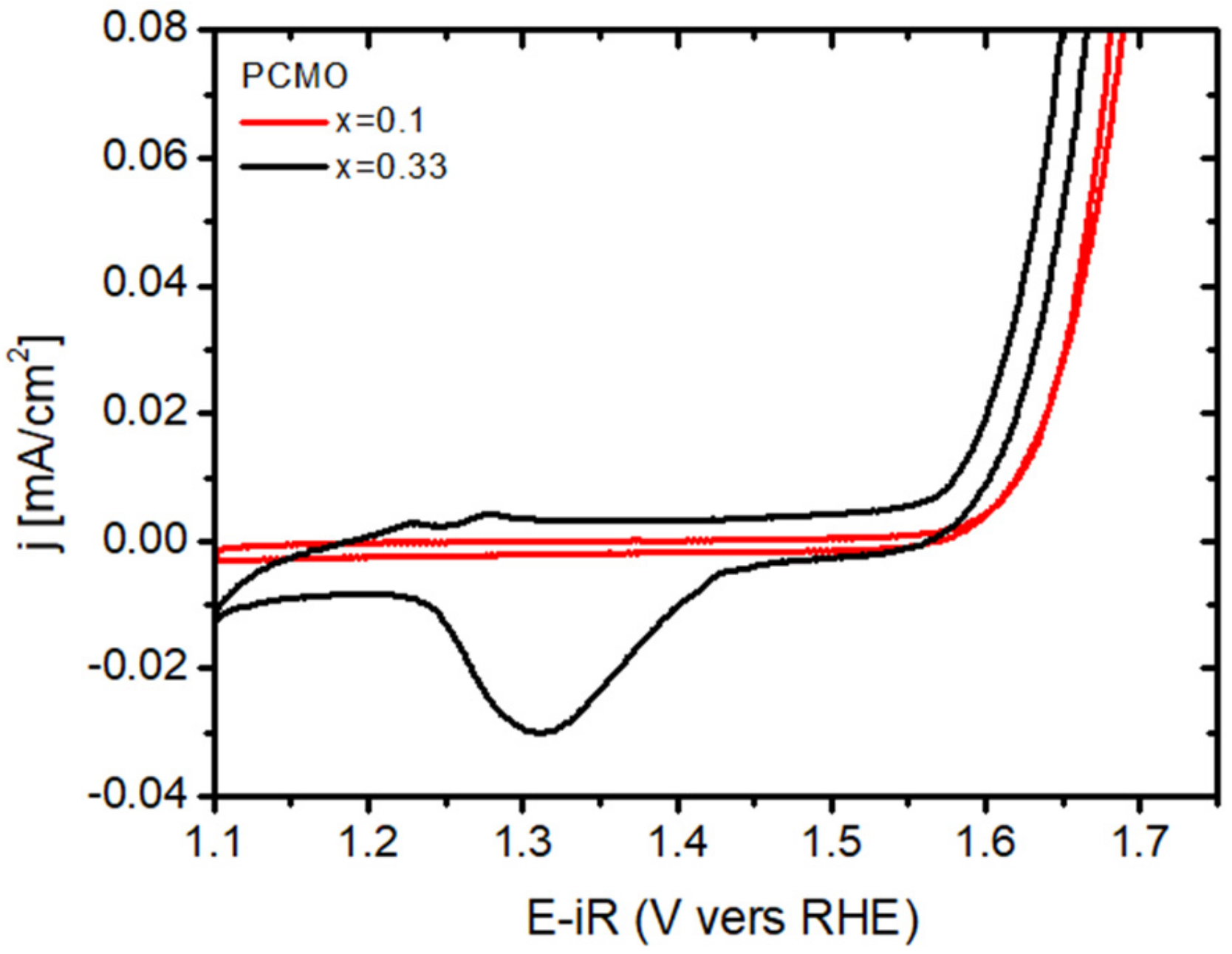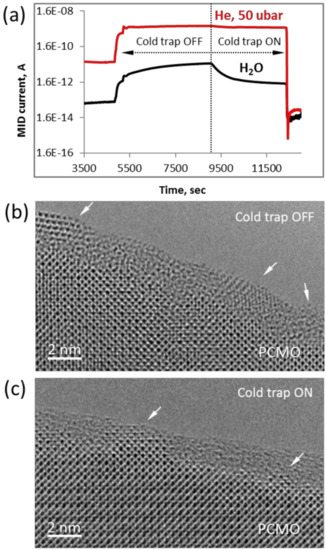 Figure 9. (a) A snapshot of Quadera™ software during environmental transmission electron microscopy (ETEM) experiment at 50 ubars of He with and without activated cold trap. Experimental HRTEM images in He when the cold trap was OFF and ON are shown in (b) and (c), respectively. The white arrows point out on randomly oriented PrO2 particles, growing in amorphous layer (b), and epitaxially growing pyramids of PCMO (x = 0.33) (c).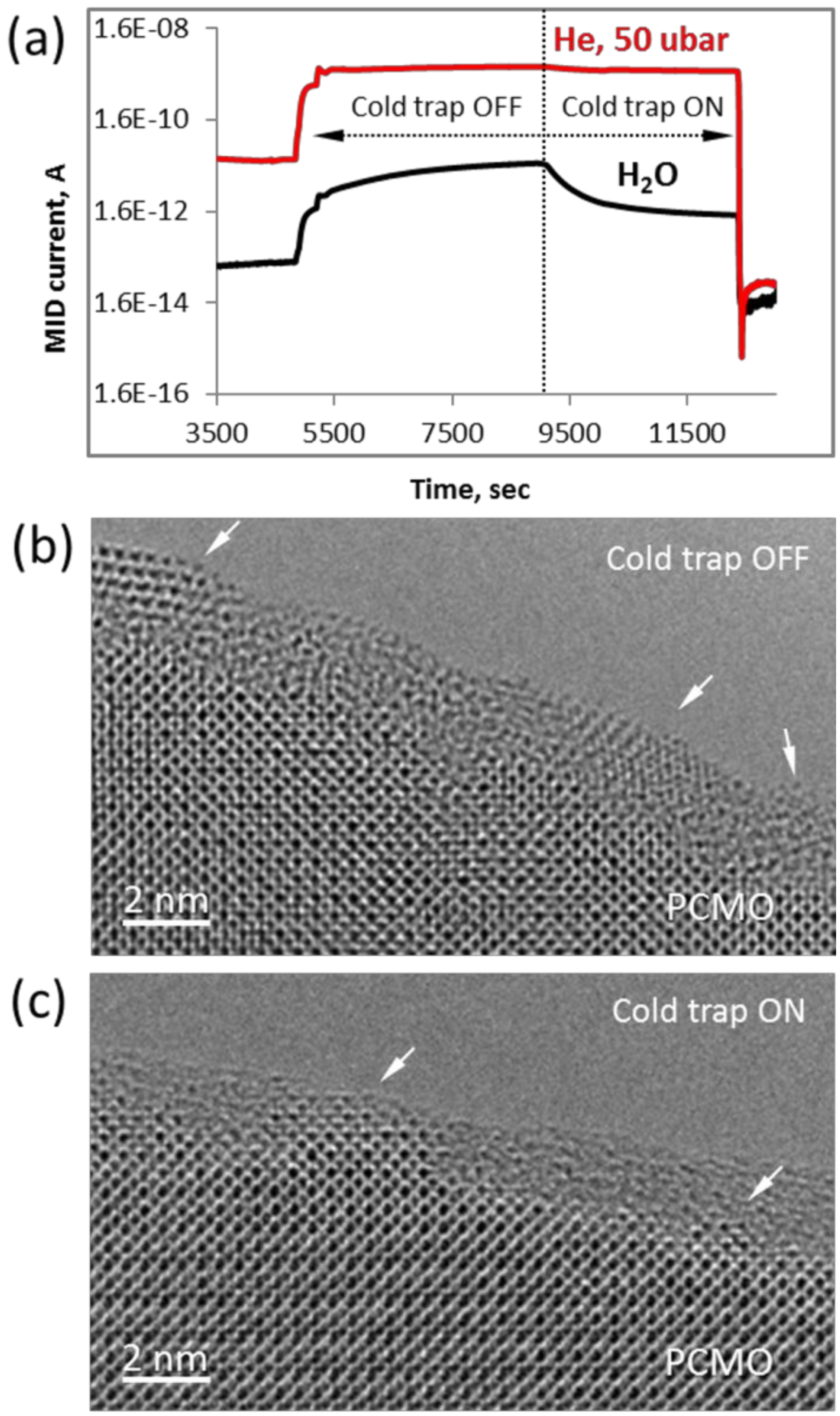 © 2019 by the authors. Licensee MDPI, Basel, Switzerland. This article is an open access article distributed under the terms and conditions of the Creative Commons Attribution (CC BY) license (http://creativecommons.org/licenses/by/4.0/).