Engineering Ternary Copper-Cobalt Sulfide Nanosheets as High-performance Electrocatalysts toward Oxygen Evolution Reaction
1
Siyuan Laboratory, Guangdong Provincial Engineering Technology Research Center of Vacuum Coating Technologies and New Energy Materials, Department of Physics, Jinan University, Guangzhou 510632, China
2
Department of Chemistry, Jinan University, Guangzhou, Guangdong 510632, China
3
Department of Chemistry, City University of Hong Kong, Kowloon, Hong Kong
*
Author to whom correspondence should be addressed.
†
These authors contributed equally to this work.
Received: 11 April 2019 / Revised: 13 May 2019 / Accepted: 15 May 2019 / Published: 17 May 2019
Abstract
The rational design and development of the low-cost and effective electrocatalysts toward oxygen evolution reaction (OER) are essential in the storage and conversion of clean and renewable energy sources. Herein, a ternary copper-cobalt sulfide nanosheets electrocatalysts (denoted as CuCoS/CC) for electrochemical water oxidation has been synthesized on carbon cloth (CC) via the sulfuration of CuCo-based precursors. The obtained CuCoS/CC reveals excellent electrocatalytic performance toward OER in 1.0 M KOH. It exhibits a particularly low overpotential of 276 mV at current density of 10 mA cm
−2
, and a small Tafel slope (58 mV decade
−1
), which is superior to the current commercialized noble-metal electrocatalysts, such as IrO
2
. Benefiting from the synergistic effect of Cu and Co atoms and sulfidation, electrons transport and ions diffusion are significantly enhanced with the increase of active sites, thus the kinetic process of OER reaction is boosted. Our studies will serve as guidelines in the innovative design of non-noble metal electrocatalysts and their application in electrochemical water splitting
View Full-Text
►

▼

Figures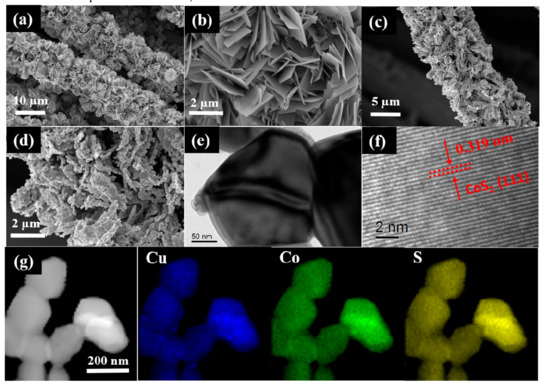 Figure 1
This is an open access article distributed under the
Creative Commons Attribution License
which permits unrestricted use, distribution, and reproduction in any medium, provided the original work is properly cited (CC BY 4.0).

Share & Cite This Article
MDPI and ACS Style
Luo, H.; Lei, H.; Yuan, Y.; Liang, Y.; Qiu, Y.; Zhu, Z.; Wang, Z. Engineering Ternary Copper-Cobalt Sulfide Nanosheets as High-performance Electrocatalysts toward Oxygen Evolution Reaction. Catalysts 2019, 9, 459.
Note that from the first issue of 2016, MDPI journals use article numbers instead of page numbers. See further details here.
Related Articles
Comments
[Return to top]