H-ZSM-5 Materials Embedded in an Amorphous Silica Matrix: Highly Selective Catalysts for Propylene in Methanol-to-Olefin Process
Surface Chemistry and Catalytic Studies (SCCS) Group, Department of Chemistry, King AbdulAziz University, Jeddah 21589, Saudi Arabia
*
Authors to whom correspondence should be addressed.
Received: 15 March 2019 / Revised: 12 April 2019 / Accepted: 13 April 2019 / Published: 17 April 2019
PDF
[1707 KB, uploaded 17 April 2019]
|

Review Reports
Abstract
H-ZSM-5 materials embedded in an amorphous silica were successfully synthesized with three different Si/Al ratios (i.e., 40, 45, and 50). The presence of the MFI structure in the synthesized samples was confirmed by X-ray diffraction (XRD), Fourier transform infra-red (FT-IR), and solid state-nuclear magnetic resonance (SSNMR) techniques. The morphology and textural properties of the samples were investigated by scanning electron microscopy (SEM), TEM, and N2-physisorption measurements. Furthermore, acidic properties of the synthesized catalysts have been studied by NH3-TPD and FT-IR spectroscopy of CO adsorption studies. Variation of the Si/Al ratio affected the crystal morphology, porosity, and particle size, as well as the strength and distribution of acid sites. The synthesized zeolite materials possessed low acid-site density and exhibited high catalytic activity in the methanol-to-olefin (MTO) reaction. To study the intermediate species responsible for catalyst deactivation, the MTO reaction was carried out at high temperature (500 °C) to accelerate catalyst deactivation. Interestingly, the synthesized catalysts offered high selectivity towards the formation of propylene (C3=), in comparison to a commercial microporous crystalline H-ZSM-5 with Si/Al = 40, under the same reaction conditions. The synthesized H-ZSM-5 materials offered a selectivity ratio of C3=/C2= 12, while it is around 2 for the commercial H-ZSM-5 sample. The formation of hydrocarbon species during MTO reaction over zeolite samples has been systematically studied with operando UV-vis spectroscopy and online gas chromatography. It is proposed that the strength and type of acid sites of catalyst play a role in propylene selectivity as well as the fast growing of active intermediate species. The effective conversion of methanol into propylene in the case of synthesized H-ZSM-5 materials was observed due to possession of weak acid sites. This effect is more pronounced in H-ZSM-5 sample with a Si/Al ratio of 45.

►

▼

Figures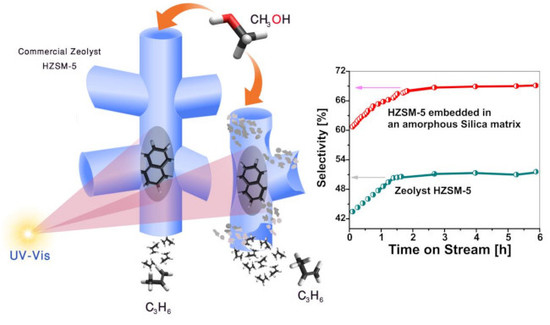 Graphical abstract
This is an open access article distributed under the
Creative Commons Attribution License
which permits unrestricted use, distribution, and reproduction in any medium, provided the original work is properly cited (CC BY 4.0).

Share & Cite This Article
MDPI and ACS Style
Kamaluddin, H.S.; Basahel, S.N.; Narasimharao, K.; Mokhtar, M. H-ZSM-5 Materials Embedded in an Amorphous Silica Matrix: Highly Selective Catalysts for Propylene in Methanol-to-Olefin Process. Catalysts 2019, 9, 364.
Note that from the first issue of 2016, MDPI journals use article numbers instead of page numbers. See further details here.
Related Articles
Comments
[Return to top]