Influence of the Incorporation of Basic or Amphoteric Oxides on the Performance of Cu-Based Catalysts Supported on Sepiolite in Furfural Hydrogenation
1
Departamento de Química Inorgánica, Cristalografía y Mineralogía (Unidad Asociada al ICP-CSIC), Facultad de Ciencias, Campus de Teatinos, Universidad de Málaga, 29071 Málaga, Spain
2
Departamento de Química-Física, Facultad de Ciencias, Campus de Teatinos, Universidad de Málaga, 29071 Málaga, Spain
*
Authors to whom correspondence should be addressed.
Received: 21 January 2019 / Revised: 11 March 2019 / Accepted: 19 March 2019 / Published: 31 March 2019
Abstract
Cu-based catalysts supported on sepiolite have been tested in vapor-phase hydrogenation of furfural. The incorporation of basic or amphoteric metal oxides (magnesium oxide, zinc oxide, or cerium oxide) improves the catalytic behavior, reaching a maximum furfural conversion above 80% after 5 h of reaction at 210 °C. In all cases, the main product is furfuryl alcohol, obtaining 2-methylfuran in lower proportions. The incorporation of these metal oxide species ameliorates the dispersion of metallic Cu nanoparticles, increasing the number of available Cu
0
-sites, which enhances the catalytic performance. The presence of acid sites favors the hydrogenolysis of furfuryl alcohol towards 2-methylfuran, although it also causes an increase of carbon species on its surface, which is associated with the catalytic deactivation of the catalyst along the time-on-stream.
View Full-Text
►

▼

Figures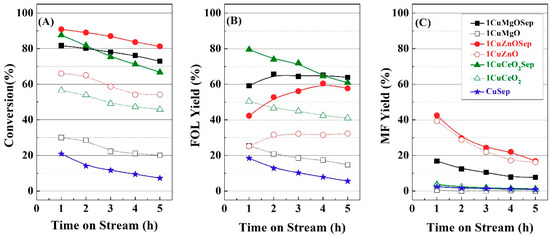 Figure 1
This is an open access article distributed under the
Creative Commons Attribution License
which permits unrestricted use, distribution, and reproduction in any medium, provided the original work is properly cited (CC BY 4.0).

Share & Cite This Article
MDPI and ACS Style
Guerrero-Torres, A.; Jiménez-Gómez, C.P.; Cecilia, J.A.; García-Sancho, C.; Quirante-Sánchez, J.J.; Mérida-Robles, J.M.; Maireles-Torres, P. Influence of the Incorporation of Basic or Amphoteric Oxides on the Performance of Cu-Based Catalysts Supported on Sepiolite in Furfural Hydrogenation. Catalysts 2019, 9, 315.
Note that from the first issue of 2016, MDPI journals use article numbers instead of page numbers. See further details here.
Related Articles
Comments
[Return to top]