Aqueous Dehydration, Hydrogenation, and Hydrodeoxygenation Reactions of Bio-Based Mucic Acid over Ni, NiMo, Pt, Rh, and Ru on Neutral or Acidic Catalyst Supports
Department of Catalysis and Chemical Reaction Engineering, National Institute of Chemistry, Hajdrihova 19, 1000 Ljubljana, Slovenia
*
Author to whom correspondence should be addressed.
Received: 11 January 2019 / Revised: 28 February 2019 / Accepted: 11 March 2019 / Published: 20 March 2019
Abstract
Hydrotreatment of mucic acid (also known as galactaric acid, an glucaric acid enantiomer), one of the most promising bio-based platform chemicals, was systematically investigated in aqueous media over alumina, silica, or carbon-supported transition (nickel and nickel-molybdenum) or noble (platinum, ruthenium and rhodium) metals. Mucic acid was only converted into mucic-1,4-lactone under non-catalytic reaction conditions in N
2
atmosphere, while the 5 MPa gaseous H
2
addition triggers hydrogenation in the bulk phase, resulting in formation of galacturonic and galactonic acid. However, dehydroxylation, hydrogenation, decarbonylation, decarboxylation, and cyclization occurred during catalytic hydrotreatment, forming various partially and completely deoxygenated products with a chain length of 3–6 C atoms. Characterization results of tested catalysts were correlated with their activity and selectivity. Insufficient pore diameter of microporous supports completely hindered the mass transfer of reactants to the active sites, resulting in negligible conversion of mucic acid. A comprehensive reaction pathway network was proposed and several industrially interesting compounds were formed, including levulinic acid, furoic acid, and adipic acid. However, selectivity towards adipic acid, a bio-based nylon 6,6 precursor, was low (up to 5 mol%) in aqueous media and elevated temperatures.
View Full-Text
►

▼

Figures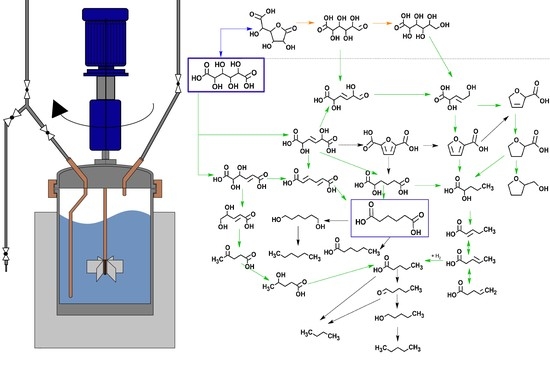 Graphical abstract
This is an open access article distributed under the
Creative Commons Attribution License
which permits unrestricted use, distribution, and reproduction in any medium, provided the original work is properly cited (CC BY 4.0).

Share & Cite This Article
MDPI and ACS Style
Hočevar, B.; Grilc, M.; Likozar, B. Aqueous Dehydration, Hydrogenation, and Hydrodeoxygenation Reactions of Bio-Based Mucic Acid over Ni, NiMo, Pt, Rh, and Ru on Neutral or Acidic Catalyst Supports. Catalysts 2019, 9, 286.
Note that from the first issue of 2016, MDPI journals use article numbers instead of page numbers. See further details here.
Related Articles
Comments
[Return to top]