Biocatalyzed Synthesis of Statins: A Sustainable Strategy for the Preparation of Valuable Drugs
1
Department of Chemistry in Pharmaceutical Sciences, Faculty of Pharmacy, Complutense University of Madrid, Campus de Moncloa, E-28040 Madrid, Spain
2
Department of Pharmaceutical Chemistry, Faculty of Life Sciences, Althanstrasse 14, A-1090 Vienna, Austria
*
Author to whom correspondence should be addressed.
Received: 25 February 2019 / Revised: 7 March 2019 / Accepted: 9 March 2019 / Published: 14 March 2019
Abstract
Statins, inhibitors of 3-hydroxy-3-methylglutaryl coenzyme A (HMG-CoA) reductase, are the largest selling class of drugs prescribed for the pharmacological treatment of hypercholesterolemia and dyslipidaemia. Statins also possess other therapeutic effects, called pleiotropic, because the blockade of the conversion of HMG-CoA to (
R
)-mevalonate produces a concomitant inhibition of the biosynthesis of numerous isoprenoid metabolites (e.g., geranylgeranyl pyrophosphate (GGPP) or farnesyl pyrophosphate (FPP)). Thus, the prenylation of several cell signalling proteins (small GTPase family members: Ras, Rac, and Rho) is hampered, so that these molecular switches, controlling multiple pathways and cell functions (maintenance of cell shape, motility, factor secretion, differentiation, and proliferation) are regulated, leading to beneficial effects in cardiovascular health, regulation of the immune system, anti-inflammatory and immunosuppressive properties, prevention and treatment of sepsis, treatment of autoimmune diseases, osteoporosis, kidney and neurological disorders, or even in cancer therapy. Thus, there is a growing interest in developing more sustainable protocols for preparation of statins, and the introduction of biocatalyzed steps into the synthetic pathways is highly advantageous—synthetic routes are conducted under mild reaction conditions, at ambient temperature, and can use water as a reaction medium in many cases. Furthermore, their high selectivity avoids the need for functional group activation and protection/deprotection steps usually required in traditional organic synthesis. Therefore, biocatalysis provides shorter processes, produces less waste, and reduces manufacturing costs and environmental impact. In this review, we will comment on the pleiotropic effects of statins and will illustrate some biotransformations nowadays implemented for statin synthesis.
View Full-Text
►

▼

Figures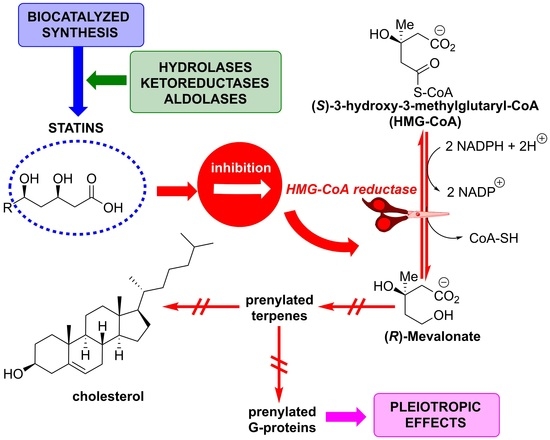 Graphical abstract
This is an open access article distributed under the
Creative Commons Attribution License
which permits unrestricted use, distribution, and reproduction in any medium, provided the original work is properly cited (CC BY 4.0).

Share & Cite This Article
MDPI and ACS Style
Hoyos, P.; Pace, V.; Alcántara, A.R. Biocatalyzed Synthesis of Statins: A Sustainable Strategy for the Preparation of Valuable Drugs. Catalysts 2019, 9, 260.
Note that from the first issue of 2016, MDPI journals use article numbers instead of page numbers. See further details here.
Related Articles
Comments
[Return to top]