Heterogeneous Fenton-Like Degradation of
p

-Nitrophenol over Tailored Carbon-Based Materials

1

LSRE-LCM—Laboratory of Separation and Reaction Engineering—Laboratory of Catalysis and Materials, Faculty of Engineering, University of Porto, Rua Dr. Roberto Frias, 4200-465 Porto, Portugal

2

LEPABE—Laboratory for Process Engineering, Environment, Biotechnology and Energy, Faculty of Engineering, University of Porto, Rua Dr. Roberto Frias, 4200-465 Porto, Portugal

*

Authors to whom correspondence should be addressed.

Received: 28 January 2019 / Revised: 8 March 2019 / Accepted: 9 March 2019 / Published: 14 March 2019
Abstract
Activated carbon (AC), carbon xerogel (XG), and carbon nanotubes (CNT), with and without N-functionalities, were prepared. Catalysts were obtained after impregnation of these materials with 2 wt.% of iron. The materials were characterized in terms of N
2
adsorption at −196 °C, elemental analysis (EA), and the pH at the point of zero charge (pH
PZC
). The
p
-nitrophenol (PNP) degradation and mineralization (assessed in terms of total organic carbon–TOC–removal) were evaluated during adsorption, catalytic wet peroxidation (CWPO), and Fenton process. The textural and chemical properties of the carbon-based materials play an important role in such processes, as it was found that the support with the highest surface area -AC- presents the best performance in adsorption, whereas the materials with the highest mesopore surface area -XG or Fe/XG- lead to best removals by oxidation processes (for XG it was achieved 39.7 and 35.0% and for Fe/XG 45.4 and 41.7% for PNP and TOC, respectively). The presence of N-functionalities increases such removals. The materials were reused in consecutive cycles: the carbon-based materials were deactivated by hydrogen peroxide, while the catalysts showed high stability and no Fe leaching. For the support with superior performances -XG-, the effect of nitrogen content was also evaluated. The removals increase with the increase of the nitrogen content, the maximum removals (81% and 65% for PNP and TOC, respectively) being reached when iron supported on a carbon xerogel doped with melamine was used as catalyst.
View Full-Text
►

▼

Figures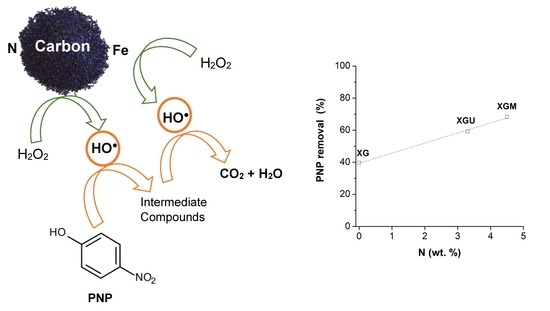 Graphical abstract
This is an open access article distributed under the
Creative Commons Attribution License
which permits unrestricted use, distribution, and reproduction in any medium, provided the original work is properly cited (CC BY 4.0).

Share & Cite This Article
MDPI and ACS Style
Soares, O.S.G.P.; Rodrigues, C.S.D.; Madeira, L.M.; Pereira, M.F.R. Heterogeneous Fenton-Like Degradation of p-Nitrophenol over Tailored Carbon-Based Materials. Catalysts 2019, 9, 258.
Note that from the first issue of 2016, MDPI journals use article numbers instead of page numbers. See further details here.
Related Articles
Comments
[Return to top]