Overcoming Water Insolubility in Flow: Enantioselective Hydrolysis of Naproxen Ester
1
School of Chemistry, University of Nottingham, University Park, Nottingham NG7 2RD, UK
2
Department of Food, Environmental and Nutritional Sciences (DeFENS), Università degli studi di Milano, Via Mongiagalli 25, 20133 Milan, Italy
*
Authors to whom correspondence should be addressed.
Received: 6 February 2019 / Revised: 13 February 2019 / Accepted: 18 February 2019 / Published: 3 March 2019
Abstract
Hydrolytic enantioselective cleavage of different racemic non-steroidal anti-inflammatory drugs (NSAIDs) ester derivatives has been studied. An engineered esterase form
Bacillus subtilis
(BS2m) significantly outperformed homologous enzymes from
Halomonas elongata
(HeE) and
Bacillus coagulants
(BCE) in the enantioselective hydrolysis of naproxen esters. Structural analysis of the three active sites highlighted key differences which explained the substrate preference. Immobilization of a chimeric BS2m-T4 lysozyme fusion (BS2mT4L1) was improved by resin screening achieving twice the recovered activity (22.1 ± 5 U/g) with respect to what had been previously reported, and was utilized in a packed bed reactor. Continuous hydrolysis of α-methyl benzene acetic acid butyl ester as a model substrate was easily achieved, albeit at low concentration (1 mM). However, the high degree of insolubility of the naproxen butyl ester resulted in a slurry which could not be efficiently bioconverted, despite the addition of co-solvents and lower substrate concentration (1 mM). Addition of Triton
®
X-100 to the substrate mix yielded 24% molar conversion and 80% e.e. at a 5 mM scale with 5 min residence time and sufficient retention of catalytic efficiency after 6 h of use.
View Full-Text
►

▼

Figures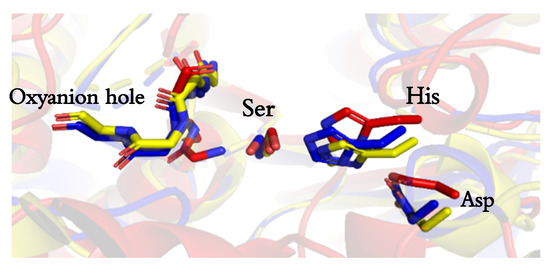 Figure 1
This is an open access article distributed under the
Creative Commons Attribution License
which permits unrestricted use, distribution, and reproduction in any medium, provided the original work is properly cited (CC BY 4.0).

Share & Cite This Article
MDPI and ACS Style
Roura Padrosa, D.; De Vitis, V.; Contente, M.L.; Molinari, F.; Paradisi, F. Overcoming Water Insolubility in Flow: Enantioselective Hydrolysis of Naproxen Ester. Catalysts 2019, 9, 232.
Note that from the first issue of 2016, MDPI journals use article numbers instead of page numbers. See further details here.
Related Articles
Comments
[Return to top]