Titanium Dioxide: From Engineering to Applications
School of Petroleum and Chemical Engineering, Dalian University of Technology, No. 2 Dagong Road, New District of Liaodong Bay, Panjin, Liaoning 124221, China
*
Author to whom correspondence should be addressed.
†
These authors contributed equally to this work.
Received: 17 January 2019 / Revised: 6 February 2019 / Accepted: 10 February 2019 / Published: 19 February 2019
Abstract
Titanium dioxide (TiO
2
) nanomaterials have garnered extensive scientific interest since 1972 and have been widely used in many areas, such as sustainable energy generation and the removal of environmental pollutants. Although TiO
2
possesses the desired performance in utilizing ultraviolet light, its overall solar activity is still very limited because of a wide bandgap (3.0–3.2 eV) that cannot make use of visible light or light of longer wavelength. This phenomenon is a deficiency for TiO
2
with respect to its potential application in visible light photocatalysis and photoelectrochemical devices, as well as photovoltaics and sensors. The high overpotential, sluggish migration, and rapid recombination of photogenerated electron/hole pairs are crucial factors that restrict further application of TiO
2
. Recently, a broad range of research efforts has been devoted to enhancing the optical and electrical properties of TiO
2
, resulting in improved photocatalytic activity. This review mainly outlines state-of-the-art modification strategies in optimizing the photocatalytic performance of TiO
2
, including the introduction of intrinsic defects and foreign species into the TiO
2
lattice, morphology and crystal facet control, and the development of unique mesocrystal structures. The band structures, electronic properties, and chemical features of the modified TiO
2
nanomaterials are clarified in detail along with details regarding their photocatalytic performance and various applications.
View Full-Text
►

▼

Figures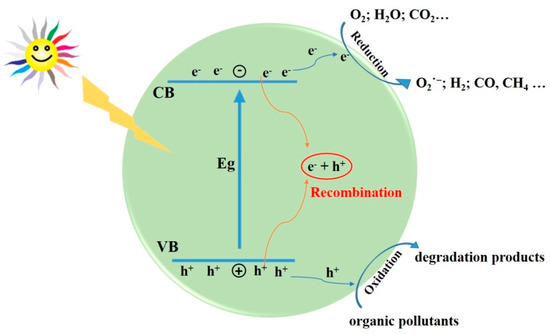 Figure 1
This is an open access article distributed under the
Creative Commons Attribution License
which permits unrestricted use, distribution, and reproduction in any medium, provided the original work is properly cited (CC BY 4.0).

Share & Cite This Article
MDPI and ACS Style
Kang, X.; Liu, S.; Dai, Z.; He, Y.; Song, X.; Tan, Z. Titanium Dioxide: From Engineering to Applications. Catalysts 2019, 9, 191.
Note that from the first issue of 2016, MDPI journals use article numbers instead of page numbers. See further details here.
Related Articles
Comments
[Return to top]