Exploiting the Synergetic Behavior of PtPd Bimetallic Catalysts in the Selective Hydrogenation of Glucose and Furfural
1
Programa de Engenharia Química—COPPE, Universidade de Rio de Janeiro, Rio de Janeiro 21941–972, Brazil
2
University of Lille, CNRS, Centrale Lille, ENSCL, Univ. Artois, UMR 8181-UCCS-Unité de Catalyse et Chimie du Solide, F-59000 Lille, France
3
Departamento de Química Fundamental, Instituto de Química, Universidade de São Paulo, Av. Prof. Lineu Prestes, 748, São Paulo-SP 05508-000, Brazil
*
Author to whom correspondence should be addressed.
Received: 27 December 2018 / Revised: 15 January 2019 / Accepted: 16 January 2019 / Published: 1 February 2019
Abstract
Mono and bimetallic catalysts based on Pt and Pd were prepared by a co-precipitation method. They were tested in liquid phase hydrogenation reactions of glucose and furfural at low temperature and pressure. The bimetallic PtPd/TiO
2
catalyst proved to be an efficient material in selectively hydrogenating glucose to sorbitol. Moreover, high furfural conversion was attained under relatively soft conditions, and the furfuryl alcohol selectivity was strongly affected by the chemical composition of the catalysts. Furfuryl alcohol (FA) was the major product in most cases, along with side products such as methylfuran (MF), furan, and traces of tetrahydrofuran (THF). These results showed that the PtPd bimetallic sample was more active relative to the monometallic counterparts. A correlation between the catalytic results and the physicochemical properties of the supported nanoparticles identified key factors responsible for the synergetic behavior of the PtPd system. The high activity and selectivity were due to the formation of ultra-small particles, alloy formation, and the Pt-rich surface composition of the bimetallic particles supported on the TiO
2
nanowires.
View Full-Text
►

▼

Figures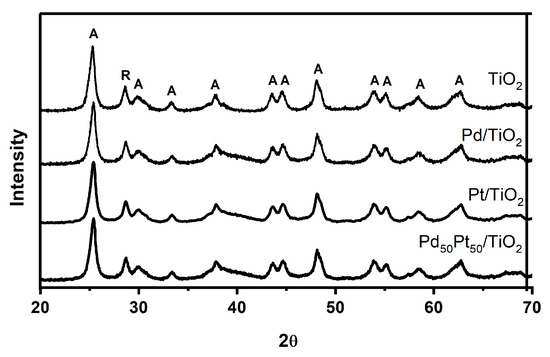 Figure 1
This is an open access article distributed under the
Creative Commons Attribution License
which permits unrestricted use, distribution, and reproduction in any medium, provided the original work is properly cited (CC BY 4.0).

Share & Cite This Article
MDPI and ACS Style
de Souza, P.M.; Silvester, L.; da Silva, A.G.M.; Fernandes, C.G.; Rodrigues, T.S.; Paul, S.; Camargo, P.H.C.; Wojcieszak, R. Exploiting the Synergetic Behavior of PtPd Bimetallic Catalysts in the Selective Hydrogenation of Glucose and Furfural. Catalysts 2019, 9, 132.
Note that from the first issue of 2016, MDPI journals use article numbers instead of page numbers. See further details here.
Related Articles
Comments
[Return to top]