Toward the Sustainable Synthesis of Propanols from Renewable Glycerol over MoO3-Al2O3 Supported Palladium Catalysts
Department of Chemical Engineering, Faculty of Engineering, Monash University, Melbourne 3800, Australia
*
Author to whom correspondence should be addressed.
Received: 17 August 2018 / Revised: 6 September 2018 / Accepted: 6 September 2018 / Published: 9 September 2018
Abstract
The catalytic conversion of glycerol to value-added propanols is a promising synthetic route that holds the potential to overcome the glycerol oversupply from the biodiesel industry. In this study, selective hydrogenolysis of 10 wt% aqueous bio-glycerol to 1-propanol and 2-propanol was performed in the vapor phase, fixed-bed reactor by using environmentally friendly bifunctional Pd/MoO
3
-Al
2
O
3
catalysts prepared by wetness impregnation method. The physicochemical properties of these catalysts were derived from various techniques such as X-ray diffraction, NH
3
-temperature programmed desorption, scanning electron microscopy,
27
Al NMR spectroscopy, surface area analysis, and thermogravimetric analysis. The catalytic activity results depicted that a high catalytic activity (>80%) with very high selectivity (>90%) to 1-propanol and 2-propanol was obtained over all the catalysts evaluated in a continuously fed, fixed-bed reactor. However, among all others, 2 wt% Pd/MoO
3
-Al
2
O
3
catalyst was the most active and selective to propanols. The synergic interaction between the palladium and MoO
3
on Al
2
O
3
support and high strength weak to moderate acid sites of the catalyst were solely responsible for the high catalytic activity. The maximum glycerol conversion of 88.4% with 91.3% selectivity to propanols was achieved at an optimum reaction condition of 210
C and 1 bar pressure after 3 h of glycerol hydrogenolysis reaction.
View Full-Text
►

▼

Figures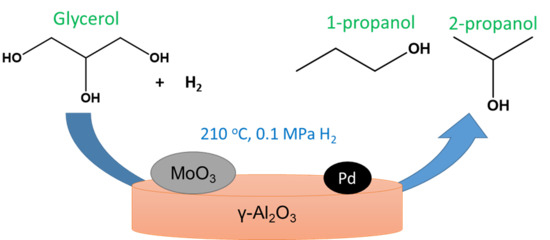 Graphical abstract
This is an open access article distributed under the
Creative Commons Attribution License
which permits unrestricted use, distribution, and reproduction in any medium, provided the original work is properly cited (CC BY 4.0).

Share & Cite This Article
MDPI and ACS Style
Samudrala, S.P.; Bhattacharya, S. Toward the Sustainable Synthesis of Propanols from Renewable Glycerol over MoO3-Al2O3 Supported Palladium Catalysts. Catalysts 2018, 8, 385.
Note that from the first issue of 2016, MDPI journals use article numbers instead of page numbers. See further details here.
Related Articles
Comments
[Return to top]