Open Access This article is
freely available
re-usable
Article
Optimization and Tunability of 2D Graphene and 1D Carbon Nanotube Electrocatalysts Structure for PEM Fuel Cells
1
CEA, LITEN, DEHT, LCP, Univ. Grenoble Alpes, 17 rue des Martyrs, 38000 Grenoble, France
2
CEA, LITEN, DTNM, L2N, Univ. Grenoble Alpes, 17 rue des Martyrs, 38000 Grenoble, France
*
Author to whom correspondence should be addressed.
Received: 3 August 2018 / Accepted: 25 August 2018 / Published: 5 September 2018
Abstract
:
In this work, N-doped Multi-Walled Carbon Nanotubes (MWCNTs) and Few Graphene Layers (FGLs) have been functionalized with platinum nanoparticles using two methods starting with hexachloroplatinic acid as precursor: (i) ethylene glycol (EG) reduction and (ii) impregnation followed by reduction in hydrogen atmosphere. Morphological scanning transmission electron microscopy (STEM) analyses showed a homogenous dispersion of metal particles with narrow-size distribution onto both carbon supports (Pt/C loadings between 30 wt % and 40 wt %). Electrocatalytic properties of the as-synthetized catalysts toward the Oxygen Reduction Reaction (ORR) was evaluated in aqueous electrolyte using a three electrodes electrochemical cell by cyclic voltammetry (CV) in rotating disk electrode (RDE). It is shown that a mixture of Pt supported on MWCNT and FGLs allows to enhance both the electrochemical surface area and the activity of the catalyst layer. Ageing tests performed on that optimized active layer showed higher stability than conventional Pt/C.
Keywords:
PEMFC; MWCNTs (Multi Wall Carbon Nanotube); graphene; nanostructured catalyst support; durability/stability
Author Contributions
E.R. and Y.R.J.T. performed the experiments, E.R, Y.R.J.T. and F.F.-O. analyzed the data, L.G. performed STEM analysis. E.R., P.-A.J. and M.H. wrote and revised the paper.
Funding
The research leading to these results has received funding from the European Union's Seventh Framework Programme (FP7/2007-2013) for Fuel Cell and Hydrogen Joint Technology Initiative under Grant No. 325239 (NanoCAT) and from the Flagship program internally funded by CEA.
Acknowledgments
The authors thank the European Union's Seventh Framework program (Grant No. 325239 project NANOCAT) for the funding and Nanocyl for kind supply of nanostructure carbon support.
Conflicts of Interest
The authors declare no conflicts of interest.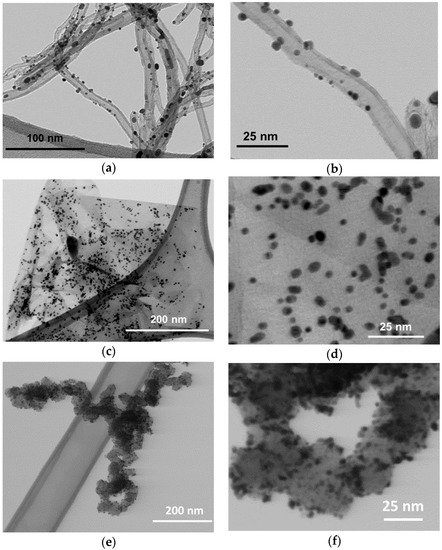 Figure 1. STEM images of Pt catalyst (a,b) deposit on MWCNTs by thermal treatment, (c,d) Pt deposit on FGLs by chemical reduction, (e,f) Pt on carbon blacks TEC10V50E.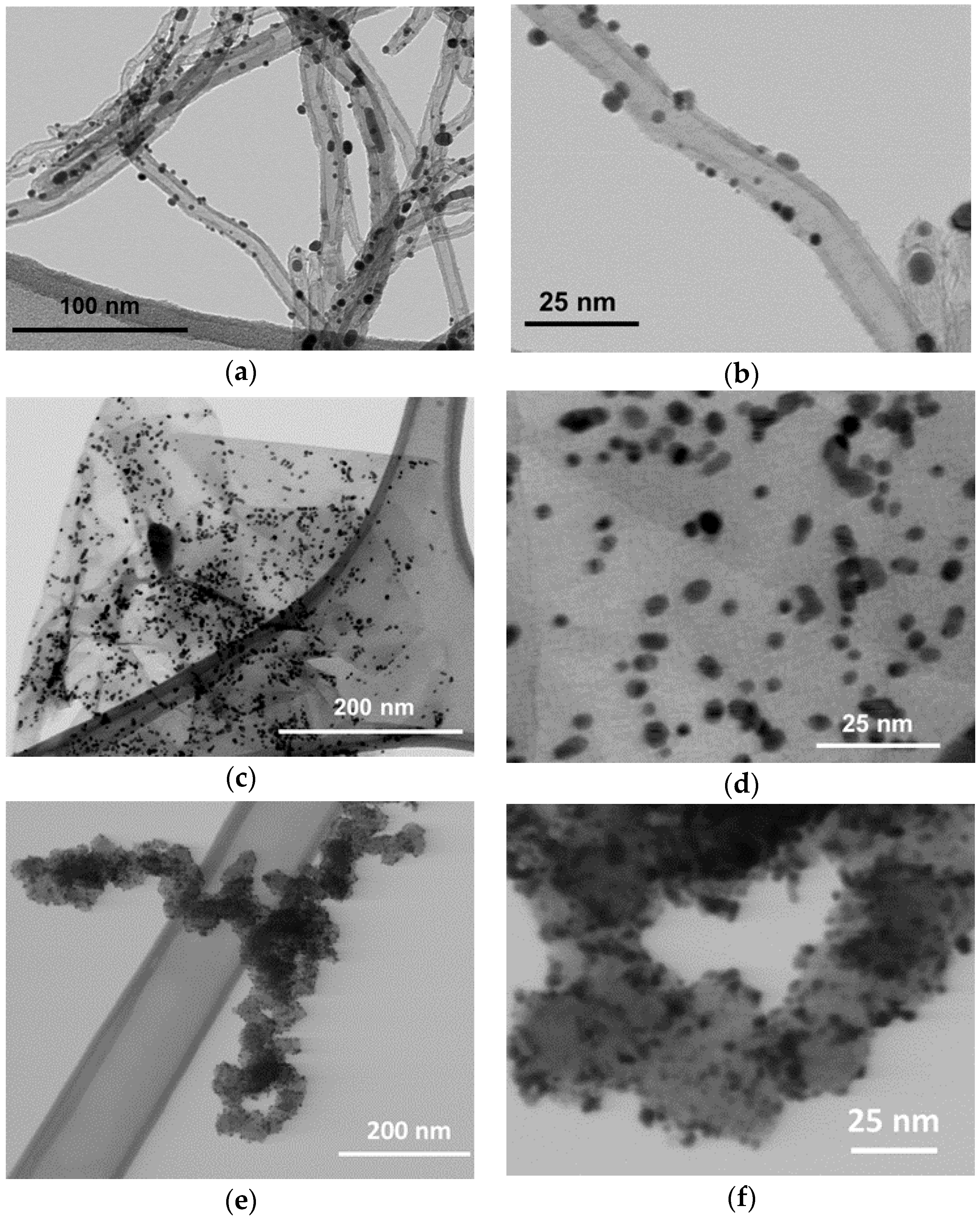 Figure 2. TGA profiles of the samples, in dotted line before Pt deposition and in full line after Pt deposition.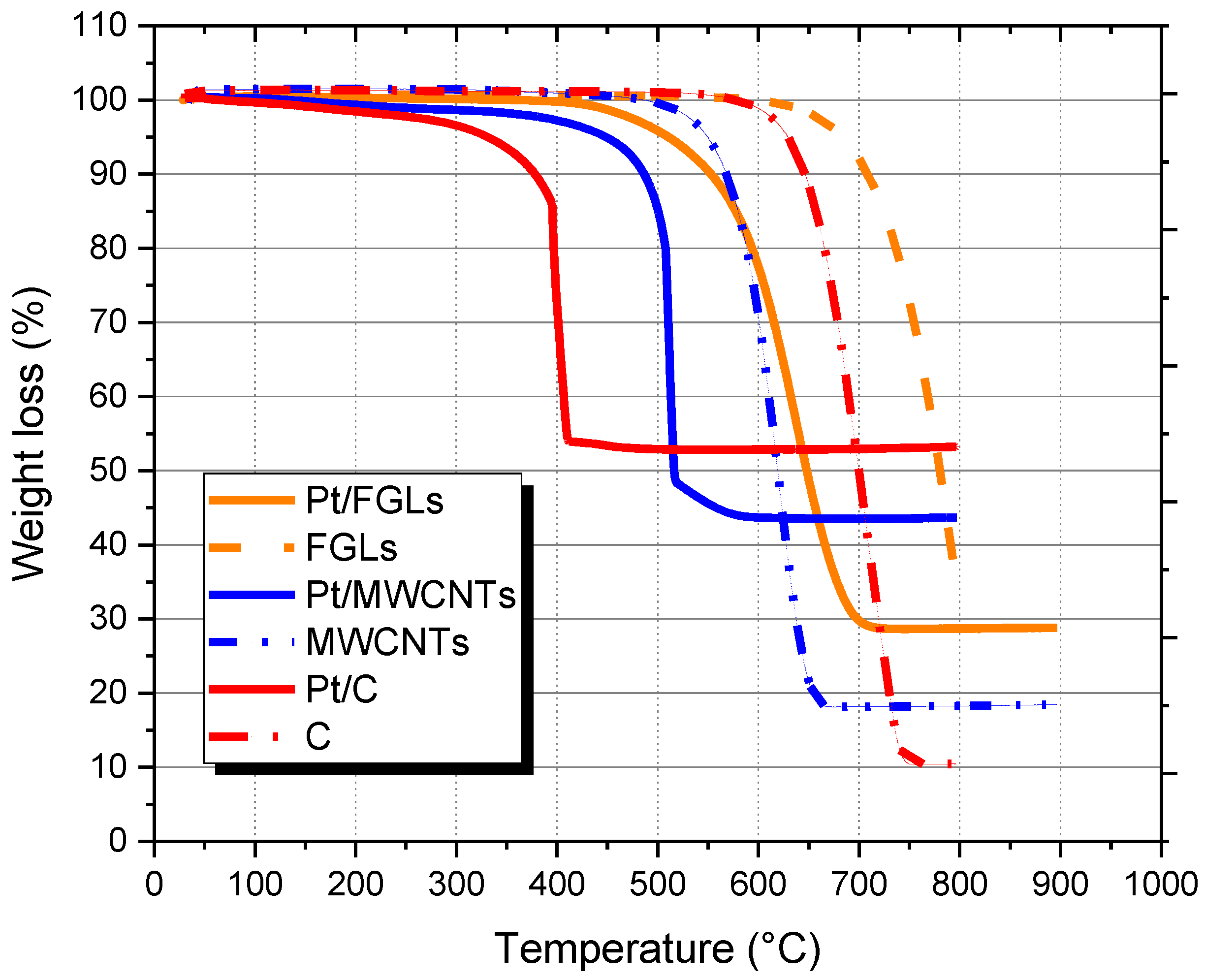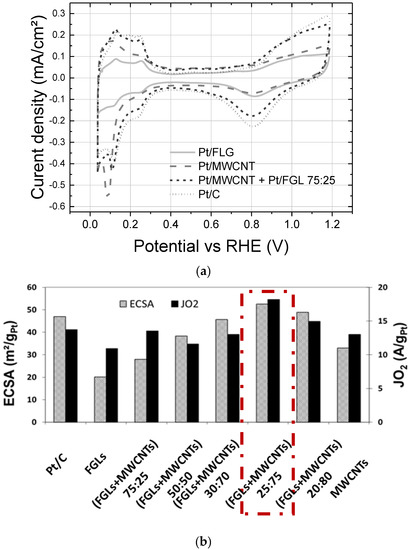 Figure 3. (a) Comparison of the cyclic voltammograms of the catalysts in 0.5 M H2SO4, 5 mV·s−1 and (b) the calculated ECSA and current density for the as-prepared catalysts compared with commercial catalyst.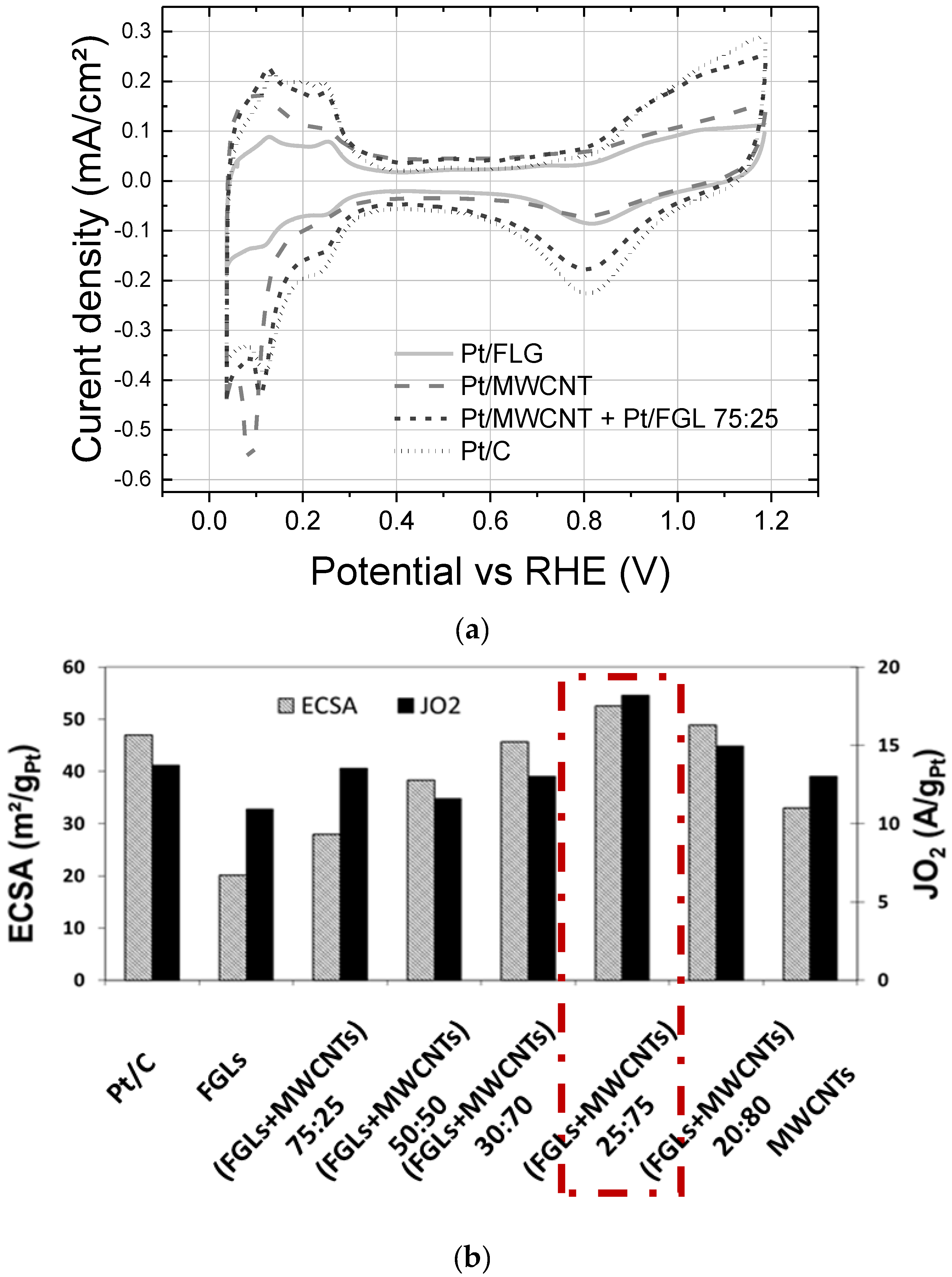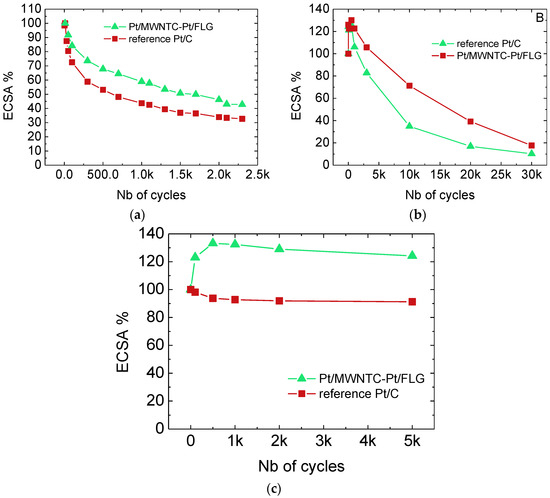 Figure 4. (a) CV from 0.3 to 1.18 V Vs RHE with a scan rate of 20 mV·s−1 (b) CV from 0.6 to 1.0 V Vs RHE with a scan rate of 50 mV·s−1 and (c) CV from 1.0 to 1.5 V Vs RHE with a scan rate of 500 mV·s−1.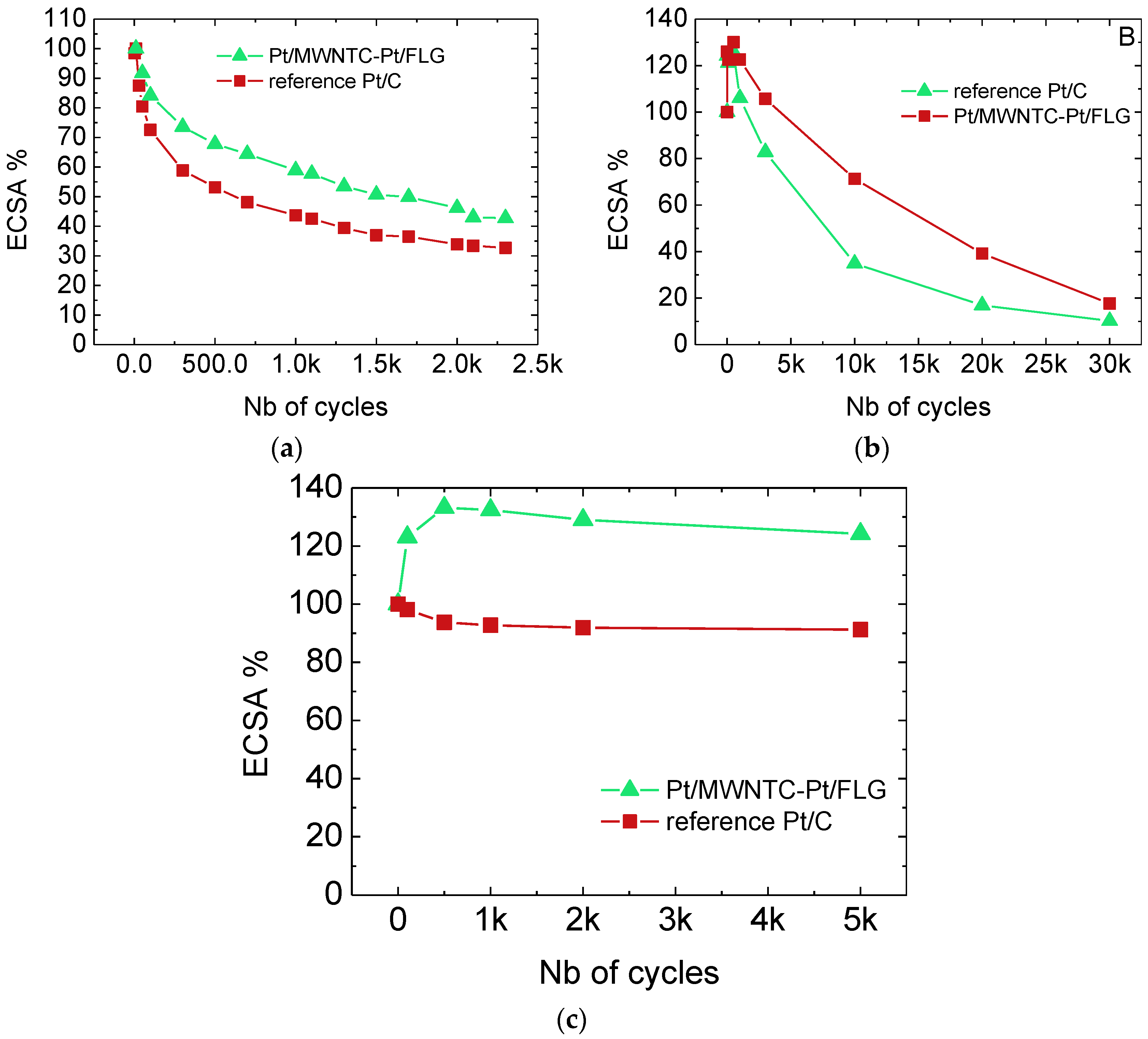 Table 1. Particle size distribution for electrocatalysts Pt/C, Pt/MWCNTs and Pt/FGLs determined by statistical STEM study.
| Electrocatalyst | Mean Particle Diameter TEM (nm) |
| --- | --- |
| Pt/C | 3.4 |
| Pt/MWCNTs | 3.5 |
| Pt/FGLs | 4.3 |

Table 2. Comparison of the particle diameter (TEM), calculated particle surface (STEM), ECSA (RDE) and the Pt utilization percentage of the employed electrocatalysts.
| Electrocatalyst | Mean Particle Diameter TEM (nm) | Surface TEM (m²/gpt) | Real Electrochemical Surface (m²/gpt) | Pt Utilization % |
| --- | --- | --- | --- | --- |
| Pt/C | 3.4 | 82 | 47 | 57 |
| Pt/MWCNTs | 3.5 | 80 | 32 | 40 |
| Pt/FGLs | 4.3 | 65 | 19 | 29 |
| Pt/(FGLs + MWCNTs) 75:25 | 4.0 | 70 | 53 | 76 |

© 2018 by the authors. Licensee MDPI, Basel, Switzerland. This article is an open access article distributed under the terms and conditions of the Creative Commons Attribution (CC BY) license (http://creativecommons.org/licenses/by/4.0/).