Magnetic Combined Cross-Linked Enzyme Aggregates of Ketoreductase and Alcohol Dehydrogenase: An Efficient and Stable Biocatalyst for Asymmetric Synthesis of (
R

)-3-Quinuclidinol with Regeneration of Coenzymes In Situ

1

Department of Medicinal Chemistry, School of Pharmacy, Chongqing Medical University, Chongqing 400016, China

2

Chongqing Key Laboratory of Medicinal Resources in the Three Gorges Reservoir Region, School of Biological & Chemical engineering, Chongqing University of Education, Chongqing 400067, China

3

Chongqing Key Laboratory of Biochemistry and Molecular Pharmacology, Chongqing Medical University, Chongqing 400016, China

*

Author to whom correspondence should be addressed.

Received: 14 July 2018 / Revised: 29 July 2018 / Accepted: 30 July 2018 / Published: 15 August 2018
Abstract
Enzymes are biocatalysts. In this study, a novel biocatalyst consisting of magnetic combined cross-linked enzyme aggregates (combi-CLEAs) of 3-quinuclidinone reductase (QNR) and glucose dehydrogenase (GDH) for enantioselective synthesis of (
R
)-3-quinuclidinolwith regeneration of cofactors in situ was developed. The magnetic combi-CLEAs were fabricated with the use of ammonium sulfate as a precipitant and glutaraldehyde as a cross-linker for direct immobilization of QNR and GDH from
E. coli BL
(21) cell lysates onto amino-functionalized Fe
3
O
4
nanoparticles. The physicochemical properties of the magnetic combi-CLEAs were characterized by Fourier transform infrared spectroscopy (FTIR), X-ray diffraction (XRD) and magnetic measurements. Field emission scanning electron microscope (FE-SEM) images revealed a spherical structure with numerous pores which facilitate the movement of the substrates and coenzymes. Moreover, the magnetic combi-CLEAs exhibited improved operational and thermal stability, enhanced catalytic performance for transformation of 3-quinuclidinone (33 g/L) into (
R
)-3-quinuclidinol in 100% conversion yield and 100% enantiomeric excess (ee) after 3 h of reaction. The activity of the biocatalysts was preserved about 80% after 70 days storage and retained more than 40% of its initial activity after ten cycles. These results demonstrated that the magnetic combi-CLEAs, as cost-effective and environmentally friendly biocatalysts, were suitable for application in synthesis of (
R
)-3-quinuclidinol essential for the production of solifenacin and aclidinium with better performance than those currently available.
View Full-Text
►

▼

Figures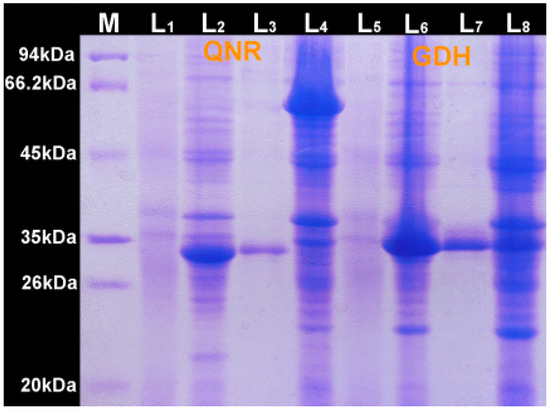 Figure 1
This is an open access article distributed under the
Creative Commons Attribution License
which permits unrestricted use, distribution, and reproduction in any medium, provided the original work is properly cited (CC BY 4.0).

Share & Cite This Article
MDPI and ACS Style
Chen, Y.; Jiang, Q.; Sun, L.; Li, Q.; Zhou, L.; Chen, Q.; Li, S.; Yu, M.; Li, W. Magnetic Combined Cross-Linked Enzyme Aggregates of Ketoreductase and Alcohol Dehydrogenase: An Efficient and Stable Biocatalyst for Asymmetric Synthesis of (R)-3-Quinuclidinol with Regeneration of Coenzymes In Situ. Catalysts 2018, 8, 334.
Note that from the first issue of 2016, MDPI journals use article numbers instead of page numbers. See further details here.
Related Articles
Comments
[Return to top]