Morphologically Tunable MnO2 Nanoparticles Fabrication, Modelling and Their Influences on Electrochemical Sensing Performance toward Dopamine
1
School of Material Science and Energy Engineering, Foshan University, Foshan 528000, China
2
College of Life Sciences and Chemistry, Hunan University of Technology, Zhuzhou 412007, China
3
Department of Chemistry and Material Science, Hengyang Normal University, Hengyang 421008, China
*
Authors to whom correspondence should be addressed.
†
These authors contributed equally to this work.
Received: 4 July 2018 / Revised: 3 August 2018 / Accepted: 6 August 2018 / Published: 8 August 2018
Abstract
The morphology or shape of nanomaterials plays an important role in functional applications, especially in the electrochemical sensing performance of nanocomposites modified electrodes. Herein, the morphology-dependent electrochemical sensing properties of MnO
2
-reduced graphene oxide/glass carbon electrode (MnO
2
-RGO/GCE) toward dopamine detection were investigated. Firstly, various morphologies of nanoscale MnO
2
, including MnO
2
nanowires (MnO
2
NWs), MnO
2
nanorods (MnO
2
NRs), and MnO
2
nanotubes (MnO
2
NTs), were synthesized under different hydrothermal conditions. Then the corresponding MnO
2
-RGO/GCEs were fabricated via drop-casting and the subsequent electrochemical reduction method. The oxidation peak currents increase with the electrochemical activity area following the order of MnO
2
NWs-RGO/GCE, MnO
2
NTs-RGO/GCE, and MnO
2
NRs-RGO/GCE. The spatial models for MnO
2
NWs, MnO
2
NTs, and MnO
2
NRs are established and accordingly compared by their specific surface area, explaining well the evident difference in electrochemical responses. Therefore, the MnO
2
NWs-RGO/GCE is selected for dopamine detection due to its better electrochemical sensing performance. The response peak current is found to be linear with dopamine concentration in the range of 8.0 × 10
−8
mol/L–1.0 × 10
−6
mol/L and 1.0 × 10
−6
mol/L–8.0 × 10
−5
mol/L with a lower detection limit of 1 × 10
−9
mol/L (S/N = 3). Finally, MnO
2
NWs-RGO/GCE is successfully used for the determination of dopamine injection samples, with a recovery of 99.6–103%. These findings are of great significance for understanding the relationship between unlimited nanoparticle structure manipulation and performance improvement.
View Full-Text
►

▼

Figures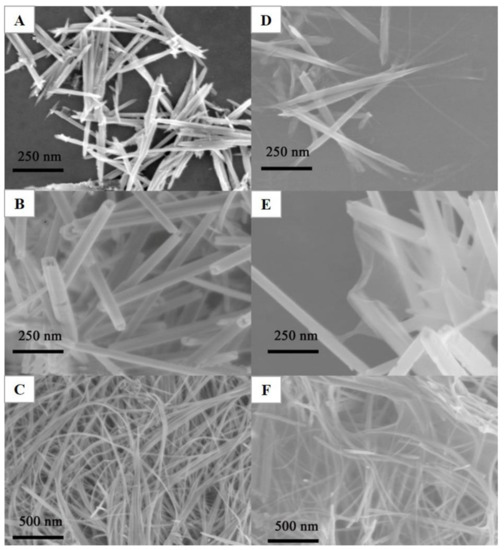 Figure 1
This is an open access article distributed under the
Creative Commons Attribution License
which permits unrestricted use, distribution, and reproduction in any medium, provided the original work is properly cited (CC BY 4.0).

Share & Cite This Article
MDPI and ACS Style
He, Q.; Li, G.; Liu, X.; Liu, J.; Deng, P.; Chen, D. Morphologically Tunable MnO2 Nanoparticles Fabrication, Modelling and Their Influences on Electrochemical Sensing Performance toward Dopamine. Catalysts 2018, 8, 323.
Note that from the first issue of 2016, MDPI journals use article numbers instead of page numbers. See further details here.
Related Articles
Comments
[Return to top]