Open Access This article is
freely available
re-usable
Review
A Comparative Review on the Catalytic Mechanism of Nonheme Iron Hydroxylases and Halogenases
Manchester Institute of Biotechnology and School of Chemical Engineering and Analytical Science, The University of Manchester, 131 Princess Street, Manchester M1 7DN, UK
*
Author to whom correspondence should be addressed.
Received: 17 July 2018 / Accepted: 30 July 2018 / Published: 31 July 2018
Abstract
:
Enzymatic halogenation and haloperoxidation are unusual processes in biology; however, a range of halogenases and haloperoxidases exist that are able to transfer an aliphatic or aromatic C–H bond into C–Cl/C–Br. Haloperoxidases utilize hydrogen peroxide, and in a reaction with halides (Cl−/Br−), they react to form hypohalides (OCl−/OBr−) that subsequently react with substrate by halide transfer. There are three types of haloperoxidases, namely the iron-heme, nonheme vanadium, and flavin-dependent haloperoxidases that are reviewed here. In addition, there are the nonheme iron halogenases that show structural and functional similarity to the nonheme iron hydroxylases and form an iron(IV)-oxo active species from a reaction of molecular oxygen with α-ketoglutarate on an iron(II) center. They subsequently transfer a halide (Cl−/Br−) to an aliphatic C–H bond. We review the mechanism and function of nonheme iron halogenases and hydroxylases and show recent computational modelling studies of our group on the hectochlorin biosynthesis enzyme and prolyl-4-hydroxylase as examples of nonheme iron halogenases and hydroxylases. These studies have established the catalytic mechanism of these enzymes and show the importance of substrate and oxidant positioning on the stereo-, chemo- and regioselectivity of the reaction that takes place.
Keywords:
inorganic reaction mechanisms; density functional theory; computational modelling; enzyme catalysis; quantum mechanics/molecular mechanics
1. Introduction
Nature utilizes enzymes for essential biochemical transformations, whereby compounds that cannot be taken in from food are synthesized. In addition, enzymatic processes often involve the biodegradation of toxic compounds, and as such, they contribute to vital biochemical mechanisms in the body. Structurally, enzymes are built up from proteins and contain an active site, where substrate and oxidant are brought together to initiate a chemical reaction. Although not specifically common in nature, there are a number of enzymes linked to halogenation and haloperoxidase reaction mechanisms, whereby an aliphatic or aromatic C–H bond is replaced by C–X (X = Cl, Br, I). This review will cover recent advances in the understanding of halogenases and haloperoxidases and specifically highlight how computational modelling can assist in elucidating the catalytic reaction mechanism of these enzymes. In the first few sections, we will cover the structure and catalytic cycles of typical halogenases and haloperoxidases in nature, while in the second part of this review, recent studies from our group on nonheme iron halogenases and hydroxylases are discussed.
Incorporating halogen atoms (fluoride, chloride, bromide, and iodide) into various natural product scaffolds is made possible through enzymes called halogenases, which are found in several marine and terrestrial organisms. Halogenases found in marine organisms typically use bromide as their halogen source, whereas those found in terrestrial organisms utilize chloride more commonly. This is despite there being larger concentrations of chloride than bromide in seawater [
1
,
2
,
3
]. The biosynthesized halogenated compounds (organohalogens) in these organisms have a range of biochemical functions, including growth, reproduction and defense [
1
,
3
,
4
,
5
,
6
]. Furthermore, organohalogens have been shown to have many biological and medical properties, such as antibacterial, antifungal, antiviral, anti-inflammatory, anti-proliferative, anti-fouling, anti-feedant, cytotoxic, ichthyotoxic, and insecticidal activity [
7
] and as a result, many of today's best-selling herbicides, pesticides, and insecticides contain halogen atoms [
8
,
9
]. Importantly, often the biological and medical properties are lost when the halide substituent is removed. Thus, vancomycin loses its antibiotic activity when the aryl chloride functional groups are substituted for styryl groups [
10
].
The biological and medical properties of halogenated natural products, as previously stated, are often associated with the properties of the C–H bond itself. In the past, the role of the halogen in organohalogens was thought to only modulate the lipophilicity. In addition, in organohalogen compounds the halogen atom can form weak hydrogen bonding interactions with protein residues or alternatively function as a nucleophile. These halogen bonds may have importance for protein stability and folding as they have been shown to form through intermolecular interactions with proteins, similar to hydrogen bonds [
11
,
12
]. Consequently, it is a well-established practice within medicinal chemistry to introduce halogens into compounds because they are electron-withdrawing groups that do not significantly disrupt the size and shape of the molecule, and hence can bind as inhibitors easily. One halogen atom of great significance to the pharmaceutical industry is fluorine, because of its small size and its large electronegativity value. In fact, the combination of those two factors, plus their influence on lipophilicity, has resulted in some of the bestselling pharmaceuticals containing fluorine, as shown in
Figure 1
.
Additionally, the materials industry is interested in halogen-containing compounds as polymers, as they appear particularly well-suited for the design of smart devices, the development of nanotechnologies, organic semi-conductors, and lithium-ion batteries [
13
,
14
,
15
]. These developments are paving the way for next-generation materials. Given the increasing importance to selectively install halogens onto compounds for the pharmaceutical, agrochemical, and materials industries, several methods, rooted in organic chemistry, have been created. Traditionally, however, these methods require materials which are toxic to the environment and result in poor selectivity, and despite steps taken to address these issues, for example, using directing groups to control the selectivity by controlling the position of functionalization, there is still a need to develop more sustainable ways of selectively halogenating compounds. One attractive method of doing this is to use halogenases, which are enzymes which selectively halogenate compounds during the production of secondary metabolites, to install halogens onto natural and synthetic scaffolds. Therefore, understanding the specific factors relating to their regio-, stereo-, and chemoselectivity of halogenases will open them up to applications in biotechnology and drug development, providing a greener and more selective process to the creation of organohalogens.
1.1. Classification of Halogenases
There are five different types of halogenases/haloperoxidases known in the literature that all have been discovered over the past 50 years. They are grouped according to the nature of their active halogenating agents, and are further subdivided based on the nature of their mechanism, co-factor, and substrate, as represented in
Table 1
. Thus, there are three haloperoxidase-types that react through electrophilic mechanisms, namely the heme-, vanadium-, and flavin-dependent haloperoxidases. The
S
-adenosyl-
l
-methionine (SAM) fluorinases react via nucleophilic pathways, while the nonheme iron/α-ketoglutarate (αKG)-dependent halogenases react via radical pathways. In the next few sections, we will give a brief overview of these individual halogenases/haloperoxidases and how they differ in their active site structures and reactivities.
1.1.1. Heme Haloperoxidases
1.1.2. Vanadium Haloperoxidases
1.1.3. Flavin Adenine Dinucleotide Haloperoxidases
The flavin adenine dinucleotide (FAD) haloperoxidases were discovered in the 1990s, and were the first halogenases thought to be involved in the regioselective and stereoselective synthesis of halogenated natural products [
108
]. For example, the first FAD-haloperoxidase was discovered from the biosynthetic gene cluster, responsible for the generation of 7-chlorotetracycline [
108
]. Subsequently, the enzyme was expressed and characterized both structurally and biochemically [
109
,
110
,
111
,
112
,
113
,
114
,
115
,
116
,
117
,
118
,
119
,
120
,
121
,
122
]. Further studies on this group of enzymes has revealed two FAD-haloperoxidase sub-groups, namely those that work on free substrates and ones where the substrate is tethered to a thiolate domain of a non-ribosomal polypeptide synthase system [
121
]. Despite these differences, they both require reduced flavin (FADH
2
) to activate molecular oxygen and to generate C4a-hydroperoxy flavin.
Originally, the FAD halogenase mechanism was thought to resemble the mechanism of FAD mono-oxygenases; however, structural and biochemical studies in PrnA, a tryptophan halogenase, have proven that this was not the case [
110
,
123
]. These studies identified that the substrate binding pocket and flavin binding pocket were 10 Å apart and that the C4a-hydroperoxy flavin was generated before halogenation and in the absence of substrate. Furthermore, the research identified a long-lived enzyme-chloride adduct that was proposed to be a covalent chloramine adduct or a hydrogen bonded lysine-hypochlorous acid species, after identifying that a conserved lysine residue in the active site was highly important.
1.1.4.
S

-Adenosyl-

l

-Methionine Fluorinase

All of the halogenases described above in

Section 1.1.1

,

Section 1.1.2

, and

Section 1.1.3

, can use chloride, bromide, and iodide; however, none of those can actually use fluoride. The reasons for this are due to the low bioavailability of fluoride, its high oxidative potential and toxicity. Moreover, because of the high electronegativity of fluoride, it binds polar solvent molecules, such as water, very strongly, which makes it difficult to desolvate fluoride prior to catalysis [

2

]. Surprisingly, one class of halogenases, namely F1A from

Streptomyces cattleya

, is able fluorinate substrates using an

S

-adenosyl-

l

-methionine (SAM) co-factor to 5′-fluorodeoxyadenosine and

l

-methionine via a nucleophilic substitution [

124

,

125

]. Since then, genome mining has discovered several other SAM fluorinases [

126

] and further study has elucidated part of its mechanism.

Computational and structural studies [

127

,

128

] revealed that conformational changes in the protein upon binding fluoride and SAM are important for reactivity. As such, lining the fluoride binding pocket is charged residues which upon fluoride binding help with the assistance of others to exclude the majority of the water from the active site, thereby, increasing the nucleophilicity of fluoride.
1.1.5. Nonheme Iron/α-Ketoglutarate Halogenases
2. Computational Studies on Nonheme Iron Hydroxylases and Halogenases
In QM/MM, the computational model set up usually starts from crystal structure coordinates, which are then modified to the required starting position. For instance, a resting state enzyme is converted into the active site structure manually. In some cases, a substrate is missing that will need to be docked in, or mutations need to be undone. Finally, some crystal structure coordinates have chains, co-factors or amino acids missing that will need to be inserted as well. After these initial corrections and modifications, hydrogen atoms are added, which is not a straightforward process, as some amino acid residues are weak acids and are in present different protonation states depending on their environment. Key amino acid residues, such as histidine groups will need to be visually checked for their correct protonation state assignment. In the final stage of the set-up, solvent (water) is added by fixing the protein. This can be done iteratively to enable the solvent to enter the protein. After the model is completed a molecular dynamics simulation is run for a minimum of 1000 ps at room temperature conditions. From the relaxed simulation part, some low energy structures (snapshots) are selected for the actual QM/MM calculations.
2.1. Hectochlorin Biosynthesis Enzyme
2.2. Prolyl-4-Hydroxylase
Prolyl-4-hydroxylase is a nonheme iron hydroxylase with importance for human health as it is involved in the biosynthesis of
R
-4-hydroxyproline, an essential element in the collagen crosslinking process in the body. This reaction is stereo- and regiospecific, and moreover, a thermodynamically unfavorable reaction is catalyzed [
149
]. Thus, studies of small model complexes showed that it is easier to hydroxylate the C
5
position of proline than C
4
position. Therefore, a QM/MM study [
138
,
139
] was performed to establish the protein involvement in the reaction mechanism. The main results are shown in
Figure 13
. Thus, the reaction is stepwise starting from an iron(IV)-oxo intermediate (
Re
) in the quintet spin ground state. Subsequently, a hydrogen atom abstraction transition state (
TS
H
) leads to an iron(III)-hydroxo intermediate (
I
H
) and a final rebound transition state (
TS
reb
) results in alcohol products (
P
).
The hydrogen atom abstraction has a barrier of 9.3 kcal mol
−1
and is rate-determining. Interestingly, we find a 1 kcal mol
−1
higher barrier for hydrogen atom abstraction from the C
5
position of proline [
138
], even though this should be thermodynamically easier. Hydrogen atom abstraction from the other positions at C
4
and C
5
, as well as from C
3
(both positions) were studied as well, and found to be considerably higher in energy. Therefore, prolyl-4-hydroxylase reacts with proline residues stereo- and regioselectively and will give dominant
R
-4-hydroxyproline as products. Clearly, the protein is designed in such a way for perfect fit of oxidant with substrate so that only the 4-position of substrate can be activated.
Note that in the reactant complex (structure in
Figure 13
) the iron(IV)-oxo group is stabilized through hydrogen bonding interactions of the phenol group of Tyr
140
, and also via a water molecule to the indole group of Trp
243
. As such, the active site will be very rigid. Furthermore, the substrate is also in a tight orientation and is locked by the aromatic rings of Tyr
140
and Trp
243
, but is also held in position through hydrogen bonding interactions along the chain with, for instance, Glu
127
and Arg
161
. Active site mutations that replaced Arg
161
with either Asp or Lys led to complete inactivity of the protein. A similar effect was seen for the mutation of Glu
127
with Lys. Mutations of Tyr
140
and Trp
243
by either Phe or Gly led to loss of selectivity or complete loss of activity. Therefore, prolyl-4-hydroxylase has a tightly controlled substrate and an oxidant binding orientation that enables close contact between the oxidant and substrate at the C
4
position. Disruption of the substrate binding position and orientation leads to major shifts in the position of the substrate and its activation. Indeed, we tested several active site mutants, where, e.g., Trp
140
and Trp
243
were replaced by smaller residues. In all cases, loss of stereo- and regioselectivity was observed, and in most of them, a complete loss of activity was found.
3. Conclusions
This paper reviews enzymatic halogenases and haloperoxidases, which comes in a range of structural forms. Thus, haloperoxidases utilize dioxygen on a co-factor active site, and using a halide anion (Cl−/Br−/I−), produce hypohalide anions (OCl−/OBr−/OI−) that transfer their halide to substrates. The haloperoxidases come in three different forms, namely the heme-iron-dependent, vanadium-dependent, and flavin-dependent structures that catalyze the same reaction but utilize a different co-factor. Halogenases typically have a nonheme iron active site that is structurally and functionally analogous to the nonheme iron hydroxylases, and bind the metal to two histidine amino acids of the protein. In addition, the hydroxylases have a carboxylate of either Glu or Asp linked to the iron co-factor, whereas in the halogenases, that position is occupied by a halogen. Both nonheme iron halogenases and hydroxylases bind α-ketoglutarate and molecular oxygen on the iron(II) center and form succinate, a nonheme iron(IV)-oxo species and CO2. Thereafter, they react via an aliphatic hydrogen atom abstraction to form iron(III)-hydroxo and a substrate radical that recombines to form the alcohol product in the hydroxylases. By contrast, in the halogenases, this step is prevented and a halogen rebound takes place. How proteins manage to bypass thermodynamically favorable pathways to catalyze a regio- and chemoselective reaction mechanisms is still under discussion, and computational modelling can give insights into the pathways leading to products and by-products. Examples are discussed on the origin of the regio- and chemoselectivity of the hectochlorin biosynthesis enzyme in enzymatic halogenation, and prolyl-4-hydroxylase for stereoselective hydroxylation.
Author Contributions
A.T. and S.P.d.V. wrote the paper.
Acknowledgments
We acknowledge the BBSRC (Biotechnology and Biological Sciences Research Council UK) for a studentship of a studentship under grant code BB/J014478/1.
Conflicts of Interest
The authors declare no conflict of interest. The founding sponsors had no role in the design of the study; in the collection, analyses, or interpretation of data; in the writing of the manuscript, and in the decision to publish the results.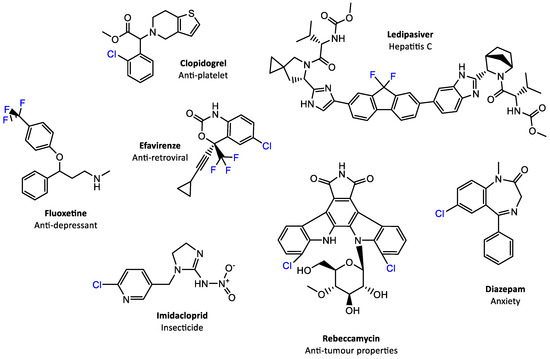 Figure 1. Examples of top-selling halogen-containing pharmaceuticals, agrochemicals, and halogenated natural products with known biological activities.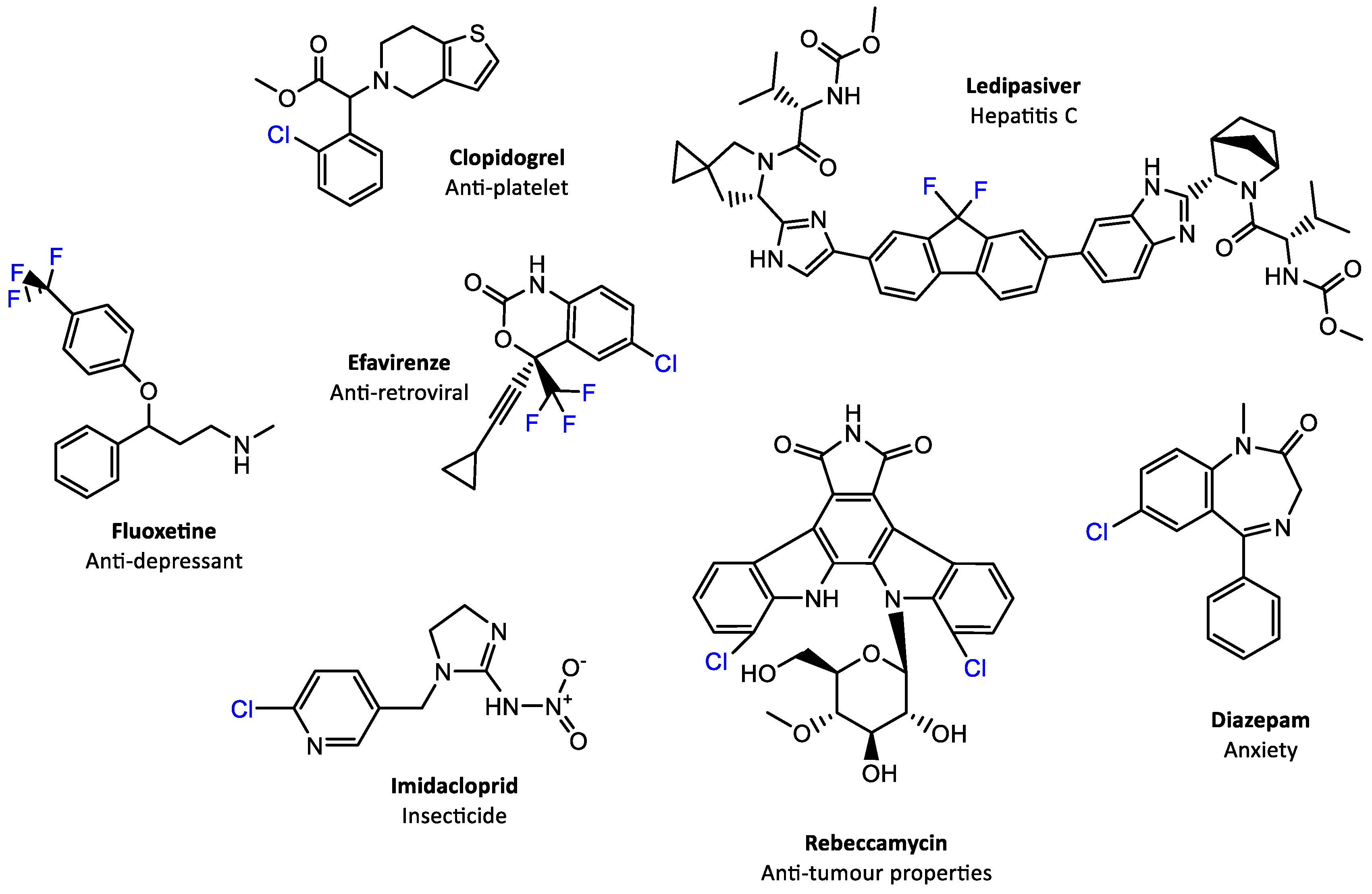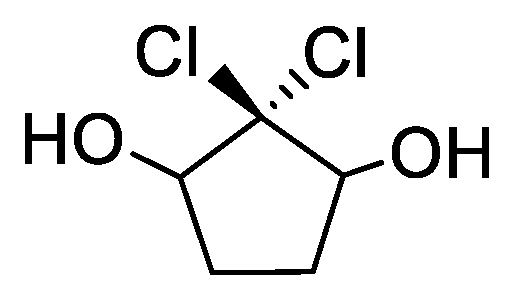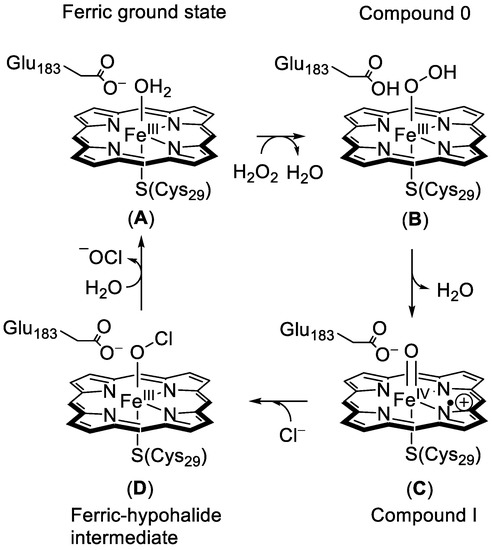 Figure 4. Catalytic cycle of the heme haloperoxidase from chloroperoxidases (CPO). For clarity, the side chains of the heme have been removed.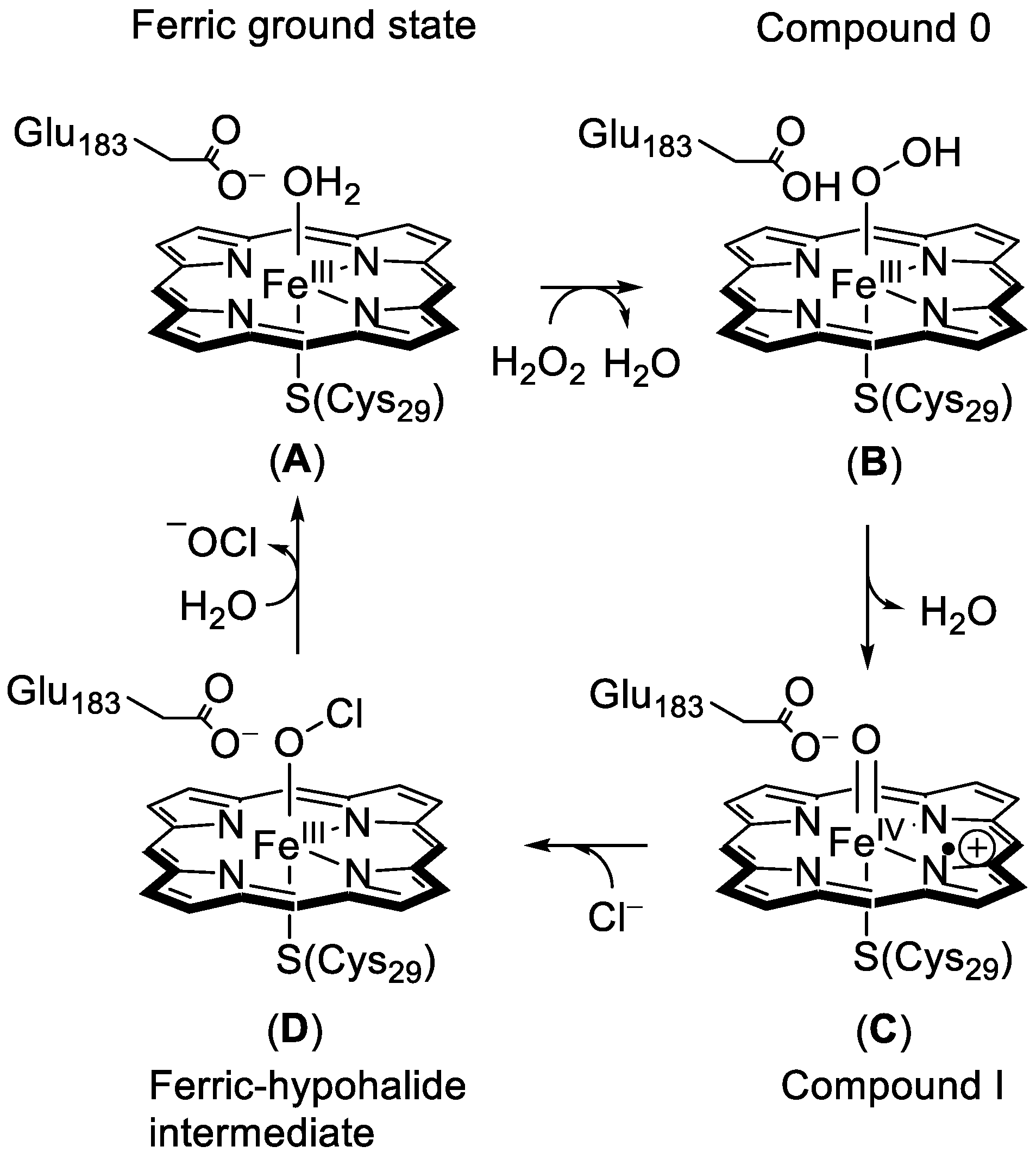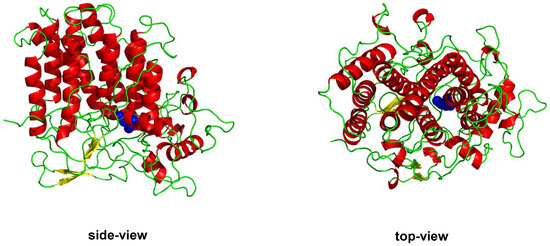 Figure 5.
Crystal structure of the vanadium chloroperoxidase from
C. inaequalis
(PDB 1VNC) where we highlight the side-by-side four α-helix loops common to all vanadium haloperoxidases. The vanadium cofactor (blue) is anchored at the bottom of this channel. The structure is shown in the cartoon representation with the secondary structure highlighted; red are α-helixes, green are loops, and yellow are β-sheets.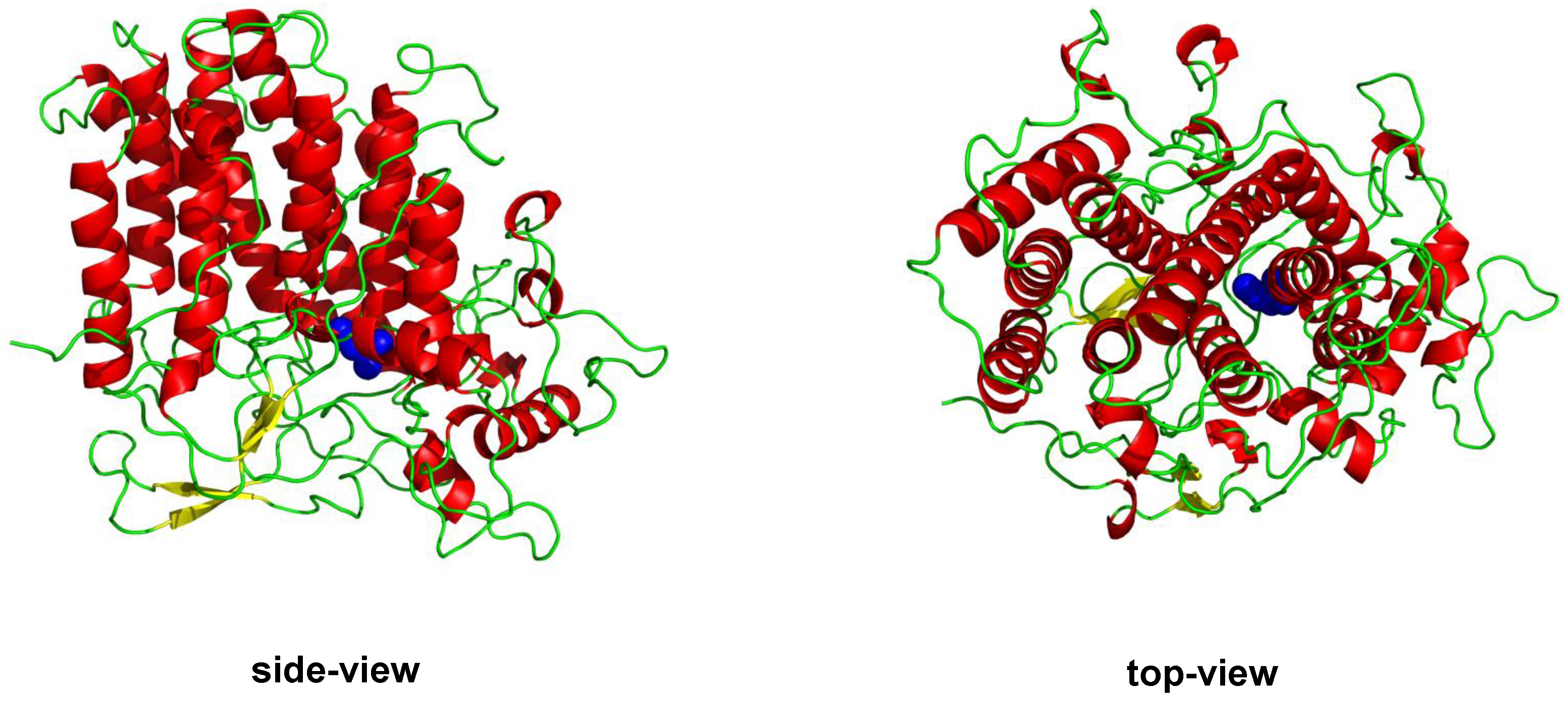 Figure 7.
Basic components and comparison between the nonheme iron halogenase, SyrB2 (
A
) from
Pseudomonas syringae
(PDB 2FCT) and the nonheme iron hydroxylase, prolyl-4-hydroxylase (
B
) from
Clamydomonas reinhardtii
(PDB 2JIG). A-1 & B-1 show similarities in tertiary structure. A-2 & B-2 show the similarities in each 8-stranded anti-parallel β-Jelly roll motif common to most nonheme iron enzymes. A-3 shows the facial triad typical of halogenases in contrast to B-3 showing the facial triad typical of hydroxylases.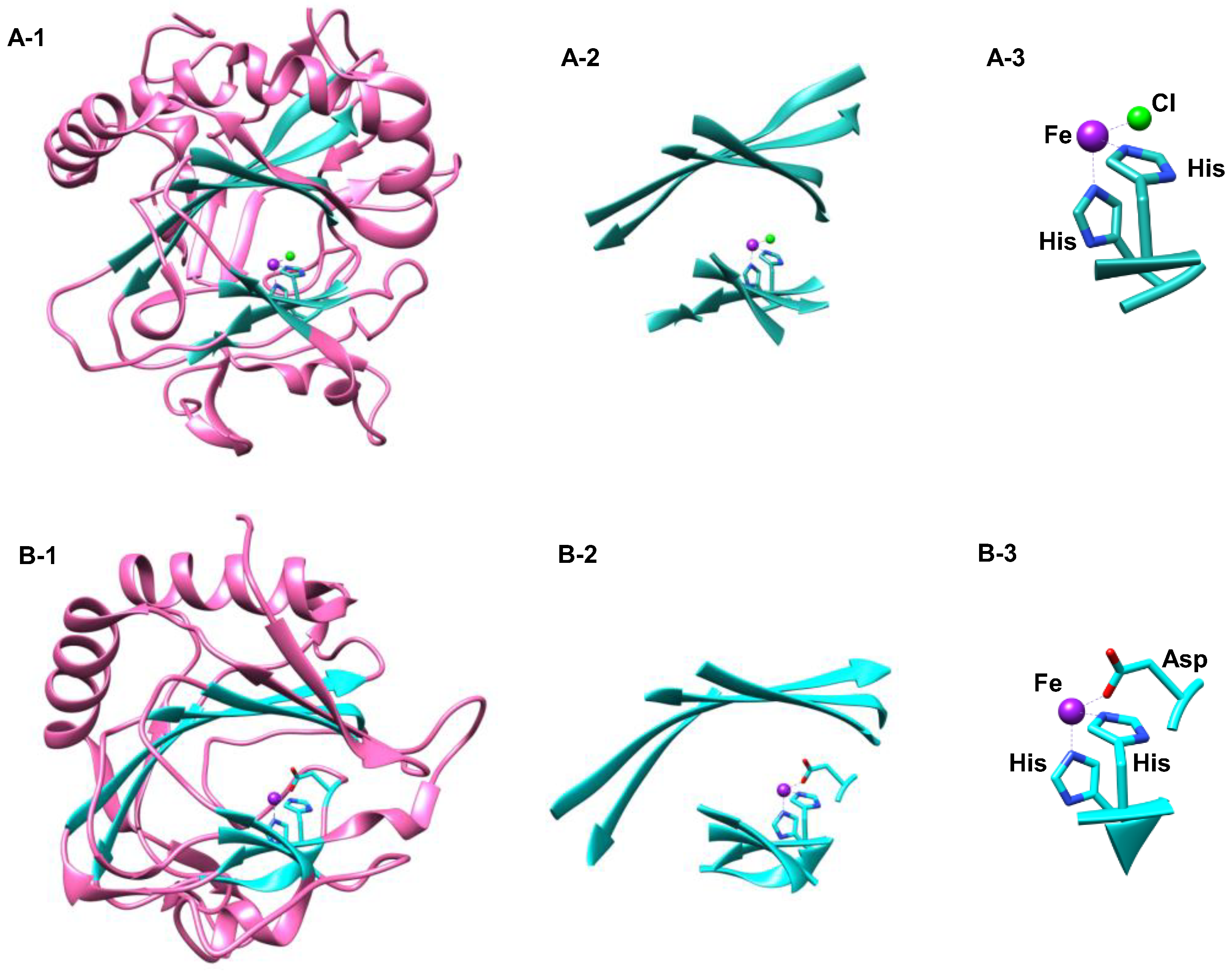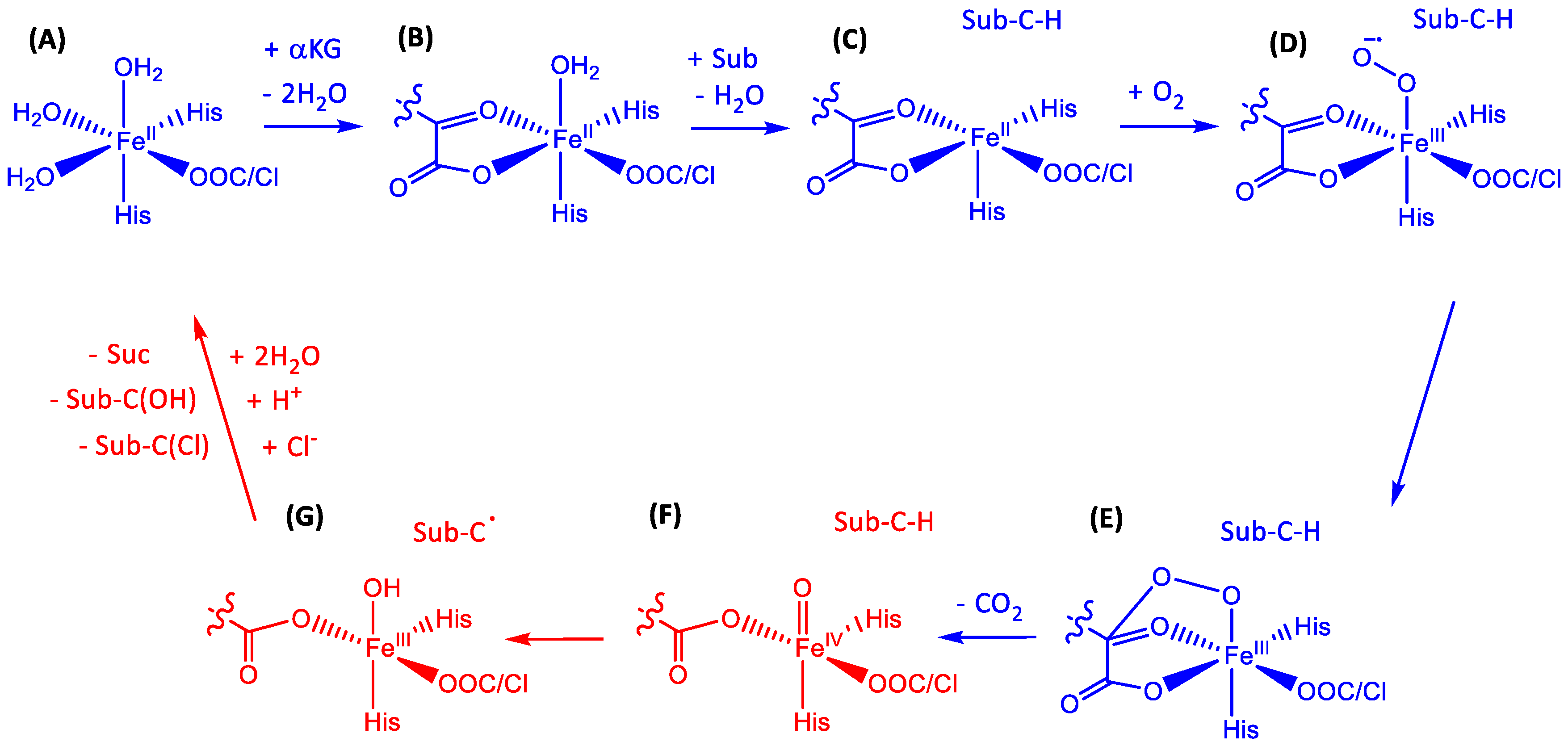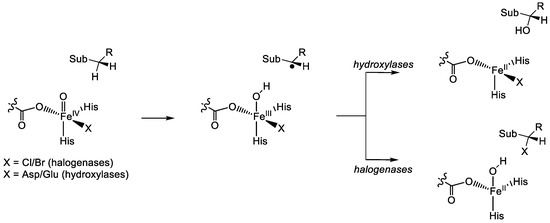 Figure 9. Catalytic mechanism of substrate halogenation versus hydroxylation of substrate by NHFeHa and NHFeHy enzymes.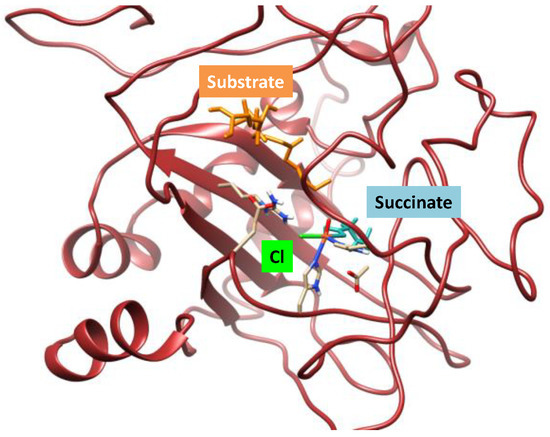 Figure 10. Protein structure of the halogenase domain of HctB with substrate, chloride, and succinate bound. Protein strands in wine-red, chloride in green, succinate in light blue, iron in amber, and oxo group in red.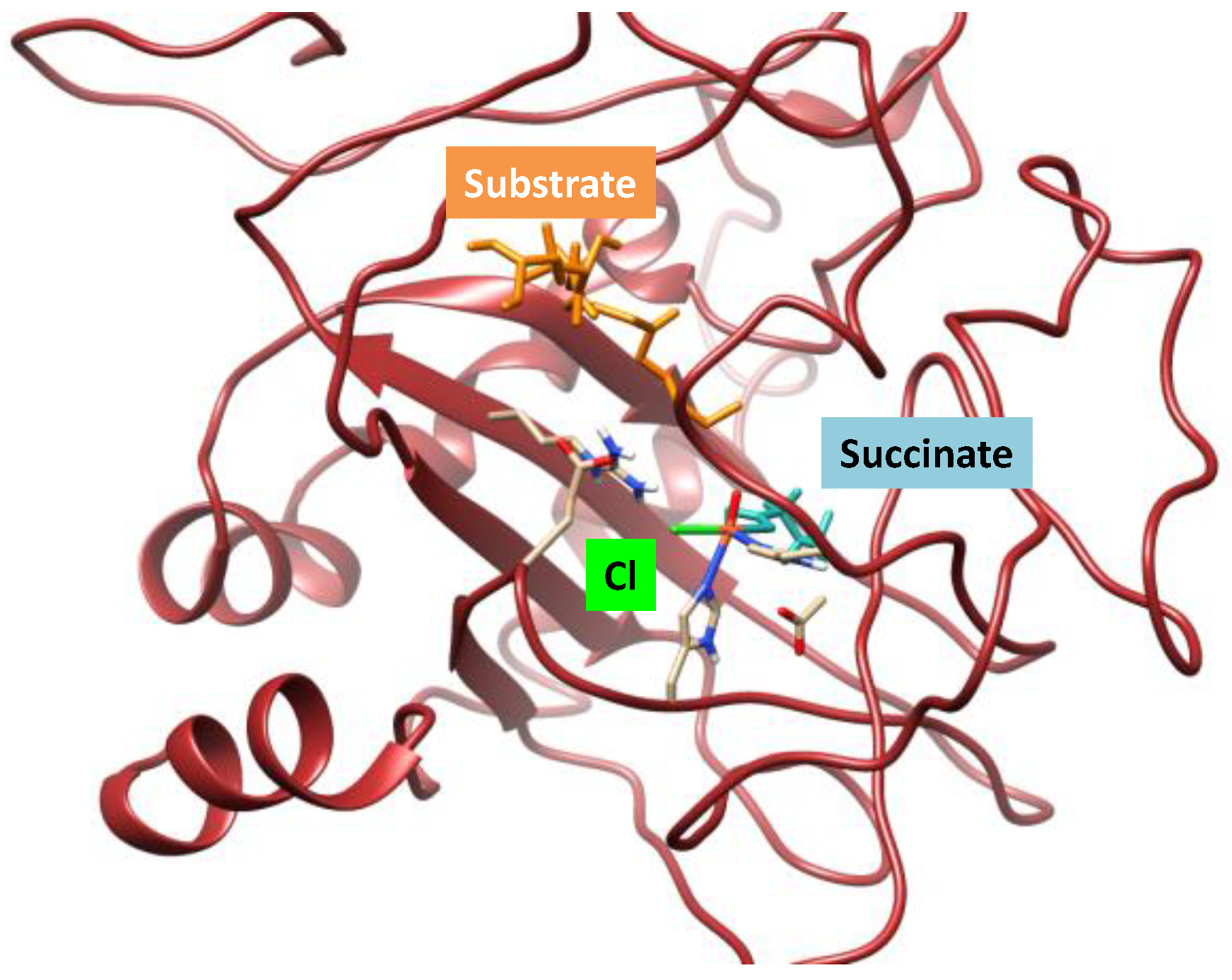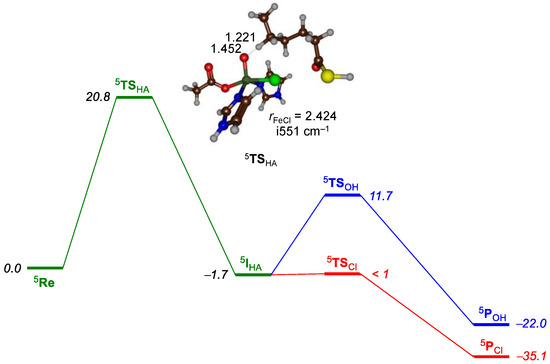 Figure 11. Quantum mechanics/molecular mechanics (QM/MM)-calculated reaction mechanism of substrate chlorination and hydroxylation by an iron(IV)-oxo oxidant in HctB. Energies (in kcal mol−1) obtained at UB3LYP/SV(P) with zero-point corrections included. Hydrogen atom abstraction transition state with bond lengths in angstroms and the imaginary frequency in wave numbers.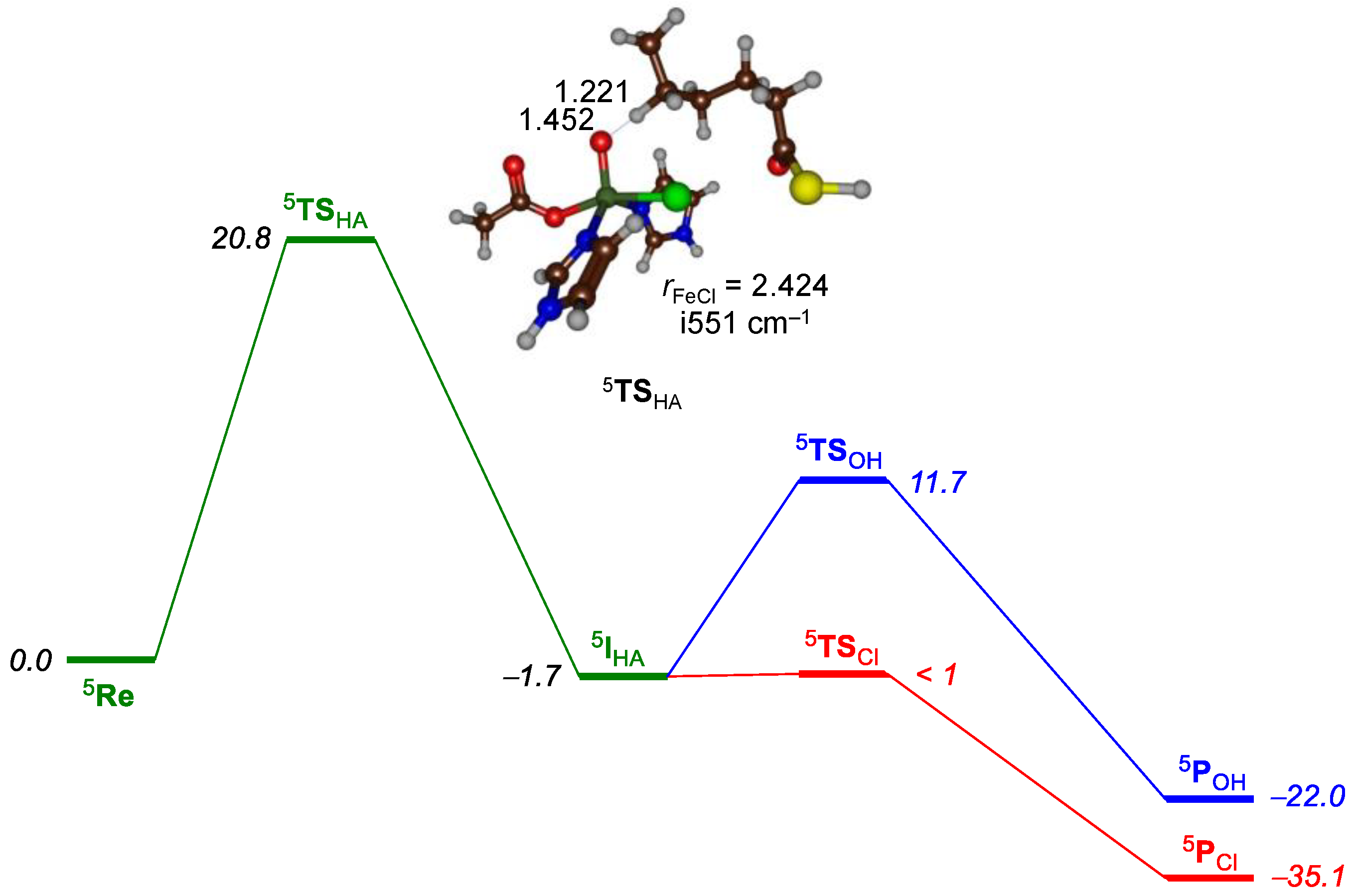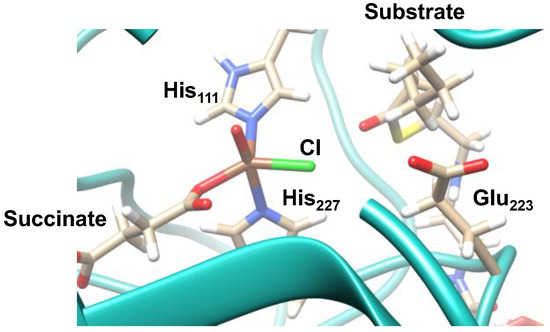 Figure 12. QM/MM-optimized geometry (B3LYP/SV(P):Charmm) of the iron(IV)-oxo(chloride) reactant complex. Key amino acids and functional groups highlighted.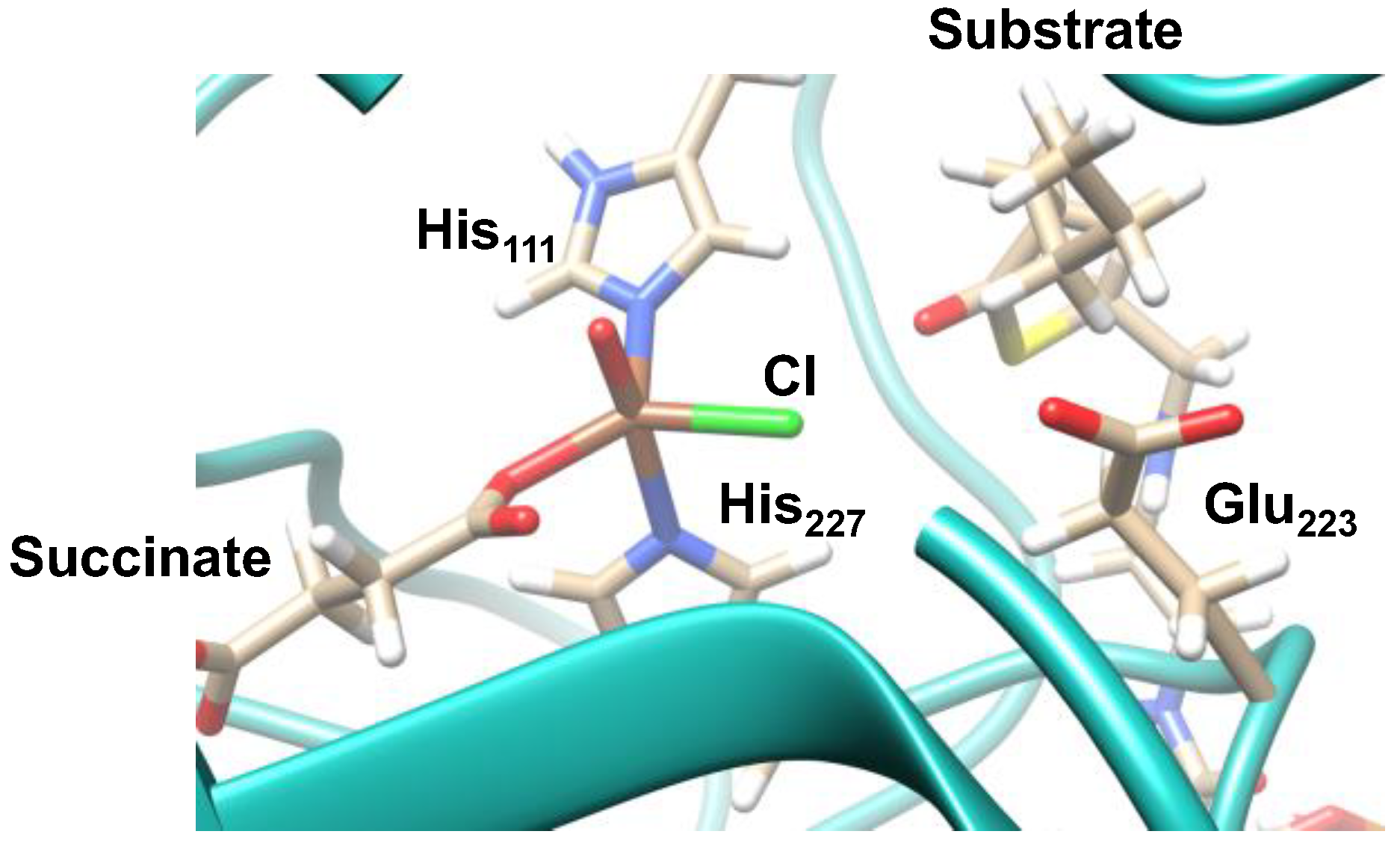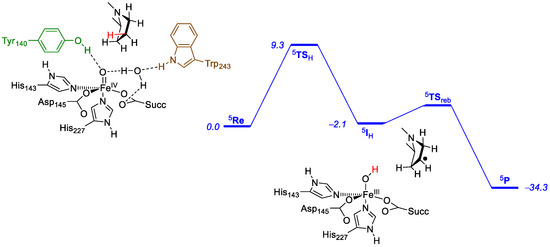 Figure 13. QM/MM-optimized potential energy landscape (UB3LYP/SV(P):Charmm) for proline hydroxylation at the C4-position. Energies contain zero-point corrections and are in kcal mol−1. Key amino acids and functional groups highlighted.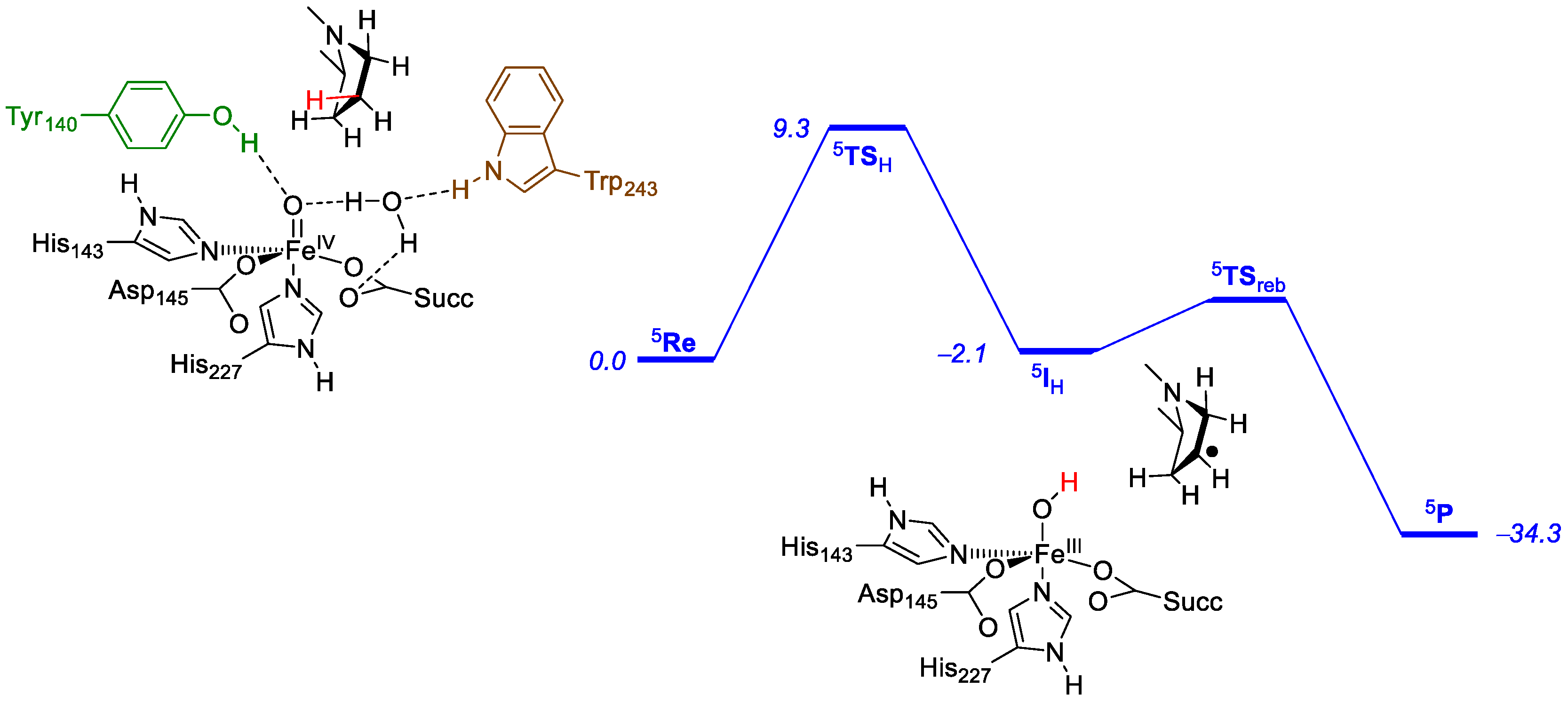 Table 1. Classification of the halogenases according to the nature of their active halogenating agent.
| Electrophilic | Nucleophilic | Radical |
| --- | --- | --- |
| Heme-dependent | SAM fluorinases | Nonheme iron/αKG-dependent halogenase |
| Vanadium-dependent | | |
| Flavin-dependent | | |

© 2018 by the authors. Licensee MDPI, Basel, Switzerland. This article is an open access article distributed under the terms and conditions of the Creative Commons Attribution (CC BY) license (http://creativecommons.org/licenses/by/4.0/).