Cobalt and Nitrogen Co-Doped Graphene-Carbon Nanotube Aerogel as an Efficient Bifunctional Electrocatalyst for Oxygen Reduction and Evolution Reactions
1
The Key Laboratory of Fuel Cell Technology of Guangdong Province, School of Chemistry and Chemical Engineering, South China University of Technology, Guangzhou 510641, China
2
School of Environment and Civil Engineering, Dongguan University of Technology, Dongguan 523808, China
3
College of Biological, Chemical Science and Chemical Engineering, Jiaxing University, Jiaxing 314001, China
*
Authors to whom correspondence should be addressed.
Received: 13 June 2018 / Revised: 30 June 2018 / Accepted: 3 July 2018 / Published: 7 July 2018
Abstract
In this study, a low-cost and environmentally friendly method is developed to synthesize cobalt and nitrogen co-doped graphene-carbon nanotube aerogel (Co-N-GCA) as a bifunctional electrocatalyst for the oxygen reduction reaction (ORR) and the oxygen evolution reaction (OER). The as-prepared Co-N-GCA has a hierarchical meso- and macroporous structure with a high N doping level (8.92 at. %) and a large specific surface area (456 m
2
g
−1
). In an alkaline medium, the catalyst exhibits superior ORR electrocatalytic activity with an onset potential 15 mV more positive than Pt/C, and its diffusion-limiting current density is 29% higher than that of commercial Pt/C. The obtained Co-N-GCA is also highly active toward the OER, with a small overpotential of 408 mV at a current density of 10 mA cm
−2
. Its overall oxygen electrode activity parameter (ΔE) is 0.821 V, which is comparable to most of the best nonprecious-metal catalysts reported previously. Furthermore, Co-N-GCA demonstrates superior durability in both the ORR and the OER, making it a promising noble-metal-free bifunctional catalyst in practical applications for energy conversion and storage.
View Full-Text
►

▼

Figures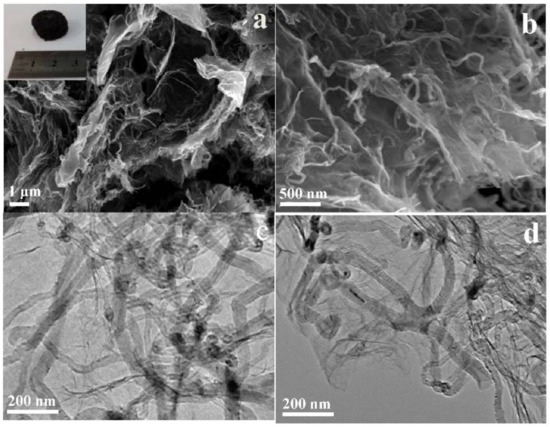 Figure 1
This is an open access article distributed under the
Creative Commons Attribution License
which permits unrestricted use, distribution, and reproduction in any medium, provided the original work is properly cited (CC BY 4.0).

Share & Cite This Article
MDPI and ACS Style
Qiao, X.; Jin, J.; Fan, H.; Cui, L.; Ji, S.; Li, Y.; Liao, S. Cobalt and Nitrogen Co-Doped Graphene-Carbon Nanotube Aerogel as an Efficient Bifunctional Electrocatalyst for Oxygen Reduction and Evolution Reactions. Catalysts 2018, 8, 275.
Note that from the first issue of 2016, MDPI journals use article numbers instead of page numbers. See further details here.
Related Articles
Comments
[Return to top]