Open Access This article is
freely available
re-usable
Article
Influence of the Structure-Forming Agent on the Performance of Fe-N-C Catalysts
1
TU Darmstadt, Department of Chemistry, Catalysts and Electrocatalysts Group (EKAT), 64287 Darmstadt, Germany
2
TU Darmstadt, Department of Materials and Earth Sciences, EKAT Group, 64287 Darmstadt, Germany
3
TU Darmstadt, Graduate School of Excellence Energy Science and Engineering, 64287 Darmstadt; Germany
4
TU Darmstadt, Department of Materials and Earth Sciences, Physics of Surfaces Group, 64287 Darmstadt, Germany
*
Author to whom correspondence should be addressed.
Received: 6 June 2018 / Accepted: 25 June 2018 / Published: 28 June 2018
Abstract
:
In this work, the influence of the structure-forming agent on the composition, morphology and oxygen reduction reaction (ORR) activity of Fe-N-C catalysts was investigated. As structure-forming agents (SFAs), dicyandiamide (DCDA) (nitrogen source) or oxalic acid (oxygen source) or mixtures thereof were used. For characterization, cyclic voltammetry and rotating disc electrode (RDE) experiments were performed in 0.1 M H
2
SO
4
. In addition to this, N
2
sorption measurements and Raman spectroscopy were performed for the structural, and elemental analysis for chemical characterization. The role of metal, nitrogen and carbon sources within the synthesis of Fe-N-C catalysts has been pointed out before. Here, we show that the optimum in terms of ORR activity is achieved if both
N
- and
O
-containing SFAs are used in almost similar fractions. All catalysts display a redox couple, where its position depends on the fractions of SFAs. The SFA has also a strong impact on the morphology: Catalysts that were prepared with a larger fraction of N-containing SFA revealed a higher order in graphitization, indicated by bands in the 2nd order range of the Raman spectra. Nevertheless, the optimum in terms of ORR activity is obtained for the catalyst with highest D/G band ratio. Therefore, the results indicate that the presence of an additional oxygen-containing SFA is beneficial within the preparation.
Keywords:
Fe-N-C catalyst; oxygen reduction reaction
2. Results and Discussion
It becomes clear that in order to obtain a significant fraction of micropores, both nitrogen and oxygen-containing SFAs should be used at the same time. In order to be able to verify to what extent it is the microporosity that is of importance for the high activity, further experiments are required.
Rather unexpected, the outlier at 80% with the worst activity yields the highest nitrogen content. A similar trend was observed for the amount of residuals. The very high value of residuals of almost 50% in this catalyst could be assigned (at least in parts) to iron oxide as indicated in the electrochemical measurements, but also in the Raman spectra (below).
Why does the activity increase so much by changing the fraction of oxalic acid in the SFA?
In our previous publication, iron acetate was the only source of oxygen within the synthesis. In this study we replaced the iron acetate by iron chloride which allowed us to systematically vary the content of oxygen in the overall precursor from zero to a maximum of 70 at % (hydrogen not considered). It is interesting to note, that the catalyst with the maximum activity in this work has a relative content of oxygen (44 at %) very similar to the one calculated for the precursor of the oxalate support pyrolysis of porphyrins (43 at %). This might be an indicator for its very good performance. Furthermore, the results indicate that only by using relative fractions of oxalic acid ≥40% in the SFA, a sufficiently amorphous carbon is formed that enables high kinetic current densities.
Nevertheless, it must be pointed out that further characterization including Mößbauer spectroscopy and X-ray induced photoelectron spectroscopy will be required to enable a conclusive interpretation on the role of oxygen in the precursors to obtain highly active Fe-N-C catalysts.
On the basis of the results provided in this work, we can conclude that both a high surface area and sufficient nitrogen content are required to achieve a good performing Fe-N-C catalyst.
3. Materials and Methods
3.1. Catalyst Preparation
In order to prepare a precursor, first sulfur (0.78 mol eq) is grounded in a mortar together with iron chloride hexahydrate (1 mol eq). Then, 1,10-phenanthroline (0.48 mol eq) is added and mixed until a homogeneous mixture is obtained. Finally, the structure-forming agents (SFAs) (6.5 mol eq) are added and the mixture is grounded until homogeneous. The preparation is given as Scheme in
Figure 8
, below.
As mentioned in the scheme, the color of the precursor changed upon addition of DCDA and/or oxalic acid. At the same time the initially solid precursor mixture turned into a viscose paste. While DCDA addition gave a distinct red color to this pulp (might be indicative of [Fe(CN)6]3+ formation), the addition of oxalic acid turned the color more orange/light brown. In addition, gas evolution took then place. If the precursor was then left in air, finally the precursor appeared like a meringue as visible in the picture. Regarding the precursor to obtain the 80% catalyst of this variation series, it contains the minimum amount of DCDA that had to be present to enable this gas evolution. Gas evolution and formation of this meringue-like morphology was not observed at higher oxalic acid contents. Except for this; however, the precursor of the 80% sample behaved rather similar during preparation compared to the other samples.
The as-obtained precursor mixture is filled in quartz boats and then subjected to a heat-treatment. For the pyrolysis a heating ramp of 5 °C min−1 is chosen. To allow the system to balance in-between there are two dwell times at 300 and 500 °C, each for 30 min, before heated to the final end temperature of 800 °C with a dwell time of 60 min.
After cooling down (<80 °C) the quartz boat with the main part of the pyrolysis product is transferred to 2 M HCl. The composition is first acid-leached for 1 h in an ultrasonic bath and then further stirred for additional 8 h (usually over-night). After filtration, washing with H2O and drying the final mass is obtained.
Note, for determining the yields the final catalyst mass (yield after pyrolysis and acid leaching) or the mass after pyrolysis was divided by the related precursor masses of iron chloride hexahydrate, 1,10-phenanthroline and sulfur, without considering the masses of DCDA and/or oxalic acid. This was applied, as otherwise, due to the different molar masses of DCDA and oxalic acid also the absolute mass of the precursor mixture would have changed.
3.2. Electrochemical Measurements
Electrochemistry is performed in 0.1 M H2SO4 with a conventional 3-electrode setup. The working electrode is a glassy carbon disc (0.196 cm2) coated with the catalyst ink. As counter and reference electrode; respectively, a glassy carbon rod and an Ag/AgCl were used. All given potentials refer to the reversible hydrogen electrode (RHE). In order to prepare the catalyst ink, 5 mg of catalyst powder were dispersed in a mixture of 25 µL Nafion (5 wt %), 83.3 µL H2O and 142 µL ethanol, hence the Nafion to catalyst ratio is 0.25. After 30 min of sonication the ink is homogenized with an ultrasound homogenizer. Then 5 µL of the ink are dropped on the GC disc and left to dry (catalyst loading: 0.5 mg cm−2).
First measurements are performed in N2 saturated electrolyte with a conditioning of the electrode (20 scans with 300 mV s−1, 0.0 to 1.2 V). Then a CV is measured with 100 mV s−1, this CV is used for evaluating the capacitive current density of our catalysts. In addition, one Linear Scan Voltammogram (LSV) is measured from 1.2 to 0.0 V for later background correction of the RDE data with 10 mV s−1.
After saturating the electrolyte for 15–20 min with oxygen, three LSVs are recorded in the same potential range with 0, 900 and 1500 rpm as rotation speed. After background correction, the kinetic current density j
kin
is determined by Equation (1).
jkin(U) = [jDiff,lim × j(U)] × [jDiff,lim − j(U)]−1
In this equation, jDiff,lim is the as-measured diffusion limiting current density. For those catalysts that do not display a pronounced diffusion plateau the current density at 0.0 V was chosen as jDiff,lim. The parameter j(U) is the as-measured current density.
3.3. Raman Spectroscopy
Raman spectroscopy was performed with an "alpha300 R" confocal Raman microscope (WITEC, Ulm, Germany) with a laser wavelength of 532.2 nm. Spectra were recorded in a range of 0 to 4000 cm−1 as overlay of ten scans each with 10 s of integration time. For the measurements, catalyst ink was dropped on a silicon disc and dried. For each sample measurements are performed at two to three different locations and the average graphs are plotted in this work.
For the fitting of the 1st order range typically found for carbon blacks (800–2000 cm−1) four bands were introduced with Voigt line shape.
3.4. N2 Sorption Measurements
In order to determine the BET surface area and micropore surface area (from V-t plots) of all catalysts, N2 sorption measurements were made with an Autosorb-3B (Quantachrome, Boynton Beach, FL, USA). Previous to the measurements, the samples (about 100 mg of the catalyst powders) were degassed at 200 °C over-night. Only for some of the catalysts a micropore surface area was obtained.
3.5. Combustion Analysis (CHN)
Combustion analysis was performed for the overall sample series with a VarioEL III instrument (Elementar Analysesysteme GmbH, Langenselbold, Germany). Each sample was measured two times, average values as well as the standard deviation were determined and are included in the plots. In all cases the sum of the three components did not count up to 100%, what shows that additional species are present within the catalysts. This might be iron, sulfur and oxygen and maybe chlorine from the acid leaching step.
Author Contributions
Conceptualization and Methodology, U.I.K.; Preparation and formal analysis, S.S.; Structural characterization, W.D.Z.W., S.S., I.M., R.W.S., N.W.; Writing: Original Draft Preparation, U.I.K., S.S., N.W.; Writing: Review & Editing, all authors; Supervision, N.W.; Project Administration, and Funding Acquisition, U.I.K.
Funding
This research was funded by the German ministry of education and research (BMBF) by grant number 03XP0092. In addition, I.M. and U.I.K. like to acknowledge further funding by the Graduate School of Excellence Energy Science and Engineering (GSC1070) funded by the German research foundation (DFG).
Conflicts of Interest
The authors declare no conflict of interest.

Figure 1.
(
a
) Change of the synthesis yield as a function of relative part of oxalic acid in the overall SFA (considering molar fractions), both the yield after heat-treatment (
▲
) and after heat-treatment plus acid-leaching (■) are shown. In (
b
) the relation between BET surface area (left axis, ■); respectively, ratio of the yields (right axis,
o
) and the amount of oxalic acid in the structure-forming agent (SFA) are given.


Figure 2. Cyclic voltammetry (100 mV s−1) in N2 saturated 0.1 M H2SO4 (a) and rotating disc electrode experiments (rpm 1500, 10 mV s−1) (b) of the variation series.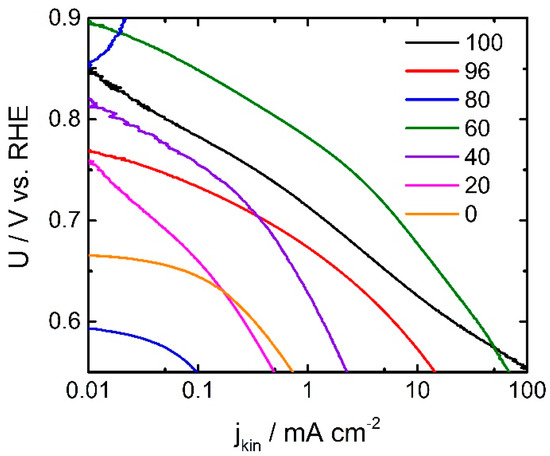 Figure 3.
Tafel plots of all investigated catalysts (calculated from RDE data provided in
Figure 2
b).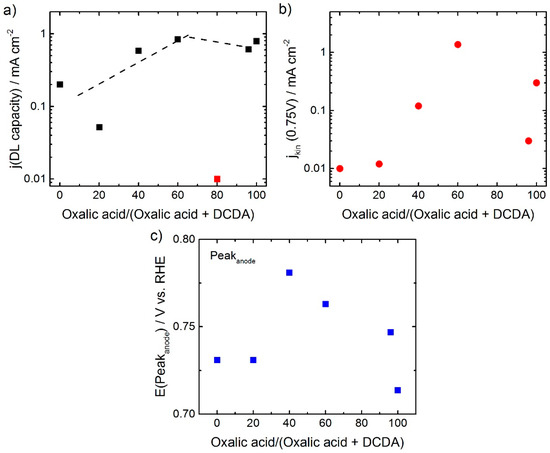 Figure 4.
Analysis of electrochemical data. In (
a
) the current density related to the double layer capacity (100 mV s
−1
) (■), outlier at 80% (
■
), in (
b
) the kinetic current density j
kin
(
●
) and in (
c
) the potential positions of the peak maxima in the anodic sweep of the CVs are given as a function of the ratio of oxalic acid in SFA (
■
).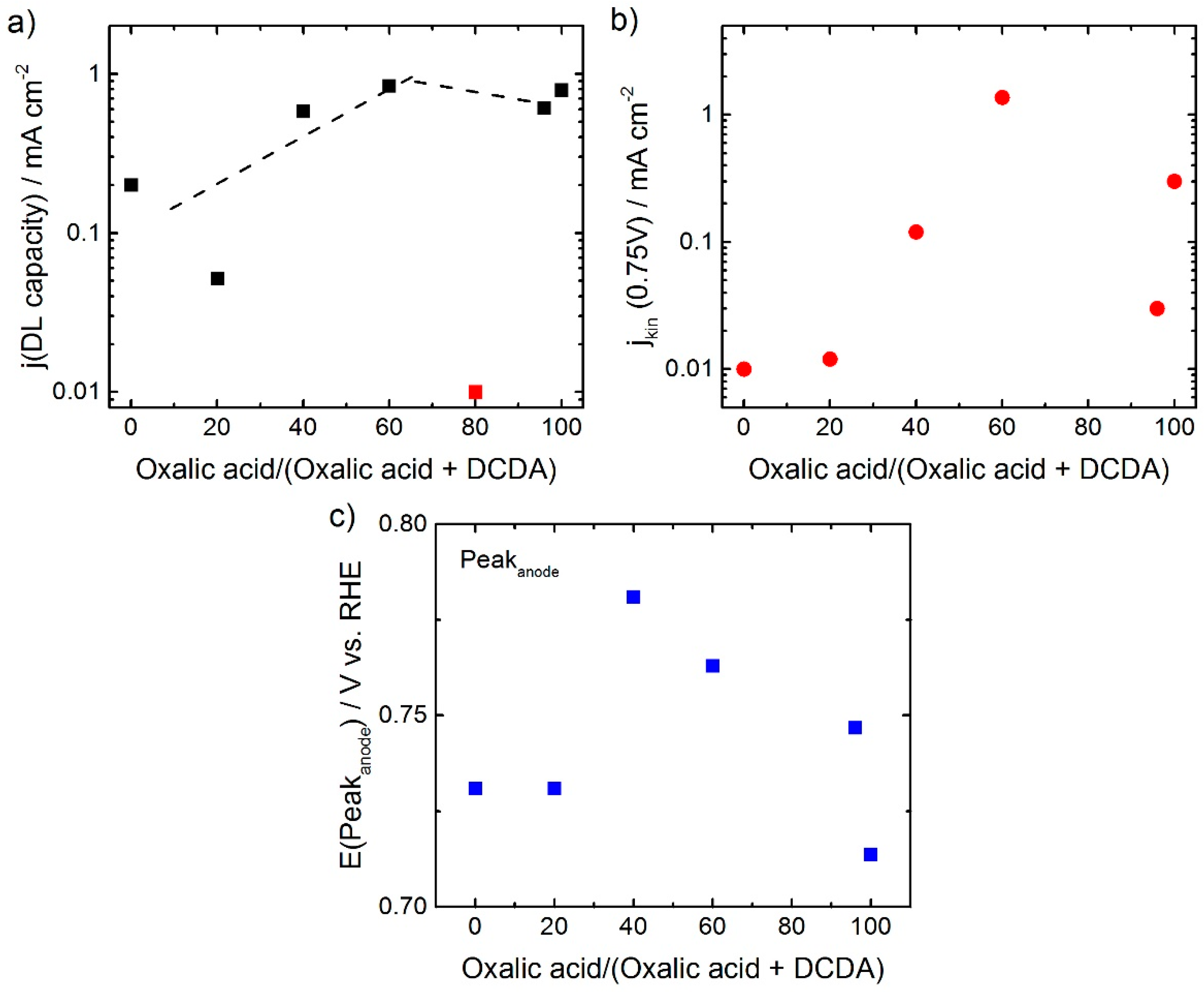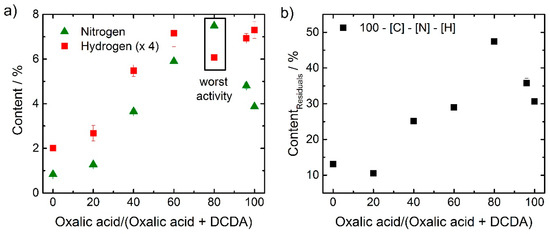 Figure 5.
Results of elemental analysis for nitrogen (
▲
) and hydrogen (
■
) (values multiplied by factor of four) are shown (
a
). In (
b
) the content assigned to residuals is given (■).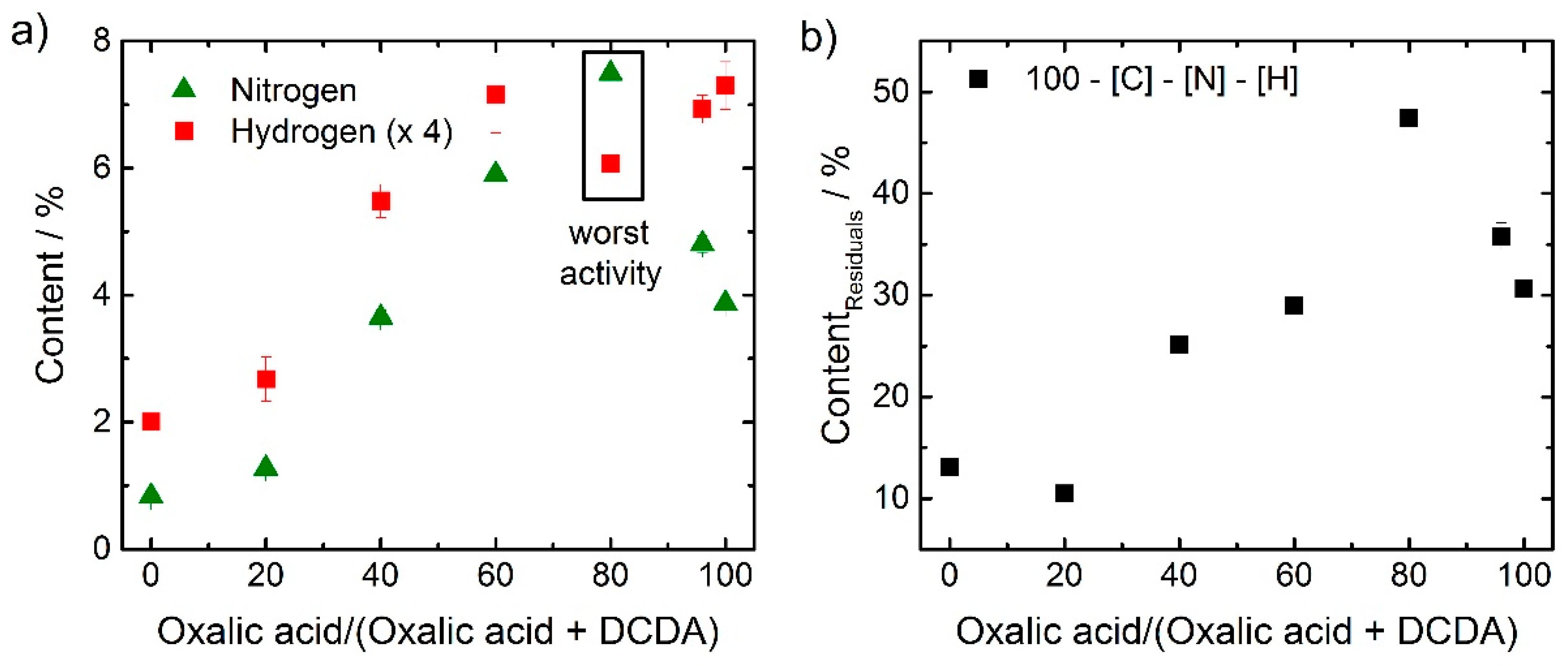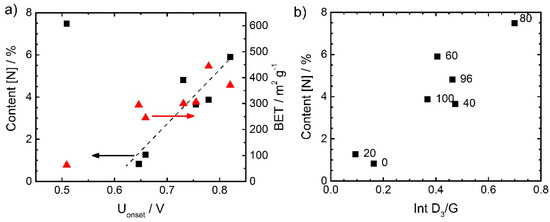 Figure 6.
Correlation between the nitrogen content from elemental analysis (left axis, ■) as well as BET surface area (right axis,
▲
) and the onset potential (
a
) (defined as potential at −0.1 mA cm
−2
) and correlation between the nitrogen content and the intensity ratio D
3
/G from Raman spectroscopy (
b
).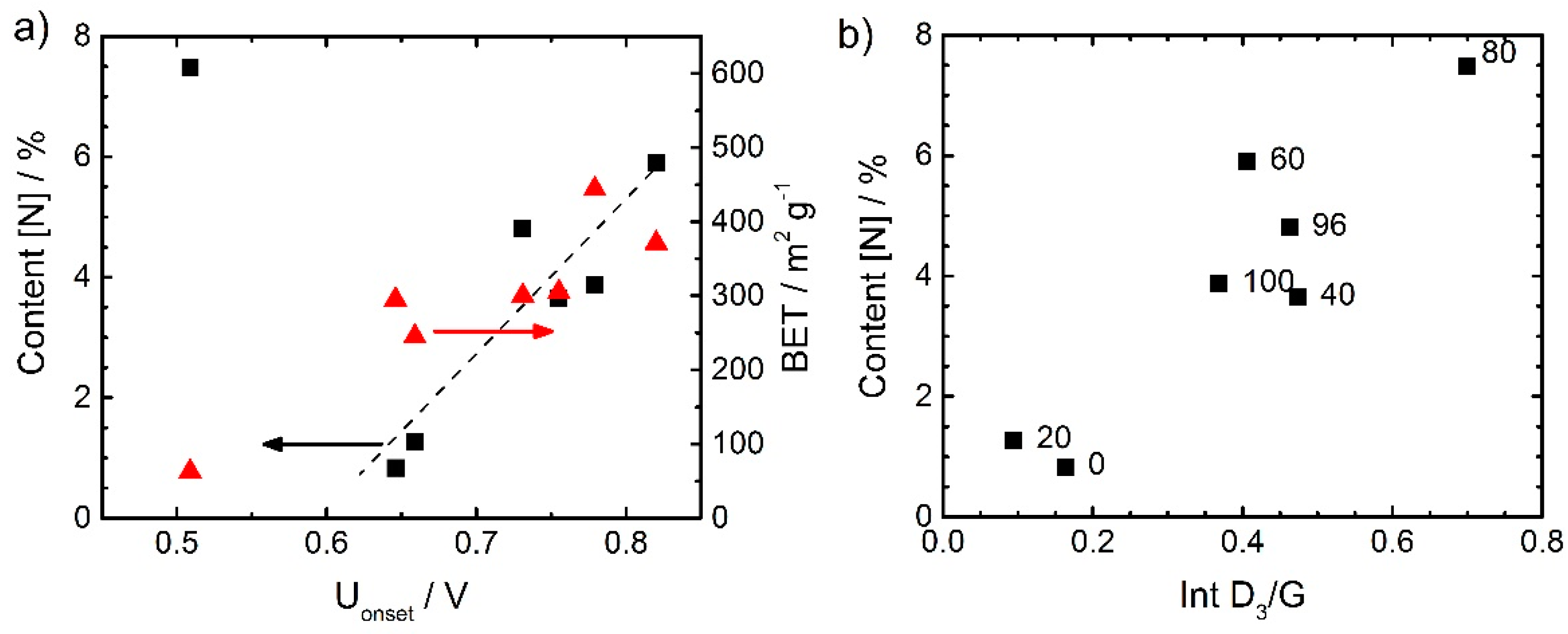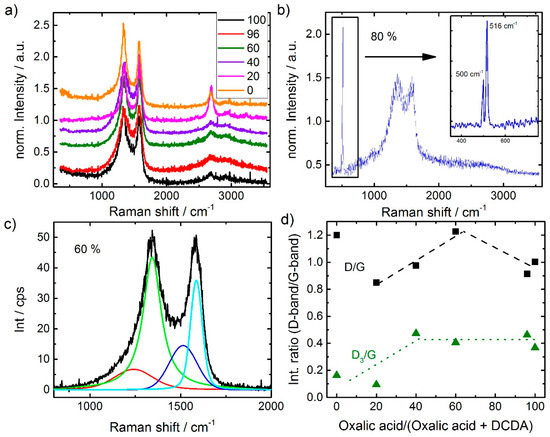 Figure 7.
Raman spectra of the variation series (
a
), spectrum for 80% oxalic acid in SFAs (
b
) and deconvoluted Raman spectrum (1st order region) of the best performing catalyst with 60% oxalic acid in SFAs (
c
). Influence of the ratio of oxalic acid in the SFA on the D/G (■) and D
3
/G band ratios (
▲
) (
d
).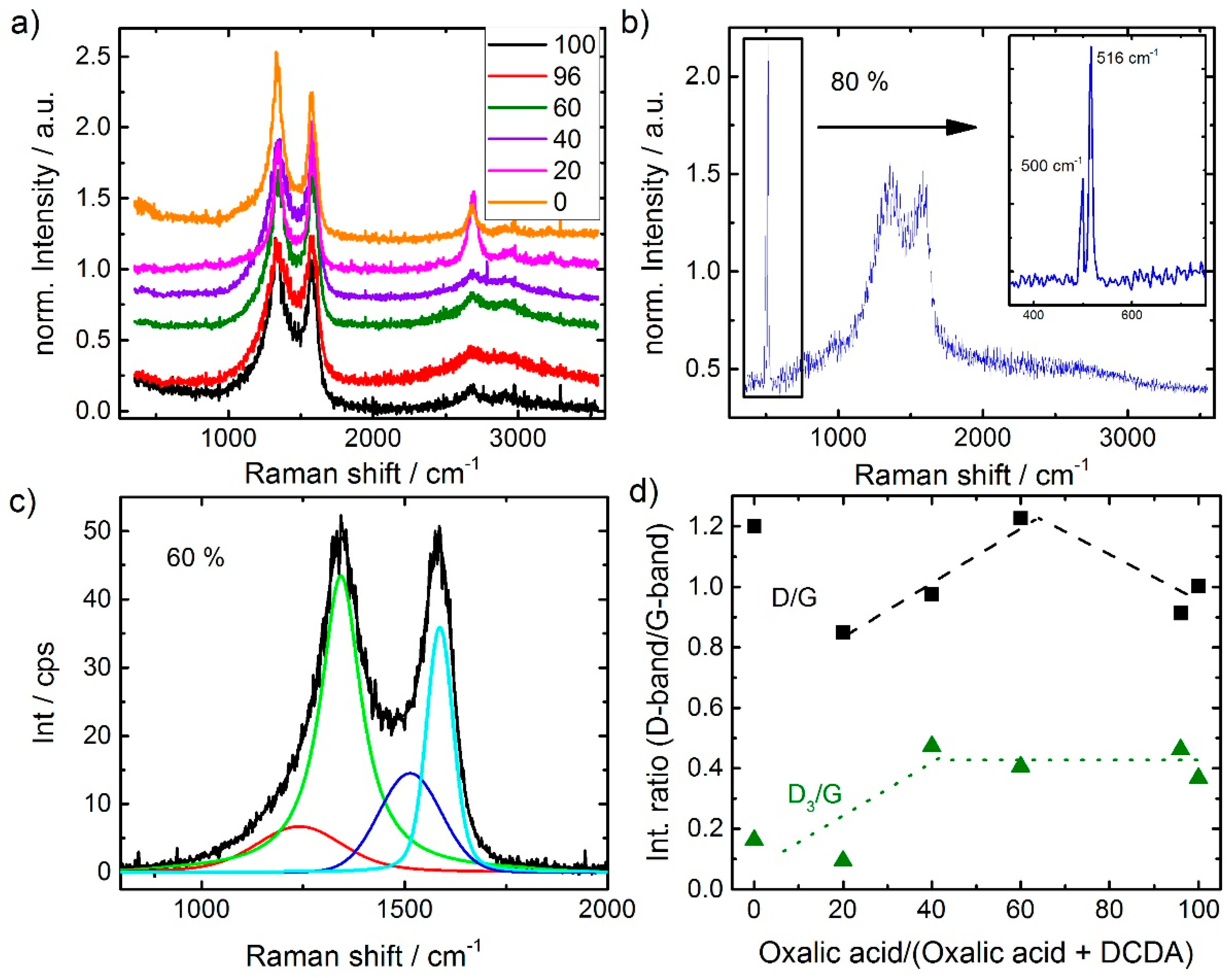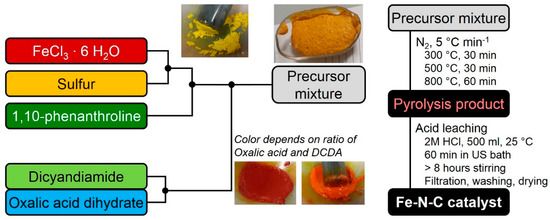 Figure 8. Scheme of the preparation procedure to obtain Fe-N-C catalysts by the use of two different type of SFA.


Table 1. Summary of the results obtained from N2 sorption measurements. SA is used as surface area and DCDA as dicyandiamide.
| Oxalic Acid/(Oxalic Acid + DCDA) | 100 | 96 | 80 | 60 | 40 | 20 | 0 |
| --- | --- | --- | --- | --- | --- | --- | --- |
| BET SA/m2 g−1 | 444 | 300 | 63 | 371 | 305 | 245 | 295 |
| Meso SA/m2 g−1 | 441 | 300 | 35 | 147 | 277 | 245 | 295 |
| Micro SA/m2 g−1 | 3 | <1 | 28 | 224 | 28 | 0 | 0 |
| Micro/BET/% | 1 | <1 | 44 | 60 | 9 | 0 | 0 |

© 2018 by the authors. Licensee MDPI, Basel, Switzerland. This article is an open access article distributed under the terms and conditions of the Creative Commons Attribution (CC BY) license (http://creativecommons.org/licenses/by/4.0/).