Open Access This article is
freely available
re-usable
Article
Immobilization of
Enterobacter aerogenes
by a Trimeric Autotransporter Adhesin, AtaA, and Its Application to Biohydrogen Production
Department of Biomolecular Engineering, Graduate School of Engineering, Nagoya University, Furo-cho, Chikusa-ku, Nagoya 464-8603, Japan
†
These authors contributed equally to this work.

Received: 30 March 2018 / Accepted: 13 April 2018 / Published: 16 April 2018
Abstract
:
Biological hydrogen production by microbial cells has been extensively researched as an energy-efficient and environmentally-friendly process. In this study, we propose a fast, easy method for immobilizing
Enterobacter aerogenes
by expressing
ataA
, which encodes the adhesive protein of
Acinetobacter
sp. Tol 5. AtaA protein on the
E. aerogenes
cells carrying the
ataA
gene was demonstrated by immunoblotting and flow cytometry. The AtaA-producing cells exhibited stronger adherence and auto-agglutination characteristics than wild-type cells, and were successfully immobilized (at approximately 2.5 mg/cm
3
) on polyurethane foam. Hydrogen production from the cell-immobilized polyurethane foams was monitored in repetitive batch reactions and flow reactor studies. The total hydrogen production in triple-repetitive batch reactions reached 0.6 mol/mol glucose, and the hydrogen production rate in the flow reactor was 42 mL·h
−1
·L
−1
. The AtaA production achieved simple and immediate immobilization of
E. aerogenes
on the foam, enabling repetitive and continuous hydrogen production. This report newly demonstrates the production of AtaA on the cell surfaces of bacterial genera other than
Acinetobacter
, and can simplify and accelerate the immobilization of whole-cell catalysts.
Keywords:
hydrogen production;
Enterobacter
; immobilization; trimeric autotransporter adhesin; cell surface engineering; whole-cell catalyst; surface display
Acknowledgments
This work was supported by a Strategic International Research Cooperative Program from JST. We thank Leonie Pipe, PhD, from Edanz Group (
www.edanzediting.com/ac
) for editing a draft of this manuscript.
Author Contributions
K.H., H.N., and Y.O. designed the study, and H.N. and K.H. wrote the paper. N.D. obtained the transformant cells, analyzed the cells by flow cytometry, and measured the hydrogen production. Y.O. conducted the SDS–PAGE and immunoblotting. N.D., H.N., and Y.O. analyzed the data. All authors reviewed the manuscript.
Conflicts of Interest
The authors declare that they have no conflicts of interest with the contents of this article.
Figure 1.
Expression and production of AtaA in
Enterobacter aerogenes
IAM1183. (
A
) Immunoblotting of outer membrane proteins prepared from the wild-type
E. aerogenes
IAM1183 (middle lane) and the cells transformed with the pAtaA construct (left lane) or Tol 5 4140::pAtaA (positive control, right lane). Arrow points to the detected band of the full-length AtaA protein. (
B
) Flow cytometry analysis for confirming surface display of AtaA on the transformant.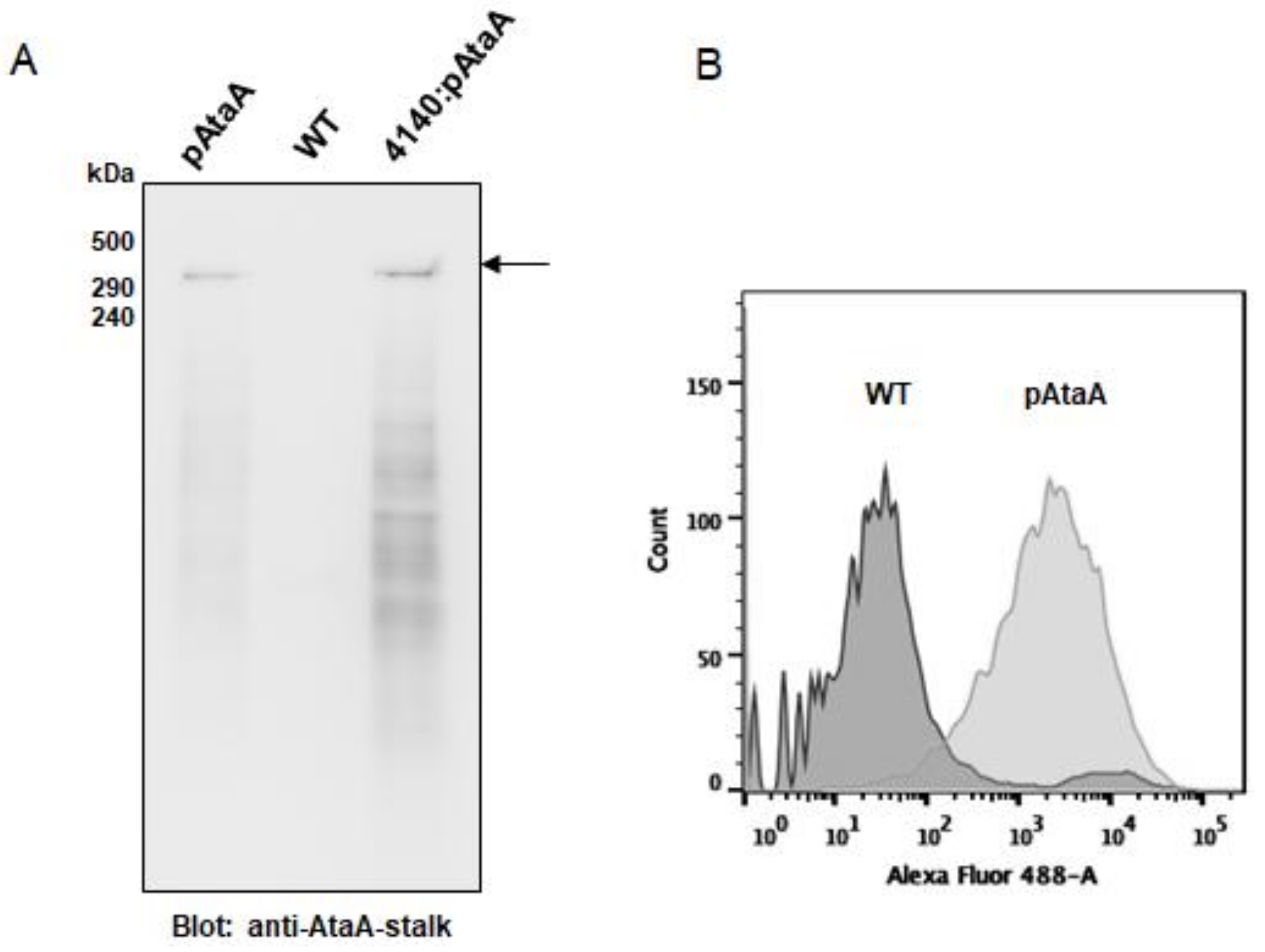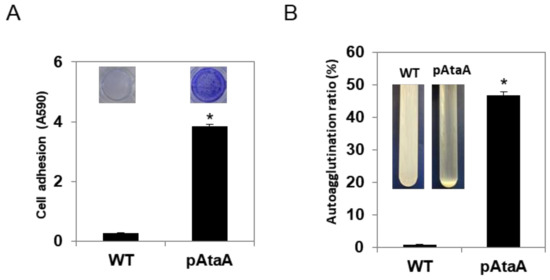 Figure 2.
Adherence and auto-agglutination assay of
Enterobacter aerogenes-
expressing
ataA
. (
A
) A cell suspension was placed on the polystyrene plate, and the cells adhering to the bottom of a 48-well were stained with Crystal Violet (photographs, inset). Adherent cells were quantified by measuring the Crystal Violet absorbance at 590 nm. (
B
) The sediment of the transformant at the bottom of the test tube was observed after settling for 3 h (photographs, inset), and the auto-agglutination ratio was calculated from the OD
600
decrease in the upper segment of the cell suspension. Data are the mean ± SD of three independent measurements. Significant differences between the data (student
t
-test,
p
< 0.01) are marked with asterisk (*).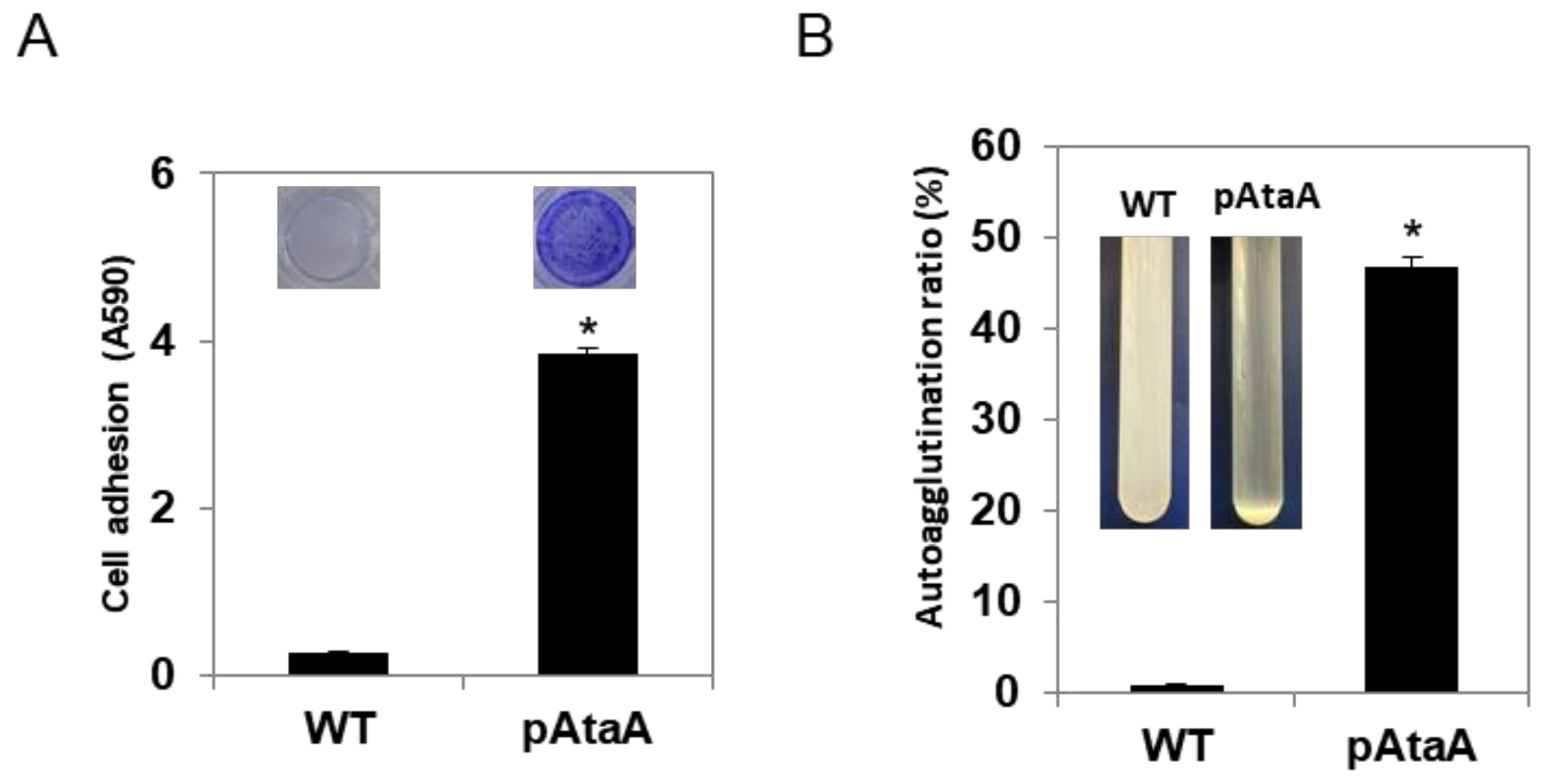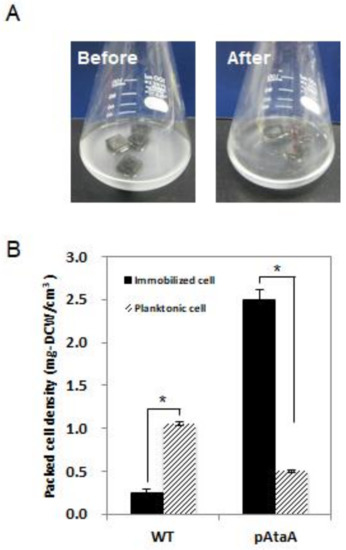 Figure 3.
Immobilization of
ataA
-expressing
E. aerogenes
on polyurethane foams. A cell suspension of the transformant was shaken with polyurethane foams in the flask. (
A
) A clear suspension was observed after 2 h of shaking. (
B
) Immobilized cells were detached from the 4 pieces of polyurethane foams, and the cells were freeze-dried for dry cell weight (DCW) measurements. The DCW of the remaining cells in the 20 mL of suspension was also measured. Dry cell densities packed in the unit volume were calculated. Data are the mean ± SD of three independent studies. Significant differences between the data (student
t-
test,
p
< 0.01) are marked with an asterisk (*).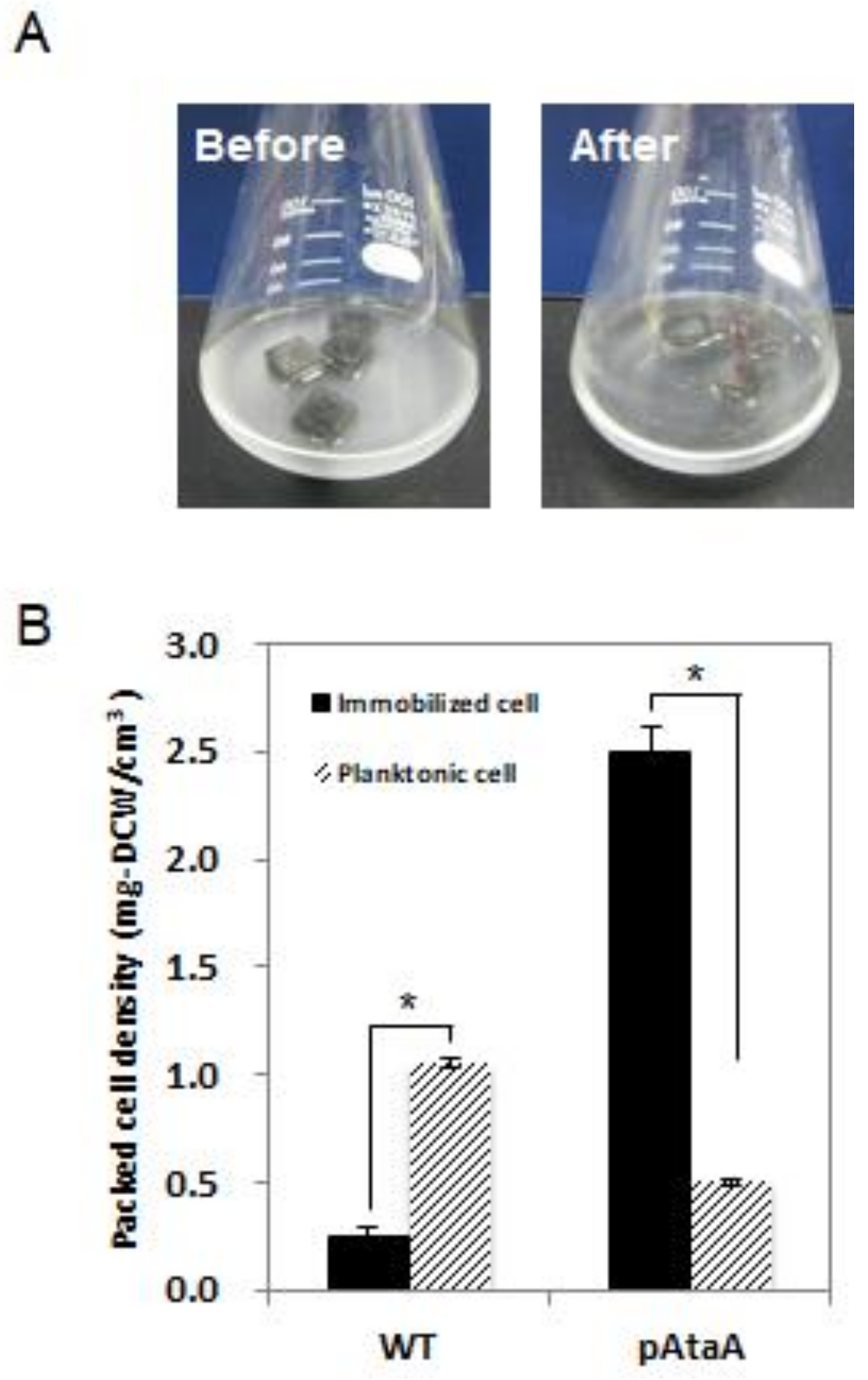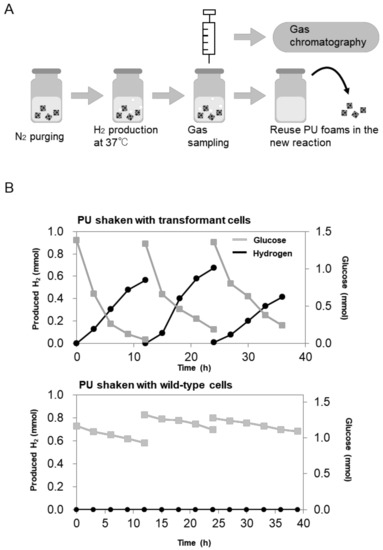 Figure 4.
Repetitive hydrogen production by immobilized
E. aerogenes
in batch reactions. (
A
) Repetitive batch reactions utilizing polyurethane foams shaken with the transformant or wild-type cells; (
B
) hydrogen yields (black) and glucose consumptions (gray) measured during the three repetitive batches.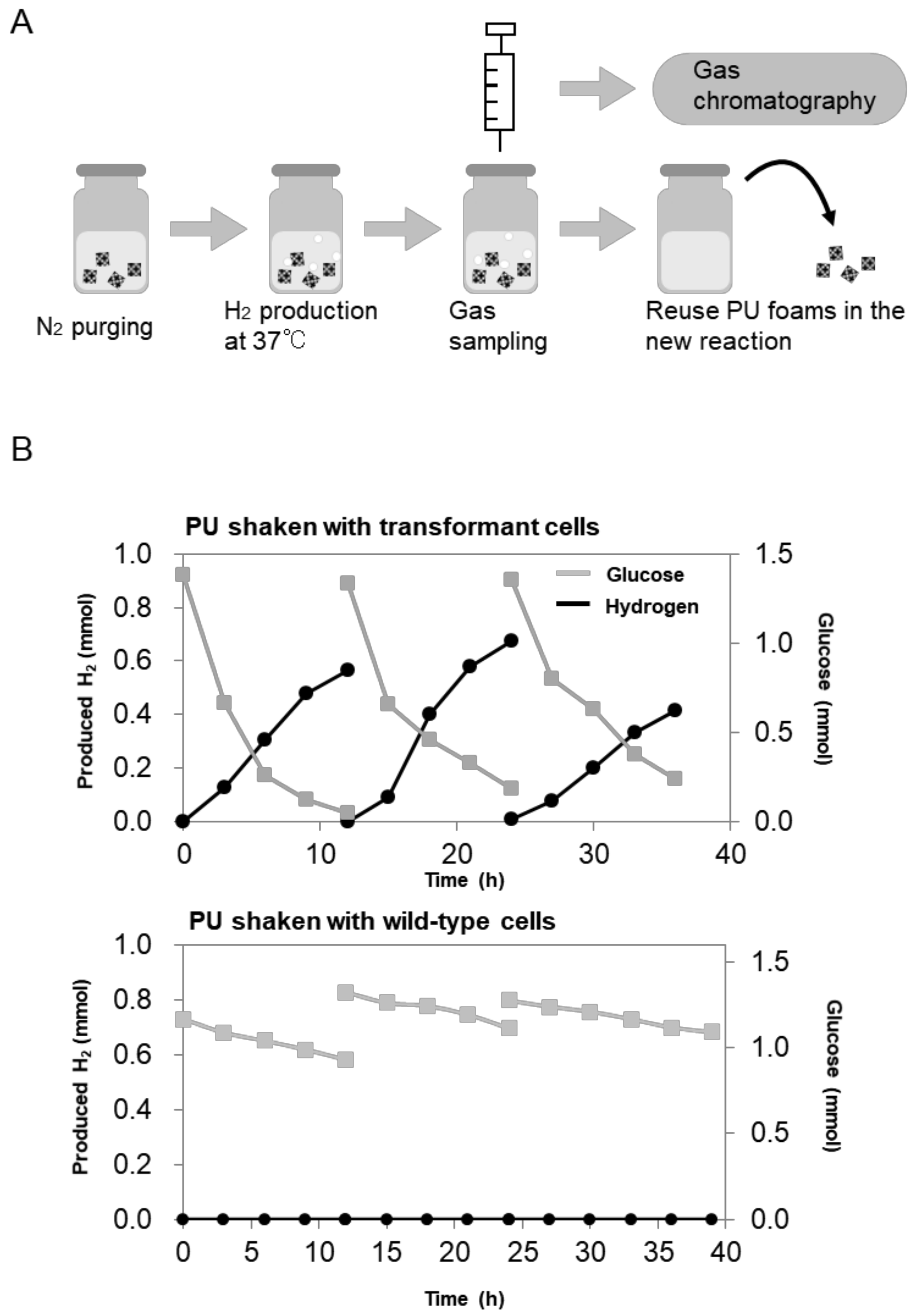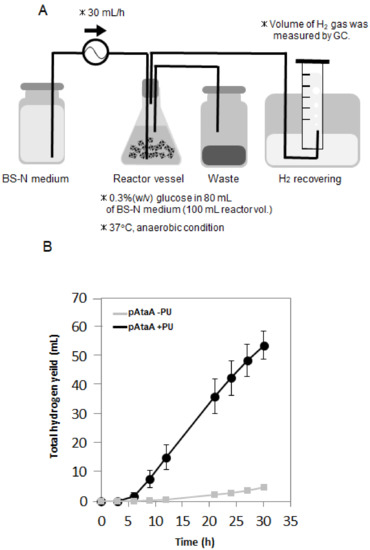 Figure 5.
Continuous hydrogen production by immobilized
E. aerogenes
in a flow reactor. The flow reactor was inoculated with immobilized or planktonic cells. (
A
) Measurement procedure of hydrogen yields during the reactions. (
B
) Hydrogen yield versus time in the flow reactor with immobilized-cells on polyurethane (pAtaA +PU: black) and with the planktonic-cell (pAtaA -U: gray). Data are the mean ± SD of three independent studies.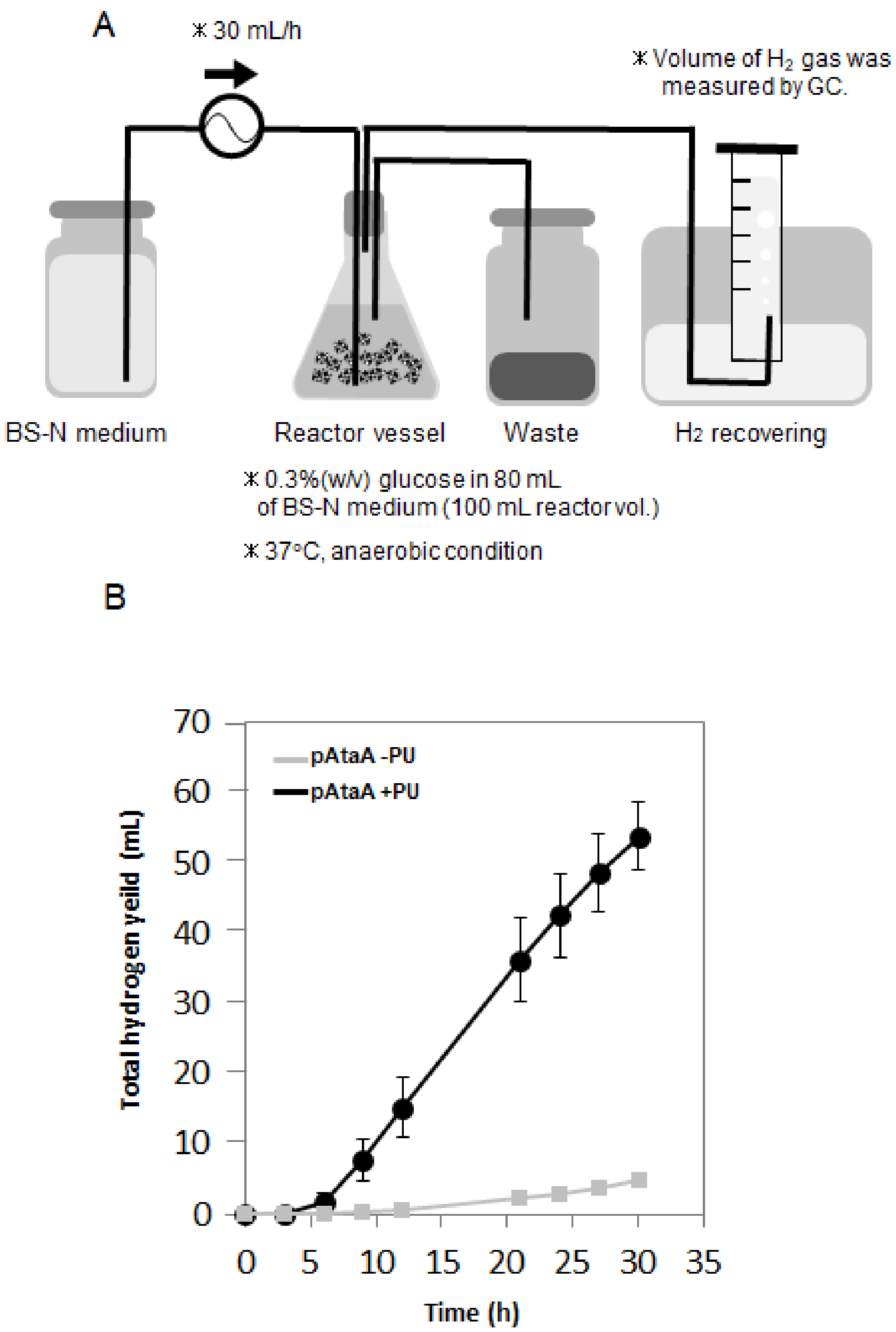 Biocatalyst
Immobilization Method
Reactor Type
Feed Stock
Production Rate
Conversion Rate
Advantage/
Disadvantage
Reference
Enterobacter aerogenes IAM1183
Adhesion of AtaA protein on polyurethane foam
CSTR in Erlenmeyer flask
Glucose
42 mL·h−1·L−1
(1.87 mmol·h−1·L−1)
0.6 mol/mol glucose (Batch)
Immediate and direct immobilization (2–3 h)/
Low production rate
This study
Enterobacter aerogenes ATCC 13048
Gel entrupment in alginate gel
Packed-bed tubular column reactor
Glucose
n/d
9.44 mmol/g glucose (1.7 mol/mol glucose)
High conversion rate/
Complex immobilization processes
[37]
Enterobacter aerogenes HO-39
Adsorptionon porous glass beads
Packed-bed column reactor
Glucose
850 mL·h−1·L−1
(37 mmol·h−1·L−1)
0.73 mol/mol glucose
High production rate/
complex immobilization processes
[38]
Enterobacter cloacae IIT-BT 08
Biofilm formation on Lignocellulosic agroresidues
Packed-bed reactor
Glucose
75.6 mmol·h−1·L−1
n/d
High production rate/
Long setup time (20 h)
[4]
Enterobacter aerogenes NCIMB 10102
Biofilm formation on synthetic sponge
Packed-bed column reactor
Glucose
10.2 mmol·h−1·L−1
1.36 to 3.02 mmol/mmol glucose
High production and conversion rate/
Long setup time
[39]
Enterobacter aerogenes E.82005
Biofilm formation on polyurethane foam
Hand-made fermenter
Molasses from a sugar refinery
13 mmol·h−1·L-culture−1
1.5–3.5 mol/mol sugar
High production and conversion rate/
Long setup time (14 days)
[17]

© 2018 by the authors. Licensee MDPI, Basel, Switzerland. This article is an open access article distributed under the terms and conditions of the Creative Commons Attribution (CC BY) license (http://creativecommons.org/licenses/by/4.0/).