Open Access This article is
freely available
re-usable
Communication
Highly Active Nickel-Based Catalyst for Hydrogen Evolution in Anion Exchange Membrane Electrolysis
1
Department of Materials Science and Engineering, Norwegian University of Science and Technology, NO-7491 Trondheim, Norway
2
SINTEF Industry, Sustainable Energy Technology Department, New Energy Solutions Group, Trondheim, Norway
*
Authors to whom correspondence should be addressed.
Received: 6 November 2018 / Accepted: 29 November 2018 / Published: 3 December 2018
Abstract
:
Anion exchange membrane (AEM) electrolysis is hampered by two main issues: stability and performance. Focusing on the latter, this work demonstrates a highly active NiMo cathode for hydrogen evolution in AEM electrolysis. We demonstrate an electrolyzer performance of 1 A cm−2 at 1.9 V (total cell voltage) with a NiMo loading of 5 mg cm−2 and an iridium black anode in 1 M KOH at 50 °C, that may be compared to 1.8 V for a similar cell with Pt at the cathode. The catalysts developed here will be significant in supporting the pursuit of cheap and environmentally friendly hydrogen fuel.
Keywords:
Nickel; HER; anion exchange membrane; electrolysis
1. Introduction
In this paper, we show that our synthesized NiMo catalyst offers a cathode performance comparable to Pt nanoparticle catalyst in AEMWE. We also include a description of the influence of the KOH concentration on the performance of NiMo HER catalysts in a real AEMWE environment.
2. Results and Discussion
We emphasize that apart from the cathode catalyst layers, the two cells were constructed using the same components, i.e., using the same type of bipolar plates, porous transport layers, anode catalyst layers, and membranes. Therefore, the differences in the EIS of the different cells are attributed to the cathode catalyst layer only.
3. Materials and Methods
3.1. Chemicals and Materials
NiMo/X72 prepared in our lab, Commercial Pt/C (Alfa Aesar 60% on carbon support, Massachusetts, USA) and Ir black (Alfa Aesar 99.8% S.A> 20 m2/g), Fumatech ionomer: Fumion FAA-3-SOLUT-10 anion exchange polymer solution N-methyl-2-pyrrolidone (NMP) solvent solution, concentration 10 wt. % purchased from Fumatech BWT group, Germany. Fumapem FAA 3–PE membrane: Anion exchange Membrane )20–30 µm) purchased from Fumatech BWT group, Germany. Sigma Aldrich (Sigma-Aldrich Chemie Gmbh, Munich, Germany) supplied reagent grade Isopropanol (IPA). All chemicals were used as received and deionized (D.I) water used was of 18.2 MΩ.cm resistivity.
NiMo Catalyst Synthesis: NiMo nanosheet prepared by a simple chemical reduction at 20 ± 2 °C as reported by many groups for other transition metals [
48
,
49
]. In this process we reduced 200 mL of aqueous mixture of ammonium molybdate tetrahydrate (NH
4
)
6
Mo
7
O
24
·4H
2
O and nickel nitrate hexahydrate Ni (NO
3
)
2
·6H
2
O with molar concentration of Ni:Mo (0.9:0.1) in the presence of sodium borohydride (NaBH
4
) to produce Ni
0.9
Mo
0.1
supported on Vulcan carbon XC/72 (60 wt. %). Sodium borohydride concentration was three times that of the metal precursor to ensure full reduction and compensate for the hydrogen gas evolution. The final solution was centrifuged and dried under vacuum at room temperature.
3.2. Catalyst Characterization
3.2.1. Structural Characterization
The morphology of the NiMo nanosheets was studied Using scanning electron microscopy (SEM, Carl Zeiss supra 55, Oberkochen, Germany). NiMo nanosheets were investigated using Hitachi s-5500 FESEM (Krefeld, Germany), using Scanning transmission electron microscopy (STEM) mode, NiMo dissolved in ethanol and the solution deposited on Formvar/Carbon 300 mesh, Copper grid hole size: 63 µm. Structural and crystalline characteristics of the nanosheets were investigated using a Bruker D8 A25 DaVinci X-ray Diffractometer with CuKα radiation (Billerica, Massachusetts, USA). The average wavelength of the radiation was 1.5425 Å. Raman spectroscopy was carried out with a Renishaw InVia-Reflex Spectrometer using VIS excitation at 532 nm (100 mW) with spectral resolution <1 cm−1. Surface electronic states and composition of NiMo nanosheets were carried out by X-ray photoelectron spectroscopy (XPS). XPS spectra were collected within an Axis Ultra DLD instrument (Kratos Analytical, Manchester, UK) equipped with a monochromatic Al X-ray source.
3.2.2. Preparation of the Electrode for RDE Measurement
The catalyst ink was prepared by homogenization of 5 mg of catalyst material in a solution of (0.5 mL D.I water, 0.44 mL Isopropanol + 60 µL Nafion 117 solution). The ink sonicated in an ultrasonication bath for 30 min. An aliquot of homogenized catalyst ink was deposited onto a glassy carbon electrode. The shaft was rotated at 100 rpm (mass loading was kept at 0.25 mg/cm2). The ink was subsequently dried in air at room temperature by maintaining the rotator speed at 700 rpm for 15 min.
3.2.3. Electrochemical Characterization
The electrochemical measurements were carried out using a multi-channel electrochemical analyzer (Ivium-n-Stat). A rotating disk electrode (RDE) (PINE Research Instrumentation, (Durham, NC, USA), modified as described before, was used as a working electrode. Platinum foil served as a counter-electrode. The Hg/HgO (Pine Research) was used as a reference electrode. Nitrogen-saturated 1 M KOH solution was used as an electrolyte. It was freshly prepared before each set of experiments. LSV curves were collected in a potential range of −0.4 to −1.9 V vs. Hg/HgO using a scan rate of 5 mV/s at 1600 rpm rotation speed. All electrochemical experiments were done at a temperature of 22 ± 2 °C. All resulting data were corrected for IR loss due to the solution resistance. The equation corrected the compensated potential:
Ecompensated = Emeasured − iR
where E
compensated
and E
measured
denote as the compensated and measured potentials, respectively.
Short-term durability and stability test was carried out using chronoamperometry for 20 h at −200 mV constant cathodic overpotential. Electrochemical impedance spectroscopy (EIS) measurements at selected potentials were carried out in range of 0.1 Hz to 100 kHz in 1M KOH. All potentials measured were calibrated to RHE using:
ERHE = EHg/HgO + 0.098 V + (0.059 V pH).
3.3. MEA Preparation
Ink preparation: the mixing procedure includes: (1) add required amount of water (4.8 gm) and ionomer (1.92 g (gm)) to catalyst powder then sonicate with ice for 15 min. (2) add IPA (4.8 gm). (3) sonicate for 10 min with ice. (4) Mix with an ultrasonic probe (the ultrasonic probe is Branson Digital Sonifier model 102c) for 5 min with ice, amplitude = 40%. (Sonication is to ensure a good mixture of ink and to keep it un-agglomerated, and it is done at 5 ± 2 °C, the uniformity of ink composition is essential to ensure reproducible results). For these experiments, we keep NiMo/X72 loading 5 mg/cm2 and Ir loading 3mg/cm2.
Spraying MEA: The 25 cm2 AEM catalyst coated membranes (CCMs) were prepared by spraying (airbrush) catalyst directly on to membranes mounted to a temperature controlled hot plate at 60 °C, a slower rate of spraying resulted in better CCM. The MEAs were fabricated using airbrush spraying. The fumatech membrane was assembled in a plastic holder that functions as a mask as well to leave only the active area open to deposition. A commercial Coltech airbrush spraying (0.35 mm nozzle) was used during the deposition. There are 10 min waiting between cathode and anode spraying.
The MEAs were conditioned and exchanged to the OH form in-situ. The water electrolyzer setup consisted of a 5 L Teflon tank with heaters and a peristaltic pump, which was used to pump hot KOH (50 °C) through the AEMWE cell. The cells were always filled with the KOH solution during operation and were not exposed to ambient air. This eliminates some of the drawbacks associated with AEM in fuel cells, e.g., membrane degradation due to dry conditions and precipitation of carbonates.
3.4. Cell Testing
For single cell tests: The MEAs were assembled in a modified Baltic cell hardware between two commercially available Ti porous transport layer for water electrolysis (Beakaert). The MEA was conditioned and exchanged to the OH form in-situ. The setup consists of 5 L Teflon tank with heaters and a peristaltic pump to pump hot KOH through the AEMWE cell. The cell was operated at 50 °C and atmospheric pressure, KOH was fed in anode and cathode sides. During cell testing, MEA with carbon only as a cathode was used to evaluate the activity of the cell without NiMo catalyst.
For electrochemical analyses, a high-current potentiostat (HCP-803, Bio-Logic, Seyssinet-Pariset, France) was used to control cell voltage and measure impedance. The current density was measured for repeated voltage cycles from 1.5 to 2 V. Electrochemical impedance spectroscopy (EIS) was employed to determine the cell performance–affecting resistances for different operating and electrode fabrication conditions, with the corresponding analyses performed at different current densities such as 0.1, 0.4, and 0.8 A/cm2 in the AC frequency range of 50 kHz–200 mHz.
3.5. SEM and EDX Mapping
The catalyst layers on the MEA and the cross-sectional view were examined by high-resolution scanning electron microscopy (SEM); Zeiss supra 55 was used. Samples were prepared by cutting 1.0 mm wide strips from the different MEA and fixed on aluminum holders before analysis.
4. Conclusions
In summary, we have demonstrated that the use of amorphous NiMo catalyst supported on carbon as cathode leads to AEM water electrolysis cell achieving 1 A cm−2 at 1.75 V (iR-corrected) in 1 M KOH supporting electrolyte. This shows that the performance of AEM water electrolysis may be achieved at levels (especially on a cost vs. current basis) of significant commercial interest.
Supplementary Materials
The following are available online at
https://www.mdpi.com/2073-4344/8/12/614/s1
, Figure S1: photograph of an individual MEA, Figure S2: (a) SEM image of MEA cross-section, (b) EDX mapping of MEA prepared by airbrush spraying, and individual elemental mapping for Ni, Mo, O, and C, respectively, Figure S3: (a) SEM image of NiMo/x72 cathode surface in MEA, (b) SEM image of Ir anode surface in MEA prepared by airbrush spraying, Figure S4: Tafel analysis of (a) NiMo/X72 cell and (b) Pt/C cell in 1 and 0.1 M KOH, Figure S5: Tafel impedance analysis of (a) and (b) NiMo/X72 cell in 0.1 M and 1 M KOH, respectively, (c) and (d) Pt/C cell in 0.1 and 1 M KOH, respectively, Table S1: Tafel impedance of NiMo/X72 cell and Pt/C cell in 0.1 and 1M KOH at different current density, Table S2: Review of AEM water electrolysis performance and development.
Author Contributions
Synthesis, electrochemical measurements, SEM, STEM, XRD, Raman, XPS data analysis, writing and editing, A.Y.F. In-situ electrolysis testing, Funding acquisition, supervision, review and editing, A.O.B.; Supervision, funding acquisition, review, and editing, F.S.; Funding acquisition, supervision, review, and editing, S.S.
Funding
This research was funded by The Norwegian Research Council through the ENERGIX program contract number 268019, and The APC was funded by NTNU Publishing Fund.
Acknowledgments
Financially support from the Research Council of Norway, ENERGIX, HAPEEL, project number 90218402, is greatly acknowledged. The Research Council of Norway is acknowledged for the support to the Norwegian Micro- and Nano-Fabrication Facility, NorFab, project number 245963/F50.
Conflicts of Interest
There are no conflicts to declare.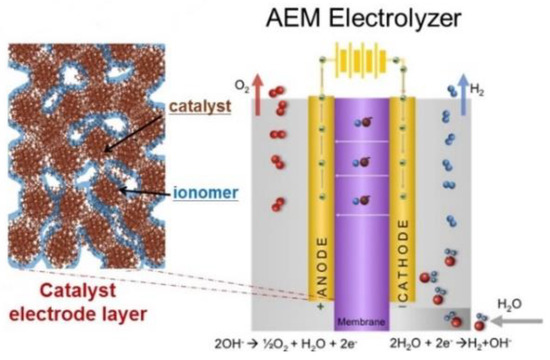 Figure 1.
Catalyst electrode layer and membrane electrode assembly for anion exchange membrane (AEM) electrolyzer, where the catalyst is mixed with an ionomer, Reprinted from Artyushkova et al., License Number 4406040674790 [
14
].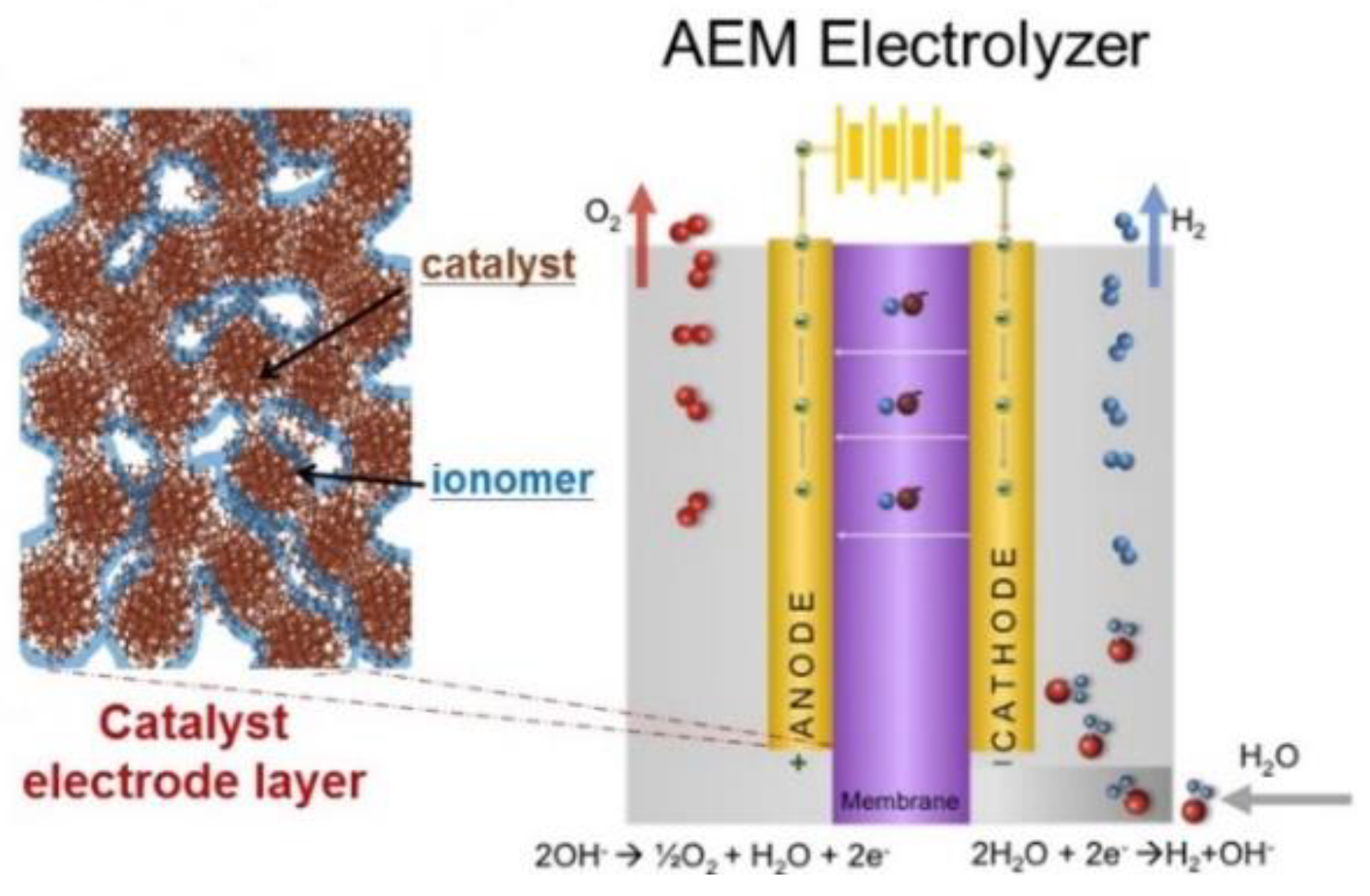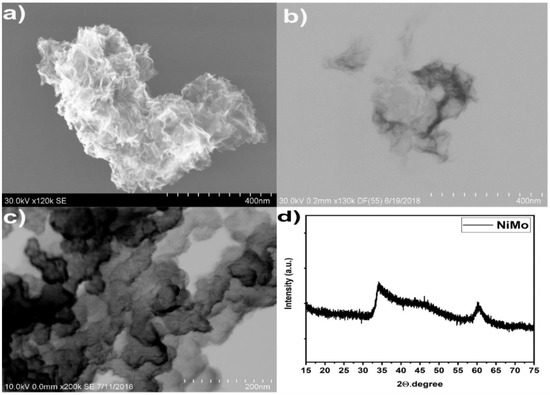 Figure 2. (a) SEM image of Ni0.9Mo0.1 nanosheets, (b) Inverted dark field scanning transmission electron microscopy (STEM) Ni0.9Mo0.1 nanosheets (c) Ni0.9Mo0.1 supported in Vulcan XC72 prepared by chemical reduction, (d) X-ray diffraction pattern of Ni0.9Mo0.1 nanosheets.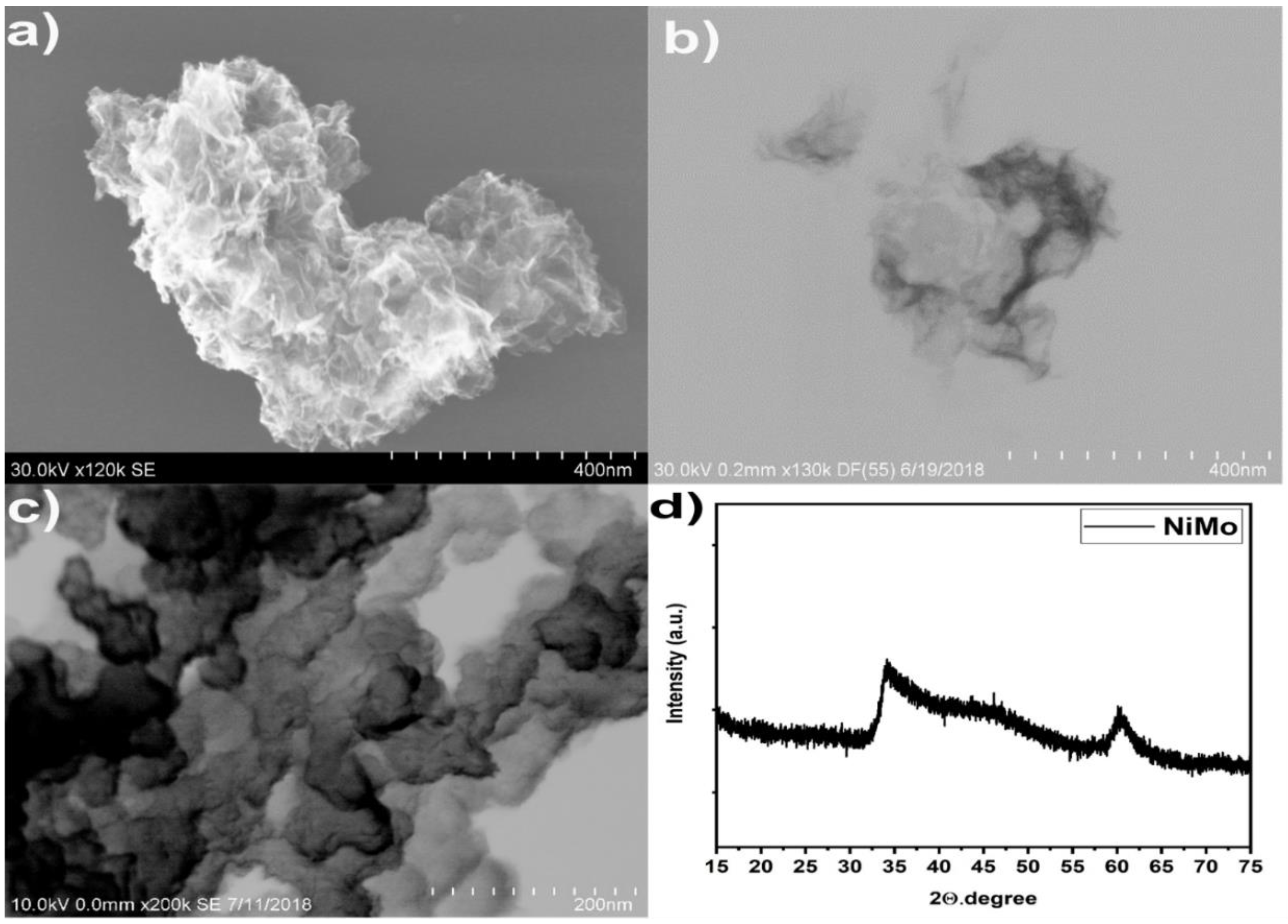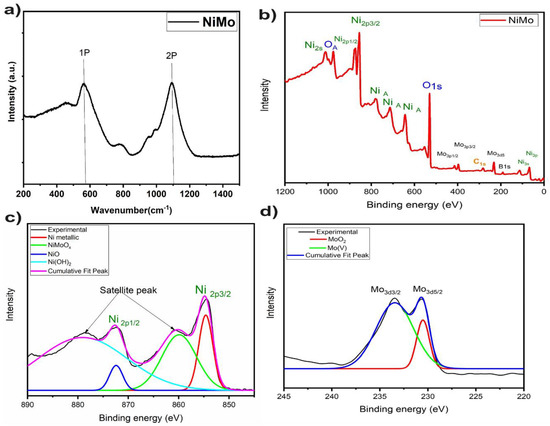 Figure 3. (a) Raman spectrum of Ni0.9Mo0.1 nanosheets, (b) X-ray photoelectron spectroscopy (XPS) spectrum of Ni0.9Mo0.1 nanosheets, (c) XPS peak fitting of Nickel peaks (d) XPS peak fitting of Mo peaks.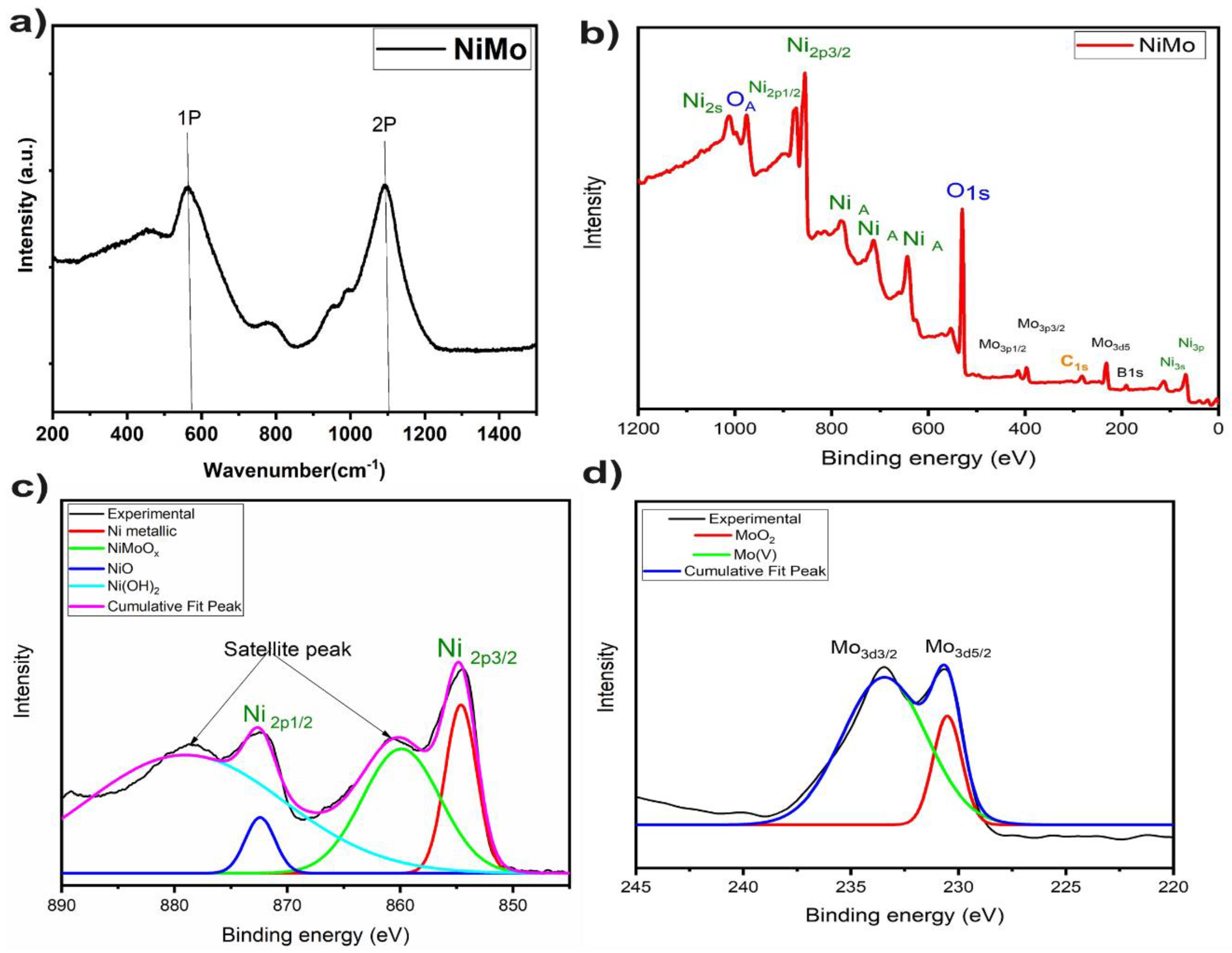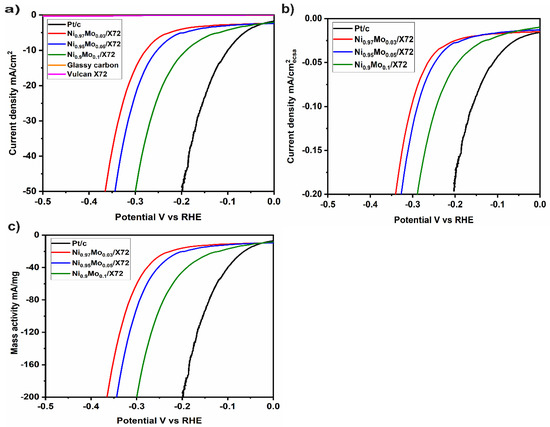 Figure 4. Linear sweep voltammetry (LSV) of NiMo with different Mo composition and Pt/C normalized to (a) geometric surface area and (b) electrochemical surface area and (c) mass loading.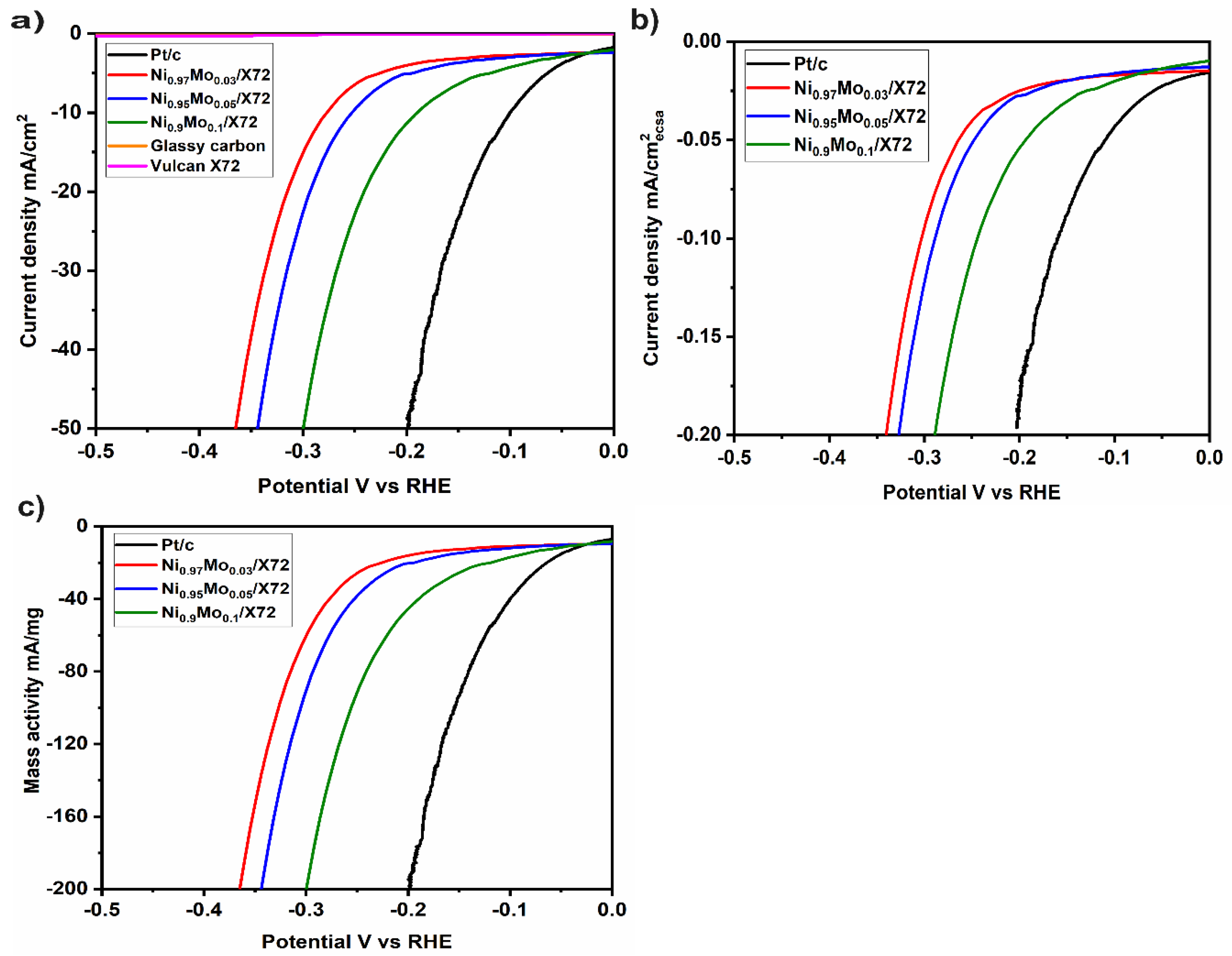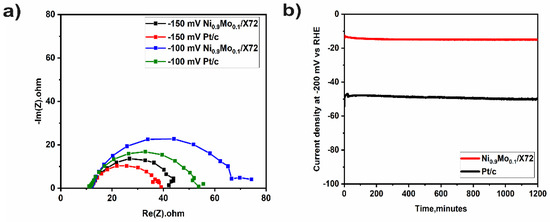 Figure 5. (a) Nyquist plot of Ni0.9Mo0.1 and Pt/C in 1 M KOH at −150 and 150 mV vs. RHE (b) Chronoamperometry of Ni0.9Mo0.1 and Pt/C for 24 h in 1 M KOH.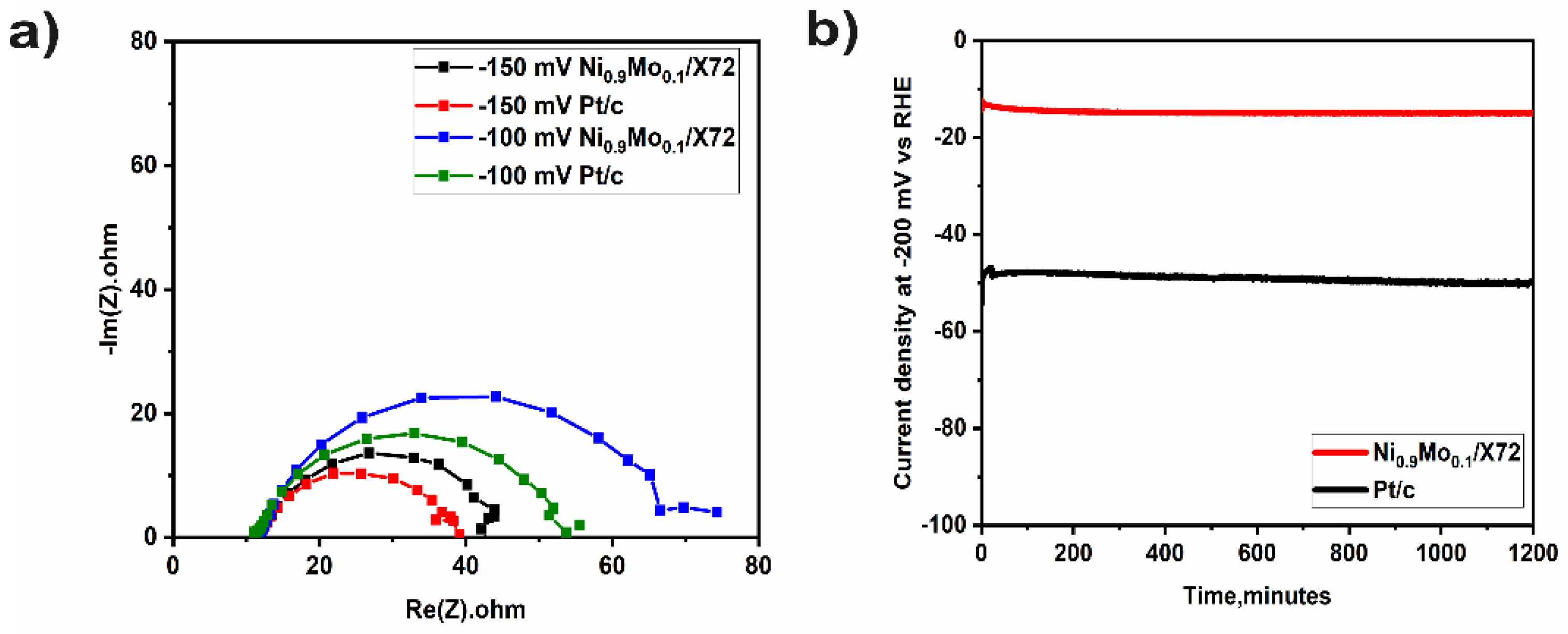 Figure 6. Electrochemical impedance is taken at 0.4 A in both 1 M and 0.1 M KOH at 50 °C. (a) A 5 mg cm−2 NiMo loading compared to (b) a 1 mg cm−2 Pt. Cell active area: 25 cm−2. Both catalyst coated membranes (CCMs) using 3 mg cm−2 Ir-black. The impedance data represented by symbols and the fitted impedance data represented by a solid line.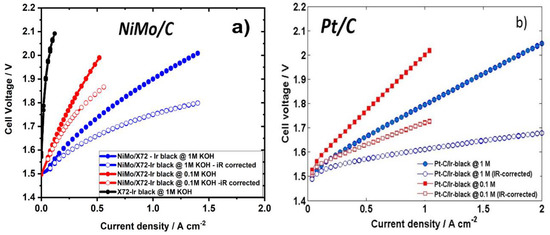 Figure 7. Polarization curves in both 1 M and 0.1 M KOH at 50 °C. (a) A 5 mg cm−2 NiMo loading compared to (b) a 1 mg cm−2 Pt. Cell active area: 25 cm−2. Both CCMs using 3 mg cm−2 Ir-black.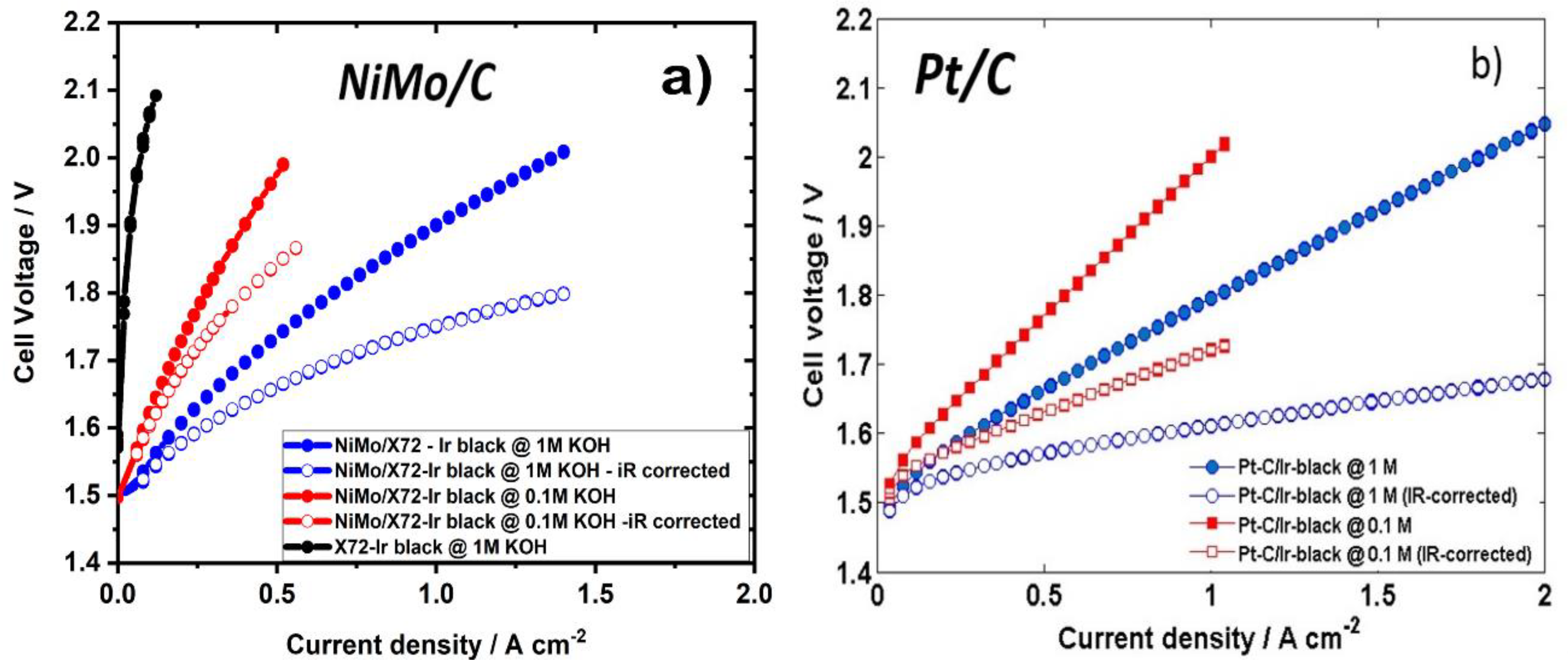 © 2018 by the authors. Licensee MDPI, Basel, Switzerland. This article is an open access article distributed under the terms and conditions of the Creative Commons Attribution (CC BY) license (http://creativecommons.org/licenses/by/4.0/).