2′-Deoxyribosyltransferase from
Bacillus psychrosaccharolyticus

: A Mesophilic-Like Biocatalyst for the Synthesis of Modified Nucleosides from a Psychrotolerant Bacterium

1

Department of Biochemistry and Molecular Biology I, Faculty of Biology, University Complutense of Madrid, José Antonio Nováis 12, E-28040 Madrid, Spain

2

Department of Crystallography and Structural Biology, Institute Rocasolano (CSIC), Serrano 119, E-28006 Madrid, Spain

*

Authors to whom correspondence should be addressed.

†

These two researchers share the position of last author.

‡

Present address: Ingenasa, Hermanos García Noblejas 39, E-28037 Madrid, Spain.

§

Present address: Applied Biotechnology Group, European University of Madrid, Tajo s/n, Villaviciosa de Odón, E-28670 Madrid, Spain.

Received: 30 November 2017 / Revised: 26 December 2017 / Accepted: 29 December 2017 / Published: 3 January 2018
Abstract
Structure-function relationships of a novel 2′-deoxyribosyltransferase from the psychrotolerant bacterium
Bacillus psychrosaccharolyticus
(
Bp
NDT) have been exhaustively studied by biochemical and high resolution crystallographic analyses. Despite
Bp
NDT exhibiting some structural features characteristic of cold-adapted enzymes such as localized flexibility in critical loops, its biochemical properties are typical of mesophilic enzymes.
Bp
NDT is a highly symmetrical homohexamer with tightly associated subunits that possesses flexible and short loops bordering the active sites. The catalytic center is essentially identical to that of other mesophilic homologues. Moreover,
Bp
NDT shows that it is a mesophilic-like enzyme since it is not heat-labile and exhibits an apparent unfolding temperature (
Tm
) of 49 °C, being active during 96 h at 40 and 50 °C. Finally,
Bp
NDT synthesizes natural and modified nucleosides, with preference for purines as acceptors and pyrimidine nucleosides as donors. Remarkably, the synthesis of several therapeutic nucleosides has been efficiently carried out. In this sense, 5-hydroxymethyl-2′-deoxyuridine (5-HMdUrd), 7-deaza-6-hydroxypurine-2′-deoxyriboside (7-DHPdRib) and theophylline-2′-deoxyriboside were synthesized for the first time by an NDT enzyme, showing the biotechnological interest of
Bp
NDT.
View Full-Text
►

▼

Figures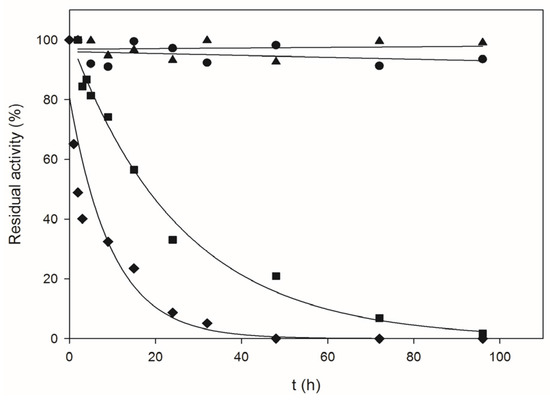 Figure 1
This is an open access article distributed under the
Creative Commons Attribution License
which permits unrestricted use, distribution, and reproduction in any medium, provided the original work is properly cited (CC BY 4.0).

Share & Cite This Article
MDPI and ACS Style
Fresco-Taboada, A.; Fernández-Lucas, J.; Acebal, C.; Arroyo, M.; Ramón, F.; De la Mata, I.; Mancheño, J.M. 2′-Deoxyribosyltransferase from Bacillus psychrosaccharolyticus: A Mesophilic-Like Biocatalyst for the Synthesis of Modified Nucleosides from a Psychrotolerant Bacterium. Catalysts 2018, 8, 8.
Note that from the first issue of 2016, MDPI journals use article numbers instead of page numbers. See further details here.
Related Articles
Comments
[Return to top]