Relationships between Substrate Promiscuity and Chiral Selectivity of Esterases from Phylogenetically and Environmentally Diverse Microorganisms
1
Institute of Catalysis, Consejo Superior de Investigaciones Científicas, 28049 Madrid, Spain
2
Biozentrum Klein Flottbek, Mikrobiologie & Biotechnologie, Universität Hamburg, 22609 Hamburg, Germany
3
School of Chemistry, Bangor University, Bangor LL57 2UW, UK
4
Uni Research AS, Center for Applied Biotechnology, 5006 Bergen, Norway
5
Institute of Molecular Enzyme Technology, Heinrich-Heine-University Düsseldorf, 52426 Jülich, Germany
6
Department of Biology and KG Jebsen Centre for Deep Sea Research, University of Bergen, 5020 Bergen, Norway
7
School of Biological Sciences, Bangor University, LL57 2UW Bangor, UK
8
Centre for Environmental Biotechnology, Bangor University, Bangor LL57 2UW, UK
9
Institute for Coastal Marine Environment, Consiglio Nazionale delle Ricerche, 98122 Messina, Italy
10
Immanuel Kant Baltic Federal University, 236040 Kaliningrad, Russia
11
Institute for Bio- and Geosciences IBG-1: Biotechnology, Forschungszentrum Jülich GmbH, 52426 Jülich, Germany
12
Department of Chemical Engineering and Applied Chemistry, University of Toronto, Toronto, ON M5S 3E5, Canada
*
Author to whom correspondence should be addressed.
†
These authors contributed equally to this work.
Received: 22 December 2017 / Revised: 2 January 2018 / Accepted: 3 January 2018 / Published: 5 January 2018
Abstract
Substrate specificity and selectivity of a biocatalyst are determined by the protein sequence and structure of its active site. Finding versatile biocatalysts acting against multiple substrates while at the same time being chiral selective is of interest for the pharmaceutical and chemical industry. However, the relationships between these two properties in natural microbial enzymes remain underexplored. Here, we performed an experimental analysis of substrate promiscuity and chiral selectivity in a set of 145 purified esterases from phylogenetically and environmentally diverse microorganisms, which were assayed against 96 diverse esters, 20 of which were enantiomers. Our results revealed a negative correlation between substrate promiscuity and chiral selectivity in the evaluated enzymes. Esterases displaying prominent substrate promiscuity and large catalytic environments are characterized by low chiral selectivity, a feature that has limited commercial value. Although a low level of substrate promiscuity does not guarantee high chiral selectivity, the probability that esterases with smaller active sites possess chiral selectivity factors of interest for industry (>25) is significantly higher than for promiscuous enzymes. Together, the present study unambiguously demonstrates that promiscuous and selective esterases appear to be rare in nature and that substrate promiscuity can be used as an indicator of the chiral selectivity level of esterases, and vice versa.
View Full-Text
►

▼

Figures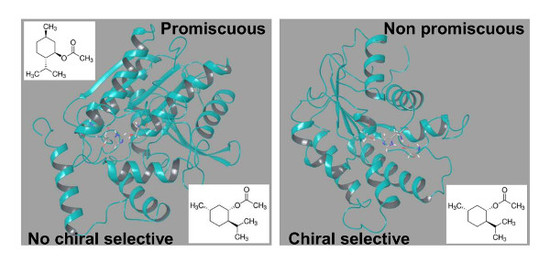 Graphical abstract
This is an open access article distributed under the
Creative Commons Attribution License
which permits unrestricted use, distribution, and reproduction in any medium, provided the original work is properly cited (CC BY 4.0).

Share & Cite This Article
MDPI and ACS Style
Coscolín, C.; Martínez-Martínez, M.; Chow, J.; Bargiela, R.; García-Moyano, A.; Bjerga, G.E.K.; Bollinger, A.; Stokke, R.; Steen, I.H.; Golyshina, O.V.; Yakimov, M.M.; Jaeger, K.-E.; Yakunin, A.F.; Streit, W.R.; Golyshin, P.N.; Ferrer, M. Relationships between Substrate Promiscuity and Chiral Selectivity of Esterases from Phylogenetically and Environmentally Diverse Microorganisms. Catalysts 2018, 8, 10.
Note that from the first issue of 2016, MDPI journals use article numbers instead of page numbers. See further details here.
Related Articles
Comments
[Return to top]