Synthesis and Evaluation of Ni Catalysts Supported on BaCe0.5Zr0.3−xY0.2NixO3−δ with Fused-Aggregate Network Structure for the Hydrogen Electrode of Solid Oxide Electrolysis Cell
1
Interdisciplinary Graduate School of Medicine and Engineering, University of Yamanashi, 4-4-37, Takeda, Kofu 400-8510, Japan
2
Fuel Cell Nanomaterials Center, University of Yamanashi, Miyamae 6-43, Kofu 400-0021, Japan
3
Clean Energy Research Center, University of Yamanashi, Takeda 4-4-37, Kofu 400-8510, Japan
4
Department of Mechanical Engineering & Division of Materials Science and Engineering, Boston University, 15 St. Mary's Street, Boston, MA 02215, USA
*
Authors to whom correspondence should be addressed.
Received: 16 June 2017 / Revised: 14 July 2017 / Accepted: 18 July 2017 / Published: 24 July 2017
Abstract
Nickel nanoparticles loaded on the electron–proton mixed conductor BaCe
0.5
Zr
0.3−x
Y
0.2
Ni
x
O
3−δ
(Ni/BCZYN, x = 0 and 0.03) were synthesized for use in the hydrogen electrode of a proton-conducting solid oxide electrolysis cell (SOEC). The Ni nanoparticles, synthesized by an impregnation method, were from 45.8 nm to 84.1 nm in diameter, and were highly dispersed on the BCZYN. The BCZYN nanoparticles, fabricated by the flame oxide synthesis method, constructed a unique microstructure, the so-called "fused-aggregate network structure". The BCZYN nanoparticles have capability of constructing a scaffold for the hydrogen electrode with both electronically conducting pathways and gas diffusion pathways. The catalytic activity on Ni/BCZYN (x = 0 and 0.03) catalyst layers (CLs) improved with the circumference length of the Ni nanoparticles. Moreover, the catalytic activity on the Ni/BCZYN (x = 0.03) CL was higher than that of the Ni/BCZYN (x = 0) CL. BCZYN (x = 0.03) possesses higher electronic conductivity than BCZYN (x = 0) due to the Ni doping, resulting in an enlarged effective reaction zone (ERZ). We conclude that the proton reduction reaction in the ERZ was the rate-determining step on the hydrogen electrode, and the reaction was enhanced by improving the electronic conductivity of the electron–proton mixed conductor BCZYN.
View Full-Text
►

▼

Figures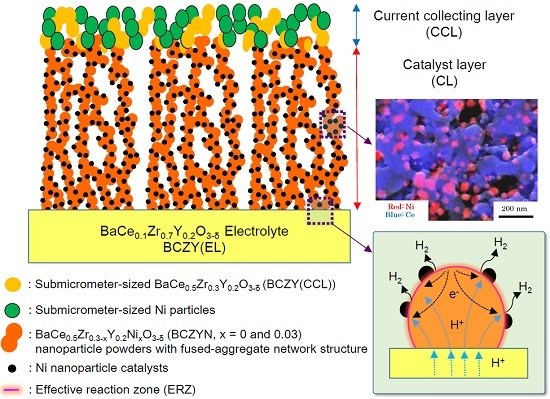 Graphical abstract
This is an open access article distributed under the
Creative Commons Attribution License
which permits unrestricted use, distribution, and reproduction in any medium, provided the original work is properly cited (CC BY 4.0).

Share & Cite This Article
MDPI and ACS Style
Nishikawa, R.; Kakinuma, K.; Nishino, H.; Brito, M.E.; Gopalan, S.; Uchida, H. Synthesis and Evaluation of Ni Catalysts Supported on BaCe0.5Zr0.3−xY0.2NixO3−δ with Fused-Aggregate Network Structure for the Hydrogen Electrode of Solid Oxide Electrolysis Cell. Catalysts 2017, 7, 223.
Note that from the first issue of 2016, MDPI journals use article numbers instead of page numbers. See further details here.
Related Articles
Comments
[Return to top]