Solvent-Free Microwave-Induced Oxidation of Alcohols Catalyzed by Ferrite Magnetic Nanoparticles
1
Centro de Química Estrutural, Instituto Superior Técnico, Universidade de Lisboa, Av. Rovisco Pais, 1049-001 Lisbon, Portugal
2
Chemical Engineering Department, Instituto Superior de Engenharia de Lisboa, Instituto Politécnico de Lisboa, R. Conselheiro Emídio Navarro, 1959-007 Lisboa, Portugal
3
Department of Physics and CICECO, University of Aveiro, 3810-193 Aveiro, Portugal
*
Author to whom correspondence should be addressed.
Received: 28 June 2017 / Revised: 16 July 2017 / Accepted: 16 July 2017 / Published: 24 July 2017
Abstract
A series of first-row-transition-metal ferrite magnetic nanoparticles (NPs) MFe
2
O
4
[M = Mn
2+
(
1
), Fe
2+
(
2
), Co
2+
(
3
), Ni
2+
(
4
), Cu
2+
(
5
) or Zn
2+
(
6
)] were prepared by the co-precipitation method and characterized by Fourier transform infrared (FTIR) spectroscopy, powder X-ray diffraction (XRD), scanning electron microscope - energy dispersive X-ray spectrometry (SEM-EDS), vibrating sample magnetometer (VSM) and X-ray photoelectron spectroscopy (XPS). Those NPs were used as catalysts for the microwave-assisted oxidation of various alcohols in solvent-free medium. MnFe
2
O
4
(
1
), CoFe
2
O
4
(
3
) and CuFe
2
O
4
(
5
) act as catalysts for the conversion of alcohols to the corresponding ketones or aldehydes with a yield range of 81 to 94% in 2 h at 120 °C using
t
-BuOOH as an oxidant. These catalysts can be readily isolated by using an external magnet and no significant loss of activity is observed when reused up to 10 consecutive runs. The effects of some parameters, such as temperature, time, type of oxidant and presence of organic radicals, on the oxidation reactions were also investigated. The presented literature overview highlights the advantages of our new
1
–
6
NPs catalytic systems in terms of efficiency and economy, mainly due the used microwave (MW) heating mode.
View Full-Text
►

▼

Figures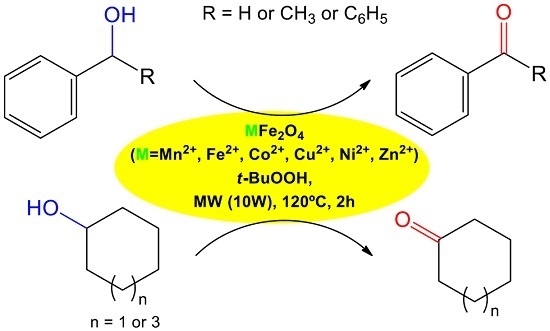 Graphical abstract
This is an open access article distributed under the
Creative Commons Attribution License
which permits unrestricted use, distribution, and reproduction in any medium, provided the original work is properly cited (CC BY 4.0).

Share & Cite This Article
MDPI and ACS Style
Martins, N.M.R.; Martins, L.M.D.R.S.; Amorim, C.O.; Amaral, V.S.; Pombeiro, A.J.L. Solvent-Free Microwave-Induced Oxidation of Alcohols Catalyzed by Ferrite Magnetic Nanoparticles. Catalysts 2017, 7, 222.
Note that from the first issue of 2016, MDPI journals use article numbers instead of page numbers. See further details here.
Related Articles
Comments
[Return to top]